Last night, the Cubs entered the bottom the ninth inning with a 5-1 lead and a 98.3% chance of winning the game according to our Play Logs. After recording the first out, the win probability moved up to 99.4%, but after an error, three singles, and a hit batter, the Cubs' lead was cut to 5-3 and Bryce Harper stepped up to the plate against Derek Holland with the bases loaded, and the Phillies' win expectancy had moved up to 32.3%. Then it moved up to 100% when this happened:
As far as pitches go, it wasn't necessarily a bad one. There have been over 500 pitches this season of at least 94 mph in a left-on-left matchup where the pitcher hit the inside corner or further inside. Only 35 such pitches resulted in base hits, with a .276 BABIP and .143 ISO. There were only four homers on pitches like that, and after last night, Harper has two of them, with another coming in June off Max Fried.
Harper's homer last night took a long time to land.
For those Statcast aficionados out there, Harper hit the ball 113 mph with a launch angle of 40 degrees. There have only been 15 homers hit this season with an exit velocity of 110 mph or more with a launch angle of 35 degrees or more. Of those high-launch-angle swings, Harper's homer was the hardest hit of the season. He seemed pretty pleased with himself.
The Win Expectancy Chart for the game looked like this: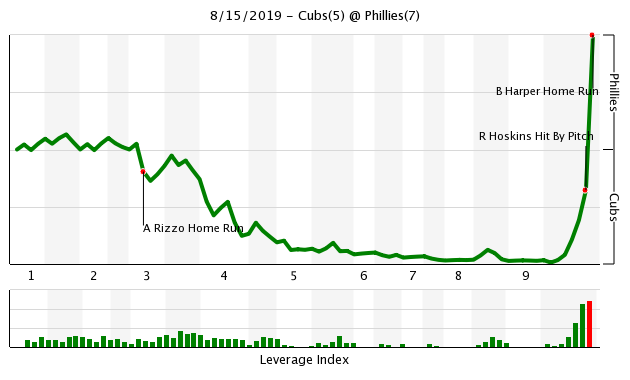 Harper's teammates also seemed to understand the importance of the chart.
With that one swing, Harper added 0.67 to his WPA on the season. While his 122 wRC+ is a good-not-great 45th out of 146 qualified batters, his WPA, which measures the direct results on the game that his hits and outs have impacted, ranks third.
Win Probability Added Leaders in 2019
Harper has sequenced his positive contributions in enough big moments that his overall batting line doesn't reflect the contributions his hits have made to the Phillies' wins and losses. It's made a major difference for the team this season as they have allowed 19 more runs than they've scored, and their BaseRuns record, which takes sequencing out, is 55-66, eight games worse than their actual record of 63-58, which puts them just a game out of the wild card race.
The Phillies and Harper don't have any particular skill when it comes these "clutch" hits. Harper's 176 wRC+ in high-leverage situations ranks ninth among hitters with at least 40 PA in those situations. Harper has the skills necessary to put up a 176 wRC+ in all situations, but it just so happens he's bunched up that level of play in big spots. He is very much an outlier this season when we compare wRC+ and WPA.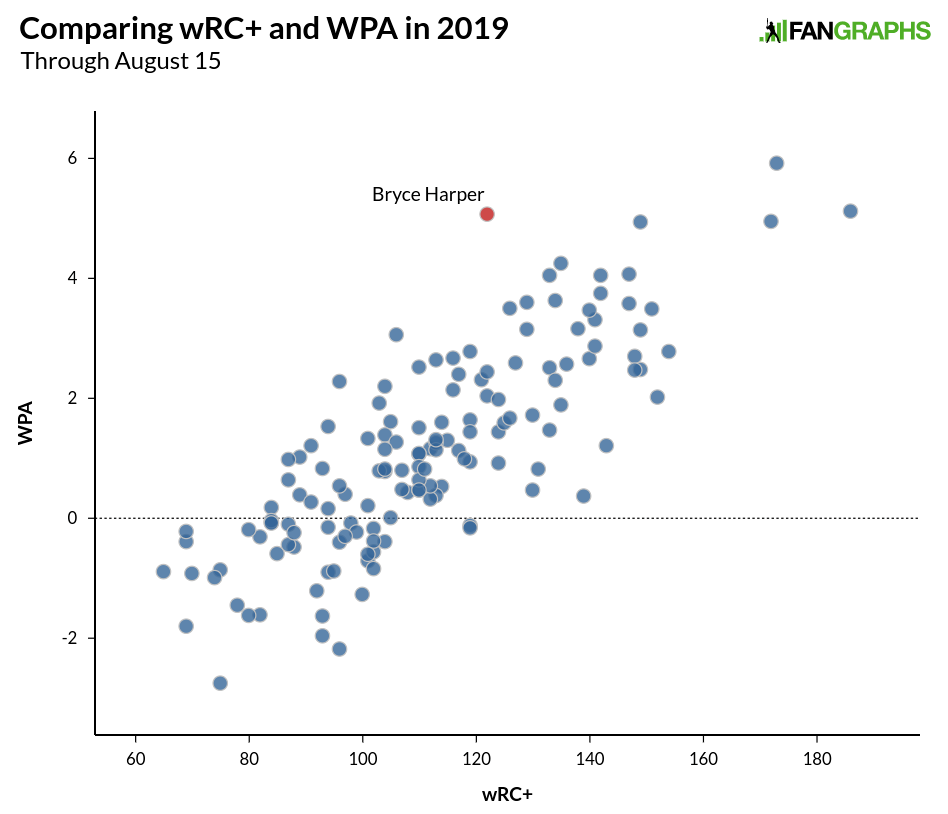 We have a Clutch stat at FanGraphs which essentially measures a hitter's performance in important situations versus his normal production. Harper is far and away the leader this season.
This likely isn't a measure of Harper's particular skills to perform better in important situations. If he could perform better in clutch situations, it would behoove him to play like that all of the time. In addition, Harper's career clutch score is 0.63, which means he was negative entering the season and he's right around all other players. To further demonstrate the lack of clutch ability — or at least the lack of clutch ability once a player has made it through years of training and playing pressure-packed games as an amateur and in the minors and has put together a decently long pro career — the graph below shows all players since 1974 with at least 3,000 plate appearances with their offensive runs above average, i.e. their normal offensive production, and their WPA.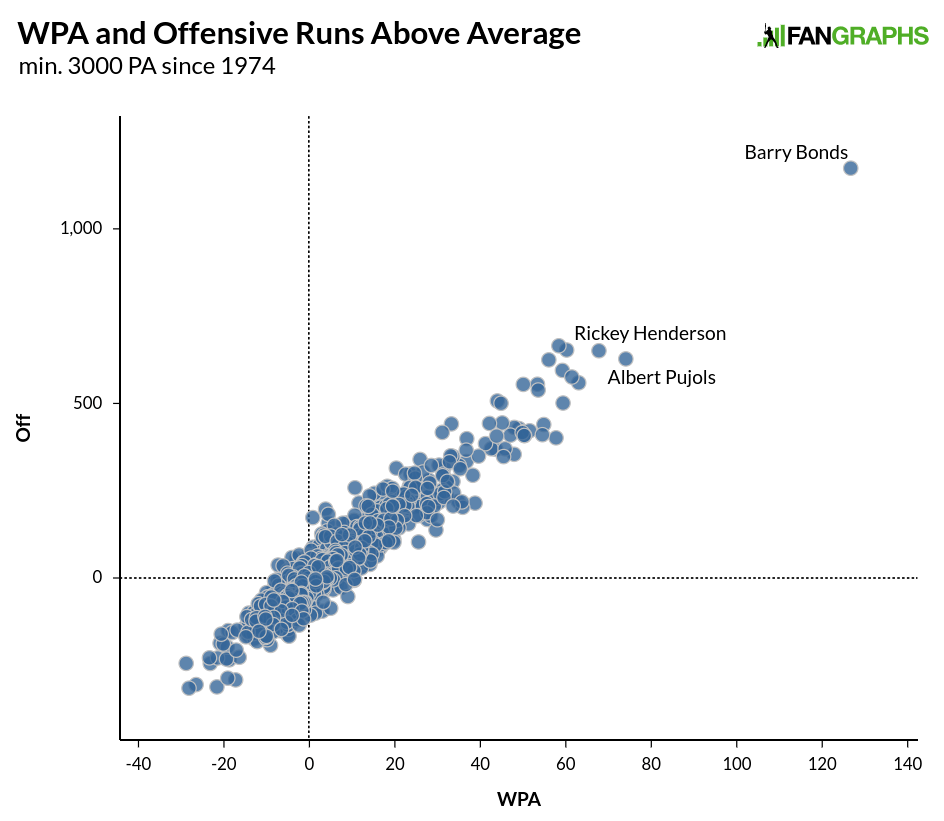 Nearly everybody's numbers end up mirroring themselves. Maybe there's some guys' type of game that can produce incremental positive Clutch scores over a long period of time, like the situational hitting of Tony Gwynn or Pete Rose that produces singles might be worth a handful of runs per year over a career, but those are very extreme cases. That doesn't mean Harper's season isn't very unusual. The scatter plot below shows every qualified season since 1974 with a player's Clutch score and their wRC+.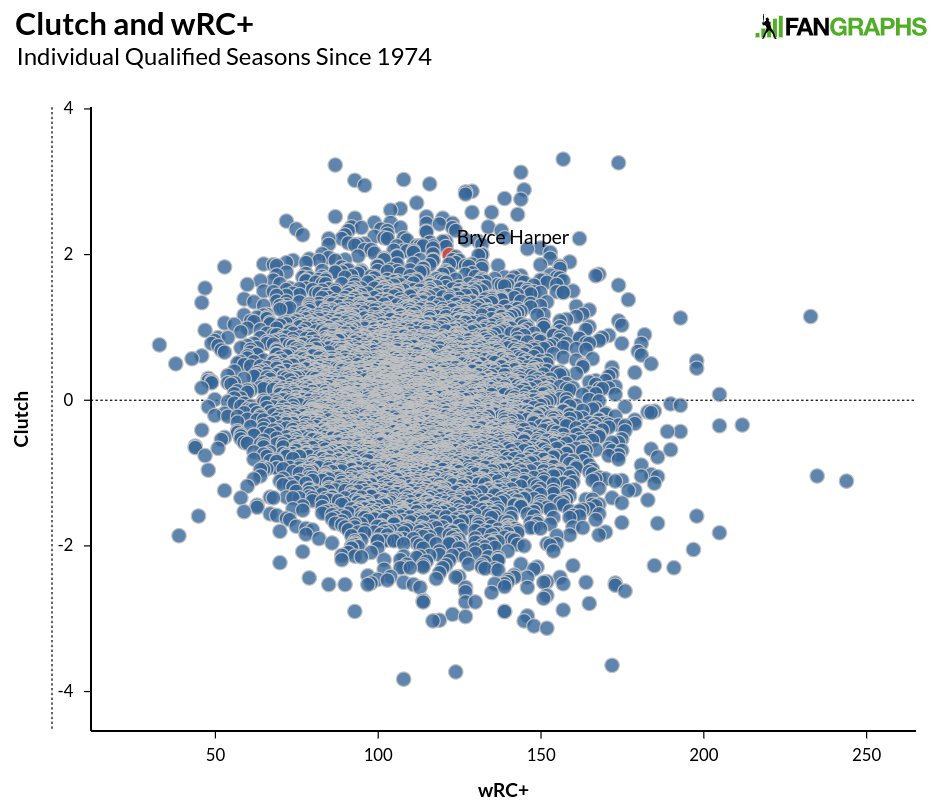 The giant blob should suggest that there's not a correlation between good hitting and "Clutch" hitting at the major league level. That we can sort of make out where Harper's season is in that giant blob indicates the season is a bit of an outlier. Out of around 6,500 qualified seasons, Harper's clutch score as it stands today ranks 90th. Of the 90 players, Harper is currently one of only 32 players with a wRC+ of at least 120.
Good Hitters and Clutch Seasons
At the moment, Harper's 5.07 WPA is the 231st-highest total since 1974. For comparison's sake, the 231st-ranked wRC+ during that same time was 157 of Edgar Martinez in 2001. That's the kind of production the Phillies have received from Harper in terms of results even though Harper hasn't actually played that well. If Harper were to continue his torrid WPA pace and end up with 6.76 WPA on the season, that would be the 46th-highest mark of the last 46 seasons. The 46th-highest wRC+ during that time belongs to Mike Trout's 2013 season, when he put up a 176 wRC+.
By results, the Phillies have received an MVP-level performance from Harper right there with Christian Yelich and Cody Bellinger. He hasn't actually been that good because of all the outs, and his performances in important situations can't be projected into the future, but in terms of the Phillies' season, last night showed why some hits matter more than others. If the Phillies do make the playoffs, Bryce Harper's combination of immense talent plus some good fortune in big moments will be a big reason why they play in October.
Craig Edwards can be found on twitter @craigjedwards.