The Corey Dickerson saga concluded Thursday afternoon.
The Rays' decision to designate Dickerson for assignment last week shocked many in the baseball community given that Dickerson, an All-Star in 2017, had just authored a 115-wRC+, 27-homer, three-win season. But the Rays wanted to rid themselves of his $5.9 million salary. By designating him, they would, at the very worst, be responsible for just 30 days of termination pay.
Jeff opined earlier this week that the Rays managed to trim payroll without getting any worse — a development that included, essentially, swapping out Dickerson for C.J. Cron. The 28-year-old Dickerson struggled in the second half, is projected to produce a 103 wRC+, and is not much of a defender or baserunner. There are quite a few players like Dickerson still available on the free-agent market for a variety of reasons.
While Dickerson is unlikely to provide All-Star value in 2018, this still seems to very much be a sensible addition and a clear win of a trade for the Pirates since it comes at little cost.
TRADE: Pirates acquire OF Corey Dickerson from the Rays in exchange for pitcher Daniel Hudson, minor league infielder Tristan Gray and cash considerations. pic.twitter.com/evvi5sMQkV

— Pirates (@Pirates) February 22, 2018
Daniel Hudson is coming off an uninspiring season for the Pirates that included a 4.38 ERA, 4.34 FIP, and 0.1 WAR in just over 60 innings. While the Rays are getting cash back in the deal, Hudson is owed $5.5 million in 2018. The Rays also pick up Tristan Gray, who was not ranked among Pittsburgh's top-25 organizational prospects by Eric Longenhagen.
While the Rays will shed some payroll, Thursday's deal was more about Dickerson and the Pirates.
Like the Rays, the Pirates have taken a PR hit this offseason, moving name brands like Gerrit Cole and Andrew McCutchen for less well known, if still useful pieces. They've also been the only club not to have signed a major-league free agent this winter. The Pirates entered the offseason with an 80-win projection at FanGraphs and entered Thursday with a 75-win projection. While you could argue the Pirates weren't much worse off after the Cole trade, moving McCutchen created a significant void in the outfield.
The void, specifically, was in left field, from which position the Pirates were projected to receive just 0.6 WAR entering Thursday from a group including Jordan Luplow, Adam Frazier, Sean Rodriguez, Austin Meadows, Daniel Nava and Bryce Brentz. That collection of players were forecast for a combined .254/.321/.397 slash line at the position and a .310 wOBA.
ZiPS forecasts Dickerson for a 1.7-win season, 24 homers, and a .262/.308/.472 slash line. So, according to projections, the Pirates picked up a relatively cheap win, and might extract more value by forming a platoon in left.
Dickerson is not a great defender, and he will be challenged by the spacious nature of left field at PNC Park — the largest left field by square footage in the game — unless the Pirates elect to swap he and Gregory Polanco in the corners.
What he can do is hit for power from the left side, a quality which the Pirates desperately need. He owns a career 116 wRC+, a mark that would have placed him second amongst Pirates batters last season. Only McCutchen (122 wRC+), Josh Bell (108), Josh Harrison (104), and David Freese (100) performed as average or better bats last season for the Pirates.
Moreover, in the year of the home run, the Pirates ranked 29th in the majors by that measure (151), better only than the Giants.
As more batters have powered up, the Pirates have progressively powered down. The club ranked sixth in home runs (156) in 2014, 23rd (140) in 2015, and 26th in (153) in 2016. They ranked 27th in home runs by left-handed hitters against righties.
With right and right-center being the favorable dimensions at PNC Park, the Pirates needed hitters who could better take advantage of their home park. Dickerson's left-handed swing has produced 51 homers over the last two years. Along with Bell, he immediately becomes one of the club's top power threats and run producers.
So this appears to be a quality pick-up for the Pirates… provided they get the right version of Dickerson.
The newest Pirate produced a 139 wRC+ in the first half of 2017 but just an 80 wRC+ in the second. His zone contact slipped, as did his fly-ball rate. Another thing that happened is pitchers challenged him more and more with four-seam fastballs.
And for good reason: no one swung and missed at fastballs more than Dickerson last season.
Whiffs vs. Four-Seamers
SOURCE: Baseball Savant
This is where opponents threw Dickerson fastballs:
And this is how he produced against them:
Dickerson was also seventh in whiffs against four-seamers in 2016.
The bright side? He did launch 12 home runs off four-seamers last year? The other, less bright side? He also had a remarkable 35.6% whiff-per-swing rate, the worst of any pitch type according to Brooks Baseball.
This was not a great swing, for example: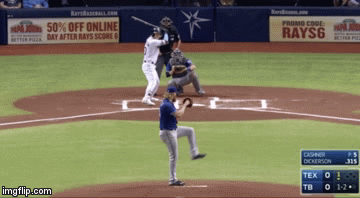 Dickerson has never been a great four-seam fastball hitter. The only offering against which he's posted a lesser batting average (.234) and slugging mark (.440) among pitches at which he's swung more than 200 times is the splitter. Major-league pitchers seemed to pick up on this in the second half.
These issues might be one reason why he was so available.
If he can better handle the fastball, he could be a great value pickup for the Pirates. But if a weakness were exposed in his second half, well, there might be a reason a 2017 All-Star was available at such a price.
A Cleveland native, FanGraphs writer Travis Sawchik is the author of the New York Times bestselling book, Big Data Baseball. He also contributes to The Athletic Cleveland, and has written for the Pittsburgh Tribune-Review, among other outlets. Follow him on Twitter @Travis_Sawchik.