Since June 1, the Oakland A's have been one of the best teams in baseball, pushing themselves into the middle of the American League Wild Card race. But across the Bay, there's been a team that's been even better recently.
Since July 1, the Giants have posted the best record in baseball. They've lost just three games this month and have managed to claw their way back to .500 with an extra-innings, walk-off win over the Mets yesterday afternoon. That win clinched a four-game series that included two other extra-innings, walk-off wins. Sixteen games ago, the Giants were 10 games below .500 and possessed the second-worst record in the National League. They're now tied for second in the NL West — though 16 games behind the Dodgers — and just 2 and 1/2 games out in the Wild Card race.
It's been a remarkable turnaround for a club that looked like it was going nowhere less than a month ago. With a week and a half left until the trade deadline, the Giants suddenly face a tough decision about their mindset for the rest of the season. Madison Bumgarner and Will Smith have been continuously connected to trade rumors since this past offseason, but now that the team finds itself on the cusp of contention, they might not be as available as previously thought. This is how president of baseball operations Farhan Zaidi put it in an interview with Giants beat writer Henry Schulman on July 21:
"It's just very difficult at this point to speak in black-and-white terms. We're really in a period of transition in this organization. When you can manage a transition and continue to compete, and continue to keep a fan base as loyal as this one energized and excited about the team, that's obviously the perfect scenario."
The expectations were understandably low heading into this season. After a couple of ugly seasons in 2017 and 2018, the Giants were clearly looking to reset when they hired Zaidi this winter. In February, longtime manager Bruce Bochy announced that he would be retiring following this season. Just a handful of players remain from the teams that won three World Series in five years earlier this decade, and many of their contracts are expiring soon. Despite that, over the last several weeks, they've managed to stumble into the perfect scenario Zaidi laid out above.
The Giants have scored 116 runs in July, the most in baseball. They've posted a +47 run differential because of that, helping them to erase a big chunk out of the -89 run differential they had posted through the first three months of play. Their offense really has been potent:
Best Offenses in July
| Team | BB% | K% | ISO | BABIP | wRC+ |
| --- | --- | --- | --- | --- | --- |
| Astros | 10.0% | 19.0% | .224 | .324 | 138 |
| Giants | 8.1% | 19.9% | .232 | .332 | 128 |
| Athletics | 8.7% | 18.2% | .241 | .291 | 128 |
| Indians | 8.5% | 19.2% | .229 | .332 | 127 |
| Cubs | 10.2% | 24.7% | .239 | .343 | 126 |
The odd thing is that none of the usual suspects are driving this surge up the standings. Brandon Crawford is the lone recognizable name with a batting line well above average this month (170 wRC+). Evan Longoria had posted a 280 wRC+ in nine games this month but was recently put on the injured list with a foot injury. Brandon Belt (106), Buster Posey (93), Kevin Pillar (91), and Pablo Sandoval (49) have merely been supporting pieces for the real show. Instead, the offense has come from scrap heap find Alex Dickerson (240), former top prospect Austin Slater (169), utility man Donovan Solano (168), and rookie with a family name Mike Yastrzemski (126).
Dickerson's story is particularly inspiring. After breaking into the majors in 2016 with the Padres, a back injury cost him all of the 2017 season, and a UCL tear while rehabbing from that injury cost him all of 2018. He made his way back to the majors this year as a fifth outfielder for San Diego but was designated for assignment in mid-May and traded to the Giants a few days later. In his first game with San Francisco, he hit a grand slam and drove in a career-high six runs, and has slashed .397/.463/.795 since joining his new team.
Slater, Solano, and Yastrzemski won't likely be able to carry the offense for the rest of the season. Belt and Posey have both been locked in a season-long funk that doesn't look like it's going to snap anytime soon. And most of the Giants top offensive prospects are too far from the majors to make an impact this year. Unless they add a bat or two in the next week and a half, this is the lineup they're going roll out for the rest of the season, and it's one that scored just 3.9 runs per game through the first three months of the year.
The Giants pitching staff has also been much better in July, as you'd expect. Outside of a rough May where they allowed 6.7 runs per game, their pitching staff has averaged around 4.2 runs allowed per game. In July, that mark has stayed steady at 4.1:
Giants Pitching by Month
| Month | Innings | ERA | FIP | xFIP | K% | BB% |
| --- | --- | --- | --- | --- | --- | --- |
| Mar/Apr | 267 | 3.81 | 4.00 | 4.25 | 23.3% | 7.7% |
| May | 234 | 5.85 | 5.54 | 5.05 | 20.8% | 9.5% |
| June | 239 1/3 | 4.17 | 4.33 | 4.39 | 22.5% | 8.4% |
| July | 165 2/3 | 3.64 | 3.85 | 3.97 | 24.3% | 5.4% |
Despite all of the trade rumors swirling, and taking a nasty line drive off his elbow in his July 6 start, Bumgarner has been the Giants' best starter this month. He's allowed just a single run in each of his starts, and his last turn against the Mets was a gutsy nine inning outing. He's been supported by a nice run from Jeff Samardzija (3.93 FIP in July) and Tyler Beede (3.36).
Beede's development has been a nice surprise. He's dabbled with adding a cutter/slider to his repertoire, and fully unleashed it in his three starts in July: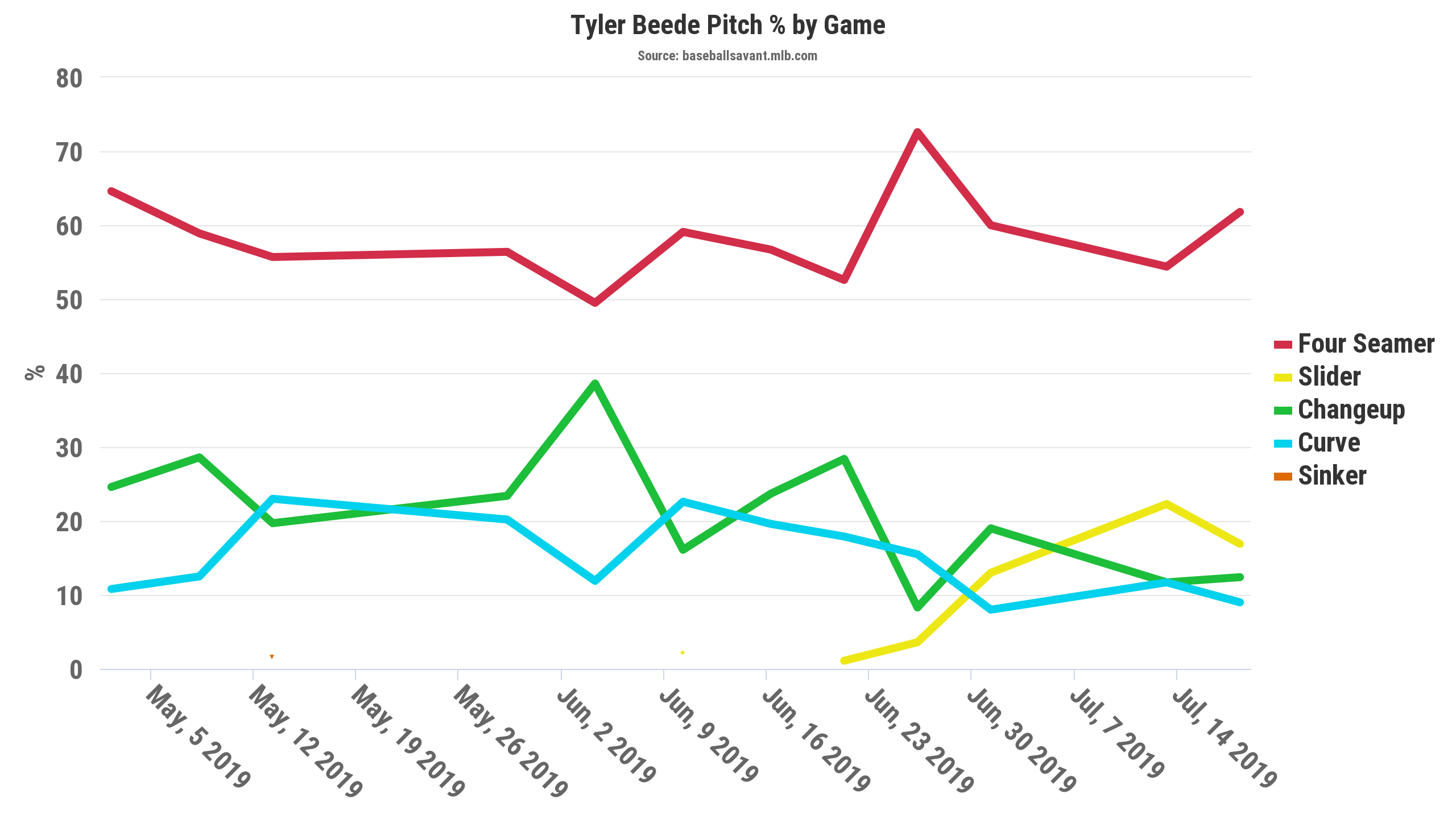 Adding a fourth pitch to his repertoire has seemed to unlock a new level of performance. In the three starts where he's thrown his slider more than 10% of the time, he's allowed just four runs and has run a 16-to-1 strikeout-to-walk ratio. His last start was an eight inning gem in which he allowed just five base runners and struck out five.
The problem the Giants face isn't simple. Even though they've worked their way into the playoff conversation, they're still on the periphery; this hot streak has boosted their playoff odds to just 5.8%: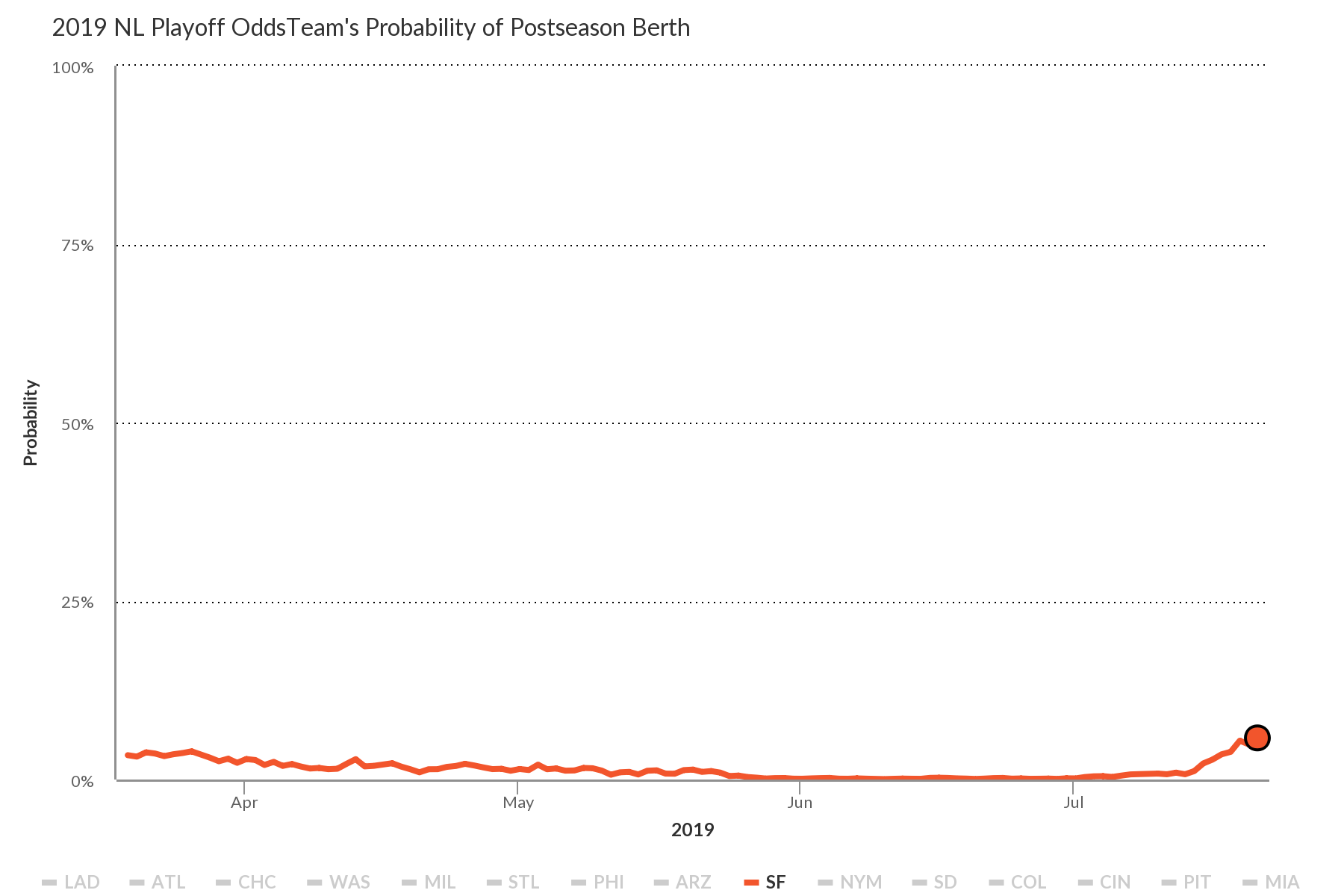 Their shot at making the postseason is better than ever but they're still sitting behind eight other teams in the National League. Their rest-of-season projections aren't very favorable, either. They're projected to post the second worst record in the NL the rest of the way, giving them a projected record of just 78-84, definitely not good enough to compete for the Wild Card.
Even though Zaidi would like to continue to try and be competitive during this period of transition, it really seems like July has been a flash in the pan. The odds say they're not close enough to consider buying. If they're looking to hold onto their most desirable trade pieces, they have to believe that their offense is good enough and their pitching improved enough to ride this hot streak out. Listening to offers for Bumgarner, Smith, and others is probably still in their best interest, though they might wait until the very last minute to pull the trigger on any trades, just in case.
Jake Mailhot is a contributor to FanGraphs. A long-suffering Mariners fan, he also writes about them for Lookout Landing. Follow him on Twitter @jakemailhot.