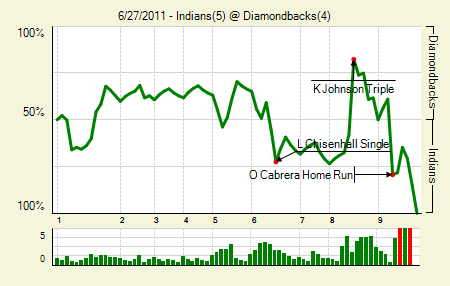 Moving the Needle: Kelly Johnson's triple ties the game, but Orlando Cabrera's homer puts the Indians back ahead, +.404 WPA each. If there's anything better than having a tie atop the WPA leader board, it's having a big-time tie at the top. In the bottom of the eighth Johnson laced one into the gap in right-center, bringing around Wily Mo Pena all the way from first. That tied the game at four. A half inning later, with closer J.J. Putz on the mound, Cabrera laid into one and put it just over the wall in left, putting the Indians back ahead.
Notables
Lonnie Chisenhall: 2 for 4, 1 2B. He led off the fifth with the double down the right field line, and advanced to third on a single, but the Indians couldn't bring him around to score. Then in the sixth he came up with runners on first and second in a tie game, and he grounded one past the diving Johnson at second to put his team ahead. That's about as nice a debut as you can hope for. I think we're all going to enjoy watching this Lonnie Chisenhall kid — if for no reason other than he has a fun name. Lonnie Chisenahll.
Asdrubal Cabrera: 2 for 4, 1 2B, 1 HR. He now has 80 fewer PA than 2010, but has four more doubles (20) and 10 more homers (13). ::pats self on back, Barry Horowitz style::
---
Also in this issue: Angels 4, Nationals 3 | Tigers 4, Blue Jays 2 | Cubs 7, Rockies 3 | Dodgers 15, Twins 0 | Padres 4, Rays 3 | Braves 3, Mariners 1 | Reds 5, Rays 0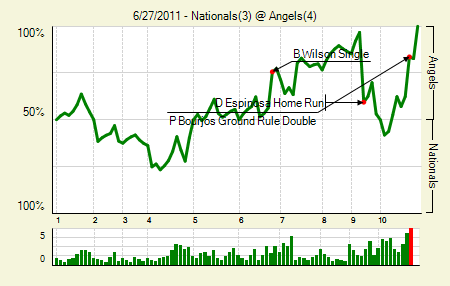 Moving the Needle: Danny Espinosa ties it with a homer, +.373. Bottom of the ninth. Two outs. Team down by one. It's not the exact scenario we imagined as kids — for me it was bottom of the ninth, down three, bases loaded, two outs — but it's damn close. Espinosa gave his team new life on the first pitch, a 96 mph inside fastball that he turned around for a long homer to right. In the 10th the Nationals blew two chances with a runner on second, which gave the Angels the chance they needed. A single, double, and intentional walk loaded the bases, and a Maicer Izturis single ended it.
Notables
Peter Bourjos: 4 for 5, 1 2B. His ground rule double set up the winning run. That's his first extra base hit since June 17th.
Ervin Santana: 8 IP, 5 H, 2 R, 1 BB, 5 K. Both runs were on solo homers. It's the sixth start in which he's given up multiple homers. It has been his biggest problem this season.
Michael Morse: 2 for 4, 1 2B, 1 HR. His .390 wOBA ties him for 16th in the league, with Kevin Youkilis and Alex Rodriguez. I'll let that sink in for a moment.
---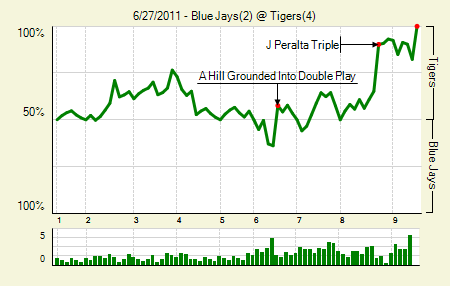 Moving the Needle: Jhonny Peralta's triple in the eighth breaks the tie, +.250 WPA. Don't dive! That's the advise I'd dispense to most outfielders who run after a ball in the air and have no one backing them up. Sure, maybe it results in a great catch, but more often than not the risk is too great. Just keep it in front of you and limit the damage. Jose Bautista did not follow this advice when Peralta lined one into the right-center field gap in the eighth inning last night. He slid for it, and replay made it seem kind of close. But he missed, and Austin Jackson scored from second to take the lead and Peralta ended up on third with one out. A ground ball brought him home, extending the Tigers' lead.
Notables
Max Scherzer: 7 IP, 6 H, 2 R, 1 BB, 9 K. The only walk was intentional, and it was to Lind, which is understandable.
Victor Martinez and Brennan Boesch: both 2 for 4, 1 2B. Martinez drove in the first two Tigers runs. Boesch was one of them.
Adam Lind: 1 for 3, 1 HR, 1 BB. The homer and IBB brings his wOBA up to an even .400. ::lets out an evil laugh like Ted DiBiase::
---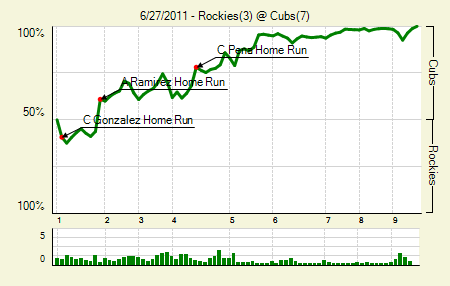 Moving the Needle: Of all the homers, Aramis Ramirez's moves the needle most, +.172 WPA. There were six home runs in this game, but, as you've probably read by this point (since it was a day game), it was the first time since 2006 that three players had multi-homer games. Ramirez was one of those guys, and his first homer made a big dent. It went way out to left-center, and turned a 1-0 deficit to a 2-1 lead in the first. His second one was a bit more impressive, as it hit the roof in center field. But it also was the last run for the Cubs, and so much less meaningful.
Notables
Carlos Pena: 2 for 4, 2 HR. Like Ramirez, he drove in three runs, which were Chicago's only other 3 RBI (Geovany Soto scored on a wild pitch). The first homer was to center, the second an opposite field jack.
Carlos Gonzalez: 2 for 4, 2 HR. He hit an opposite field homer to lead off the game, and then pulled one out in the eighth when his team was already down 7-2.
---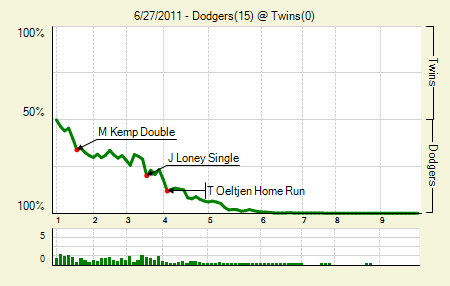 Moving the Needle: James Loney makes it a 3-0 game with an RBI single, +.089 WPA. The high WPA play probably would have been Matt Kemp's scorched RBI double in the first, had he not been caught between second and third. But since an out was recorded on the play it was only .060 WPA. Loney's two-out single in the third made it a 3-0 game. The Dodgers scored in every inning except the second and the ninth, making this a fun game to watch for their probably distraught fans. For the Twins fans? Eh. On a day like yesterday, let 'em have that one.
Notables
Chad Billingsley: 6 IP, 4 H, 0 R, 2 BB, 4 K. There's nothing that necessarily pumps up his pitch count, yet he threw 107 through six. High pitch counts seem to be his bugaboo this season.
Casey Blake: 3 for 5, 1 HR, 1 BB. He slid into left field later in this one, marking the first time he's played outfield since 2009.
Matt Kemp: 4 for 5, 1 2B, 1 HR. He has the second highest wOBA in the league.
Trent Oeltjen: 4 for 4, 1 3B, 1 HR, 1 BB, 1 SF. This game accounted for 23% of his season's PA, but 100% of his HR, 100 of his 3B, and 57% of his hits. I'd call him a rook, but apparently I missed the time he spent in the bigs in 2009 and 2010 (129 total PA).
---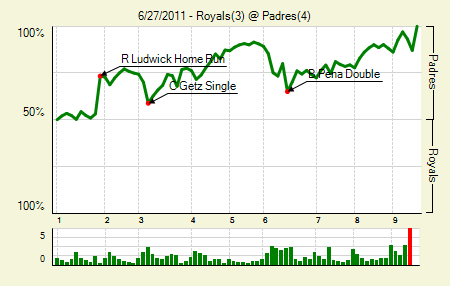 Moving the Needle: Ryan Ludwick opens up the scoring with a two-run shot, +.202 WPA. There's nothing quite like a first-inning homer to boost your spirits. Ludwick supplied that last night, taking Jeff Francis deep to put the Padres up 2-0 in the first. The Royals picked up one in the third, but the Padres scored in the next two innings, setting themselves up for the W. Ludwick also doubled in the game.
Notables
Mat Latos: 1 for 2, 1 2B. He scored on a wild pitch. He was also 6 IP, 7 H, 3 R, 2 BB, 6 K on the mound, but his batting line is a bit more notable.
Eric Hosmer: 1 for 3, 1 2B, 1 BB. His sac fly brought home the Royals first run.
Chris Denorfia: 2 for 4, 1 2B. He's been getting more playing time and taking advantage of it. That brings his wOBA up to .352 in 204 PA.
---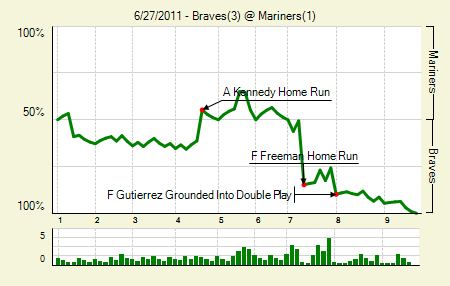 Moving the Needle: Freddie Freeman breaks the tie in the seventh with a two-run shot, +.341 WPA. It was a well-pitched game, with each starter surrendering just a solo homer through six. But in the seventh the Braves jumped out ahead when Freeman slammed one over the wall in center, which ended the scoring and put a damper on Bedard's fine evening.
Notables
Erik Bedard: 7 IP, 4 H, 3 R, 1 BB, 5 K. Unfortunately, two of those four hits were homers, which was the deciding factor. It was still a well-pitched game.
Brandon Beachy: 6 IP, 3 H, 1 R, 1 BB, 9 K. As with Billingsley, the only issue was his 107 pitches through six. I suppose it's bound to happen when you're striking out tons of guys.
Brian McCann: 3 for 4, 1 HR. Yes, his was the solo shot. He also scored on Freeman's homer.
---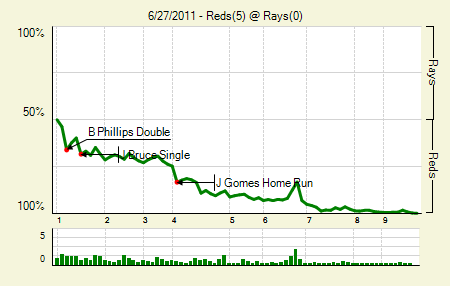 Moving the Needle: Brandon Phillips gets things started with an RBI double, +.125 WPA. The Reds wasted no time in getting to the Rays. Fred Lewis led off with a single, and then Phillips hit one over B.J. Upton's head in center for the RBI double. Three batters later Jay Bruce drove him in, giving the Reds an early 2-0 lead. Phillips had four hits on the day, including an RBI single in the fourth to make it 4-0.
Notables
Jonny Gomes: 1 for 3, 1 HR, 1 HBP. That homer was the only other Reds extra base hit on the day.
Mike Leake: 6 IP, 4 H, 0 R, 2 BB, 3 K. It took him 99 pitches, but it was still some fine work.
Matt Joyce and Ben Zobrist: both 2 for 4, 2 2B. The rest of the Rays offense combined for two hits.