It's difficult to predict that a team will go from a losing record to reaching the postseason in any given season without sounding like a contrarian or someone who's trying too hard, but in baseball, it's a legitimately prudent exercise. Every year since 2006 has produced at least one playoff team that finished with a record under .500 in the previous season. Odds are good that it will happen to somebody this year too, and if you're guessing who it will be, there are no shortage of options to choose from. The Angels have beefed up their lineup. The White Sox are pushing their chips in. The Reds are something close to favorites in a weak NL Central. The Padres fancy themselves close as well. If you're looking for a good old-fashioned comeback story to cheer for in 2020, you can take your pick. My personal favorite might be the Toronto Blue Jays.
The Blue Jays are rarely mentioned in the same breath as the teams listed above, but they share something in common with each of them. Like Los Angeles, they overhauled a major portion of the roster. Like Cincinnati, they improved their team in a division that mostly either stood pat or took a step back. And like Chicago and San Diego, they enter this season with a boatload of young players who are excellent candidates to break out. But when you think of teams who might suddenly contend this season, Toronto probably doesn't come to mind, and for good reason. Our Depth Charts project them to be 21st in team WAR in 2020, and Baseball Prospectus' PECOTA projections have them at just 76 wins and a 3% chance of making the postseason. Depending upon how you look at things, the Blue Jays are probably somewhere between the ninth and 11th-best team in the American League on paper, either at the bottom of baseball's middle class or the top of its lower class.
Recent performance backs that up, of course. By WAR, they had just the 20th-most valuable position player group in baseball last year and the 21st-most valuable pitching staff. Their record was 67-95 in their third-straight losing season, their worst since 1995. Playing in a division with three solidly above-average teams and fighting through a crowded Wild Card field won't be an easy task, so I'm not going to try to convince you that Toronto is a playoff team. What I'd merely like to convince you of is that the 2020 Blue Jays are a completely different team from the 2019 squad, and they ought to be dramatically better as a result.
We'll start with the pitching staff, since that is where the Blue Jays devoted so many resources this winter. Toronto starters were dreadful in 2019, amassing just 7.2 WAR. Marcus Stroman and Aaron Sanchez accounted for four of those wins, and those two throw baseballs for different teams now. Twenty-one pitchers made starts for the Blue Jays in total in 2019, a reflection of just how little stability the organization had on that front.
This year should be better, to say the least. The team signed Hyun-Jin Ryu and Tanner Roark to multi-year deals while also bringing in Shun Yamaguchi from Japan on a two-year contract. Throw in the acquisition of Chase Anderson from Milwaukee and that's three new starters who compiled a total of 8 WAR in 2019 plus a 32-year-old who is coming off 181 innings, 194 strikeouts, 64 walks, and a 2.78 ERA for the Yomiuri Giants. As for the No. 5 starter, the most likely option is Matt Shoemaker, who made just five starts for Toronto last season after returning from injury. If things go according to plan, none of the Blue Jays' top five starters by innings pitched in 2019 will crack this year's Opening Day rotation.
Toronto's Most-Used Starters, 2019
RosterResource Projected TOR rotation, 2020
*Pitched season in NPB
Are there still potential issues here? Absolutely. Projections do not like the top four starters, injuries have limited Shoemaker to just 26 starts over the last three seasons combined, and we have no idea how the transition to major league baseball will go for Yamaguchi. But the Blue Jays still have Thornton and Waguespack in the organization, whose peripherals were roughly league average last season, and guys like Wilmer Font and Sean Reid-Foley offer upside as well. Toronto also has Nate Pearson, who Eric Longenhagen ranked as the top right-handed pitching prospect in baseball, just one level away from the majors. There are a number of things that could go wrong for this rotation, but there is no doubt that the depth in place entering 2020 far exceeds what this team could offer a year ago.
And if the Blue Jays wind up turning heads this season, it won't be because of their pitching staff, anyway. It'll be because of the offense, which boasts one of the most exciting groups of young players on any team in baseball. According to Eric and Kiley, Toronto entered 2019 with the No. 1 (Vladimir Guerrero Jr.), No. 9 (Bo Bichette), and No. 47 (Danny Jansen) prospects in the majors. Then Cavan Biggio and Lourdes Gurriel Jr. each broke out. This is now the Blue Jays' core, and it's a good one.
"Core" Blue Jays' 2019 stats
My logic for singling out these five players is that they are all in their early-to-mid 20s, debuted in the past two seasons, and were all highly regarded as prospects just before their debuts. Toronto would love to get great seasons out of Randal Grichuk or Teoscar Hernández or Rowdy Tellez, but those aren't the players that the franchise is relying upon to carry it for the next several seasons. These five are, and the early returns from them have been promising.
You might be thinking something along the lines of, so what? These guys all logged hundreds of plate appearances last year, and it still wasn't enough to move the Blue Jays from finishing in the bottom third of the AL in wRC+. After how much fanfare surrounded the debut of Vlad Jr. and how quickly Biggio and Bichette succeeded, when you look back on the 2019 season, it might seem to you like these guys spent the majority of the season batting in the same lineup — at least, that's the way I remembered it. But while it's true that all of these players individually amassed nearly a half or whole seasons worth of playing time, the truth is that only a fraction of Blue Jays games featured all or most of these players making an appearance. I went through each game of Toronto's 2019 season and counted how many of these five players appeared in each one. This is how that playing time distributed itself: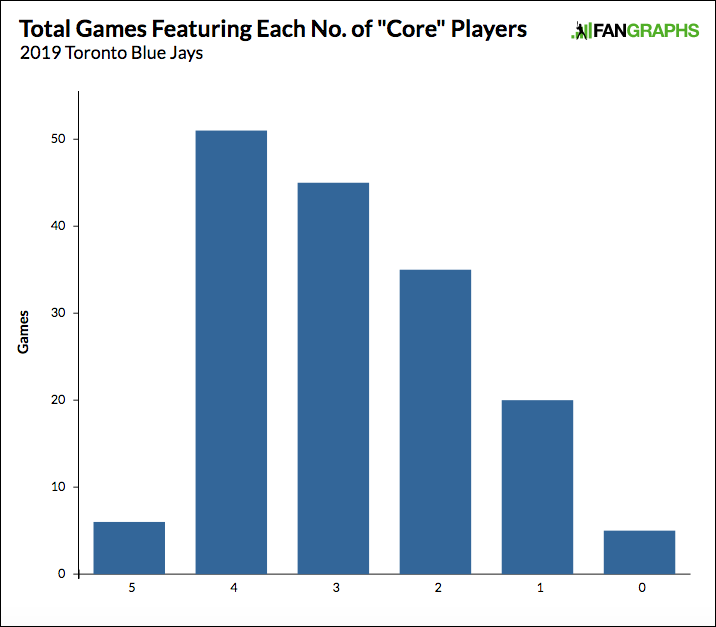 There were just six games last year in which all five of Vlad Jr., Bichette, Biggio, Gurriel Jr., and Jansen made an appearance and just 51 games in which four of them did. Put another way, the Blue Jays played 105 games in 2019 — almost 65% of the season — without at least two of these very important players. This was surprising to me given how much each of these players played on their own, but for various reasons, playing time never coalesced. Vlad Jr. wasn't called up until late April, Biggio wasn't called up until mid-May, and Bichette was in the minors until late July. Gurriel Jr., meanwhile, spent five weeks early in the season ironing things out in Triple-A and then missed more time with an injury in the second half.
This is significant because, barring multiple catastrophes, Toronto is certainly planning to play more than just a third of its season with at least four of these players in the starting lineup in 2020. According to our RosterResource, each of these players is expected to have a starting role with the exception of Jansen, who should get a fairly even split of catching duties alongside Reese McGuire. Like the rotation, there's a very good chance the lineup that Blue Jays fans see throughout 2020 looks totally different than what they saw for most of last year.
It's also significant because when these young players did get the chance to play together, the difference in production was enormous. While tracking how many of these players took part in each game, I also logged how many runs Toronto scored, how many runs it allowed, and whether it won or lost. Here's what I found:
Blue Jays' Team Performance By No. of Core Players Appearing
| No. of Players Appeared | Games | RS per game | RA per game | W-L |
| --- | --- | --- | --- | --- |
| 4-5 | 57 | 5.84 | 4.84 | 31-26 |
| 2-3 | 80 | 3.84 | 5.44 | 25-55 |
| 0-1 | 25 | 3.52 | 4.08 | 14-16 |
| Season Average | 162 | 4.48 | 5.11 | 67-95 |
When at least four of Vlad, Bo, Biggio, Gurriel Jr., and Jansen were active, the Blue Jays raised their average run production by nearly one and a half runs and won more games than they lost despite the average pitching performance being close to what it was for the season. And 57 games is not that small of a sample size for something like this — if a team were 31-26 at the end of May and scoring nearly six runs per game, we would at the very least take them seriously. If that team then went out and added four starting pitchers at the start of June, we would almost certainly think of them as contenders.
Is that a perfectly rational way to think of this Blue Jays team? Perhaps not. After all, there are still plenty of holes here. The outfield is in bad shape, as is first base. Vlad Jr.'s defense was as awful as advertised, and a 21-year-old DH is a tough pill to swallow, regardless of how well he hits. The bullpen is probably trouble. And the position player depth is concerning enough that a couple of injuries could spell disaster. There is no shortage of ways in which this can all fall apart.
But it isn't difficult for me to see a universe in which enough things go right. Vlad Jr. should be better; a full season of star-level production from him or Bichette wouldn't shatter our understanding of baseball as we know it. Jansen, a bat-first prospect in the minors, shouldn't be over 30% worse than the average hitter again. Nobody would be shocked to see Biggio or Gurriel Jr. repeat something similar to last year's production, nor would they be blown away to see a bounce-back season from Grichuk or Travis Shaw, each of whom had been plenty reliable for several consecutive seasons before falling off a cliff in 2019. The rotation is full of workhorse-like arms capable of average-ish production over the course of a season, and Ken Giles is one of the better options a team could hope to have closing games.
It probably won't be enough. The Yankees are a fire tornado, the Rays are great, and the Red Sox are still pretty good, too. The Angels can hit better than Toronto, the Indians can pitch better than Toronto, and the White Sox are about to roll out a youth showcase for the ages. Conventional wisdom says the Blue Jays shouldn't be able to keep up with any of these teams. But that's the thing about surprise contenders: You're not supposed to see them coming.
Tony is a contributor for FanGraphs. He began writing for Red Reporter in 2016, and has also covered prep sports for the Times West Virginian and college sports for Ohio University's The Post. He can be found on Twitter at @_TonyWolfe_.