Indians outfielder Jordan Luplow might not be a household name. But he has turned some heads in Cleveland with majestic home runs like this one:
.@MLB:

Herein lies our official application for Jordan Luplow's participation in the Home Run Derby.

We know that you, the social media account, make these decisions, so that's why we're reaching out.

Thanks,

AtIndians pic.twitter.com/owoB1wWVzl

— Cleveland Indians (@Indians) June 6, 2019
That is quite the blast, but it's clear the Indians' Twitter account is being facetious. Luplow isn't a legitimate Home Run Derby candidate, even with the All-Star Game being played in his home park in Cleveland. (Since 2013, at least one player from the hosting team participated in the Home Run Derby.) Francisco Lindor and Carlos Santana are much better options to serve as the hometown player.
Luplow has experienced something of a breakout this season. He is 25 years old and had just 190 plate appearances to his name prior to 2019. But, this season, he's playing for an offense that has produced an 82 wRC+ team-wide, allowing him to serve as a bright spot in the order. In 120 plate appearances, Luplow has hit .248/.308/.523 with eight home runs and a 113 wRC+. His .275 ISO leads all Indians hitters, while also ranking in the top 10% of players with at least 100 trips to the plate.
The Indians acquired Luplow in a rather insignificant trade with the Pirates last November as part of what was a quiet offseason for the presumptive AL Central champions. Even in retrospect, the trade looks like a move for depth, not one for a top contributor. Luplow had hit just .194/.274/.371 in parts of two seasons with Pittsburgh. He didn't make enough contact to generate any power, and he certainly didn't walk enough to keep his OBP afloat. He was a replacement player in every sense of the word, and, by WAR, he actually was worse than that (-0.3).
Luplow hasn't taken the league by storm since, but for a team that is so starved for offense, his bat has actually shined. He ranks fourth on the team in wRC+, and he hits lefties better than anyone else. Luplow's 187 wRC+ against left-handed pitching is fifth in baseball among the 179 hitters with at least 50 plate appearances versus southpaws. It makes sense, then, that 17 of Luplow's 28 starts this season have come against a left-handed starter. Luplow's success, while quiet, is new. It is still too early to tell whether he will revert back to being a Quad-A bat in the future, but for now, he looks like a useful platoon piece in what is otherwise a very bad outfield. Let's investigate what's different.
One could argue that Luplow was utilized incorrectly while in Pittsburgh, but that point doesn't really hold up. Yes, it is odd that Luplow made almost exactly as many starts versus lefties (21) as he did against righties (20) in his two years there. But it's not as if he set the world on fire against southpaws while in Pittsburgh, either. He was just bad against pitchers of both handedness.
Something appears to have changed. In this case, it's not a launch angle increase. His average launch angle has actually dropped by 4.3 degrees from 2018 to 2019, which has led to a slight increase in his groundball rate (42.5% in 2018 to 46.7% in 2019).
What we are seeing is a significant increase in medium- and hard-hit balls. Among hitters with at least 100 plate appearances, Luplow has the third-lowest soft-hit rate (7.9%), a 13.7 point year-over-year drop. With that, his hard-hit rate has jumped by 12.5 points, from 23.0% to 35.5%. When he makes contact, Luplow has a .434 xwOBA, putting him in the 78th percentile among hitters with at least 50 results. Luplow can crush the ball, which is something he couldn't do pre-2019:
Luplow Crushes in 2019
| Year | wOBA | %ile Rank | xwOBA | %ile Rank | xwOBA on Contact | %ile Rank |
| --- | --- | --- | --- | --- | --- | --- |
| 2019 | .344 | 67th | .332 | 55th | .434 | 78th |
| 2018 | .277 | 20th | .296 | 36th | .309 | 21st |
It's important to point out that Luplow did not come out of the gate with immediate success. He was actually optioned to Triple-A Columbus on April 13 after sporting a .235 wOBA in his first 17 plate appearances, eight of which ended in a strikeout. Upon his return to the majors, he worked with Indians hitting coach Ty Van Burkleo and assistant Victor Rodriguez to fix some mechanical issues in his swing.
"I was doing things that I didn't know I was doing," Luplow told Joe Noga of Cleveland.com. "Getting on my back side a little too much and not being able to let my hands release and get through some balls."
From video, it's hard for me to tell if there's a discrepancy in Luplow's weight distribution. Here are three Luplow swings.
The first is from 2018, while with Pittsburgh:
The second is from before his demotion:
And the last comes after his return to the majors:
His new swing looks more explosive than his two old swings, but there's only so much that we can gather from three individual swings. Still, whatever the change, it has yielded successful results: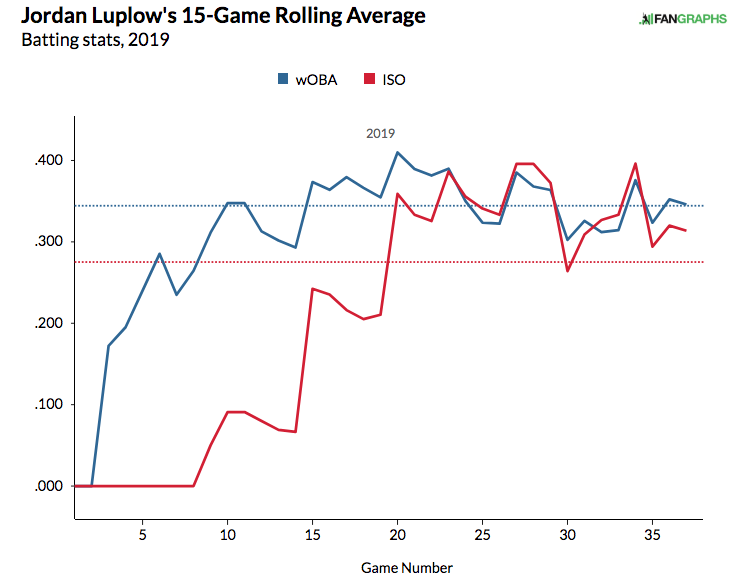 Luplow has seen a huge rise in both his ISO and his wOBA. Since his return from the minors (which only removes 17 PA from the equation), Luplow has slashed .255/.311/.574 with a 125 wRC+. His plate discipline numbers still aren't great, but, for what the Indians need, Luplow has been everything they could have asked for.
In a year that has been disappointing for Cleveland, we should acknowledge the successes. Not everything has gone awry. Jordan Luplow probably isn't going to be in the Home Run Derby, but he still remains one of the bright spots in this lineup, albeit a still relatively dim one. If you're an Indians fan, that is worth celebrating.
Devan Fink is a Contributor at FanGraphs. You can follow him on Twitter @DevanFink.