Some would say that Ahn Woo-Jin of the Kiwoom Heroes is the most high-profile pitching prospect in all of the Korea Baseball Organization (KBO). He has been a highly-touted arm since pitching for the Whimoon High School in the Daechi-dong area of Seoul, topping out at 156 kmph (around 97 mph) and showing solid feel for his secondary pitches. He also has the look of a hurler. He's got the height (around 6-foot-3), a frame that could fill out as he grows, and long limbs. Ahn was drafted by the Heroes in the first round of the 2017 KBO Draft, and signed with a franchise-record six billion won (around $530,000) bonus.
The 19-year-old rookie's 2018 regular season numbers weren't pretty. He went 2-4, 7.19 ERA (5.74 FIP) with 46 strikeouts, 28 walks, and six home runs allowed in 41.1 IP. Besides the strikeouts, the numbers indicated a clear rawness from a kid who was the age equivalent of a college freshman. However, after a series of adjustments, he became a formidable force out of the pen in the 2018 postseason. In 15.2 IP, Ahn struck out 18 and walked only one, while allowing just two earned runs and a home run. A 15.2 IP sample size isn't as big as 41.1 IP, but it seemed clear that the tweaks made a difference.
One of the masterminds of Ahn's mechanical changes was his pitching coach, Brandon Knight. Knight is a man of ample pitching experience. The right-hander had a cup of coffee with the Yankees in 2001 and 2002, and with the Mets in 2008. He also pitched in Japan, Venezuela, and South Korea, and had a couple of independent league stints. In the KBO, Knight pitched for the Samsung Lions in 2009 and 2010, and the then-Nexen Heroes from 2011 to 2014. He made a solid impression pitching in Korea for the last few years of his pro career, going 48-38, with a 3.84 ERA in six seasons in the KBO. The Heroes hired Knight in late 2015 to be their pitching coordinator for the Futures League team and promoted him to pitching coach for the big league team in the middle of 2017 season.
Knight first saw Ahn's pitching via video before the youngster was drafted in 2017. He was with the team's data people, who were looking through possible prospects for that year's draft. "And I saw this kid throwing," Knight recalls, "I loved his mechanics, loved what I saw coming out of his hand: good fastball, good slider. So I said 'Who is that? We should get this guy.' They told me 'Well, he is the top pitching prospect in the draft.'" The Heroes drafted Ahn a few months later, which Knight was thankful for. "Our team is not built with a lot of hard-throwers," he says, "We certainly needed someone like him. But also, he has a strong base – mechanically, he's pretty good. He has a few different thing we are tinkering with, but overall he has a very good idea about what he wants to do with baseball."
The following year, the Heroes started to prepare Ahn to pitch in the KBO. In April 2018, he tossed an inning against a college team, with Knight in attendance. "He was electric," Knight recalls, "He was the same guy I saw on the video. He struck out the side, topped out at 152 kmph (around 94 mph), pitched inside, threw a slider." When it was getting close to when Ahn would see some action, the organization had him throw at the Gocheok Sky Dome to stretch him out. When Knight saw him throw, he thought something was off.
"It was a bit different from what I previously saw," Knight said, "His arm slot had dropped and he was doing some really strange things. Ma Jeong-Gil, our bullpen coach, looked over to me and said the same thing: 'Does that look right to you? Not so to me.'" It turned out that Ahn wanted to do different things to his delivery to be able to hide the ball better. "It was just the wrong way for him to go about things," Knight said.
From there, Knight and Ahn went on mission to fix the youngster's mechanics. They started by pointing out Ahn's old delivery. "I looked at the videos of my mechanics from good games from high school," Ahn said, "I noticed that my left shoulder became positioned a bit low, and, as a whole, my body postured lowered as well."
Ahn's faulty mechanics definitely showed in games. Knight observed that Ahn's arm slot was way down and he was rushing out front. "He sometimes pulls his head out and he's never going to be a guy who directs everything straight on," Knight says, "but he has tendency to really pull his head out early. When he does that, the ball goes all over the place."
Here are couple of his deliveries from an outing on June 9, 2018 versus the KT Wiz. He gave up five earned runs and four walks in 3.2 innings pitched.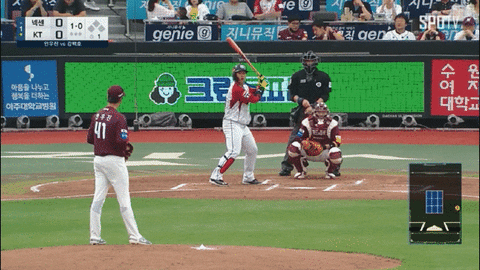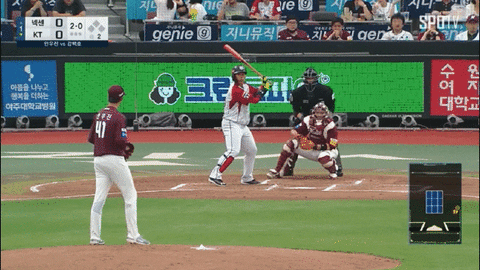 As you see, neither pitch went near where Ahn meant to command them. By late June, Ahn's ERA ballooned to 10.06 and he was allowing close to two baserunners per inning (1.94 WHIP). Knight recalled that, once the adrenaline of being a new call-up wore off, Ahn just wasn't there mechanically. He and the team coaching staff made the decision to send him down to the Futures League. "We gave him a game plan," Knight said, "We were like 'This is what we want you to work on. Just go down there and get your mechanics fixed.'"
In addition to coaching, Ahn turned to YouTube to look up videos of elite pitchers. He says his current pitching role model is Astros starter Justin Verlander. "I watch him a lot," Ahn says. He noted that his first pitching role model was Pedro Martinez, but his lower three-quarter arm slot didn't really fit him. "As for Verlander, he doesn't really have that long of a stride and he releases the pitch from up high with good trajectory," which is more in line with what Ahn is trying to accomplish.
The main fixes were to his posture and release point. "I decided to lift my posture as upright as possible and heightened my arm angle," Ahn said, "Therefore, I switched to an arm slot where I could bring the ball down rather than slinging it sideways. I focused on it and pitches started to travel with a better trajectory – the breaking pitches, in particular, improved. In the past, I wasn't really getting whiffs on my fastballs, but they have started to appear. Once all those happened, I started to feel 'Okay, this is what fits me.'"
As a result, Ahn said that his pitch spin rates and release point height increased. The only metric that took a step back was his extension. At this moment, Ahn is fine with sacrificing a closer release point to home plate. He does acknowledge that he isn't taking advantage of his 6-foot-3 height, though. "I don't really have a long stride," Ahn said, "For my ideal extension goal, I look at Jacob deGrom. His legs go out way front and his upper body balance is impeccable. I feel in awe watching that."
As for Knight, he relied on his eyes while cross-referencing what he saw with analytics. The pressure on him was also ample because of Ahn's youth. "In the major leagues, a lot of the pitching coach's job is more about managing personalities, making minor mechanical changes and things like that," Knight said, "They are ready to play. They are big leaguers. But in Korea, I have a guy who's 35-years-old and has been pitching for a long time, and a 19-year-old kid – all on one team. There are plenty of youngsters on our team who are truly still learning the game."
"I'm going to let them learn through experience," Knight said regarding coaching young pitchers, many of whom are often right out of high school. "It's not just me pounding in their brains telling them to do this, this, this, and this. I want them to develop instincts, because I feel like the best ballplayers are instinctual… what I try to do is teach through repetition, [the] throwing program, bullpens, and batting practices – all those things you do are learning experiences. They are all ways to create muscle memories so you're not constantly thinking about what you do out there. Take everything you learn, let it flow, and have your body relax."
As a result of all the collaborative effort, Ahn developed a delivery that was more direct to home plate with less lateral movements. His fastball — with more life to it — also rated highly on Trackman. While KBO Trackman data is not available for public consumption, SpoTV (a sports broadcasting company) has released several videos featuring metrics based on a limited number of pitches and batted balls. Here are some of Ahn's fastballs from the 2018 postseason:
149 kmph (~92.6 mph), 2,447 rpm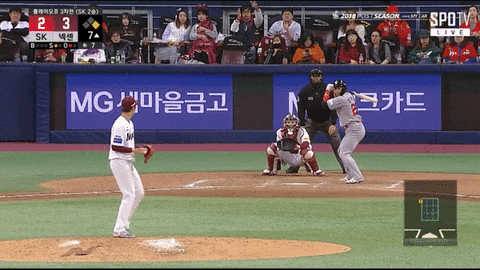 150 kmph (~93.2 mph), 2,572 rpm
151 kmph (~93.8 mph), 2,494 rpm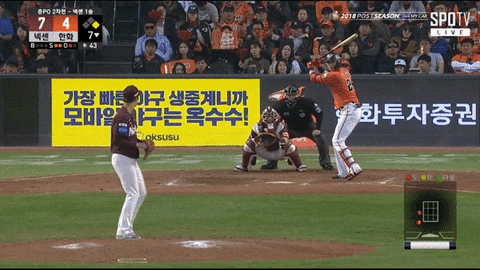 154 kmph (~95.7 mph), 2,662 rpm
The 2,662 rpm figure is pretty impressive. In 2018, David Robertson ranked at the top in four-seamer average spin rates (with 500 minimum pitches) with 2,661 rpm. Even if Ahn's average fastball spin rate is closer to around 2,400, it would still be in the upper-tier of the major leagues.
Ahn also throws a good number of sliders. In 2018, it was his go-to non-fastball pitch; he threw it 28.7% of the time. When discussing the pitch, he said he relies on deception. "I try to throw my slider in a way that, initially, hitters can feel confident about hitting it when the ball comes out of my hand," Ahn said, "But before the bat can meet the ball, the pitch has to break. It's 'tunneling.' I've studied and thought about how to release pitches in a way that it all looks like fastball out of my hand. If it breaks just a bit right before the contact, it can lead to a weakly-batted ball."
Watching Ahn's slider proves his point – it's more about velocity, and the sharpness of the break rather than the amount of it, which is an ingredient for a classic hard slider. Here are a few of them from the 2018 postseason.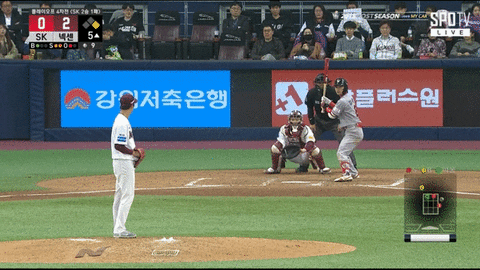 The pitch was thrown 143 kmph (about 88.9 mph) with 2,438 rpm. As you see from the GIF below, Ahn's slider's main effectiveness comes from how sharply the trajectory changes before the hitter tries to make contact.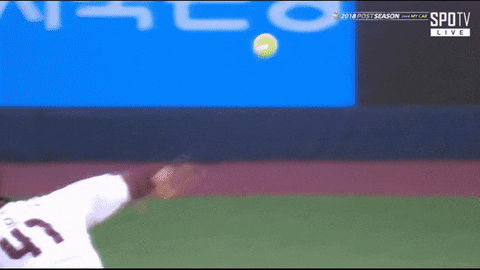 Here's another one with the same velocity, but with around 300 rpm less spin. However, it does just about the same thing – deceiving the hitter with a pitch that looks like a fastball out of the hand, but isn't really.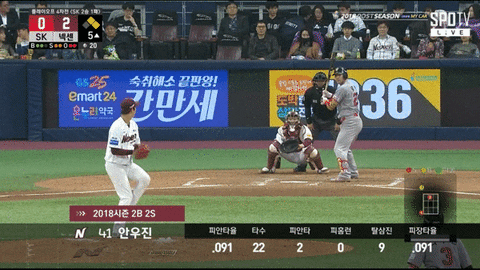 Ahn's performance in the postseason was an indication that he can contribute as an integral part of the Heroes pitching staff sooner rather than later. At this moment, Ahn's role in 2019 hasn't been officially set, but there's a likelihood that he will be in the rotation. He is aware that there are a lot of room for improvement. "If I were to start the season out of the rotation, I'd need to learn how to get hitters out with less amount of pitches," Ahn said, "For starting pitchers, it's not always a good thing to keep striking guys out. If you can get three outs in three pitches, that's pretty much the best case scenario. But in situations where you need strikeouts, like when there are men on base with no outs, I'd need to work for one. I think it's about pitching better to the situation I'm in."
Knight feels that Ahn has the potential to be the best pitcher in the entire KBO – and is a sure major league-caliber talent. "He's got the size, he's got the attitude, and the physical traits on how he can spin the baseball. It's just the matter of consistency for him. If he really can put it together, it's all there."
He also pointed out an intangible – Ahn's propensity to be fearless against any hitter. "He rises to the occasion. He wants it," Knight said. He recalled the first time he saw that in Ahn. In Ahn's first pro outing against the Lotte Giants, Knight and the Heroes manager Jang Jeong-Seok made a mound visit once he threw more pitches than they wanted him to. "I told [Ahn] that he's done and he goes 'I want Dae-Ho,'" Ahn wanted the challenge of facing one of the iconic hitters in KBO history, Dae-Ho Lee, before departing. "I turned around to the manager and was like 'We should let him pitch,'" Knight recalled. "Now, he did walk Dae-Ho. The first pitch might have went over his head because he was just too jacked. But the bottom line is that he showed me the fire. He wants to be 'The guy.'"
Ahn himself hasn't made a secret of his major league ambitions. "Ever since I started to play baseball as a kid, my dream has been to be a major league pitcher," Ahn said, "Right now, I root for the major league teams that have Korean players – the Dodgers, for instance [with Hyun-Jin Ryu]. If I were to go over to the States, playing for any team would be great. It's a dream stage and, if given a chance, I really want to be there."
He does realize that it is a bit early to think too much about it, but it's a nice goal to have. According to KBO rules, in order to be eligible for posting, a player has to have seven seasons under his belt, during which a pitcher has to have thrown two-thirds of the qualified number of innings, or been on the big league roster for more than 145 days in each season. And 19 years old it is quite early to talk about major league possibilities for any player in the KBO. A lot could happen before Ahn is eligible to be posted. But he's a player worth keeping an eye on in the years to come.
*All KBO stats are from Statiz otherwise specified
Sung-Min Kim writes for River Ave. Blues, and has written for MLB.com, The Washington Post, Baseball America and VICE Sports. Besides baseball writing, he is also passionate about photojournalism and radio broadcasting. Follow him on Twitter @sung_minkim.