This is Sung Min Kim's fourth piece as part of his February residency at FanGraphs. (He gets a couple extra days because of the month's brevity.) Sung Min is a staff writer for River Avenue Blues, the biggest independent New York Yankees blog on the web, and has freelanced for various publications including Deadspin, Sporting News, VICE Sports, the Washington Post, and more. He can also be found on Twitter. He'll be contributing regularly here this month. Read the work of all our residents here.
Knuckleballers are rare. Lefty knuckleballers, even more so. Consider: Wikipedia's list of knuckleball pitchers features 29 names. Only four of them are left-handers.
Knuckleballers are even more rare in the Korea Baseball Organization (KBO). In the 36-year history of the league, there's only been one ever. This one happens to be a lefty, though.
Some MLB fans will recognize the name: LHP Ryan Feierabend. Selected in the third round by the Mariners out of an Ohio high school back in 2003, Feierabend made it to the majors as a 20-year-old in 2006 but had only 25 major-league appearances with Seattle in three seasons. From 2010 to 2013, he was a journeyman, making the rounds through the Mariners, Phillies, Reds, and Rangers systems, as well as the Atlantic League. In 2014, Feierabend resurfaced back in MLB for six appearances with Texas, but after that season, he signed a deal with Nexen Heroes of the KBO.
Feierabend told me that the Nexen Heroes showed interest in him about a year before the signing. "The time was summer 2013. I was in Triple-A Round Rock and was having a pretty good season," Feierabend recalled. (He produced a 6-5 record and 3.66 ERA in 120.1 IP.) "As the season went on, more and more teams from Korea became intrigued with me. About four different scouts gave me their business cards, but only one of them — from Nexen Heroes — stayed in touch." Later, in November 2015, the Heroes finally made an offer and told him that he had 72 hours to make a decision.
"Well, here I am four years later, so I definitely signed," Feierabend said.
On December 3, 2014, Nexen announced that they signed Feierabend for the 2015 season for a total of $380,000. Getting signed by a KBO team is just one hurdle to clear. Foreign players have to overcome cultural differences on and off the field in order to have long-term success in Korea or Japan. Feierabend claims that he had the "greatest help ever" from then-teammate LHP Andy Van Hekken.
"I had a teammate who had been there for three years and showed me the ropes," Feierabend said, "[Van Hekken] showed me where to go to shop for food, how to use the subway, and even introduced me to some people he had met [from] around the surrounding cities. All in all, my transition was very easy when I got there."
Van Hekken also produced on the field. He had just come off a 20-6, 3.51 ERA, 3.48 FIP season in 2014 in which he led Nexen to the franchise's first Korean Series trip. Nexen lost to Samsung 4-2 in the best-of-seven series, but was hopeful for another great season in 2015 with Van Hekken and Feierabend leading the rotation.
In 2015, Feierabend went 13-11 with a 4.67 ERA and 4.96 FIP in 30 starts. According to Korean sabermetric website Statiz, his ERA and FIP graded out around league average. Feierabend held his own in an offense-heavy league while pitching in hitter-friendly Mokdong Stadium. The Heroes placed fourth in the standings out of 10 teams, accumulating a 78-65-1 record, and were eliminated from the postseason in the pre-playoff round. In the offseason, the Nexen Heroes re-signed Feierabend for one year and $580,000. Meanwhile, teammate Andy Van Hekken signed with the Saitama Seibu Lions of the Nippon Professional Baseball (NPB). Nexen brought in former Red Sox, Blue Jays, and Angels RHP Robert Coello as Van Hekken's replacement.
In 2016, both Feierabend and Coello saw tumultuous times with Nexen. Coello had trouble limiting walks (allowing 42 in 62.0 IP) and became a liability, often needing assists from the bullpen. The Heroes released him on June 16 and acquired former Cardinals and Nationals minor leaguer RHP Scott McGregor. Feierabend, after going 5-7 with a 4.64 ERA in his first 19 starts, got surprising news in the middle of July: Nexen Heroes decided to part ways with him. "I was extremely shocked," Feierabend said.
In a twist of fate, Nexen put Feierabend on waivers to bring back their former ace Andy Van Hekken. Van Hekken had just gotten released by the Saitama Seibu Lions after a poor showing (0-4, 6.31 ERA) and a velocity decline earlier in the year. The Heroes, in a middle of the pennant race, pounced on the opportunity to bring back their old ace, convinced that he had gotten back into shape and regained his velocity. Because the KBO foreign-player regulations allowed only two foreign-born pitchers per team, the team was forced to make a decision and decided it wanted to move forward with McGregor and replace Feierabend with Van Hekken.
"No hard feelings towards Nexen or Andy," Feierabend said. "He was incredible in the KBO."
Once Feierabend was placed on waivers, another KBO team showed interest in taking his contract. "Once I was released by Nexen — or, should I say, during the waiver process — the guy who let me go had said KT was interested in me and may be contacting me sooner than later." Sure enough, just two days later, KT Wiz released RHP Yohan Pino (2-3, 7.15 ERA in 39.0 IP) to create a spot for Feierabend.
After getting picked up by KT, Feierabend pitched to a 4.16 ERA in 71.1 innings of work to close out the 2016 season. The Wiz brought him back for 2017 for a contract worth $680,000, which is far from an elite payday for a foreign pitcher. In the same offseason, for example, the Hanwha Eagles signed two new foreigners RHP Alexi Ogando for $1.8 million and RHP Carlos Villanueva for $1.5 million.
The KT Wiz gave Feierabend another reason to feel a chip on his shoulder. "Before the 2017 season, the KT Wiz didn't want to sign me back, and I was basically their backup plan," Feierabend said. "Going into this past season, I wanted to go out and show the team that they made the right decision in signing me back and make it to where the ball was in my court. I want to continue to do that, and show them and other teams that this is for real."
Ryan Feierabend has had knuckleball in his back pocket for a long time. "I had been throwing it since I was about 13 years old or so." Entering his age-31 season, with something to prove in a foreign league, Feierabend felt it was time to try something with it.
"I started throwing a knuckleball for the simple fact that I had nothing else to lose," Feierabend told me. "If it worked, it would be something that the KBO hitters had never seen before."
During spring training of 2017, Feierabend told catcher Jang Sung-Woo he planned to start utilizing a knuckleball as a frequent part of his arsenal. Jang already had experience catching knuckleballs. He previously caught five-year KBO veteran RHP Chris Oxspring for both the Lotte Giants and the KT Wiz. Oxspring didn't throw the pitch often, mostly as a surprise pitch. Because Feierabend was teammates with a catcher who knew what to expect from the knuckler, he felt comfortable throwing it often and featuring it as one of his money pitches against the KBO hitters.
Here is the evolution of his pitch mix during his KBO career:
Ryan Feierabend KBO Pitch Mix
| Year | Fastball | Slider | Curve | Changeup | Knuckleball |
| --- | --- | --- | --- | --- | --- |
| 2015 | 55.0% | 15.6% | 6.7% | 20.5% | 0.0% |
| 2016 | 55.1% | 18.2% | 7.4% | 18.3% | 0.3% |
| 2017 | 46.4% | 2.8% | 3.9% | 25.8% | 20.9% |
Instead of relying on a conventional mix of fastball, slider, curve, and changeup, Feierabend regularly features his knuckleball as an out pitch, throwing it 36.2% of the time when he's ahead and 32.8% of the time in two-strike counts.
The pitch itself was quite effective in 2017, with hitters mustering a meager .544 OPS against it.
Here is one thrown at 120 kmph (74.6 mph):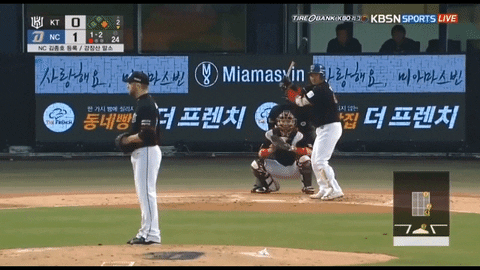 And here's one in slo-mo: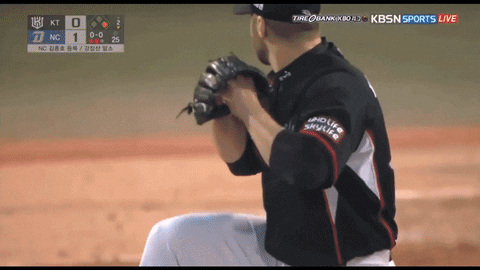 And here's another slo-mo for good measure: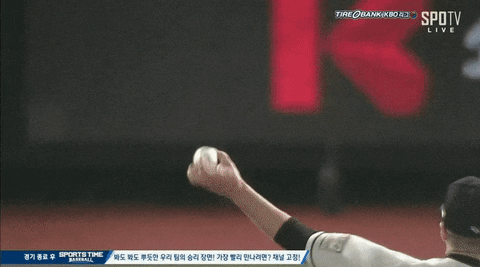 In the end, Feierabend's gamble appeared to pay off off. In 2017, he made notable improvements in many areas of his effectiveness and became a bona fide league ace.
Ryan Feierabend KBO Statistics (with League Ranking)
| Year | ERA | FIP | K/9 | BB/9 | K/BB | OPS Against | BABIP |
| --- | --- | --- | --- | --- | --- | --- | --- |
| 2015 | 4.67 (15th) | 4.97 (19th) | 6.95 (11th) | 3.10 (12th) | 2.25 (14th) | .825 (20th) | .338 (20th) |
| 2016 | 4.45 (12th) | 4.45 (11th) | 7.12 (8th) | 2.37 (5th) | 3.00 (2nd) | .837 (17th) | .368 (20th) |
| 2017 | 3.04 (1st) | 4.42 (8th) | 7.43 (7th) | 1.74 (3rd) | 4.26 (1st) | .687 (4th) | .289 (3rd) |
There are a lot of obvious improvements here. While less publicly available batted-ball data exists for the KBO at the moment, it's not unreasonable to assume that part of Feierabend's lower BABIP allowed in 2017 is due, in part, to the adoption of the knuckler, a pitch that generally leads to poor contact. Knuckleballs are generally harder to square up for line drives or long flies. Feierabend's 4.42 FIP doesn't look pretty because of his 1.13 HR/9 rate, but we should take into the account that the KT Wiz Park is a homer-friendly stadium. His 0.99 GO/AO rate was the lowest of his KBO career, but it's not a surprise to see the batted-ball mix change with the introduction of a new pitch. For now, we can make a bold guess that his new approach induced more pop ups or harmless flies than it had in prior years.
After a successful 2017, Ryan Feierabend received his first seven-figure contract in the KBO. On November 3, KT re-signed him for $1.05 million, a 65% raise from his previous deal.
Feierabend is the ace of the young KT Wiz team, the new kid in the league. The franchise entered the KBO in 2015 and has finished in last place in the 10-team league each of their three seasons of existence. This past offseason, they added former San Francisco Giants 3B Jae-Gyun Hwang and KBO 94-game winner RHP Dustin Nippert. They also feature young players who are expected to grow and perform better. Like Feierabend himself, the KT Wiz as a team have something of a chip on their shoulder and a strong desire to prove the doubters wrong in the 2018 season.
"I am very happy with the pieces the team has added this offseason," Feierabend said, "the coaches and all the players are ready to go. It comes down to two things if we want to compete this season: staying consistent in all aspects of the game and staying healthy."
I've noted how the willingness to learn and adjust is important for foreign-born players who wish to succeed in the KBO and NPB. In his first two KBO seasons, Feierabend was a good starter, but teams deemed him replaceable. In order to excel and enjoy greater stability in the league, he worked and made changes that paid off. It may have taken him awhile to get to his current level, but Feierabend is not one to look back and ask himself "what if I had thrown knuckleballs earlier?"
"As far as my career, you can always say 'What if?'" Feierabend said. "If I had starting throwing it earlier, I may still be in MLB or I may be retired. You can choose the path you do and live with the results. For all I know, this is a resurgence of my career and I will be pitching for some time now that I have that pitch."
All stats from Statiz unless otherwise specified.
Sung-Min Kim writes for River Ave. Blues, and has written for MLB.com, The Washington Post, Baseball America and VICE Sports. Besides baseball writing, he is also passionate about photojournalism and radio broadcasting. Follow him on Twitter @sung_minkim.