For the first few months of this baseball season, everything had been coming up "Belli vs. Yeli." Of course, this was for good reason.
Since the two sluggers got off to scorching starts, the race for the National League Most Valuable Player award has centered entirely around Cody Bellinger and Christian Yelich. Major League Baseball itself basically even recognized that these two candidates had lapped the field, releasing a commercial prior to the All-Star break featuring Bellinger and Yelich playing a comical game of M-V-P.
But baseball is a long season, and even the surest things are never a given. We might just be witnessing that right now. Nationals third baseman Anthony Rendon is one of baseball's most underrated players. Despite ranking ninth in WAR since his debut season in 2013, Rendon was finally voted in to his first All-Star game in 2019, though he did not attend. He is a player who Sam Fortier of The Washington Post described as "infamously attention-averse," and he is also a player who just completed the third-best offensive month of his career. Anthony Rendon demands attention, and in a big way. With his excellent play last month, he might have thrust himself into the mix for the league's highest individual player honor.
First, let us gawk at Rendon's incredible month. In August, he hit .394/.450/.712 with a .467 wOBA and a 189 wRC+. He produced 1.9 WAR, the second-highest total among all position players:
Clearly, it was quite the month for Rendon, but it wasn't even the best offensive month of his season, let alone his career:
Anthony Rendon's Best Months
| Year | Month | PA | AVG | OBP | SLG | wOBA | wRC+ |
| --- | --- | --- | --- | --- | --- | --- | --- |
| 2017 | July | 90 | .392 | .500 | .689 | .493 | 206 |
| 2019 | Mar/Apr | 86 | .356 | .442 | .740 | .472 | 192 |
| 2019 | August | 120 | .394 | .450 | .712 | .467 | 189 |
| 2018 | Sept/Oct | 123 | .352 | .439 | .657 | .456 | 189 |
| 2017 | May | 109 | .308 | .422 | .615 | .430 | 165 |
Minimum 70 PA
Rendon's April this season was actually better than his August on a rate basis. It was cut short, however, after Rendon was hit by a pitch on April 20 and placed on the injured list on April 27. From April 21 through May 6, Rendon made just one appearance, going 0-for-3 with a walk on April 26. Since overall value depends heavily on volume, this injury put Rendon into a fairly sizable hole from the get-go. Even though his April was technically better than his August, he produced four more weighted batting runs in August (15.3) than in April (11.3).
What also makes Rendon's August especially key as it pertains to the NL MVP race is the fact that the two favorites, Bellinger (0.9 August WAR) and Yelich (0.8), are absent from the above list, allowing Rendon to close the gap in full-season WAR and enter this very conversation. Had Bellinger and/or Yelich continued their early-season dominance, Rendon would still be a distant third:
WAR by Month, NL MVP Candidates
| Month | Bellinger WAR | Yelich WAR | Rendon WAR |
| --- | --- | --- | --- |
| March/April | 3.0 | 2.1 | 1.4 |
| May | 1.2 | 0.6 | 0.9 |
| June | 1.0 | 1.8 | 1.0 |
| July | 1.0 | 1.4 | 1.1 |
| August | 0.9 | 0.8 | 1.9 |
As you can see, August was the first month in which Rendon led the other two candidates in WAR. Outside of March/April, however, he's been pretty close this entire time. In fact, since May 1, Rendon has produced 5.2 WAR, the second-most in the National League, behind only Ketel Marte (5.4). Yelich (4.7) and Bellinger (4.2) are in third and fourth, respectively. Using WAR can be a little iffy with breakdowns like these due to the nature of how defensive stats are treated in smaller samples, so let's compare their offensive numbers with wRC+:
wRC+ by Month
| Month | Bellinger wRC+ | Yelich wRC+ | Rendon wRC+ |
| --- | --- | --- | --- |
| March/April | 246 | 205 | 192 |
| May | 154 | 122 | 140 |
| June | 140 | 187 | 141 |
| July | 143 | 179 | 146 |
| August | 129 | 140 | 189 |
In both tables, we see an interesting trend. Bellinger jumped out to a huge lead over the other two players before Yelich took over in the midsummer months. August was the only month in which Rendon led in either statistic, and you can see he led in both. We can do better at visualizing this though. While putting Rendon's great August in context is certainly helpful, we can see just how much he has gained on the other two MVP candidates by looking at their cumulative WAR totals throughout the season. Again, it's worth mentioning that this graph is an approximation, as defensive stats are added in retroactively: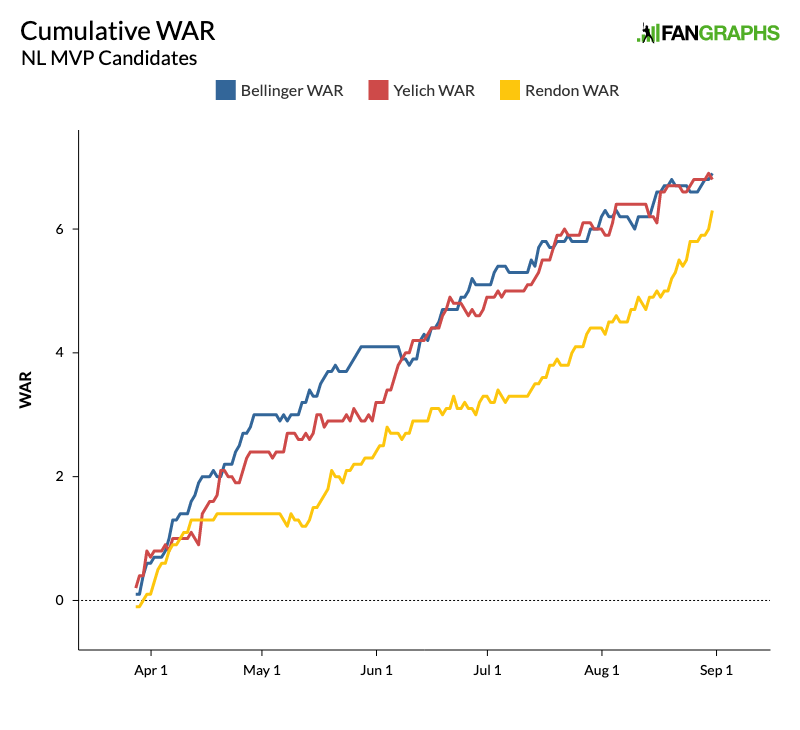 The point is driven home. For the majority of the baseball season, the NL MVP race looked like it had just two candidates. But because Bellinger and Yelich have seen their respective rapid paces slow a touch, in combination with a Rendon leap, we've now got three true candidates in the field. Rendon's August was just that good, and it came at just the right time.
The question is though, can Rendon fully close the gap? It would require another Herculean effort over the final four weeks of the season. Through games on September 1, Rendon trails Bellinger and Yelich in WAR by 0.6 and 0.2 wins, respectively. He's well outside the home run race, and his park-adjusted offensive numbers just aren't quite as good. Rendon doesn't even have the defensive argument to back him up, either; Bellinger's been better there, too. While it's certainly no longer a two-man race for the NL MVP, Rendon still remains a long shot.
Regardless, the fact that we're even having this discussion is good news for both Rendon and the Nationals. In August, while Rendon was tearing up National League pitching, the Nationals went 19-7. Their playoff odds increased from 75.3% on July 31 to 97.9% on August 31. Rendon has been the second-most impactful player by championship win probability added. As the Nationals have solidified their standing in the postseason race, Rendon has been the man to lead their offense.
All of this has come in a contract year for Rendon, too. He's expected to be one of the most sought-after free agents this offseason, and adding a top-three MVP finish onto his résumé will just confirm what teams already know: Anthony Rendon is one of the best players in baseball. Over the past month, he's added his name to the list of highly qualified NL MVP candidates, and he might not be in the driver's seat for now, but he should start to stir some conversation if this level of play is kept up.
Devan Fink is a Contributor at FanGraphs. You can follow him on Twitter @DevanFink.