Not long ago, César Hernández felt like one of the safer bets in baseball. He was a speedy, slick-gloved second baseman who posted strong walk rates, working a 109 wRC+ from 2016-17 and posting 7.1 WAR, which made him the seventh-most valuable second baseman in baseball over that time span. But with his value declining, Hernández was non-tendered on Monday by the Phillies, for whom he has played seven major league seasons and 13 total years as a professional, all before turning 30.
With his final year of arbitration on the horizon, Hernández was projected to make around $11 million if the Phillies tendered him a contract for the 2020 season. But as Philadelphia reached a decision point with both him and third baseman Maikel Franco, the organization concluded that the money due to each player didn't match up with what it believed they'd contribute in the coming year.
This decision point arrived at an inopportune time for Hernández, who is coming off his worse season since 2015. He was worth just 1.7 WAR in 161 games in 2019, hitting .279/.333/.408 for a 92 wRC+ and registering as just slightly above average in the field and on the basepaths. His durability, glove, and past production should still make him an attractive candidate for any team with a hole at second base. Those interested in his services, however, are no doubt working on answering an important question: What happened to Hernández's walk rate?
It's a crucial point, because Hernández's walk rate is his single most valuable skill as an offensive player. He doesn't have much power, as conveyed in his .105 career ISO and career-high homer total of 15 in 2018. He's also hit for a high average in the past, when batted ball luck has favored him. But from 2017-18, his BABIP fell from .353 to .315 in just one year, causing his overall average to fall from .294 to .253. He was still something close to a league average hitter, though, because of his ability to draw free passes, finishing 2018 with a career-best 13.4% walk rate. The worse BABIP luck wasn't enough to do him in as a hitter, but in 2019, he learned that an evaporated walk rate was.
Biggest Year-to-Year BB% drops, 2018-19
Without warning, Hernández's walk rate dropped to its lowest point since 2012, when he was still in the minors. This is far from a routine fluctuation, or even something that happens every year. Since 2010, just five hitters have seen steeper declines in walk rate between two seasons in which they made 250 plate appearances.
That paints a grim picture, but there is some good news for Hernández here. Since 2010, there have been 36 hitters whose walk rates have dipped 5% or more in a span of just one season. Of the 34 hitters who continued playing after that, a whopping 30 saw their walk rates trend upward again the following year. Those who did improve their walk rates did so by an average of 2.7%, which would get Hernández within spitting distance of his 2016-17 figures. There is precedent for players in his position turning things back around in short order. But Hernández's path to get there is a tricky one.
There is little guesswork to be done in terms of how Hernández hurt his walk rate so badly this year. From 2014 to 2018, he had lowered his swing rate every single year, with his 37.6% swing rate in 2018 representing the seventh-lowest rate out of 140 qualified hitters. Then, this year, his swing rates skyrocketed, seemingly out of nowhere:
Cesar Hernández Plate Discipline, 2018-19
| Season | O-Swing% | Z-Swing% | Swing% | Contact% | Zone% | SwStr% |
| --- | --- | --- | --- | --- | --- | --- |
| 2018 | 20.3% | 58.8% | 37.6% | 80.9% | 45.0% | 7.1% |
| 2019 | 29.8% | 65.4% | 45.5% | 84.5% | 44.2% | 7.0% |
If we look at his 15-game rolling averages, we see his swing rate actually started trending upward in the middle of last season. At its lowest point of 2018, Hernández reached a 15-game average swing rate of 32.1% on July 6. At that point, he was an above average hitter, with a 112 wRC+ and a 14.8% walk rate. After that, however, his swing rate rose precipitously as the season went on, and he carried just an 83 wRC+ the rest of the way.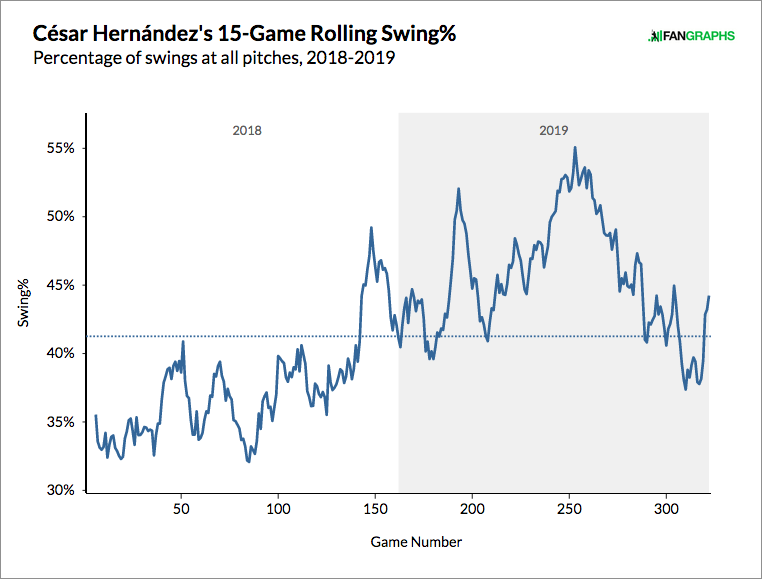 We can pretty comfortably identify Hernández's sudden aggressiveness as the cause of his problems, but simply saying "swing less" doesn't seem helpful enough to fix this. It's difficult to imagine what would make Hernández simply decide to start swinging more, and it seems unlikely a modern hitting coach would suggest such a counter-intuitive strategy. There has to be something more to this, or at the very least, a separate shift in approach for which swinging more is simply a side effect.
To identify that, it might help to look at what exactly Hernández has started swinging at more often than he used to. The answer to that is, well, everything.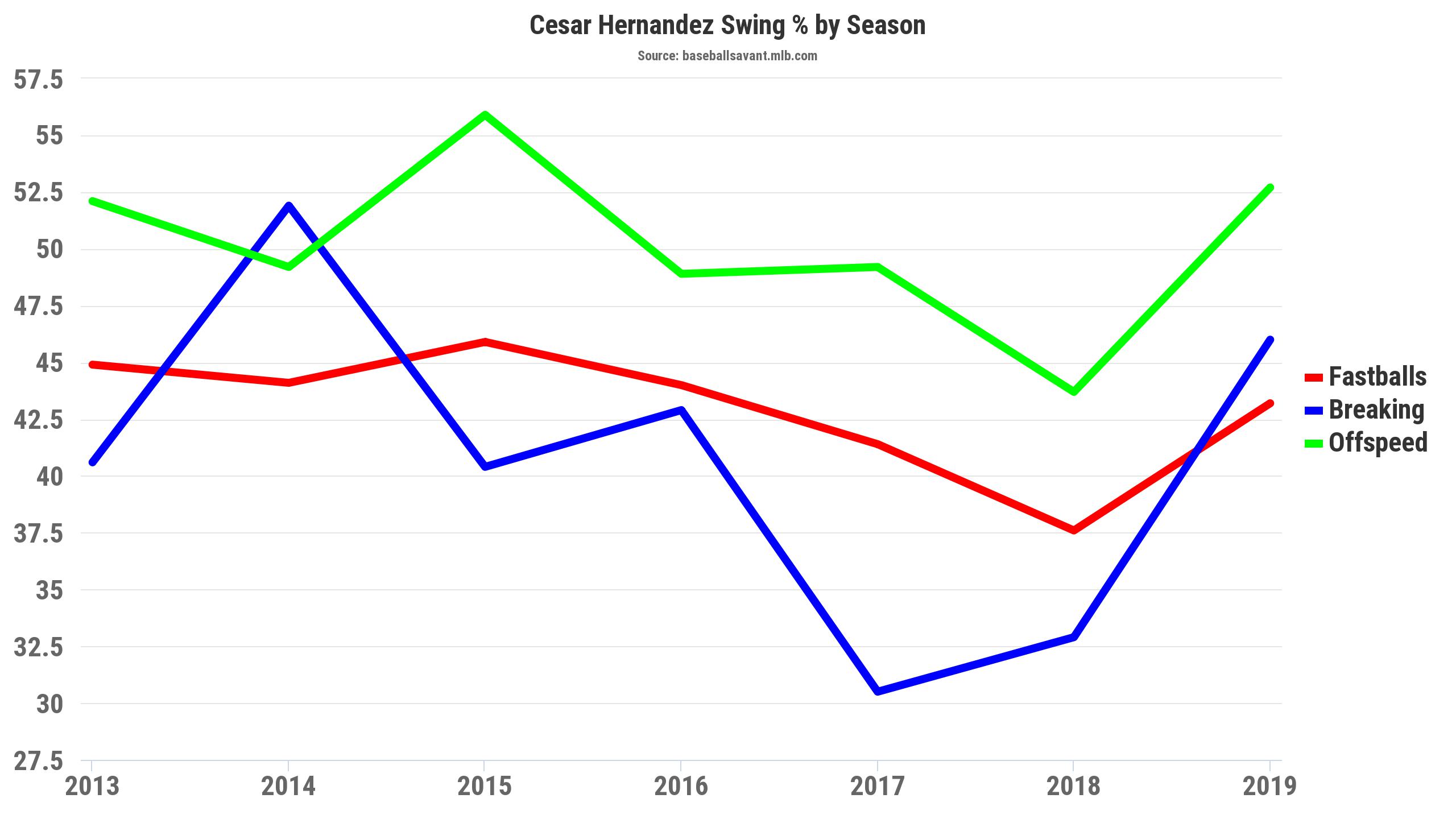 Previously, Hernández had been very good about focusing his swing on pitches in the middle of the plate. He sought out fastballs elevated over the middle, and off-speed stuff over the plate at the knees. But in 2019, he began to chase fastballs high out of the zone, and was much less discerning in where he attacked off-speed pitches.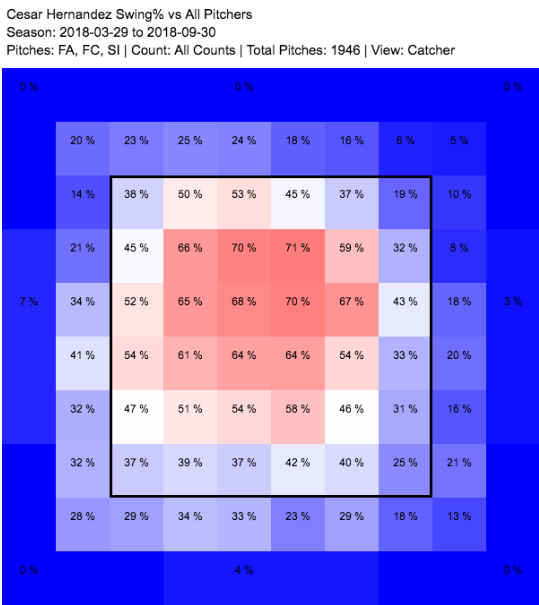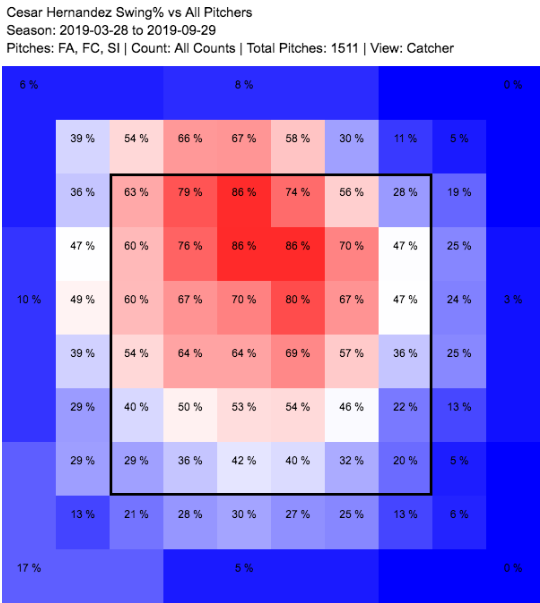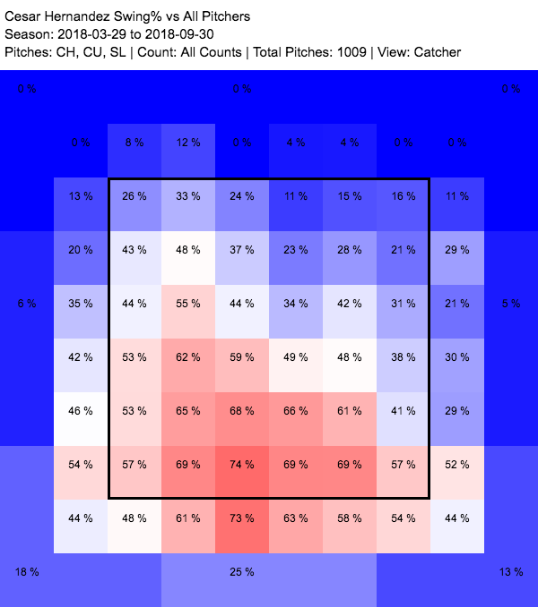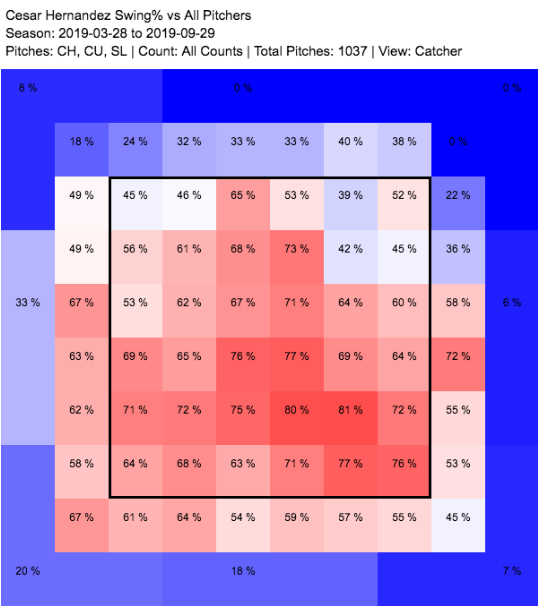 The two changes look similar, but interestingly enough, they had different effects. His wOBA against fastballs fell from .375 in 2018 to .313, but his wOBA against breaking pitches climbed from .241 to .366, and his wOBA against off-speed pitches went from .203 to .282. Non-fastballs were a significant weakness for Hernández before this year, and it's possible that he knew attacking them more would help him perform better against those pitches. But the sudden proneness to fastballs has masked those improvements.
This is a good time to remind you that Hernández is switch hitter, because the effects of this change in his approach has also differed depending upon which batter's box he's occupied. Throughout his career, there was little difference in Hernández's production against lefties vs. righties. He hit for less power against southpaws, and walked a little less, but the overall value he produced was very close to what he did against righties — 97 wRC+ compared to 99. In 2019, though, that gap widened considerably.
Cesar Hernández L/R splits, 2019
| Handedness | wRC+ | BB% | K% | ISO |
| --- | --- | --- | --- | --- |
| vs. R | 102 | 6.80% | 16.20% | .152 |
| vs. L | 67 | 6.50% | 11.90% | .070 |
His plate discipline was worse against both, but only against lefties did the overall production truly suffer. Part of that seems to be that, when it came to righties, he was able to achieve greater success against non-fastballs without doing serious damage to his ability to hit fastballs. Against southpaws, however, he couldn't pull off the same trick.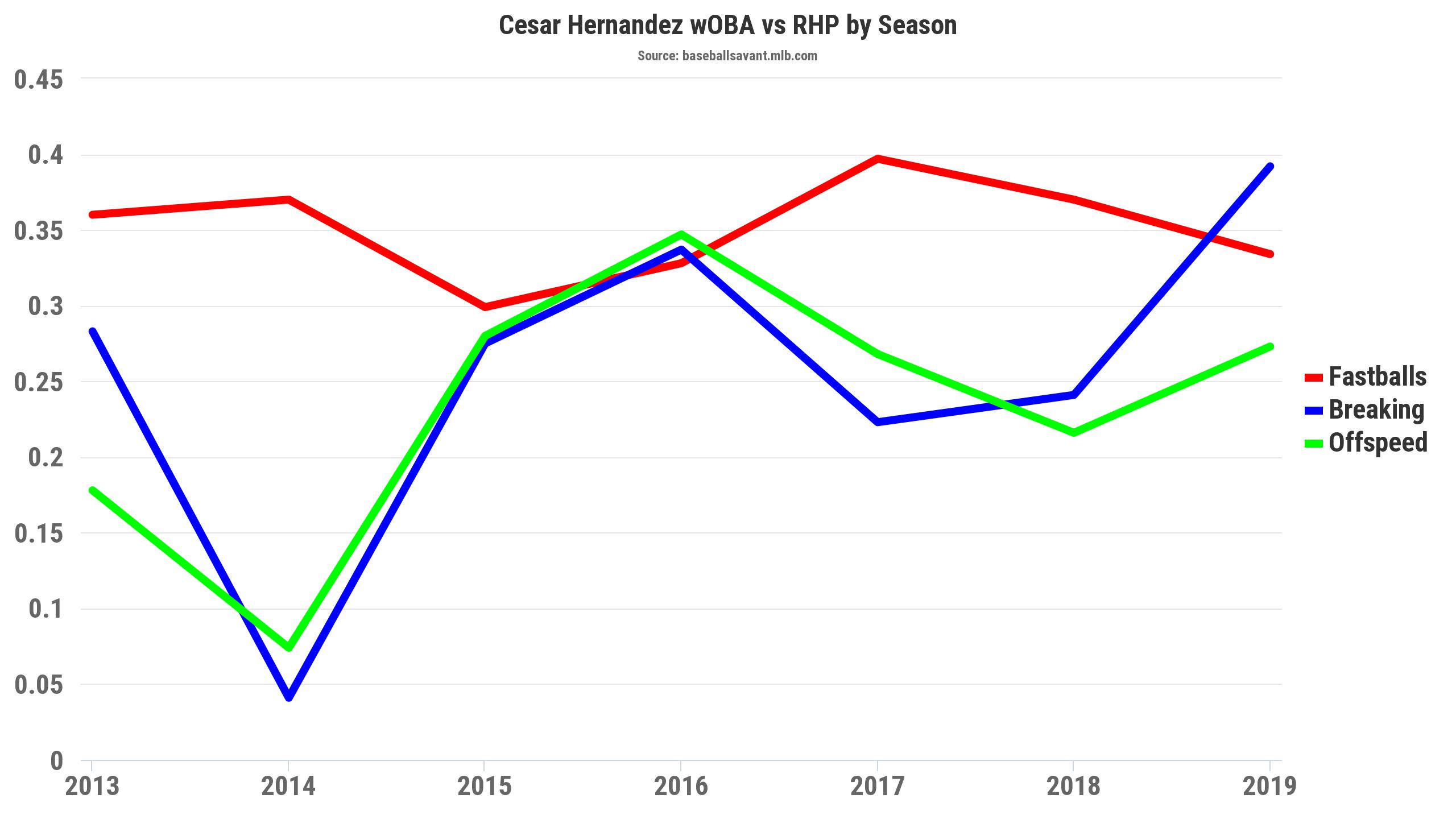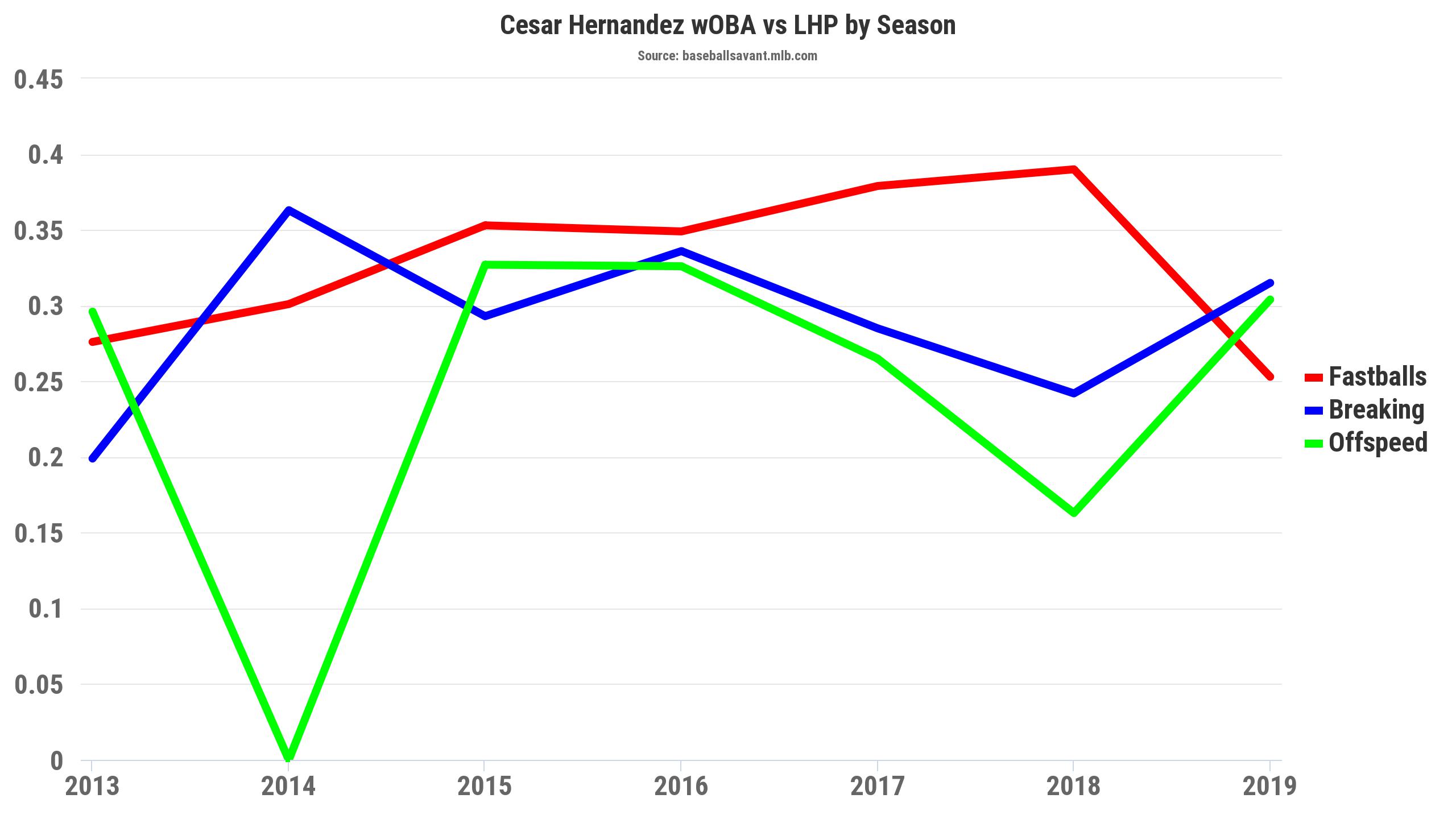 There is some real head-scratching to be done over Hernández's 2019 season, but the numbers we've seen seem to indicate this year saw him employ a completely different approach from the one he'd used throughout his career. That provides an easy excuse for his struggles, but it also makes him more difficult to project. His changes resulted in a few positives, but overall, they didn't make him a better hitter.
The good news here, of course, is that a sudden decline in plate discipline should be easier to fix than, say, a plummet in exit velocity. It seems reasonable to assume that Hernández could revert back to his old approach and regain some of his walk ability, but I say that as someone who has never played major league baseball. It's possible a new team will be able to combine the best parts of Hernández's last four seasons and turn him back into an intimidating, top-of-the-order bat. The pieces all seem to be there. But the Phillies won't pay to try and put them together.
Tony is a contributor for FanGraphs. He began writing for Red Reporter in 2016, and has also covered prep sports for the Times West Virginian and college sports for Ohio University's The Post. He can be found on Twitter at @_TonyWolfe_.