Do you remember when Chris Archer was really good at throwing baseballs? You should, because it was very recent! From 2014-17, only 12 pitchers across the majors accumulated more WAR than Archer. He was a strikeout maestro who kept his FIP consistently low with a knack for gobbling up innings and a sweet head of hair to boot, looking like an ace in pretty much every sense of the word.
Those days feel far away now, however, after a disastrous start on Tuesday brought his rough season with the Pittsburgh Pirates to a crescendo — he surrendered five home runs to Braves hitters in six innings, leading to an ugly seven-run outing. He has now allowed 16 homers in just 59.2 innings, giving him the fifth-highest HR/9 rate among all big leaguers with at least 50 innings pitched. His ERA of 5.79 is actually outperforming his 6.15 FIP. The old Archer seems long gone, but what caused him to vanish?
Typically, when a player regresses this swiftly and severely, there can be multiple issues to blame for their struggles. If you squint, you can see a few present with Archer. His four-seamer has lost two miles per hour in velocity over the past two seasons. He's also throwing fewer strikes than he has in past years — something that is evident in his skyrocketing walk rate, up at 4.53/9 from a career average of 3.03/9 — but just 1.5% less than his career average. We can nitpick and analyze a million different data points to paint a picture of why Archer has lost his groove, but instead, let's just talk about the issue right in front of us: His sinker has been absolutely dreadful.
I'll admit his sinker has accounted for just 22% of his pitches this season, and that's if you go by Baseball Savant's pitch tracking. Our own Pitch Info data says he's thrown it less than 15% of the time. How bad can a pitch be to be singled out as possibly the biggest cause of a player's struggles if he throws it with less than one quarter of his pitches? In this case, extremely bad! In 2019, Archer's sinker has resulted in a .370/.485/.815 slash line for opposing hitters. The Statcast data for the pitch is equally gruesome: .403 xBA, .761 xSLG, .522 xwOBA.
One of the reasons Archer's sinker has performed so poorly — as well as a reason for why there's not always a consensus on whether he's thrown a two-seam or four-seam fastball — is the fact that it just doesn't seem to move. According to Statcast, he generates 5.4 fewer inches of vertical movement on his sinker than the MLB average, the 10th-worst figure in baseball. It also generates the 16th-worst horizontal movement. To make matters worse, here's where those pitches are ending up: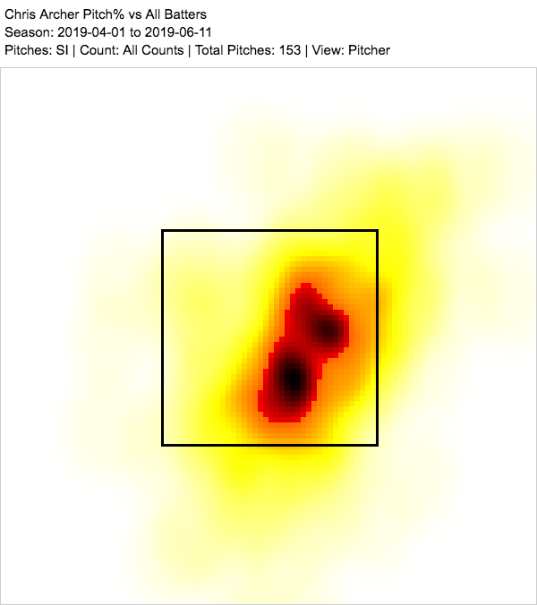 As pitches add up over the course of a season, it makes sense that a lot gather into the middle of the plate. Look at the heat maps for even the best pitchers in baseball and you'll see the darkest spot in the center of the zone. But even with that caveat, the height of these pitches is a big concern. Compare, for example, Archer's heat map with that of Atlanta's Mike Soroka, who Ben Clemens wrote about earlier this week: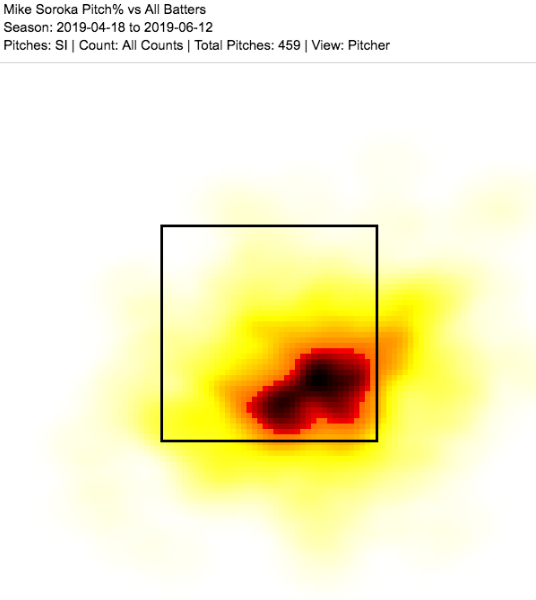 That's where a sinker is supposed to finish. A successful sinker will dive at or below the knees, but Archer's is hanging thigh-high. Because of its lack of movement, that makes it a meatball. Here are two examples courtesy of Baseball Savant.
The sinker isn't Archer's only problematic pitch, but it is his newest one. His four-seamer has resulted in a .380 wOBA this season, which is obviously suboptimal, but it's also pretty much in line with the .372 wOBA it resulted in during the 2017 season, when he was a 4.5 WAR pitcher. And his slider — easily his best pitch throughout his career — has held up pretty well, holding opposing hitters to a .292 wOBA and generating more whiffs than at any point in his career. Archer can succeed with one bad fastball, even when he's throwing it nearly half the time the way he did two years ago. It's adding a second, even worse fastball to the mix that has seemed to unravel his game.
Archer's sinker isn't exactly new, per se. He threw a good number of them from 2012-14, and in fact, he was pretty successful with the pitch. In 2014, he limited opponents to a .258/.342/.333 line with the pitch, relying upon it as his primary weapon (41% of all pitches thrown). But the next year, he ditched it, opting to focus on his four-seamer, his slider, and his changeup. It remained that way until he was traded at the deadline last year to the Pirates, an organization who has dug its heels in on focusing on a two-seamer, get-ground-balls approach while the rest of baseball has shifted to a four-seam, strike-guys-out mentality.
Because of Archer's past success with the sinker and his aforementioned subpar performance with his four-seamer, it was understandable for Pittsburgh to tweak his arsenal in this way if the organization itself was indeed the one that insisted upon the change. It isn't, however, the first time the Pirates have had similar struggles in attempting to shift a power pitcher's repertoire toward this direction. In an ironic twist, Tyler Glasnow — one of three players the Pirates traded to the Tampa Bay Rays in exchange for Archer last July — spent the 2017 season splitting his fastballs between the four-seamer and the sinker, and he watched both suffer, with the sinker getting teed off on at a .422/.456/.663 rate. In moving back to a four-seam/breaking ball combo with the Rays, he was one of the best pitchers in baseball this season before getting injured in May.
As this year goes on, perhaps Archer and the Pirates will attempt to reverse course on his retooled approach. In the meantime, there's no telling how far he might sink.
Tony is a contributor for FanGraphs. He began writing for Red Reporter in 2016, and has also covered prep sports for the Times West Virginian and college sports for Ohio University's The Post. He can be found on Twitter at @_TonyWolfe_.