In writing, the rule of three "suggests that a trio of events or characters is more humorous, satisfying, or effective than other numbers." With this in mind, I present to you three interesting facts about Diamondbacks second baseman and center fielder Ketel Marte.
First, he's married to the cousin of Vladimir Guerrero Jr., and the two are so close that Marte thinks of himself as Guerrero's older brother. Second, in 2017, he became just the eighth player in baseball history to hit two triples in a playoff game and was the first to do so from both sides of the plate. And third, he's responsible for the second-longest home run this year, this 482-foot blast:
Hopefully you found those three facts an effective introduction to Ketel Marte. While the first two are certainly interesting tidbits, it is that third fact — the majestic home run — that is worth delving further into. Marte has hit 17 home runs in 302 plate appearances this season. Even in a homer-happy environment, that ranks tied for 15th in baseball. It also already represents a career-high, surpassing the 14-homer mark he set in 2018.
Clearly Marte is breaking out, and he is doing so in a big way. His wRC+ has jumped by 16 points, mainly due to a power surge. Through his development into a standout center fielder, his already-successful defense has managed to improve, too. And yes, even his baserunning has gone from below league-average in 2018 to slightly above-average in 2019. Tying back into our rule of three theme, Marte has managed to improve himself in all three aspects of baseball. That has led to 2.4 WAR, already tying his career-high (set, as you'd probably guess, in 2018) in just 68 games. He ranks 20th in the majors in the stat.
With his slender figure — he is listed as just 6-foot-1 and 165 lbs. — one might not expect Marte to be hitting with this much power. And yet, we come across facts like these: Marte's 115.8 mph max exit velocity is the 11th-highest in the league. Something must give. Either Marte isn't as small as his listing, or he does an incredible job of squaring up the baseball. Given the GIF above, I think we can safely rule out theory No. 1; Marte really does appear to be the size that has been reported by the league.
That must mean that Marte does indeed do a fantastic job at squaring up the ball. In fact, Marte has already generated more barrels in 2019 than he did in any prior year, but he does not rank among the current league-leaders in barrels per batted ball event. We must dig deeper. To do so, I took a look at Marte's average exit velocity by zone location. What I found was quite interesting.
First, since Marte is a switch-hitter, it was important to evaluate him from both the right and left sides of the plate.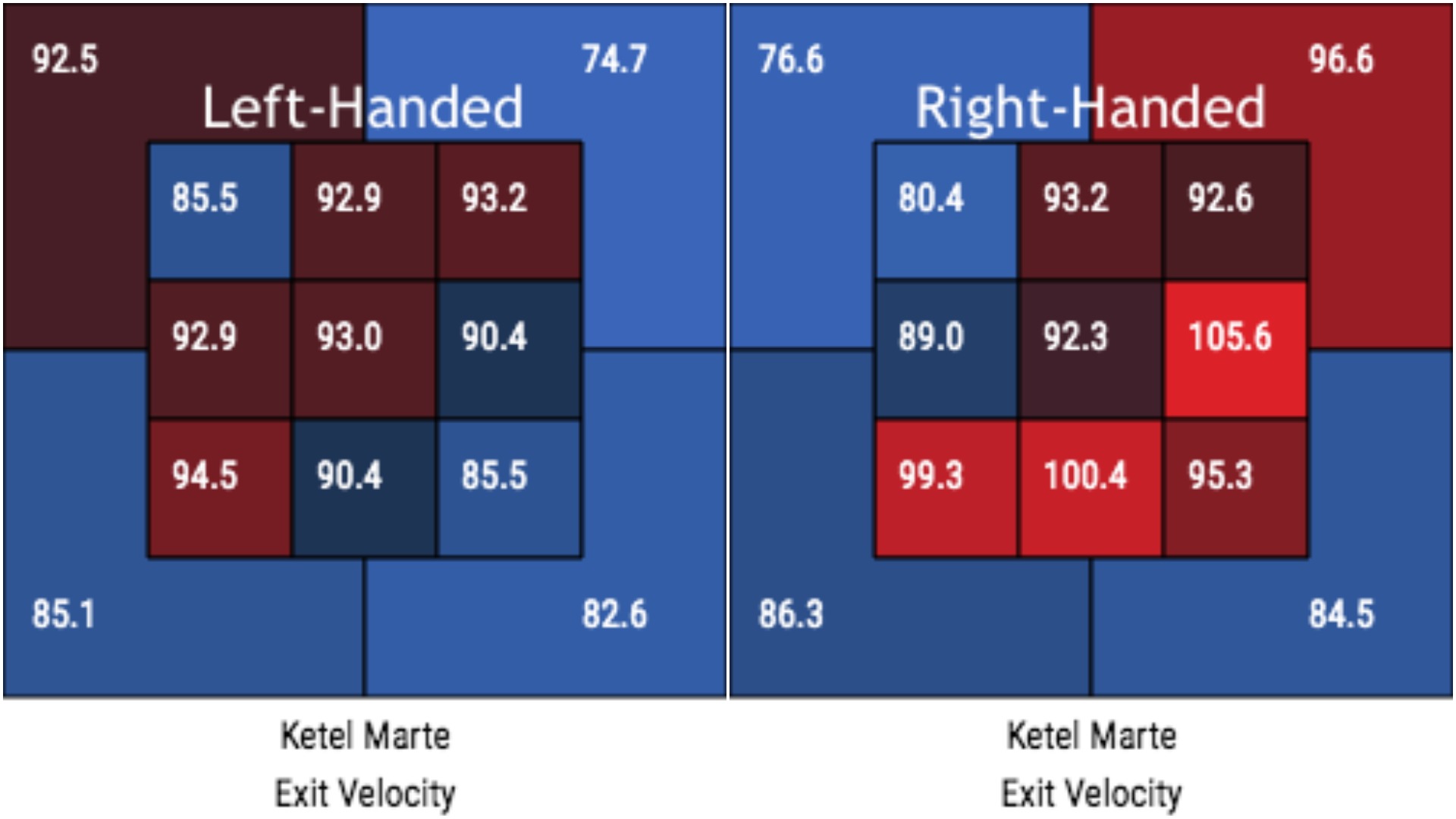 As a right-handed hitter, Marte has generated the most power on pitches low in the zone, while also enjoying the middle-away part of the plate. As a lefty, Marte's average exit velocity isn't as high overall, but he is the best middle-away.
To tap into this power, Marte has swung more on pitches in his "power zone."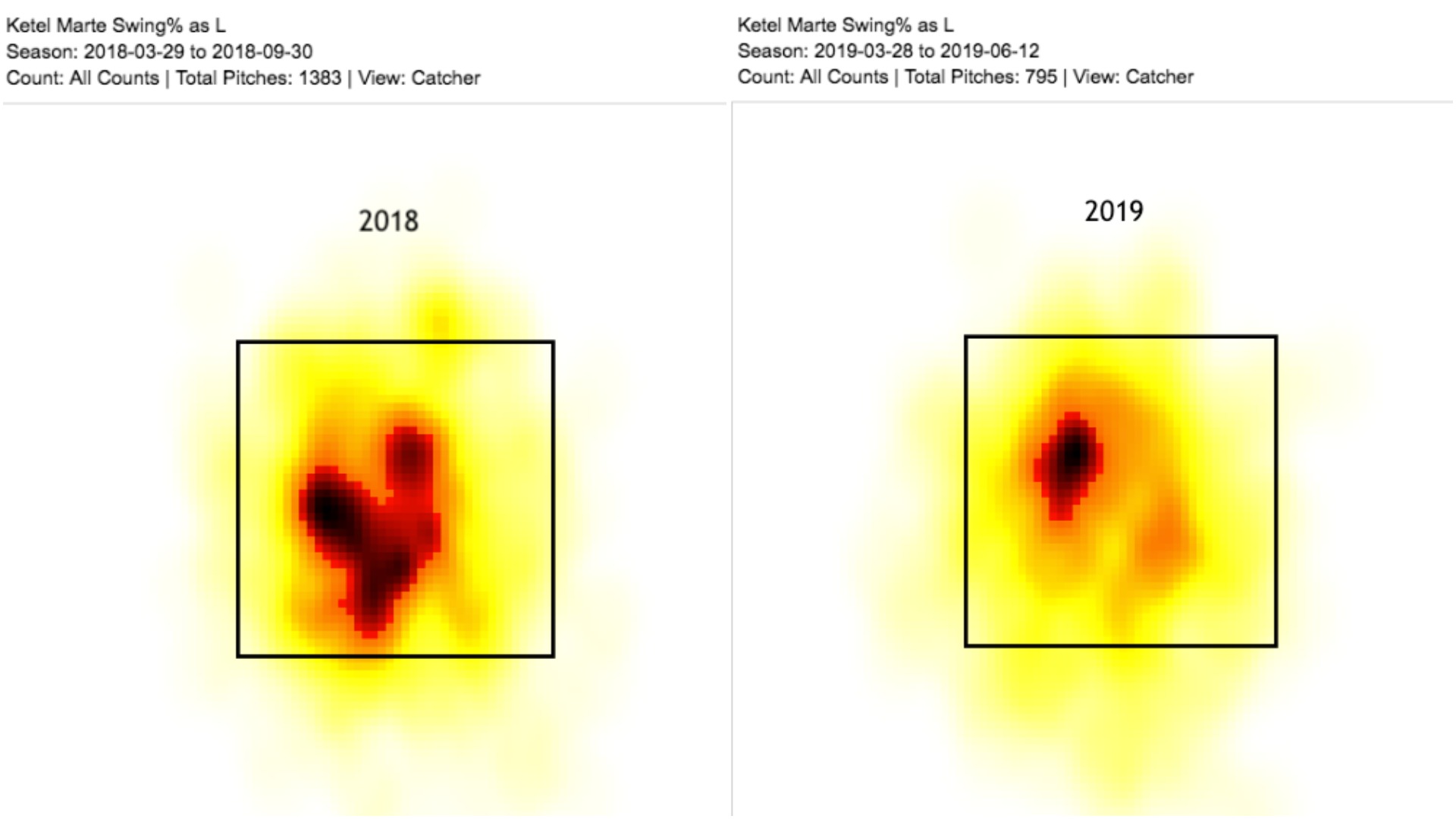 Looking at his swings as a left-handed hitter, we can see that Marte was equally aggressive on pitches in the middle of the zone last season. That's not a bad thing, but Marte completely changed his tune. He now concentrates the majority of his swings in the middle-away portion of the zone, exactly where he is generating the majority of his power.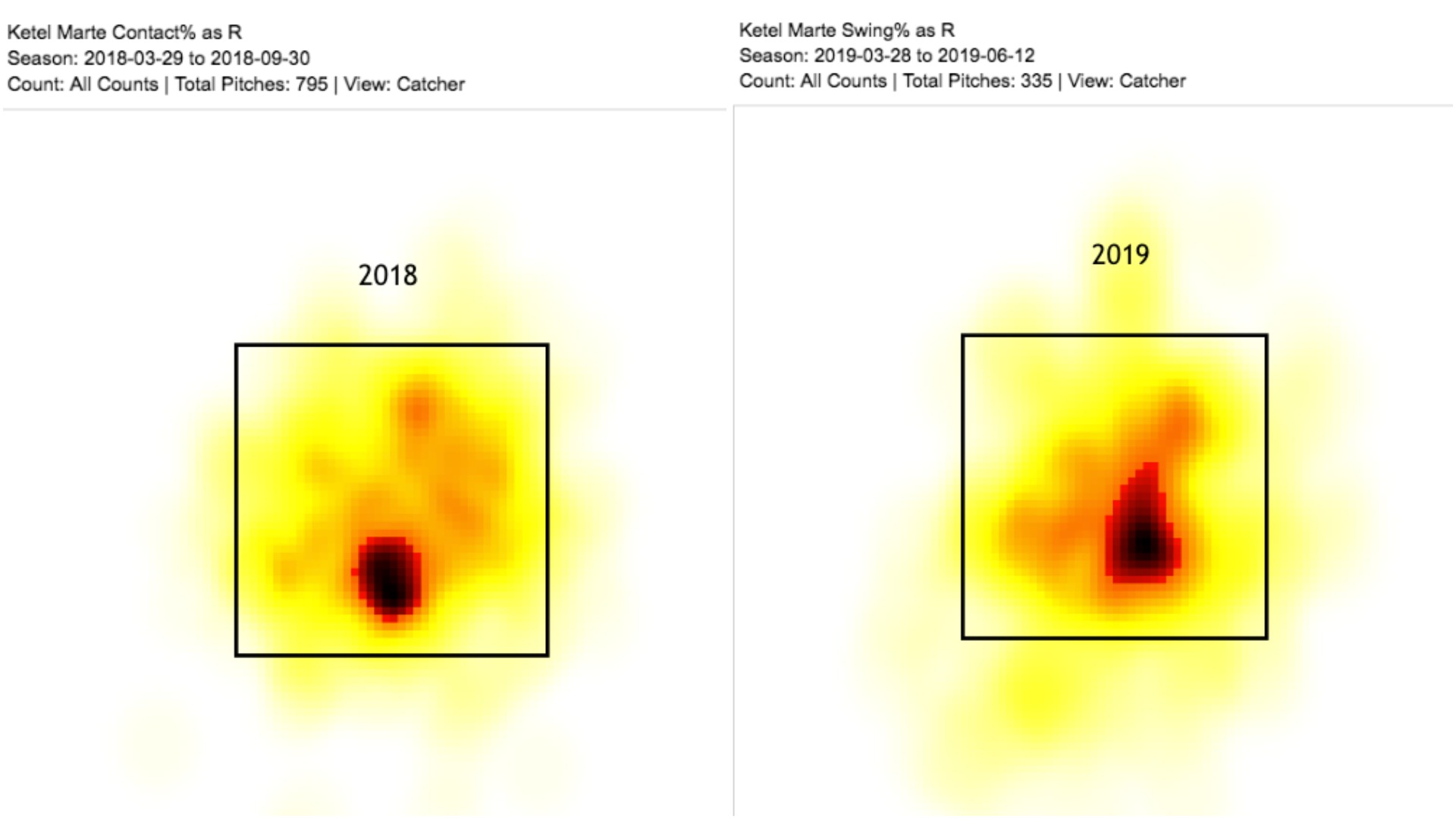 The change isn't as drastic from the right-handed side. The concentrated area has moved a touch more outside, which is what we'd hope to see. In both years, Marte has focused his swings around the low pitch. This makes sense. His average exit velocity on low pitches in the zone ranks fourth among all right-handed hitters. (As shown above, from the left side, he is not nearly as lucrative on low pitches, ranking in just the 42nd percentile.)
To answer the essential question here, it appears that Marte has been successful because he's been more aggressive in the areas most conducive for hitting for power. That doesn't fully explain everything that is happening here; Marte has also increased his launch angle, and he is hitting more fly balls than ever before. But in order to get those fly balls out of the park, one must generate power somehow.
I'll leave you with three ways in which Ketel Marte has improved at the plate. He selects better pitches to hit, hits them harder, and rounds the bases more often. With these adjustments, he might just be establishing himself as a cornerstone in the Arizona lineup for many years to come.
Devan Fink is a Contributor at FanGraphs. You can follow him on Twitter @DevanFink.