Everywhere I turn, someone seems to be enamored by Orioles pitcher Daniel Cabrera. And why shouldn't they be? He had the 4th highest strikeouts per 9 innings (K/9) of any starting pitcher in 2005 and he's an extreme ground ball pitcher. Oh, and I forgot to mention he's only 24 years old. The only knock against him is his shoddy control. If he were to lower the number of walks he allows, it appears he'd be ready to join the upper echelon of starting pitchers. Before I get ahead of myself and make him out to be a perennial Cy Young contender, let's take a closer look and see if there's anything troublesome that we should be aware of.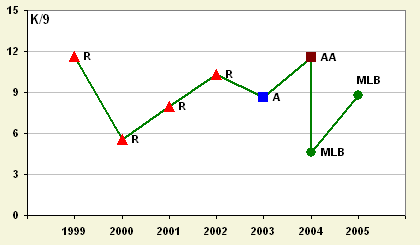 If you're just looking at his major league statistics, you'll note that there's a huge jump in his K/9 from his first year to his second year. This made me somewhat skeptical at first, but by adding his minor league stats to his K/9 graph above, I was put at ease. As you can see, he went straight from AA (K/9 of 11.5) to the majors (K/9 of 4.6). It looks like it just took him some time to adjust to the major leagues since he clearly had the ability to dominate batters at the lower levels. With his strikeouts no longer in doubt, let's move on to his real problem, walks.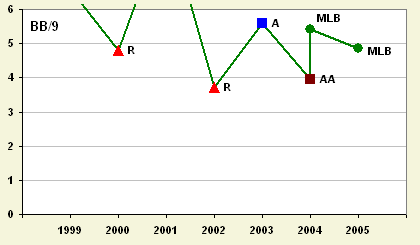 The real question here is, how much can he improve on his fairly awful walks per 9 innings (BB/9) of 4.9? The lowest he has ever managed to get his BB/9 in his professional career was 3.7 in 2002 while he was still in rookie ball. Then two years later he did nearly as well in AA with a BB/9 of 3.9. I wouldn't consider either of those years good by any means. Sure he showed a slight improvement from 2004 to 2005, but there's little here to suggest that there will be significant improvement next season.
If Daniel Cabrera can continue to strike out batters at his current rate, one of these years he's going to have his breakout season. I have serious doubts that next year will be that year, but it'll be worth keeping a very close eye on his walks next season. Perhaps Leo Mazzone will once again work his magic on a young pitcher and accelerate Daniel Cabrera's progression. Any real downward trend in his walk rate should be a sign of big things to come.