Last season Devil Ray's prospect Jorge Cantu broke through in a big way by batting .286 with 28 home runs in just under 600 at-bats. That's a considerable amount of power for a second-baseman as only Alfonso Soriano and Jeff Kent bested him in 2005. Let's see if he'll be able to repeat his breakout season and solidify himself as one of the top second-basemen.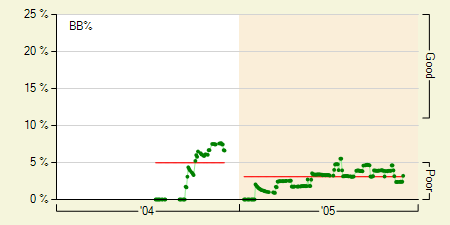 Starting off with his walk percentage (BB%), he pretty much never walks. He actually had the 6th worst walk percentage of any player in baseball for the 2005 season. He swings at over 30% of the pitches out of the strike zone and 57% of all pitches which makes him one of the most prolific swingers in all of baseball. Fortunately he doesn't strike out all that much.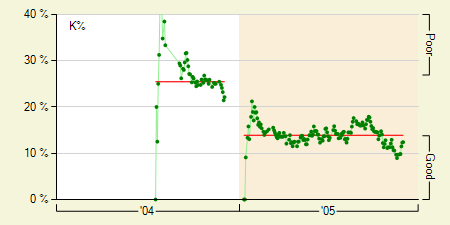 Most of his home runs came after the first two months of the season. In April and May he hit 6 home runs and in the following 4 months of the season he hit his other 22 home runs. His home runs per fly ball (HR/FB) stayed pretty steady the entire season which means his new found power was the result of hitting more fly balls.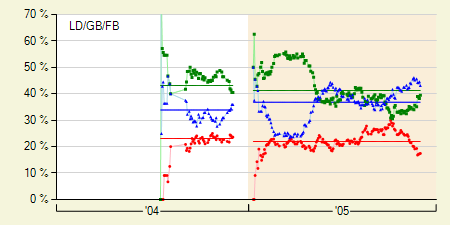 It looks like Cantu's power is for real, but it's not all good news. When he started hitting more fly balls he became a more aggressive hitter. By the end of the season he was swinging at a whopping 37% of all balls out of the strike zone, a totally unacceptable number. If he wants to keep his batting average anywhere near the .286 it was last year, he must learn to lay off pitches he shouldn't be swinging at. If he doesn't, not only will his batting average dip, but I suspect his power will also take a hit as pitchers key in on his inability or unwillingness to differentiate strikes from balls.