Since Byung-Hyun Kim in 2003 decided he wanted to fulfill his life long dream of being a starting pitcher, the Arizona Diamondbacks have gone through five different closers. Matt Mantei took over for Kim in 2003 and managed to keep the job the whole year. He entered the 2004 season as the closer but after a rocky start (11.81 ERA) he ended up spending the rest of the year on the disabled list. Jose Valverde was next in line and after saving 8 games in 10 chances, he too was forced to go on the disabled list for the remainder of the season.
In steps Greg Aquino who converted 16 of 19 save opportunities to finish the 2004 season, but a combination of injury and being out pitched by Brandon Lyon lost him the closers job to start the 2005 season. Lyon converted 13 of 14 saves but was derailed by an elbow injury that cost him nearly the rest of the season. Brian Bruney was asked to fill in and two months later with an ERA over 9 and Bob Melvin had seen enough, opening the door for a healthy Valverde.
Valverde pitched masterfully after taking over the closers job in August and converted all 13 of his save chances with an incredibly low ERA of 1.37. For the entire month of September he gave up zero runs and allowed only 6 hits and 2 walks in 16 innings of work. Let's see if he really is the answer to the Diamondbacks closer woes.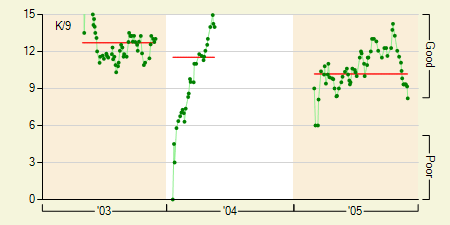 Taking a look at a closer's most important stat, strikeouts per 9 innings (K/9), he's has never had a problem striking anyone out. His career K/9 is the 6th highest among all active pitchers. Batters have a lot of trouble making clean contact with his pitches in the strike zone, fouling them off 56% of the time which is nearly the most in baseball.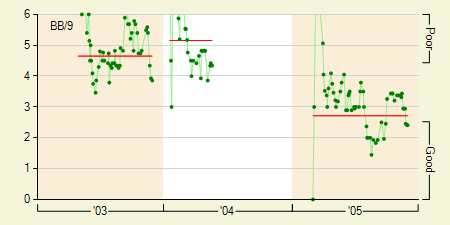 One of his main pitfalls in the past has been his lack of control as he walked over 5 batters per 9 innings (BB/9) in 2004. In 2005 he almost cut that number in half bringing his BB/9 down to a career low 2.17. His other problem in 2004 was his off the charts home runs per 9 innings (HR/9) which resulted in an incredibly high home runs-per-fly ball of 25%! He managed to bring that back down to an excellent 6.9% in 2005. Talk about your extremes.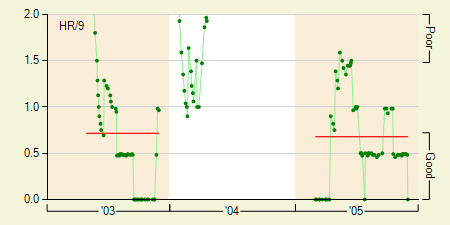 Valverde's strikeouts and walks look like they're just about everything you've ever wanted in a closer. Health is really the key here since he's been on the disabled list for long periods of time twice in his three year career. He's apparently improved his delivery which should make him less injury prone. Assuming he stays injury free next year, it looks like the Diamondbacks have potentially found one of the better closers in baseball.