Last year at this same time I was trying to snag Kelvim Escobar in as many fantasy leagues as possible due to his solid run at the end of the 2004 season. In the final two months he went 6-4 with a 3.20 ERA and had a tantalizing 79 strikeouts in 78 plus innings of work. Two months into the season, Escobar was looking like a fine selection at 2-2 with an ERA just under 3, but he elected to have surgery on bone spurs in his elbow that kept him out until September. When he finally returned he was limited to bullpen duty, but he'll be back in the starting rotation for the 2006 season. Let's see if he's worth taking a chance on again.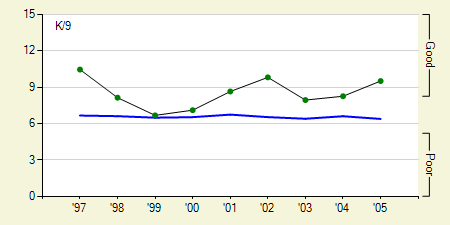 Looking at his strikeouts per 9 innings (K/9), he has absolutely no problem striking batters out. In his one month back from surgery he continued to mow batters down with a K/9 just over 8. In 2005, swinging batters failed to make contact with his pitches a whopping 28% of the time which was the second highest in baseball among starting pitchers. Batters clearly have problems with his five pitch repertoire.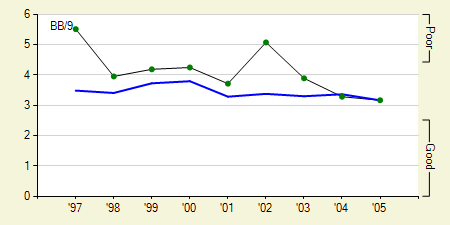 Back in 2002 and early 2003 when he was closing for the Blue Jays, he struggled mightily with his control, but since then he's been able to bring his walks per 9 innings (BB/9) down to a career low of 3.17. Furthermore, he's never had much of a problem in the home run department, keeping his home runs per 9 innings (HR/9) below the league average in all but 2 of his 9 seasons. His ground ball tendencies certainly help him out.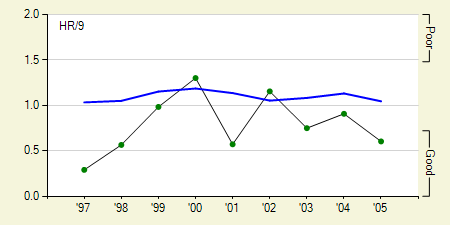 When you get right down to it, Escobar strikes out a ton of batters, has a declining walk rate, doesn't give up many home runs, and oh yeah… he's a ground ball pitcher too. Seriously, what's not to like about this guy? Sure he may be a bit of an injury risk, but who isn't these days and if he wasn't 100%, he wouldn't be pitching for Team Venezuela in the World Baseball Classic. I for one will certainly be looking to snag him again this year and he should pick up right where he left off before undergoing the knife.