Every team is looking for pitching and this winter quality pitchers are in short supply. Matt Morris is one of the few big name free agent pitchers on the market this off season and undoubtedly many teams will be interested in acquiring his services. Will teams get what they're looking for in Matt Morris?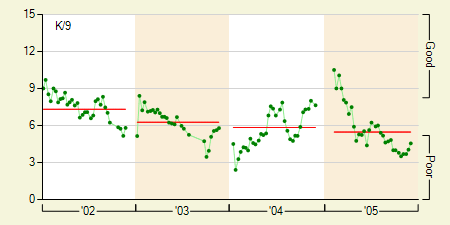 As you can see his strikeouts per nine innings (K/9) have been down year over year for the past four years. He's managed to get away with this worrisome trend for two reasons: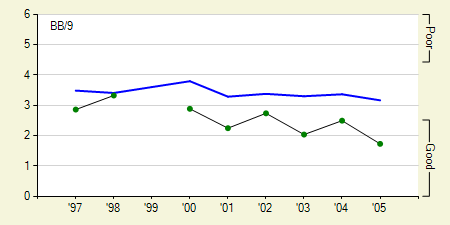 The first reason is his walk rate, which he managed to get down to a career low 1.7 walks per 9 innings (BB/9). If you can't strike people out, at least make them work to get on base. The second reason is that he plays for the Cardinals. They gave him 4.48 runs on average each time he took the mound, the 8th most in baseball.
Teams considering Matt Morris should not expect him to revert to his 2001-2002 form, but rather they should think of Cory Lidle (they had remarkably similar stats) when signing him. Matt Morris will be a solid 3rd starter for most teams, but anything more should be considered a bonus.