On May 8, Kyle Seager hurt his left hand. This was bad news for Seager and for the Mariners, but good news for Daniel Vogelbach. With Seager out, Ryon Healy moved from first to third base, covering for Seager; Edwin Encarnación, in turn, moved into the first base slot vacated by Healy, and Vogelbach — who had not previously had a path to much playing time — became the Mariners' primary designated hitter. Since then, and despite a mixed May that dropped his wOBA from a terrific .481 through April 30 to a diminished but still distinguished .385 after the weekend's action, Vogelbach has shown all the power that his brawn has always promised and the plate discipline that has always been his calling card to boot. His .313 ISO is now ninth in the game, and behind only Joey Gallo and George Springer in the American League.
Let's start with the power, both because there aren't too many people who can do the damage Vogelbach does when he really connects with a baseball, and because it provides a clue to what's changed this year. When Vogelbach connects, as he did on May 27 at the expense of José Leclerc, the camera tends to pan so far up that it's clear the operator, like everyone else in the ballpark, has no idea where the baseball is or where it's going to land. All that is clear, for the few long seconds the ball is airborne, is that it's gone an awfully long way. After this bomb (only the third in the history of the park to hit the third deck, and the first since Carlos Delgado did it way back in 2001), the Mariners put up a traffic cone and taped over the seat. That's just fun to watch.
Vogey went where few men have gone before. ????

— Seattle Mariners (@Mariners) May 29, 2019
The question here is where this power has been all this time. Vogelbach has always been plenty strong enough to hit the ball out of the ballpark — his 120 minor-league home runs attest to that — but he actually hasn't done so quite as often as you might reasonably expect given his size. Only once in his eight-season minor-league career (in 2012, in Rookie Ball) has he posted a higher ISO than he is carrying right now. In the minors, by contrast, his offensive value came to a large degree from an extremely patient approach at the plate that resulted in a high walk rate (15.1%) and on-base percentage (.395), and not from hitting all that many balls out of the ballpark. That's not a bad approach, per se, but it meant that Vogelbach was spending an awful lot of time going station-to-station after getting on base, and for a big man without much speed, that's time that could be better spent jogging leisurely around the bases after a dinger.
This year, he's walking just as much (in fact, slightly more) as he did as a minor leaguer, and striking out only marginally more. No change there. His pitches seen per plate appearance aren't all that different, either (4.31 in 2019 on a 4.29 career mark). But beneath the surface is a player who has changed up what he's trying to do at the plate, and in particular, changed the type of pitches he'll try to put in the air. This has had downstream consequences on his fly ball rate and his home run thump. Prior to this season, Vogelbach hit groundballs 43% of the time and fly balls another 33%. This year, the former number is down 18 points (to 25%) and the latter is up 21 (to 54.2%). That's because where the fly balls are coming from has markedly changed. Here are the pitches on which Vogelbach hit fly balls from 2016-2018: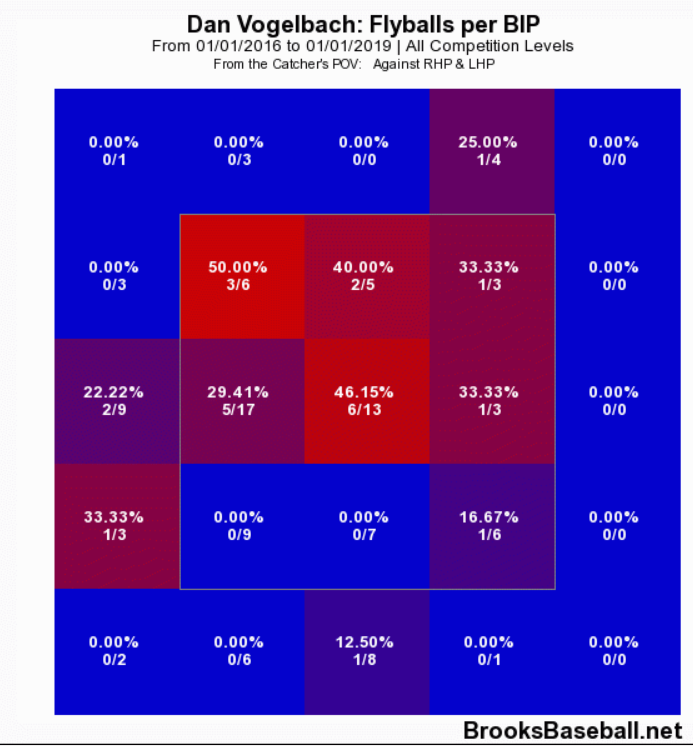 You'll note that Vogelbach generated only three fly balls in the bottom third of the zone or below during the first three years of his major league career. That's the mark of a disciplined hitter looking for a pitch he wanted. But it's also the mark of a hitter being perhaps a little bit too choosy on pitches that could potentially be lofted over the fence with the right swing, and thereby missing out on the opportunity to do just that, albeit in small samples. This year, that's all changed. Here's where Vogelbach has generated fly balls so far in 2019: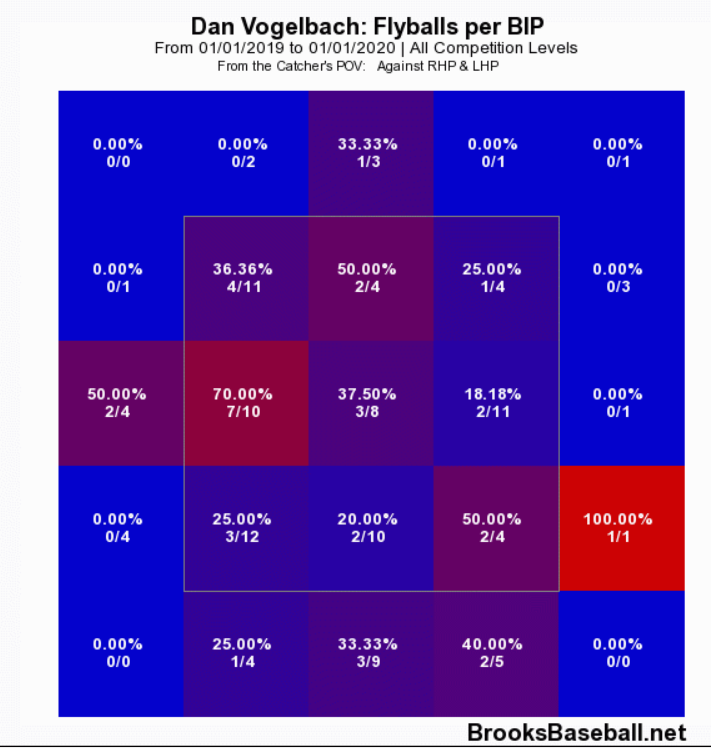 Already this year, Vogelbach has hit more than four times as many fly balls on pitches down in the zone (14) as he did in the previous three years of his major league career, which added up to about the same number of plate appearances. But then, just generating a lot of fly balls isn't going to be a winning approach if those fly balls end up dying on the warning track. Vogelbach's haven't, and they probably won't start.
Lauren Smith has done some nice reporting on Vogelbach's efforts this year to literally slow his swing down — for someone his size, even 50% effort will get the job done — and I think you can see some of this approach showing up in Vogelbach's batted-ball figures: His hard-hit rate is down to 36.7% after sitting at 52.5% and 47.4% in each of the prior two years, all while his home run rate has soared. That's the net result of fewer balls hit hard into the ground and many more hit somewhat less hard in the air. That's a trade worth making, especially for a runner of Vogelbach's speed.
Put the pieces together, and you get a player who's become far more comfortable simply getting the bat a little bit under the ball and letting his prodigious strength do the rest. No point in swinging through a baseball up in the zone intent on total demolition when a modest relocation on a pitch down will do the trick. Finding a way to stick in the big leagues can be tough when you don't make an immediately and overwhelmingly positive first impression, and it seems reasonable to think that it might have taken Vogelbach a few seasons' worth of time in the Seattle clubhouse to feel comfortable enough up with the big club to slow things down and not go quite so max effort every time.
The next step for Vogelbach, should he be given a further-expanded opportunity after the trade deadline this year (Bruce has already been traded, and Encarnación is expected to be on offer for the rebuilding Mariners; Seager has only recently returned) will be to demonstrate a consistent ability to hit lefties. He's been granted only 38 plate appearances against southpaws this year, and the .091/.211/.273 line he's put up across those chances has not inspired Scott Servais to give him more such opportunities. Nor, for that matter, has his career .094/.213/.226 effort. Vogelbach's minor league platoon splits were less pronounced, which suggests a certain small sample effect may be at play, but it's also true that major league lefties — especially relievers — are quite a different group than the Triple-A variety, and for the time being, the Mariners seem content to let Vogelbach build up his confidence against the league's righties.
It's been a long road to regular playing time for Daniel Vogelbach. In Chicago, where he spent the first five-and-a-half years of his professional career, his way was blocked by the twin menaces of Anthony Rizzo, well-established at first base, and the National League's pesky lack of a designated hitter position. In Seattle, for at least the first few years of his time there, the DH position of course existed, but was well-occupied by Nelson Cruz. This year, though, for the first time in his career, Daniel Vogelbach has had the opportunity to get regular looks at big-league hitting, albeit almost entirely from one side. He's making the most of it by getting comfortable with pitches down in the zone and learning enough about his strength to understand that he doesn't have to use all of it to hit the ball a very long way.
Rian Watt is a contributor to FanGraphs based in Seattle. His work has appeared at Vice, Baseball Prospectus, The Athletic, FiveThirtyEight, and some other places too. By day, he works with communities around the world to end homelessness.