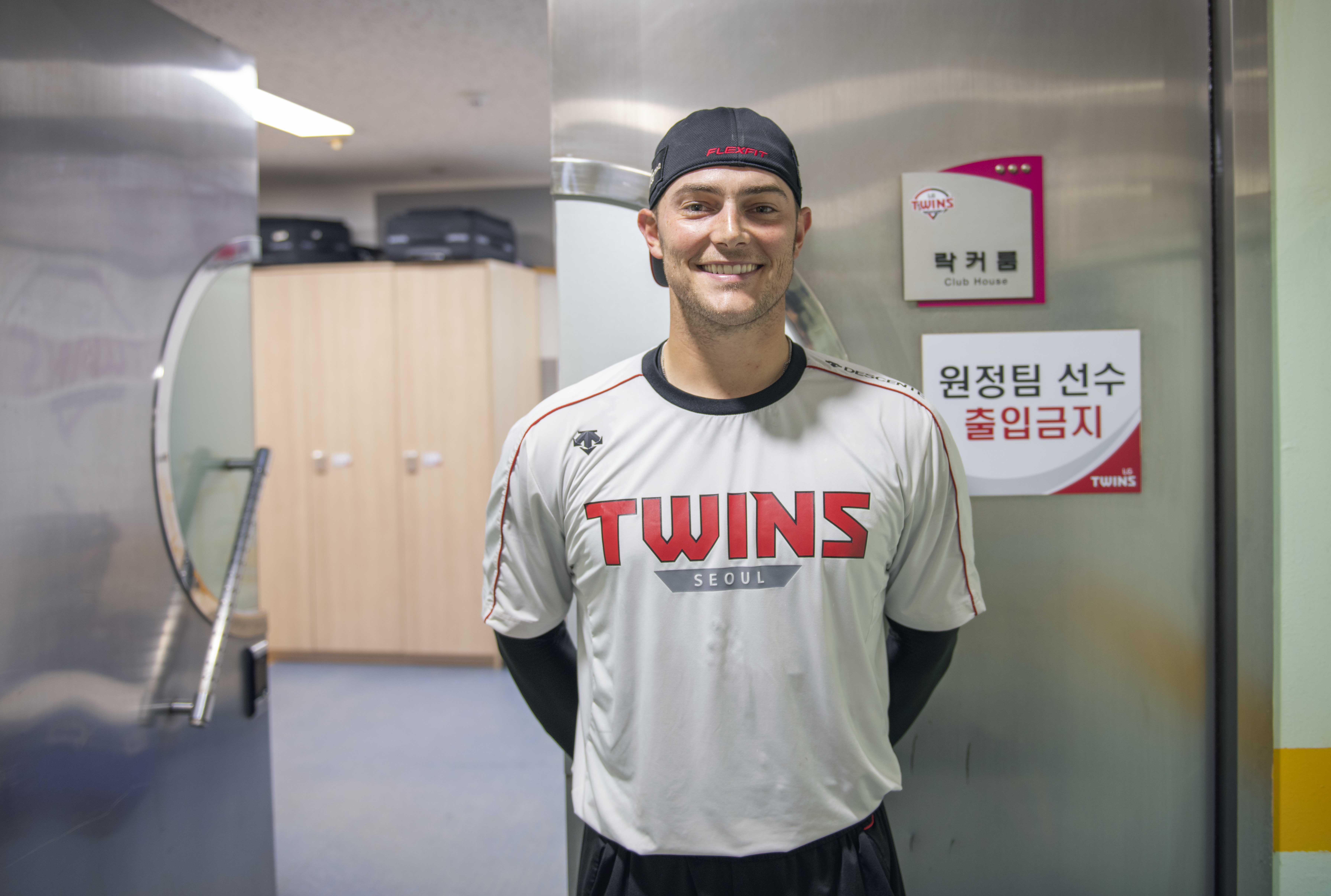 Last week, I sat down with four of the foreign-born players in the Korea Baseball Organization (KBO) to discuss their experiences playing in Korea.
Right-handed pitcher Josh Lindblom of the Doosan Bears is the true veteran among all the foreign-born players in the KBO. He started his KBO career with the Lotte Giants in 2015, where he played until 2016, before taking a detour to the States to play for the Pirates in 2017; he returned to Lotte in the second half of that year. In 2018, he signed with the Bears and has been the ace of their staff. This season, Lindblom is the league's top pitcher: he's 13-1 with a 1.89 ERA and a 3.09 FIP in 119.0 IP with 112 strikeouts and 18 walks. His 5.38 WAR leads the KBO.
Infielder and designated hitter Jamie Romak of the SK Wyverns was acquired during the 2017 season as a replacement for Danny Worth. Since coming over to Korea, Romak has been one of the most prolific home run hitters in the league, belting 94 out of the park while boasting a career .562 slugging percentage. He's currently tied for first in home runs (20) while hitting a healthy .276/.366/.517, good for a 136.6 wRC+ on the season.
Right-handed pitcher Tyler Wilson is a former Baltimore Oriole who signed with the LG Twins for the 2018 season and settled in nicely as their staff ace. His strong campaign that year (9-4, 3.07 ERA in 170.0 IP with a 6.33 WAR) earned him another contract with the Twins. This season, Wilson is currently fourth in ERA (2.62) and seventh in WAR (2.85) among all pitchers while headlining the LG Twins rotation that has led the team to fourth place in the 10-team league.
Left-handed pitcher Chad Bell of the Hanwha Eagles is new to the KBO this season. Bell was signed along with fellow former Detroit Tiger Warwick Saupold to be the Eagles' new rotation arms. Through 18 starts in the KBO, Bell is 5-9 with a 4.00 ERA and 78 strikeouts to 43 walks in 108.0 IP.
What were your first impressions after arriving in Korea?
Lindblom: When I first signed here, I didn't know what to expect. I never had any reason to come to Asia at all. My expectation, to be honest, was kind of low. Just having a western mindset, you think that America is the best and when you get here, you realize that things that are different can be good too. It was good, but in a different way. You can't really compare Asia to America. It's like comparing an apple to an airplane.
Romak: My exact first impression was coming across the bridge from the Incheon International Airport into the Songdo area, which is where we live. It was nighttime, all the big buildings were lit up and it was very exciting. It was very cool. And of course, I was looking forward to the opportunity.
Wilson: We play in Seoul so it's a huge city. I grew up in a small town in Virginia. I've lived in Virginia my whole life, so to see a big city like Seoul and get used to living here was an adjustment. There's a lot of people, obviously. Different language. So just getting used to things I hadn't seen before and routines I hadn't partaken in before, like taking the subway every day to work, there were just a lot of different adjustments to the lifestyle.
Bell: The first thing that took over for me, on the baseball side of things, was the fans' passion for the game. You just don't see that everywhere. In this season's first series – versus the Doosan Bears – when you look at Jamsil Stadium, and the place is split right down the middle between Doosan and Hanwha fans, and everybody's going insane for nine innings. It was unreal. Off the field, the main differences were cultural ones. Food, communication, etc., stuff like that. Some places it's easier and some places it's harder. You just have to get used to it. On the baseball field, you're playing baseball. I have to use a translator to communicate with people, but in the end, it's the same game but the atmosphere is electric.
What were some of your biggest challenges initially?
Lindblom: Obviously the language barrier is difficult. You have a translator, which makes it a bit easier, but there's a lot of time on your own. For me, being able to read was difficult. That was the first thing I did – I learned how to read in Korean so that when I go into a restaurant or on the subway, I can read and see where I'm going.
Romak: You know what? The transition was fairly seamless for me because I had spent the previous year in Japan [with the Yokohama BayStars of the NPB] so I had an idea of what to expect as a foreign player in Asia. I felt that the KBO is a bit more American style than Japan is. Also, with Trey Hillman [former SK Wyverns manager from 2017-18 and current Miami Marlins infield and first base coach] as the manager, the transition was a bit more seamless for me. As the year went on though, more challenges within baseball started to present themselves. The biggest thing for me for my first year was the strike zone. That was the year they decided to make the zone bigger, so there would be pitches so far inside and outside that it started to get really confusing. That took awhile to adjust.
Wilson: The biggest challenge was the language barrier – not being able to communicate with your teammates and your coaching staff and really having to rely on your translator. That just is an adjustment that takes patience. It takes some time to learn how to speak through a third party and to not get frustrated if you're with somebody, you want to communicate, and you can't do it. And just getting used to the day-to-day routine of baseball – the days are bit longer here. There are few more expectations of places you need to be and activities you need to do.
Bell: As soon as we got here, it was the time difference. Getting used to that was the first challenge. I had had Korean food before. For the most part, I eat it for every meal. We can go eat after the game wherever we want. Sometimes we do order food, but around 90% of the time, I'm eating with the team. I like trying new things and for the most part, there's not many times I try something and feel like 'Ah, this isn't very good.' I've enjoyed almost all the food.
How did your team help you out when you were getting acclimated?
Lindblom: The teams do a pretty good job. My first year with the Lotte Giants, I had a really good translator who helped us when we needed anything. I really lucked out because somebody that wanted to help us also wanted to see us succeed. Having a good translator is a big step. And the players make you feel welcome. That's the biggest thing – you show up and you don't feel different. They make you feel like you're a part of the team immediately.
Romak: I was lucky that our international scout – we met in the States – was the one who flew over from El Paso and brought me over to Incheon. He was acting as Trey's interpreter at the time. Having him here was a very comfortable feeling. My team, those guys were amazing. From day one, they were very warm towards me. I instantly felt I was a part of the team, not just a foreign guy. That made a huge difference and continues to do so. Every day I walk in the clubhouse, I feel like a part of the team.
Wilson: I was lucky last year in my first season. My foreign pitcher teammate was Henry Sosa, who had been here for six years prior to last year. I had a huge advantage in him, as he knew everything. He knew the cities, he knew the different teams, etc. He did a fantastic job of teaching me, showing me some of the cultural aspects and some of the things to be aware of to focus on. Obviously, my teammates have been fantastic. [my former Orioles teammate] Hyun Soo Kim has been a big help. When I was in Baltimore with him, I would reach out if he ever needed anything being in a foreign country. When I got here, he returned the favor. He checked on me every day and asked me what I needed.
Bell: Everybody wants to get to know you. Everybody wants to know where you're from and what you like to do. I think they realize that you just traveled halfway across the world to be a part of this. It's something I've wanted to do. We got translators to help us communicate with people, which makes communication processes longer but doesn't make it any harder. I think everybody really cares about you being happy over here. They want you to be comfortable. The more comfortable you are, the better you perform, and they want that.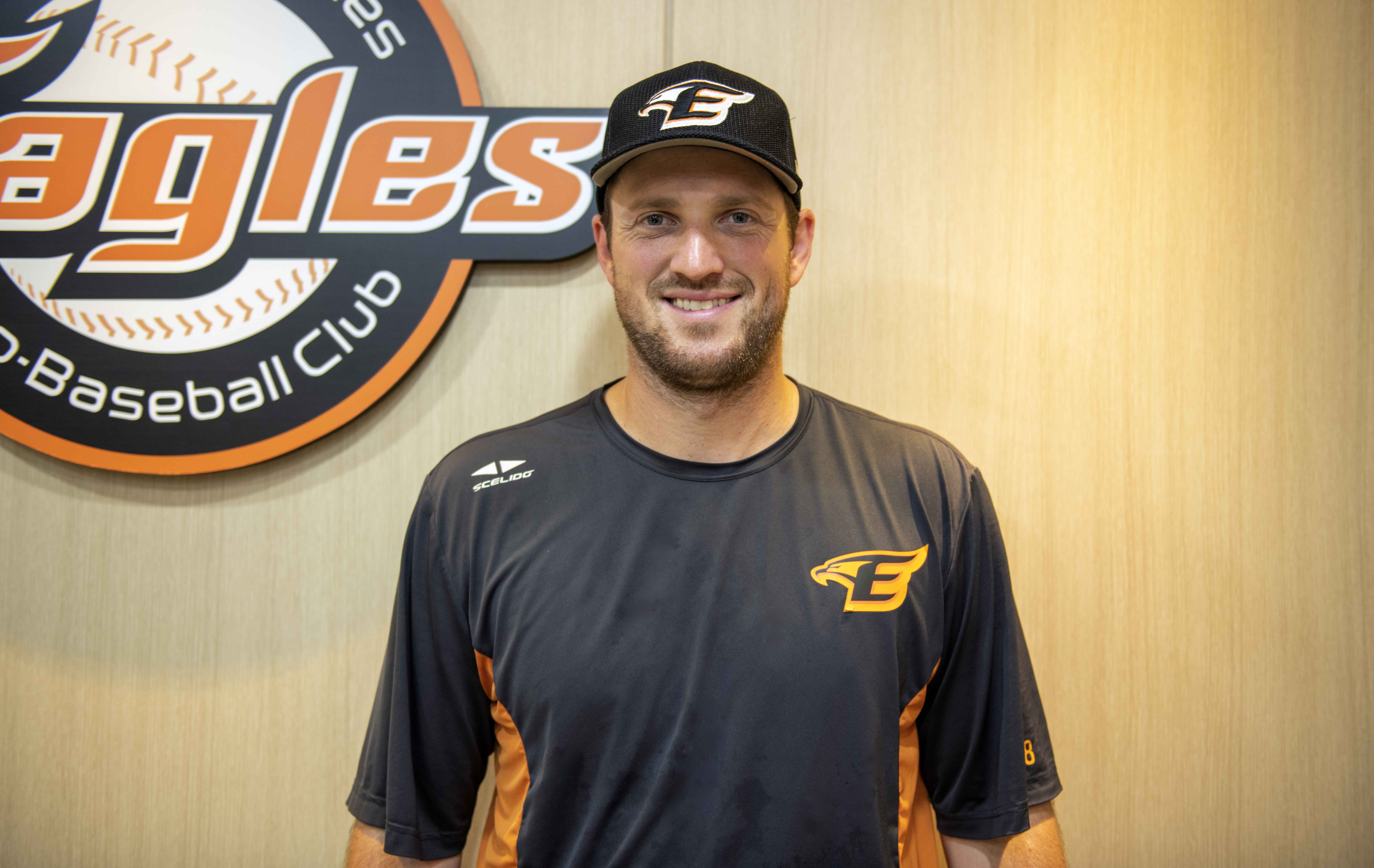 How competitive do you feel the KBO is compared to what you faced in the States?
Lindblom: These guys can play. There are some really good ballplayers here. I think one of the common misconceptions when new foreign-born players who show up is that they feel that they can dominate the league. You see with a lot of guys that that doesn't happen. It's been a learning process for myself too. Hitters can hit. You put the majority of these guys in a Triple-A lineup and they can hold their own. There are a few guys you can put in a major league lineup and they would hold their own. There are some different areas where it's not as developed, maybe like defense isn't as important as it is in the States, but the players are really good.
Romak: It's the hardest question to answer. These leagues are so different. It's an unfair comparison because there's one night you can face a 19-year old kid who, in the States, because of his age, he might be in A-ball. But here, he's in the country's version of major leagues. He has good stuff but he's really young. The next night, you could face a veteran guy whose talent might be MLB-level. When KIA was really strong [back in their championship 2017 season], facing their lineup – that's better than a Triple-A lineup, for sure. One night, it looks Triple-A. The next night, it looks Double-A. It's just a very different league. That being said, there are tons of talented guys here.
Wilson: I think it's different. I think baseball is still baseball, but the approach is different. It's a different style of play. There's a lot more action going on. There's more base-stealing, hit-and-runs, putting runners in motion, etc. Whereas in the States, there's more defensive shifts and analytics that put people in certain positions, but for the most part they just let the hitters hit. For the most part it's just pitchers vs. batters every single time. Sure, there are guys that steal bases, and, in the NL, they bunt a lot. Here, it's totally encompassing the entire team, which is great.
Bell: Sometimes I may face a team that may not be too hot right now. Maybe they're not swinging the bat that great. But the way I look at it is there's still nine guys on that lineup on the other side and they're all still professional baseball players. Just because he didn't hit well for the last two days, doesn't mean he can't go 4-for-4. The game of baseball is so funny and stuff can change like that. The competition level here is extremely high. You got ton of guys that are really good at putting the bat on the ball. They might not be hitting the ball out of the park, but their hand-eye coordination, being able to battle, fouling off pitches and putting the ball in play are very impressive. For the most part, I want to pitch against those power guys because most of them have a few different holes. You can go after them and induce swings-and-misses. Here, you get down to the 7, 8, 9 guys in the lineup, and their jobs is to see like 10 pitches each. I'm out there getting really annoyed because I just threw eight pitches to a guy in the bottom half of the lineup and increased my pitch count. But that's their job and they're really good at it.
How has it been arranging your family life here?
Lindblom: That's honestly one of the biggest challenges for the guys. If you have a wife and kids, making sure that they are taken care of off the field. Because that can trickle onto the field. In the States, you don't have to worry about it because everyone speaks English and you can figure stuff out. If your wife and kids aren't happy here, it makes it really, really difficult to go out and perform when you're worrying about them. My current team, the Doosan Bears, has done an unbelievable job with helping us out: with our living situation, making my family feel like they're at home. There are some teams that do a really good job at that. But for me, the number one priority is making sure my wife and my kids are happy and safe just so I don't have to worry about that when I'm at the field.
Romak: The first year was a challenge simply because my son was an infant. He was only a couple months old at the time. My wife was here with me. When I'm on the baseball field, she's on her own. It can be scary at times and stuff happens. Like, 'Oh I gotta go to hospital. How do we communicate? Where do we go?' It's gotten so much easier as my son got older. Where we live, there's so much to do there that their days are full of activities. She's made friends in Songdo with some of the teammates' wives who speak English. The fact that they're enjoying their lives is making it really easy for me.
Wilson: It's been great. Seoul is a wonderful city. We can get anything that we could ever want. It's all right here in the city. We live in a beautiful apartment in the COEX area. Chelsea [Wilson's wife] and my babies have everything we need. They don't even have to go outside since they can go to an underground mall [by Samsung Station]. Living arrangements have been wonderful. Public transportation has been so easy, clean and simple. This being year two, we know what to expect from the city and it's been so easy to get around.
Bell: It's honestly, to an extent, better than when we're playing in the States. Most of the travel here is so close. Especially Daejeon being so centrally located in this country. You can pretty much get anywhere in two hours by train. So my family's been able to go on the road whenever they want. Every Monday is an off day as well, so I feel like I've been able to spend more time with them during the season. In the States, families don't really travel a ton because, look at Triple-A for example, if you're in the PCL, there's nothing in driving distance. You've got Nashville to Memphis and that's about it. For everywhere else, you have to take a flight. In the International League, your division is usually in driving distance, but outside of it, you're usually not gonna want to drive. So, here, it's been nice.
All KBO stats are from Statiz unless specified. Part 2 to follow.
Sung-Min Kim writes for River Ave. Blues, and has written for MLB.com, The Washington Post, Baseball America and VICE Sports. Besides baseball writing, he is also passionate about photojournalism and radio broadcasting. Follow him on Twitter @sung_minkim.