Editor's Note: As we approach the January 22 Hall of Fame announcement, we'll be featuring a few pieces from Anthony Calamis and Adam Dore, members of Ryan Thibodaux's excellent team that tracks public Hall of Fame ballot. This is the first such piece. Be sure to check out the ballot tracker, which is an indispensable tool for any Hall of Fame enthusiast.
In case you have somehow missed any of Jay Jaffe's excellent coverage over the last month, December is the time of the year when Hall of Fame ballots get mailed out. More than 400 BBWAA members comprise the voting body tasked with electing players to the National Baseball Hall of Fame and Museum in Cooperstown, New York.
I'm part of a four-person ballot-tracking team led by Ryan Thibodaux (@NotMrTibbs) that finds every public ballot, records the percentage of votes for each candidate, and tracks which players have been added to or dropped from a voter's ballot from one year to the next, assuming they were public in both years. Right now, there are 172 ballots in the Tracker.
This year in particular, a few intriguing trends have emerged as ballots have been made public. I chose to explore Mike Mussina's candidacy and what needs to happen over the next nine days for him to share the stage next July with likely inductees such as Mariano Rivera.
Before diving into the particulars, here is a table showing the current results in the Tracker:
2019 BBWAA HOF Vote (172 Ballots Returned)
Three of the candidates have had their boxes checked on over 90% of known ballots. All the others are below the required 75% for election, leaving Mussina as the most interesting bubble candidate this year. In the 2018 voting, Mussina received votes on 268 of the possible 422 ballots cast, good for 63.5%, 11.5% (or 49 votes) shy of election; Chipper Jones, Vladimir Guerrero, Jim Thome and Trevor Hoffman all surpassed 75%.
As Jaffe noted in his JAWS profile of Mussina for FanGraphs, history has not been kind to players who find themselves in Mussina's vote range at this stage in their eligibility. There's a good chance Mussina falls short when the results are announced on January 22, but in my view, there are reasons to be optimistic.
Several years ago, the rules for election into the Hall were changed in two important ways. First, the eligibility period for candidates to remain on the BBWAA ballot was truncated from 15 years to 10. Second, voters who hadn't actively covered baseball in over a decade began losing their voting eligibility. Those two changes have combined to, in my estimation, muddy how reliably patterns from prior years can be applied to the current slate of players. The rise of social media interaction with voters on the part of fans, other writers, and players' former teams has also had an impact on how quickly players rise up the ballot.
Since inactive voters started being removed from the voting bloc, there have been eight instances of a player receiving at least 55% support but no more than 72%, the range in which Mussina's 2018 vote share is perfectly centered. Seven times, the player in question received a bump of at least 11.8%, an increase that would get Mussina over the finish line. The following table, first seen in Jaffe's 2019 JAWS profile of Mussina, shows those jumps.
Recent Returning HOF Candidates Vote % Increases
| Candidate | Prior Year Percentage | Year of Increase Percentage | Increase |
| --- | --- | --- | --- |
| Mike Piazza, 2016 | 69.9% | 83.0% | 13.1% |
| Jeff Bagwell, 2016 | 55.7% | 71.6% | 15.9% |
| Tim Raines, 2016 | 55.0% | 69.8% | 14.8% |
| Jeff Bagwell, 2017 | 71.6% | 86.2% | 14.6% |
| Tim Raines, 2017 | 69.8% | 86.0% | 16.2% |
| Trevor Hoffman, 2017 | 67.3% | 74.0% | 6.7% |
| Vlad Guerrero, 2018 | 71.7% | 92.9% | 21.2% |
| Edgar Martinez, 2018 | 58.6% | 70.4% | 11.8% |
SOURCE: Baseball-Reference
The only player whose jump would not have been enough for election from a starting point of 63.5% was Trevor Hoffman in 2017. As a closer, his case was more complicated and required a slower build-up of support, albeit from a higher starting point. Mussina's case is far more reliant on advanced statistics; his situation seems to mirror those of Bagwell, Raines and Martinez more than Hoffman. Hoffman was the rare candidate whose final results often overperformed his public percentage in the Tracker. Mussina, like Martinez, typically sees his final vote percentage fall anywhere from five to eight percentage points once the post-announcement ballots are tallied.
This trend is illustrated in the graphic below, courtesy of Thibodaux.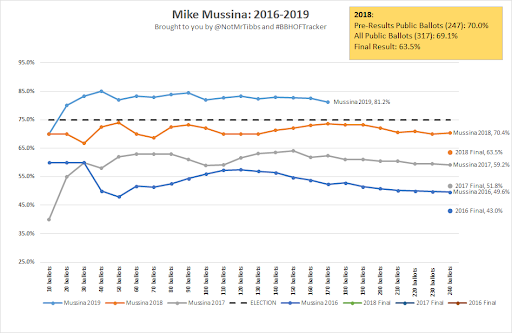 In 2018, Mussina was at 70% on ballots revealed prior to the official announcement, then fell to 63.5% after the rest of the ballots were counted. From his current 81.4%, a similar drop would bring him to right around 75%.
It would be easy to look at that graph and say Mussina still seems to be on pace to grace around 75% of ballots, but that sort of conclusion is predicated on some false assumptions. The ballots aren't revealed by the same voters each year. Voter bias is a significant issue to deal with, as is the fact that the spread between public and private vote percentages tends to increase as candidates get closer to 75%.
The best way to look at the situation is this: all other things equal, Mussina would need to have 49 more voters decide to change their mind and vote for him than whatever number do the opposite. This year, we're estimating 412 ballots will be cast, but that is just a rough estimate. Through 172 counted ballots, Mussina is plus-16, gaining a vote from 17 voters who didn't vote for him in 2018 but losing a vote from one who did.
Returning voters are the most important factor in how a candidate's percentage can go up or down from year to year, but there are other factors, too. In the Tracker, first-time voters, voters newly returning to the voter pool, and voters who have disclosed they are not voting in 2019 are all tracked.
After adding 10 new public entrants to the voter pool, on whose ballot Mussina went 9-for-10, and subtracting 11 public voters who aren't voting, on whose ballot Mussina went 7-for-11, his starting point goes from 268 votes out of 422 to 270 votes out of 421. That change might seem small, but without any changes among returning voters counted, Mussina has already gone from 49 votes short of election to 46.
After accounting for his net gain, Mussina should be around 286 for 421 without considering additional adds or drops, 2018 voters who do not return, and new or newly returning voters. For Mussina to be elected, he needs to find a way to make up roughly 30 more votes.
Last year, there were 312 voters who made their ballot completely public. Of those, Mussina was named on 218 of them. There was one blank ballot cast by an unknown voter, as well as four anonymous public ballots, of which Mussina was named on one. Of the other 105 fully private ballots, Mussina was named on 49 of them (46.7%). He was thus omitted from 56 of them.
Through conversations with Jason Sardell (@sarsdell), who created two adds and drops-based projection models that will be referenced later, I broke down Mussina's 94 public no voters into six categories based on the rest of their ballots' characteristics, though one of the categories contains only one voter:
Small Hall, no PED (22): These voters voted for fewer than seven players and didn't vote for either Barry Bonds or Roger Clemens.
Small Hall, PED (16): These voters voted for fewer than eight players and did vote for Bonds and/or Clemens
Medium Hall, no PED (17): These voters voted for seven, eight or nine players, and didn't vote for either Bonds or Clemens.
Medium Hall, PED (14): These voters voted for eight or nine players, and did vote for Bonds and/or Clemens
Large Hall, no PED (1): These voters voted for 10 players and didn't vote for either Bonds or Clemens.
Large Hall, PED (24): These voters voted for 10 players and did vote for Barry Bonds, Roger Clemens and/or Manny Ramirez.
Since Bonds and Clemens have become ballot mainstays for the better part of a decade now, their presence undoubtedly affects voter behavior and the ability to predict who changed their minds. Voters who checked off seven or fewer names but had Bonds and/or Clemens only used a few additional spots and seem to be the most rigid. Mussina has yet to flip any of the voters from this category who have revealed their 2019 ballots.
The other important variable considered here is whether a voter used all 10 of their available selections. Since Bonds and Clemens made their debut in 2013, there has been something of a perceived logjam on the ballot. 16 players have been elected from 2014 to 2018, which has put a premium on ballot real estate.
Average Votes Per BBWAA Ballot
| Year | Votes per Ballot |
| --- | --- |
| 2013 | 6.60 |
| 2014 | 8.39 |
| 2015 | 8.42 |
| 2016 | 7.95 |
| 2017 | 8.17 |
| 2018 | 8.46 |
SOURCE: Baseball-Reference
2018 marked the most votes per ballot in the annual voting era, with five of the top 10 years coming since 2014. In 2018, half of all voters used all 10 available spots on their ballots. The possibility a voter thinks Mussina is worthy but simply couldn't fit them onto their ballot makes whether they had the room in 2018 an important factor.
From here on out, I'll be referencing what I call "flip rate," the rate at which Mussina is turning 2018 "no" voters into 2019 "yes" voters. Thus far, we've seen 43 fully public Mussina no voters return from 2018; Mussina has flipped 17 of them, a 39.5% rate. If that were to continue, he'd easily be elected, but he's already exhausted more than half of his 10-player ballot flip opportunities from last year.
Mike Mussina Ballot Flip Opportunities (Through 172 Ballots)
| Category | Flip Opportunities | Flip Rate | Remaining Flip Opportunities | Target Remaining Flips |
| --- | --- | --- | --- | --- |
| Small, no PED | 8 | 25.0% | 13 | 3 |
| Small, PED | 9 | 0.0% | 4 | 0 |
| Medium, no PED | 6 | 50.0% | 12 | 6 |
| Medium, PED | 6 | 50.0% | 8 | 4 |
| Large, no PED | 0 | N/A | 1 | 1 |
| Large, PED | 14 | 64.3% | 10 | 6 |
The rightmost column gives a good target for the many additional gains Mussina could make if his flip rates hold steady. If he were to get those gains, it would add an additional 20 votes to his total. Mussina would then require another 10 votes, either from fully private voters, the anonymous bloc, or voter turnover to be elected.
The most uncertainty exists with the fully private group of voters. It's an imperfect way to look at it, as the private bloc does not remain static, but if Mussina were to go from 49 out of 105 to 59 out of 105 on last year's private voter bloc, his percentage would increase from 46.7% to 56.2%. From 2017 to 2018, his percentage on private ballots rose 9.2 points. It's a tall order, but not an impossible one.
In that same vein, it's important to consider that the votes per ballot decreased considerably on the 105 private ballots. This could be because these voters do not think very many players on the current ballot are Hall-worthy, or that they prefer to keep their ballots small so as to not overpopulate the Hall of Fame in any given year with a large class. If it is the latter, Mussina emerging for the first time as a top candidate not linked to performance-enhancing drugs could potentially catapult him to the top of these voters' ballots. When Jeff Bagwell and Tim Raines reached their final trips through the process, private voters warmed to them considerably. It was no coincidence that this was also when they were no longer stuck in the queue behind Randy Johnson, Pedro Martinez, Ken Griffey Jr., Mike Piazza and others.
Besides space on a ballot, there are three other factors I consider extremely important as to why Mussina could make the jump now.
First, former Blue Jays and Phillies ace Roy Halladay hitting the ballot has perhaps made some voters reconsider their stances on Mussina, whose advanced metrics compare reasonably well to Halladay's. One of the voters listed in the "Small Hall, no PED" category above added both Mussina and Schilling to their ballot this year while also voting for Halladay. Another voter, Richard Griffin of the Toronto Star, included the following in his ballot explainer:
This is the first time I have voted for Mussina. I have always considered him a solid candidate, but after writing in Doc's name, I felt Mussina should also be included for his consistency as a staff 1-2, winning 270 games and being voted in the top 10 in Cy voting nine times.
A second factor is the arrival of fellow longtime Yankee Andy Pettite to the ballot. The other "Small Hall, no PED" add Mussina netted was from a voter who also checked off Pettitte on their ballot. It's possible that a side-by-side comparison from someone who feels Pettitte is a Hall of Famer will yield the same conclusion about Mussina. Two of Mussina's adds so far have come from Pettitte voters, and Pettitte only has 12 votes. This may be a smaller factor than either Halladay or the one which follows, but it could exist nonetheless.
The third and possibly most important factor could be a delayed Jack Morris effect. In at least two instances last year, I noted that a voter decided to add Mussina to their ballot after Jack Morris was elected by the newest small committee process tasked to survey the 1970s and 1980s. Morris was elected in mid-December, however, so it's entirely possible that many voters had already filled out and mailed their ballots before the announcement of those results. Perhaps there will be a subset of Mussina's no voters who were previously using some variation of the logic "If Jack Morris isn't in the Hall of Fame, I can't vote for Mike Mussina." Will voters look at Mussina, potentially view him as superior to Morris, and thus conclude that if Morris is in the Hall of Fame, they now must vote for Mussina?
The Halladay, Pettitte, and Morris factors present three reasons why a voter could now decide to change their mind and vote for Mussina.
The various avenues for Mussina to get the votes he needs is one reason why the projection model created by Sardell paints a rosy picture of his chances. Sardell runs the current trends through 200,000 simulations. The reported probabilities are the percentages of those simulations in which Mussina finished in a certain range or above a certain threshold, e.g. 75%.
Sardell was kind enough to run the data for Mussina in the Tracker through both of his models. His old model splits voters based on whether they vote for PED-tainted players and whether they vote for 10 players, though it makes no distinction between the varying degrees to which a voter can vote for fewer than 10 players. His new model splits voters based just on the number of candidates they voted for. I asked him to report Mussina's median projection, 95% confidence interval, the percentage of simulations Mussina projects to be above 75%, and the percentage of simulations in which he finished in each one percent band from 72% to 78%.
Mussina's Chances via the Sardell Adds and Drops Projection Models
| Model | Median Projection | Confidence Interval | Percent of Simulations >75% |
| --- | --- | --- | --- |
| New | 76.4% | 72.6%-80.5% | 79.8% |
| Old | 76.9% | 72.8%-81.5% | 84.0% |
SOURCE: Jason Sardell
Please note, results are inclusive of 167 ballots in the Tracker.
Sardell Model Results By Percent Bands
| Model | <72% | 72-73% | 73-74% | 74-75% | 75-76% | 76-77% | 77-78% | >78% |
| --- | --- | --- | --- | --- | --- | --- | --- | --- |
| New | 1.1% | 2.4% | 5.8% | 10.9% | 20.7% | 18.9% | 16.8% | 23.4% |
| Old | 0.7% | 1.8% | 4.6% | 8.9% | 17.6% | 17.1% | 16.8% | 32.5% |
SOURCE: Jason Sardell
Please note, results are inclusive of 167 ballots in the Tracker.
The differences in the two models are minimal. The newer model, which doesn't control for performance-enhancing drugs quite as much, is slightly less optimistic, but both models give a similar result. A floor of around 72.5% highlights why Mussina is being elected in such a high percentage of the simulations.
Earlier, I proposed that a reasonable target for remaining public no voters for Mussina was 20. If Mussina netted that gain alone, he'd be around 72.5%, 10 votes short of election. That assumes he doesn't get a single flip from the remaining public voters who were categorized as "Small Hall, PED." He could very well get one or two of those voters and could certainly get more than six of the remaining "Large Hall, PED" opportunities he has.
Given how precipitously Bonds and Clemens' percentages drop when the private ballots are factored in, it seems fair to assume there aren't many private voters who are "Small Hall" and vote for either. Of the remaining categories, Mussina's worst flip rate is 25%. If he flips his 56 private no voters at a rate similar to that, he'd only need to net 16 votes instead of 20 from the remaining public voters.
All of this is to say: there are plenty of reasons to be optimistic about Mussina's chances of being elected this year. It's going to be very close, but he's got a lot of things working in his favor. There are several paths he can take to get the additional votes he needs. It's going to be interesting to see where he ends up and how many of these trends hold as he marches towards the finish line.
Anthony Calamis is a member of the four-person ballot-tracking team led by Ryan Thibodaux. He is from New York.