It is some kind of fall to go from earning a top-10 finish in Cy Young voting to being demoted to the minors in just an 11-game span, but that is exactly what happened to Atlanta right-hander Mike Foltynewicz this summer. A 2.85 ERA, 3.37 FIP, and 3.8 WAR in 183 innings in 2018 led to an eighth-place Cy Young finish and set him up to become the ace that would guide this next generation of great Braves teams. Then this season got started, and Foltynewicz looked like a disaster.
He missed the first four weeks of the season due to a bone spur in his pitching elbow, and when he returned, he allowed a 6.37 ERA over his first 11 starts. Twice he allowed eight earned runs in fewer than five innings. He had two other starts in which he allowed five earned runs, and two others in which he allowed four. When Dallas Keuchel joined the rotation near the end of June, the choice for who would be the odd man out to make room for him was clear: Foltynewicz had to go.
That was just three months ago, but just as quickly as he lost all direction, Foltynewicz has re-established himself as a formidable starter. Since returning from the minors, he's held opponents to a 2.65 ERA in 57.2 innings. Take away his first two starts, and he's been even better: A 1.94 ERA since August 17 that ranks sixth-best in the majors. Even in a Braves rotation that looked very strong for much of the season, Foltynewicz has pitched well enough to just about lock himself in to start one of the first two games of the NLDS against the Cardinals. Without a doubt, it's been an impressively quick return to form, but there are still a few questions surrounding how he stacks up against the rest of the Braves' pitching staff as a playoff starter.
Near the end of Foltynewicz's rough first half of the season, Brendon Gawlowski tried to figure out what was hindering his success. In his research, he discovered that the 27-year-old had experienced a slight dip in velocity, but nothing that seemed alarming. He also didn't find any real change in pitch usage. What he did discover, however, was an alarming uptick in hard contact against Foltynewicz's breaking pitches. At the time of his writing, batters had hit nine homers combined off of the curveball and slider and were slugging well over .600 against both pitches. Since he returned from the minors, however, he's given up just two homers against breaking balls, as results against both pitches have improved drastically.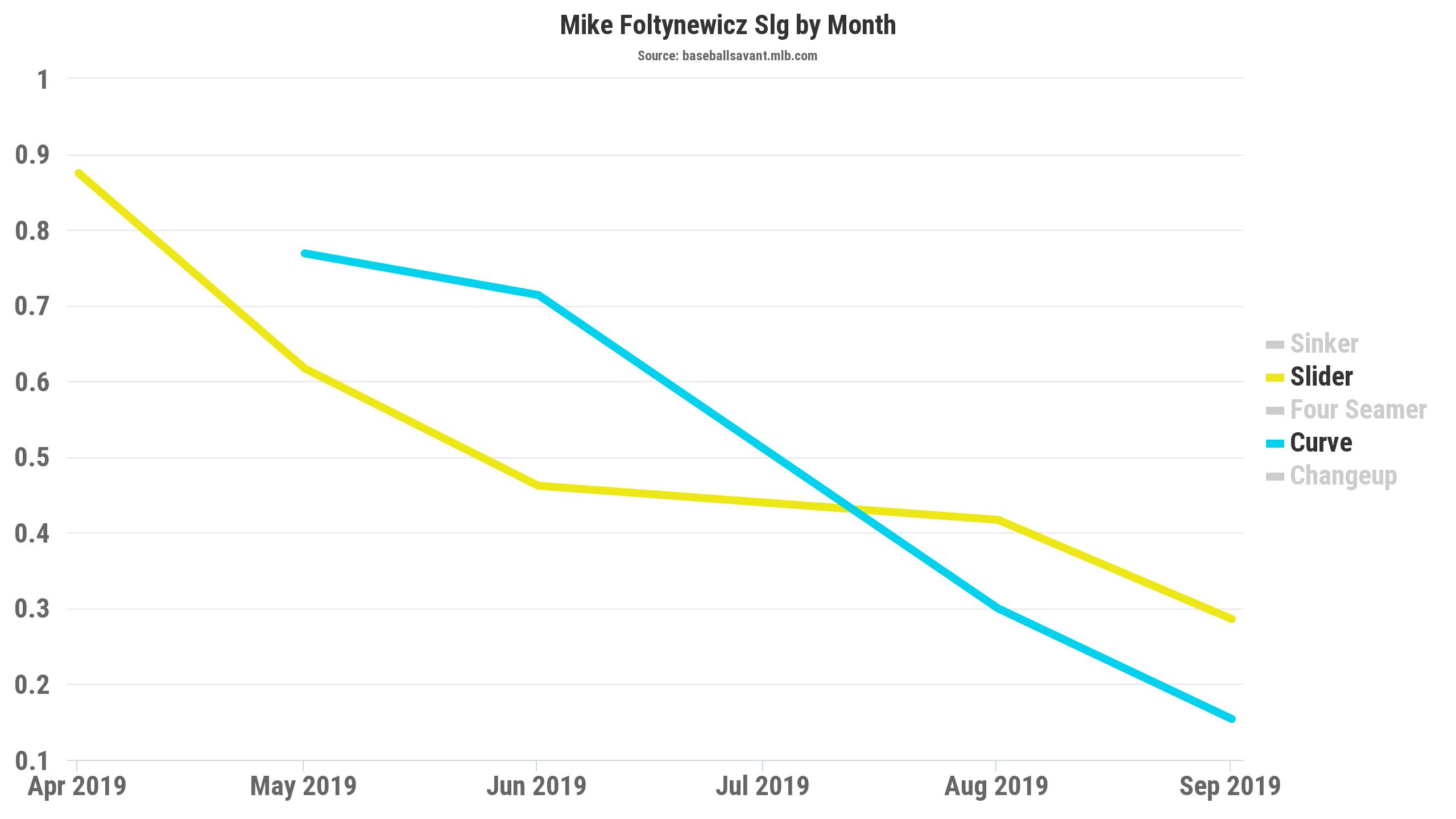 Part of the improvement here, especially in terms of his slider, has been a resurgence in his ability to make the pitch move laterally. Last season, the slider started off by averaging five inches of horizontal movement, but that gradually tapered off as the season progressed. It continued to fall in the early parts of this season, but it appears that Foltynewicz's stint in the minors gave him an opportunity to reshape the pitch in a big way.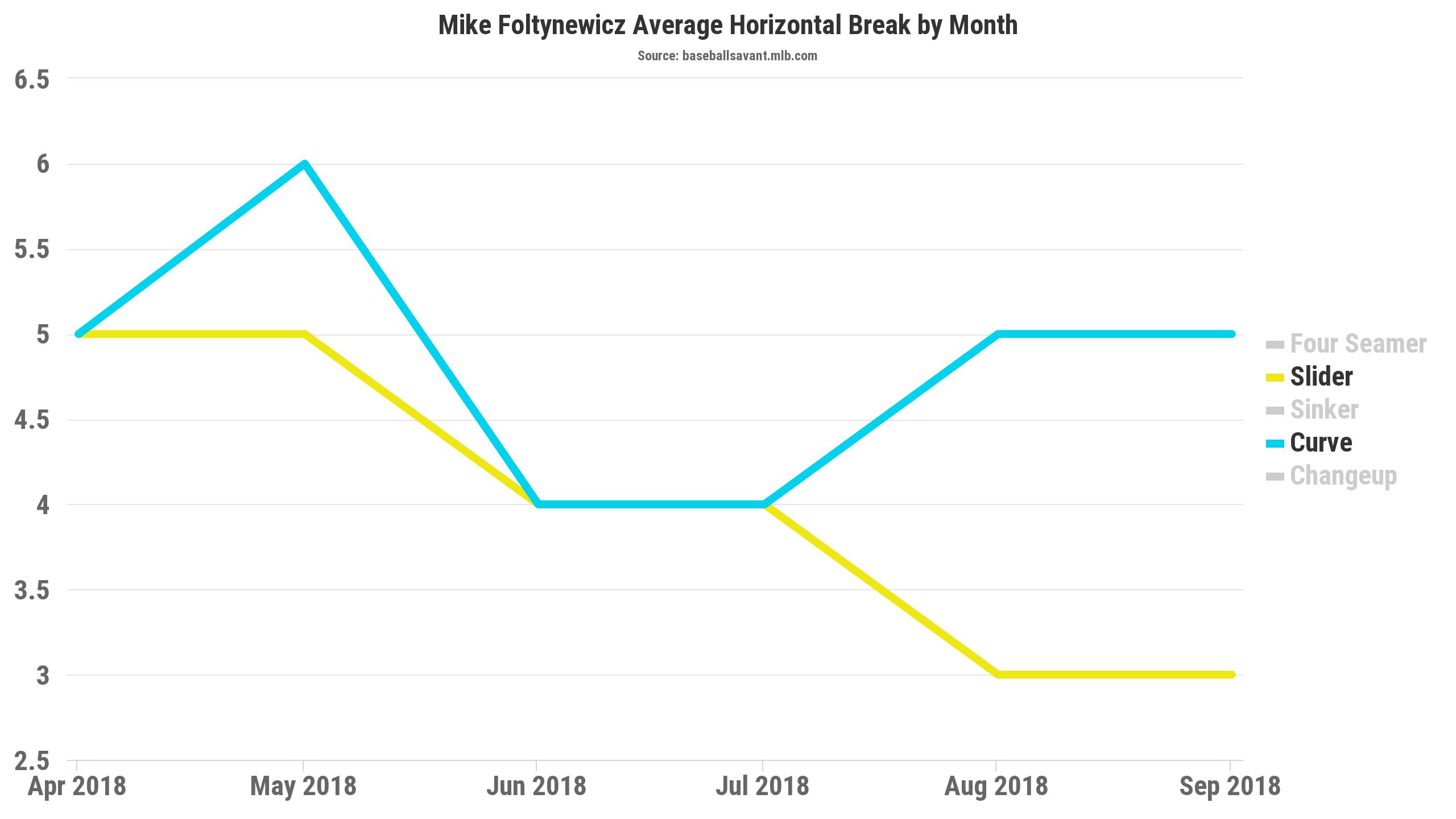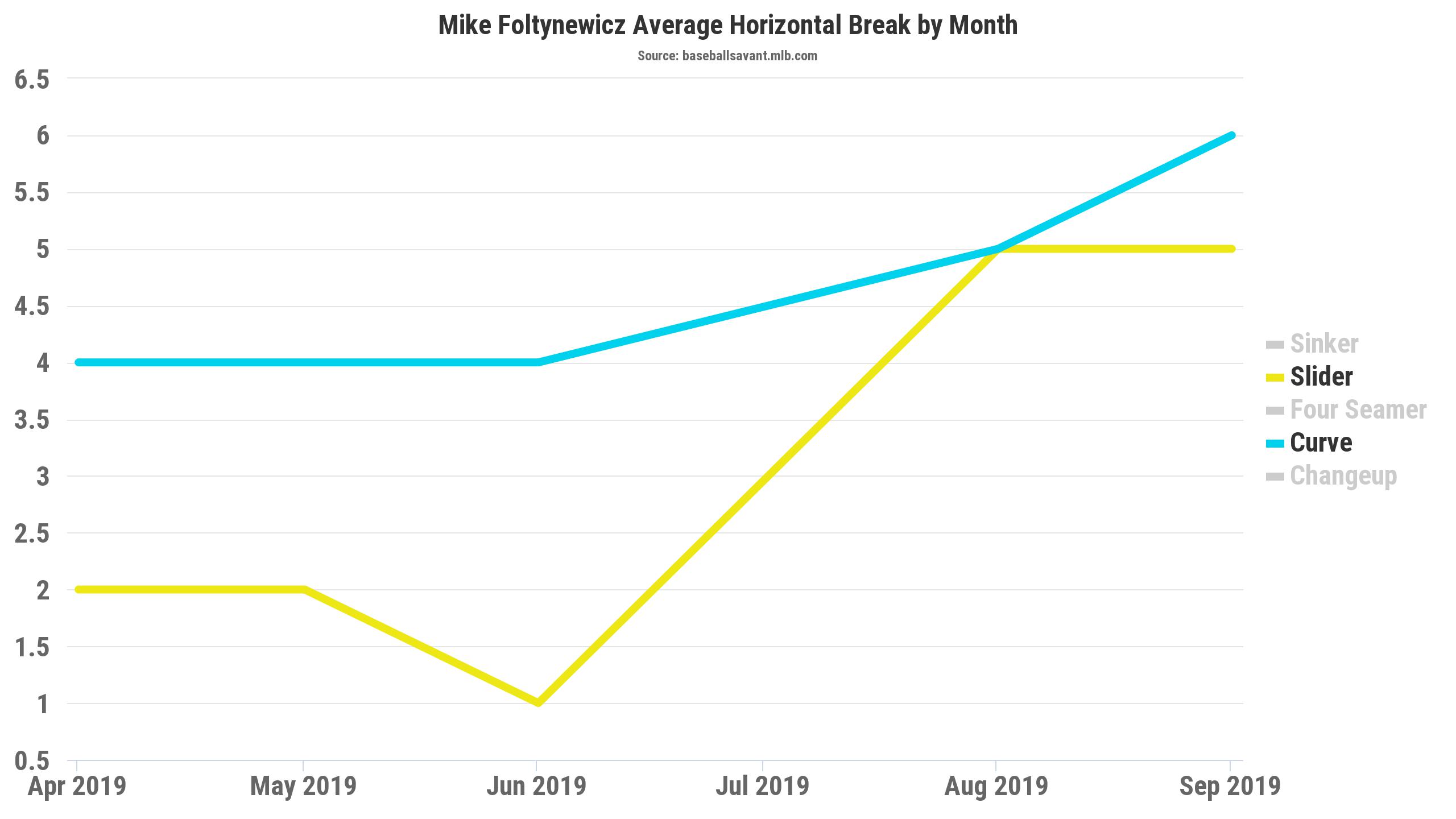 As you might expect, this difference in break is a pretty easy one to see with the naked eye. Let's look at two games Foltynewicz pitched against the Nationals this season. The first one is from June 22, the final start he made before being demoted to Triple-A Gwinnett. He gets ahead of left-handed-hitting Adam Eaton 1-2 and goes for a back-foot slider that just doesn't move.
It's not as demonstrative an image of the slider's ineffectiveness as a home run might be, but this pitch is below the knees, and Eaton lines it to right field at 106.2 mph off the bat. It's a good indication that Foltynewicz — who struck out 202 batters just a year ago — was not fooling hitters the way he used to. Here's another slider Foltynewicz deployed against a Nationals hitter, Asdrubal Cabrera, but this time during a game on September 14.
That's how that is supposed to look. Those two pitches start in similar places, but one takes a late turn well inside, while the other hung over the plate. The resulting swings bear out this change well. Eaton couldn't have looked more confident; Cabrera knew he was a goner halfway through his swing.
Foltynewicz didn't just return from the minors with a newfound ability to manipulate his breaking pitches, though. He returned with a different mindset for using his fastball.
Mike Foltynewicz's Pitch Usage
| Season | Four-seam | Sinker | Slider | Changeup | Curveball |
| --- | --- | --- | --- | --- | --- |
| 2018 | 40.5% | 15.8% | 27.1% | 6.4% | 12.3% |
| 2019 pre-demotion | 30.1% | 23.1% | 27.3% | 10.5% | 9.0% |
| 2019 post-demotion | 22.7% | 28.4% | 30.2% | 8.2% | 10.4% |
Since the end of 2018, Foltynewicz has slowly been cutting his four-seam usage in half while nearly doubling the frequency with which he uses his sinker. This table doesn't tell you that his sinker usage in 2018 was a large dip from his career rate before then, but he still only peaked at using it with 27.3% of his offerings in 2015, and his four-seam usage never previously dipped below the 33.7% mark. This recent run of success has featured a fastball setup unlike anything Foltynewicz has used in the past, all while the slider has slowly become his No. 1 pitch.
This trimming down of the four-seamer's usage has been taking place since the middle of last year.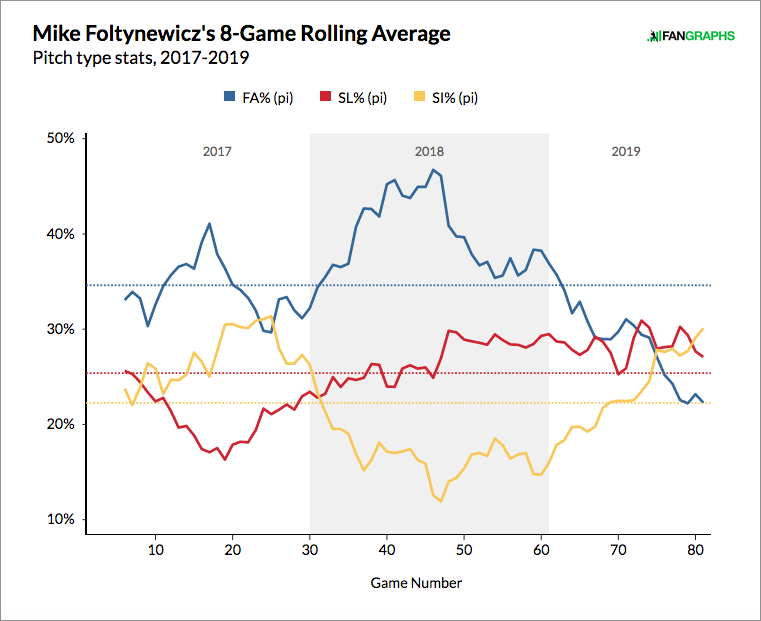 Is this sustainable? As we've gone over before at this site, a sinker-heavy approach tends to lead to fewer swings and misses than a four-seam-heavy one. But for Foltynewicz, that might not necessarily be the case. A look at his rolling averages shows that while his strikeout percentage peaked at the same time his four-seam usage did before tapering off in the second half of 2018, it's trended slightly upward throughout 2019.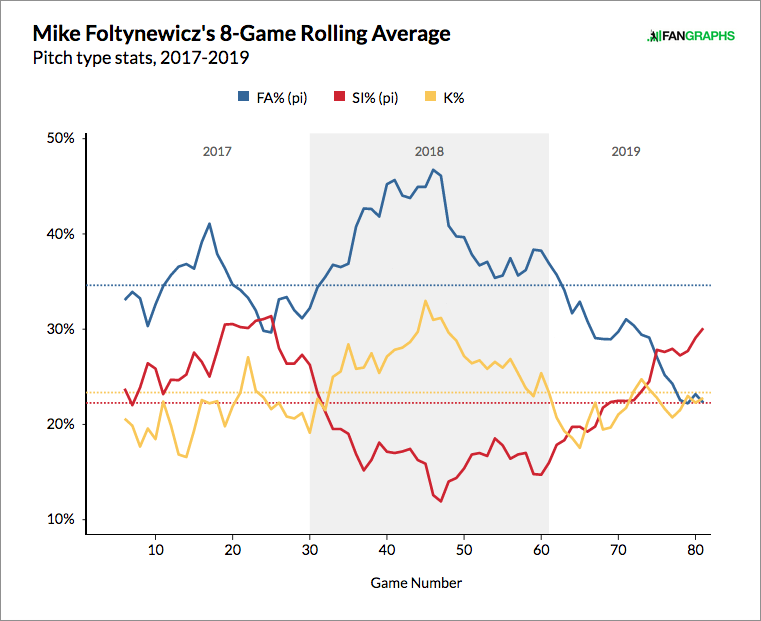 This graph doesn't tell us that phasing out Foltynewicz's four-seamer guarantees a huge drop in strikeouts, but it doesn't show us that approach is necessarily the right move, either. We can estimate, of course, what would have caused Foltynewicz to rely more heavily on the sinker when returning from the minors. Before his demotion, he had allowed 16 homers in just 59.1 innings, or 2.43/9. That rate is pretty much unplayable, and since he's returned with a refined repertoire, the improvements are obvious: 57.2 innings and just seven homers allowed. Two of those came in his first game back on August 6, and two more came in his final appearance of the season on Saturday. He had a mission to seriously cut down on dingers, and he's accomplished that.
More broadly, however, it's tough to say whether the move to more sinkers will be a success in the long-term. In the month of August, opponents still mashed the pitch to the tune of a .461 wOBA, while the four-seamer allowed a wOBA of just .258. The sinker performed better in September, with just a .238 wOBA against it, but the four-seamer was downright dominant, allowing just a .138 wOBA. These results coincided with what would otherwise be a pretty alarming development: Over the last month of the season, Foltynewicz's fastball velocity dropped to 93.9 mph — lower than any month of his career, and a full tick below the 95.1 mph average velocity he registered the month before. Just last May, Foltynewicz posted the hardest-throwing month of his career, averaging 96.8 mph. It's startling to see his velocity dive that far in such a short period of time, but the results are good enough to make one wonder if this isn't a conscious change on the pitcher's part.
A look at the numbers Foltynewicz has posted since returning from Triple-A might make you think he is back to his normal self, but he isn't. He's a different pitcher than the one he was last year, when he was one of the best pitchers in his league, and he's a different pitcher than the one he was earlier this spring, when he was one of the worst pitchers in his league. There's still work to be done, because there is always work to be done. We need to see more from him before we figure out what the work must look like. But he's come far enough for Atlanta to trust him with important innings in what should be a closely-contested playoff series against St. Louis. It's not easy to do that just two months after an extended stay in the minors.
The mere fact that Foltynewicz will get this opportunity is a testament to just how quickly he was able to diagnose his mistakes and work to remedy them. You can never have too many of those guys on one team.
Tony is a contributor for FanGraphs. He began writing for Red Reporter in 2016, and has also covered prep sports for the Times West Virginian and college sports for Ohio University's The Post. He can be found on Twitter at @_TonyWolfe_.