In light of Jason Bay's recent hot streak — he's hitting .307/.374/.466 over the last month — and two homerun game last night, some fans are beginning to wonder if the pre-Mets version of Jason Bay is finally beginning to show up. After all, Bay had posted above a .385 wOBA in four of the five seasons prior to signing with the Mets; his bat can't disappear overnight, can it? Considering that Bay has now played 155 games with the Mets, take a look at how his line compares with the average for the rest of his career:
When you look at his numbers in this light, his problem becomes immediately obvious: his power has completely evaporated. He's still walking at a similar rate (10-11%), striking out at a similar rate (25%), hitting around 90 singles per 600 PA, making contact with a similar number of pitches (75%), and having balls fall in for hits at around his career average rate (.320 BABIP). Literally the only difference between the Old Bay (mmm!) and New Bay is his utter lack of power: his homerun total has plummeted, dragging his batting average down, and he's also hitting fewer doubles. While Bay used to be good for 30+ homerun per season, the Mets have only gotten a total of 43 extra base hits out of him so far.
This conclusion leads me to two important questions: how much is Citi Field to blame for Bay's loss of power, and is Bay's recent surge a sign of good things to come?
Sadly, both these questions are easy to answer. Citi Field is huge and it's only natural to expect Bay to lose some power in that stadium, but dropping such an extreme number of doubles and homeruns speaks to a change in that player's talent level more than anything. This question would be easy to answer in-depth with Hit F/x if we had access to it — one day, right? — but it's also rather easy to see the difference when you look at Bay's spray charts over the past three seasons: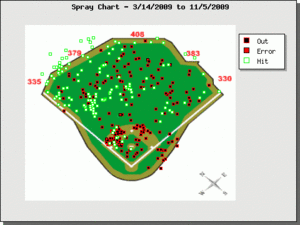 While Bay spent the 2009 season in Boston, his spray chart has been overlaid on Citi Field for ease of comparison.
Where have all those deep fly balls gone? Looking at it this way, Bay isn't driving the ball as far as he used to, especially this season. Sure, Citi Field would have taken away a couple of his homeruns from 2009, but those likely would have turned into deep doubles instead.
As for Bay's recent surge, I'm not optimistic that this success is a sign that he's put things together. Enjoy his hot streak while it's around, Mets fans, but his success looks very unsustainable to me. His line over the last month is boosted by a .359 BABIP, which is sure to regress at some point, and Bay isn't exactly crushing the ball — his main problem is his lack of power, and he's still not driving the ball that far.
Bay has four homeruns over the last 30 days, but he hasn't hit a single double (and only one triple) over that time period. His slugging percentage has been boosted by his higher batting average, and his .159 ISO over the last 30 days is still a far cry away from his pre-Mets .239 ISO.
I want Bay to rebound and recapture some of his former glory — I'm one of those fanboys that took a flyer on him in fantasy — but this recent hot streak isn't enough to convince me he's back. He needs to start driving the ball with more consistency and rack up some more extra base hits; until he can do that, Bay's looking more and more like a $16 million albatross.