At this point, it seems like common knowledge that the sinker has fallen out of favor. We've covered that development pretty often here at FanGraphs over the past couple of years. In fact, here's Jeff Sullivan doing just that in a 2017 piece called, "Baseball is Moving Away From the Sinker:"
"The league got a whole hell of a lot better at hitting the low pitch out of the ballpark. Not exclusively the low pitch, but disproportionately the low pitch. Swings started to gear up for elevating the low sinker. This is something that's continuing today. Where many of those swings have a vulnerability is up, around the belt. The uppercut swing can have trouble connecting with pitches in the upper half, and those pitches have long gotten swings and misses, anyhow. Sinkers? Sinkers are supposed to be low. They're not so good at the thigh."
Since then, homer totals have soared and sinker usage rates have fallen. For those still working with a sinker, it's often their worst pitch. This is true for Noah Syndergaard, Chris Archer, and even a guy like Aaron Sanchez, who has notably reduced his sinker usage since he was traded to Houston.
That doesn't mean the sinker is entirely dead. The most obvious example of a guy with an effective one is Zack Britton, who's riding his sinker to a near-80% ground-ball rate this year. Britton's a unicorn, but there are still several "normal" pitchers succeeding with sinkers too. Look at the top of the pitch value leaderboard, and you'll see a decidedly normal pitcher with a good sinker in Julio Teheran.
Pitch value is a counting stat, so it's not surprising that all five pitchers in the above table are starters. The next table features a rate-based leaderboard, which measures a sinker's value per 100 pitches. I limited the sample to pitchers with at least 50 thrown:
Teheran still ranks highly here, and even amongst this group, he has thrown by far the most sinkers. He clearly has one of the best sinkers in baseball. And, as Al Melchior wrote last week on RotoGraphs, Teheran's sinker usage has increased in recent outings, his best stretch of the season. While his high strikeout rate during that period may not last, the batted ball results he's produced seem more stable:
Regardless of whether the strikeouts stick, Teheran's sinker has been quite good so far this season. What's less clear is how he's succeeded with an offering that most pitchers are abandoning.
Generally speaking, three factors determine the outcome of a pitch: velocity, location, and movement. Teheran's sinker averages 89.4 mph. Of the 412 pitchers to throw at least one sinker this season while pitching 10 or more innings (to exclude position players), Teheran's average velocity on the pitch ranks in the league's 11th percentile. To consider the impact that velocity may play in Teheran's success, I looked at every single pitcher who had an average sinker velocity within +/- 0.2 mph to Teheran's. Of those with 50-plus plate appearances ending in a sinker, Teheran again stands out:
Interestingly, five of the 11 pitchers listed above have a sinker xwOBA above the league average, while six fall below it. That suggests that velocity alone is insufficient to explain his sinker's success. Moreover, Teheran is doing a lot better than everyone else in his velo cohort. Teheran's wOBA allowed on the pitch is 58 points below the next-lowest figure (Kyle Ryan), and his xwOBA allowed on the pitch is 18 points below the next-lowest figure (Ryan again). And again, Teheran is a starter: he's having this level of success while throwing the sinker a whole lot more than most of these guys.
If we look at the pitchers with the smallest difference in movement when compared to Teheran, he is again quite different. Here is the list of pitchers who have movement totals within +/- 1 inch of Teheran's sinker's total movement (x- and y-movement combined), along with their results:
There aren't many conclusions that we can draw from this sample either. Teheran is still outperforming his peers significantly, and thus it's hard to pinpoint the reason why. Perhaps it's some combination of break and velocity, but the two pitchers on this chart who have a similar average sinker velocity to Teheran — Zack Godley and Trevor Williams — have seen their results vary widely, not just from Teheran, but also between themselves. Williams' sinker has been decent, but Godley's has been very, very bad.
This leads us to location. Is there something unique about Teheran's pitch location that makes his sinker so good? Perhaps. Teheran throws his sinker high in the zone to lefties, which is unusual. Look at Teheran's sinker heatmap for his location against left-handed hitters versus his location against right-handed hitters. The difference is pretty striking: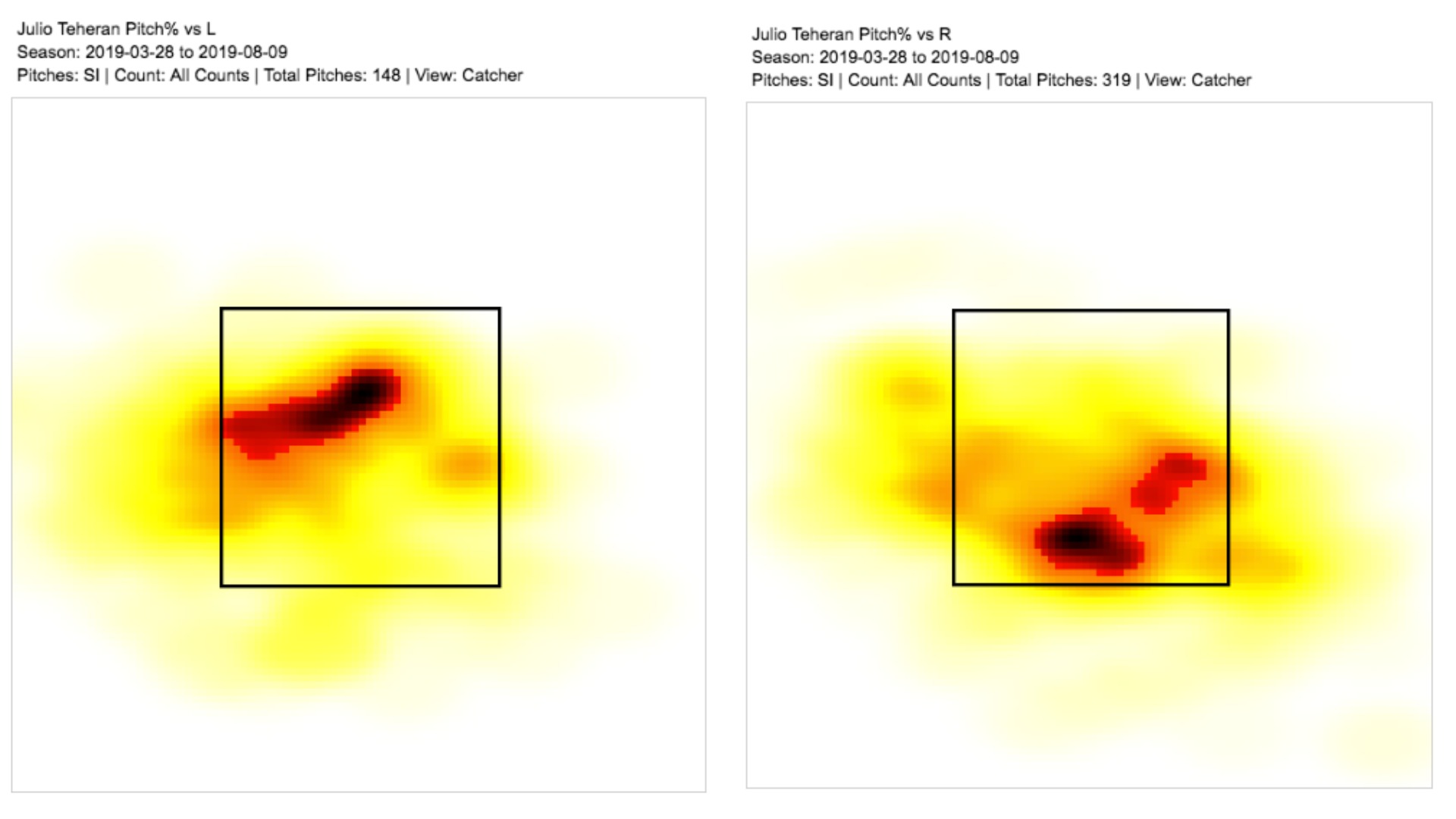 Against left-handed batters, Teheran has bucked the consensus on where you're supposed to locate sinkers. The pitch is generally thrown near the bottom of the zone to generate ground balls, and yet Teheran regularly throws it above the belt. Lefties have a 48% fly-ball rate against his sinker, which is the highest rate in baseball. His overall average exit velocity on all fly balls versus the sinker is just 88 mph, fifth-lowest in the league. Against a pitch that hitters normally drive, Teheran has somehow managed to avoid hard contact. All told, his .171 xwOBA on fly balls against the sinker is the best mark in baseball.
Interestingly enough, the high pitch is also where Teheran is getting the majority of his called strikes, and this is especially true against left-handed hitters. About one-third of Teheran's called strikes versus lefties have come at the top of the strike zone, about double the league average. It's almost as if he's catching hitters by surprise; they've certainly been slow to adjust.
Whether he's able to continue succeeding with this unconventional approach is for time to determine. He's undoubtedly pitched well, but there are a few reasons to be skeptical that he can keep this up over the long haul. For one, his xwOBA numbers seem ripe for regression. xwOBA is not a particularly predictive metric for pitchers, and the sample size isn't large. It is entirely possible that hitters will catch on to how he's using the pitch, and start making better contact. (Perhaps they already have.) Whether they have or not though, Teheran's location pattern is unusual and his success with the sinker seems to go against modern baseball's tide. We'll see if he can keep it up — or if his sinker is even an effective offering in the long run.
Devan Fink is a Contributor at FanGraphs. You can follow him on Twitter @DevanFink.