The date is May 11, 2018. Kendall Graveman, a 27-year-old right-hander in the back of the Athletics' rotation, is languishing through a bad season, and the lineup in front of him is as difficult as any he's faced: the Yankees. Now in his fourth season with Oakland, expectations for him aren't terribly high: He has an ERA- of 101 and FIP- of 107 over 407 innings across the past three seasons; he's missed significant time with shoulder and oblique injuries; and he's struck out under six batters per nine for his career. But he isn't even living up to that standard anymore. His first six starts of 2018 have resulted in a grotesque 8.89 ERA, and there is a new ailment growing undeniable in his throwing arm.
Despite all of that, though, his Yankees start is going pretty well. His offense has spotted him a four-run lead, and with two out and a base open for Aaron Judge in the fifth, all he has to do is make sure he doesn't throw him anything he can hit. He goes to his sinker, his go-to offering, and wills it to run off the plate inside. The pitch refuses.
Graveman would go on to escape with the win by the skin of his teeth. In six innings, he allows four runs, strikes out four, walks two, and gives up two homers. It might be his best start of the season. It's also the last time he pitches in the majors for 808 days.
The date is now May 7, 2021, nearly three years after that Yankees start. Graveman is wearing a Mariners uniform and pitching in the ninth inning with a one-run lead and the tying run behind him at second base. He's facing the Rangers, who are decidedly not the Yankees. But the guy at the plate, Isiah Kiner-Falefa, is no joke. Graveman throws a sinker, his go-to offering, and wills it to run off the plate inside. The pitch obeys.
Wait. Did that say 99?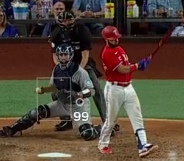 Yep, sure did. Two pitches later, he throws Kiner-Falefa another sinker, and gets another whiff.
The next hitter, Charlie Culberson, suffers a similar fate. He also swings through two pitches in the at-bat; both of them are sliders, and the last one touches 90.
Three years is a long time in baseball, and Graveman is one of the best examples of that. In the time that has elapsed since that Yankees start, he was optioned to Triple-A, underwent Tommy John surgery, attempted and failed to make a comeback with the Cubs in 2019, and finally succeeded in making a comeback with the Mariners in 2020, who turned around and declined his team option for '21 before signing him to a cheaper one-year deal a day later. But even when he did return to a big league mound last year, he still looked, well, pretty Kendall Graveman-ish: a 5.79 ERA, a 4.26 FIP, and a 7.2 strikeout-per-nine rate.
This year, Graveman has been unhittable. (Here I'd also point you to Michael Ajeto's excellent piece on the reliever at Lookout Landing.) He's thrown 16.2 innings in 14 games and hasn't allowed a run. He's also given up just six hits and three walks and has struck out 17. Oh yeah, and there's this: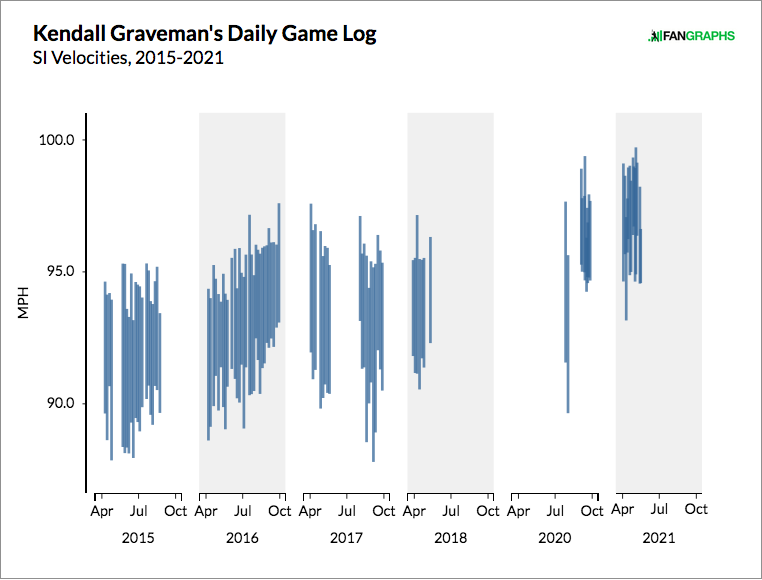 As you can see, Graveman's velocity jump began last season, when the Mariners first moved him to the bullpen after two unsuccessful starts in their rotation. That's a story you've read a hundred times by now: A starter shifts to relief, gets to turn everything up a notch because he only has to throw 25 pitches instead of 100, and sees his numbers improve as a result. With a fastball that's now a couple ticks harder, he also gets to dump the third pitch he technically needed to start games but never trusted that much in the first place, and he's a better pitcher because of it.
But there are bad starters who transition into being decent middle relief guys to save themselves a roster spot, and then there are bad starters who become genuinely elite high-leverage arms. Every team has a pitcher or three sitting at the fringes of their rotation, providing little value outside of being available to eat some innings when you need them to. If you could turn any of those guys into peak Wade Davis any time you felt like it, baseball would look a lot different.
More often, a transformation like this comes as a surprise even to the people who work most closely with the pitcher. In Graveman's case, his move to the bullpen wasn't initiated by some stroke of genius from a front office analyst, but by a benign tumor in his neck which caused him to miss time last season. Even after seeing the spike in his velocity, Seattle still didn't anticipate the kind of season Graveman is having now, or else they probably wouldn't have risked him testing the market just to shave $2 million or so off his 2021 salary. Mariners manager Scott Servais admitted as much, telling the Seattle Times' Ryan Divish:
"He does have leadership ability, there's no question about it. Quite frankly, it's one of the reasons we re-signed him. We didn't really know. He didn't have a obviously huge track record or body of work to say, 'Oh yeah, this guy's gonna be a good reliever for you for the next three, four years.' We didn't have that. But what we did know was that we knew the person. And we were all in on Kendall Graveman."
And every time he pitches, more people jump on the bandwagon. His sample size as a reliever is still pretty small, particularly in 2021, and he's been the beneficiary of good luck in a few ways: His opponents are hitting just .162 on balls in play; he hasn't allowed a home run; and he's stranded every runner who's reached against him. While he's shutting out his opponents, it would be wrong to say he's been a better reliever this year than pitchers like Aroldis Chapman or James Karinchak.
But Graveman has still been extremely good, and that's not just because of his added velocity. The sinker deserves a ton of credit for his resurgence: It's getting more whiffs than it ever has by several points; is inducing ground balls at a 55% clip; and, after never achieving an xwOBA under .350 while he was in Oakland, now has an xwOBA of .240.
But the reason his rise is occurring this year, instead of when he first increased his velocity in 2020, is his slider. Graveman has always had a somewhat strange relationship with his slider, which is essentially the only breaking ball he's ever thrown, save for 34 curveballs across 481 career innings. But he'd never thrown it more than 13% of the time, and last year, he threw just 10 total. As a starter, he typically preferred his cutter and changeup to his slider, and last season, he was more interested in his changeup and even trying to mix in his four-seamer.
This season, he's using the slider almost 23% of the time, and it's rendered opposing batters helpless. In 20 plate appearances ending on the pitch, Graveman has allowed just one hit — a single — and struck out 10; the pitch's whiff rate is a whopping 51.7%. For context, no pitch he had thrown more than 10 times in a season ever maintained a whiff rate over 35% before 2021. And this isn't a huge surprise. If you look back at Graveman's numbers from previous seasons, the slider was usually his most effective pitch, both at getting whiffs and stifling offense in general. He just never seemed all that confident in it. That's changed now, for obvious reasons.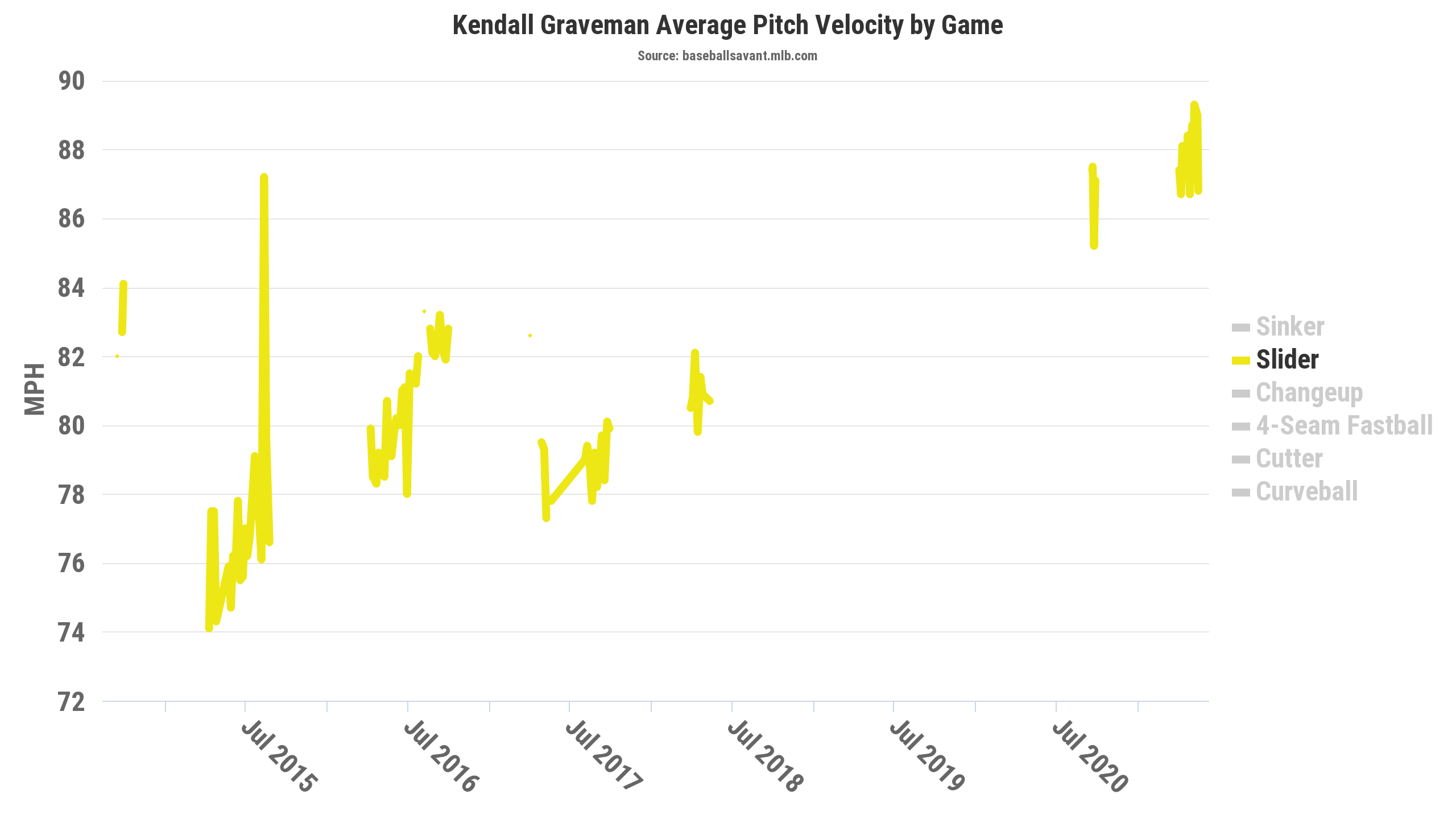 Few teams needed this kind of pleasant surprise in their bullpen this season more than Seattle. Last year's Mariners relievers had the worst collective FIP of any bullpen in the last 70 years. It was partly a symptom of the year — four of the top five FIPs in that link are 2020 teams, due to the combination of a shortened season and the expanded rosters — but it was still reflective of an abysmal group, and there was no promise of this year's staff being much better.
Somehow, though, it is. The Mariners have the sixth-best bullpen ERA in the majors, at 3.56. Pitchers like Drew Steckenrider, Casey Sadler, Ljay Newsome and Robert Dugger have all surprised in the same way Graveman has, and it's a big reason why the team is flirting with a .500 record a quarter of the way through the season despite owning one of baseball's worst offenses as well as one of its worst rotations. Seattle still isn't ready to contend fully, but its games are at least worth sticking around for 'til the end. That can go a long way with a fanbase, and the team has Graveman and co. to thank for it.
Tony is a contributor for FanGraphs. He began writing for Red Reporter in 2016, and has also covered prep sports for the Times West Virginian and college sports for Ohio University's The Post. He can be found on Twitter at @_TonyWolfe_.