In the final moments of the 2019 trade deadline, the Astros shocked the baseball world with their trade for Zack Greinke. As Dan Szymborski put it at the time, "In a league in which money and prospects are meekly handed out when a team has an opportunity to strike a critical blow, Houston keeps demonstrating why they're one of the best, most focused organizations in baseball today."
Since the trade, Greinke has been good. He's pitched 49.1 innings for Houston thus far, posting a solid 3.10 ERA, 3.50 FIP, and 1.2 WAR. His strikeout numbers have dipped (24.0% to 19.5%) since moving from the Diamondbacks to the Astros, but even with this dropoff in performance, it's hard to say that he hasn't been worth the cost so far. With that said, of course, the Astros didn't acquire Greinke to help them get to the playoffs; they acquired him to get through the playoffs. The evaluation of that trade — along with many others made at the deadline — is far from complete.
While Greinke has been solid since the trade, he hasn't been the best pitcher of those moved in July. That distinction belongs to Kolby Allard, even if it is by a razor-thin margin:
WAR Since Aug. 1, Pitchers Traded in July
Stats through games played on September 14.
A bit of context is useful here. Allard has pitched to a 3.16 FIP this season in part because he's only allowed one home run over seven starts. His K-BB% of 9.6% — a huge improvement over 2018's -2.1% mark — is pretty far below league-average for a starting pitcher, while his xFIP of 4.58 thus far is just a tick better than average (99 xFIP-). Greinke (1.2) has a higher RA9-WAR than Allard (0.8) and has made an additional start. So while Allard has been quite good since the trade, Greinke has been no slouch.
Let's revisit how Allard arrived in Texas. The Rangers acquired Allard the night before the trade deadline, in the move that sent reliever Chris Martin to Atlanta. Allard's name generated some interesting discussion — after all, he was a former first round pick — but both his prospect status and his fastball velocity had fallen since making his professional debut. Currently, Allard ranks No. 24 on Texas' top prospect list, though Kiley and Eric recently upgraded him from a 40 FV to a 40+ FV after his promising start with his new organization.
Allard's velocity is up, and pretty significantly, too. After not averaging above 89.8 mph in any of his three major league outings in 2018, it is pretty jarring that the slowest four-seam fastball he has thrown this season (of 315 total) has been 89.8 mph. In 2018, his hardest fastball was just 91.0 mph. In 2019, he's thrown 302 fastballs — or 96% — above 91.0 mph. Let's take a look at Allard's rolling four-seam fastball velocity, broken into five-pitch increments: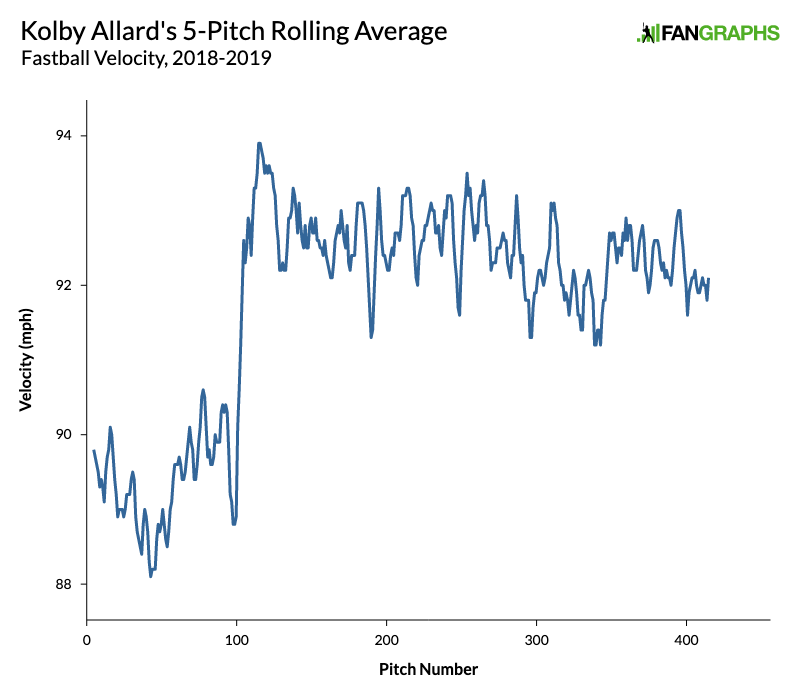 As you can see in the chart, there's a huge spike right around pitch 100. It just so happens that Allard threw exactly 100 four-seam fastballs in 2018. The velocity jump is real, and it is extremely important. This season, against four-seam fastballs in the 88-90 mph range, hitters are posting a .396 xwOBA. Against fastballs in the 91-93 mph range, hitters are posting a .374 xwOBA. That's a 20-point improvement in expected wOBA versus the league-average batter based on his velocity improvement alone.
This velocity jump that has been crucial to Allard's success with Texas is likely due to a release point change. According to data from Brooks Baseball, Allard's average horizontal release point has shifted by about six-and-a-half inches toward the left-handed batter's box. Similar differences in Allard's release point persist across all of his offerings. It's hard to see this from video, as camera angle issues come into play, but I did my best to find this in actuality.
Here's Allard throwing a pitch in 2018:
And here's Allard throwing a pitch in 2019:
Here's the comparison of his release points from Brooks Baseball: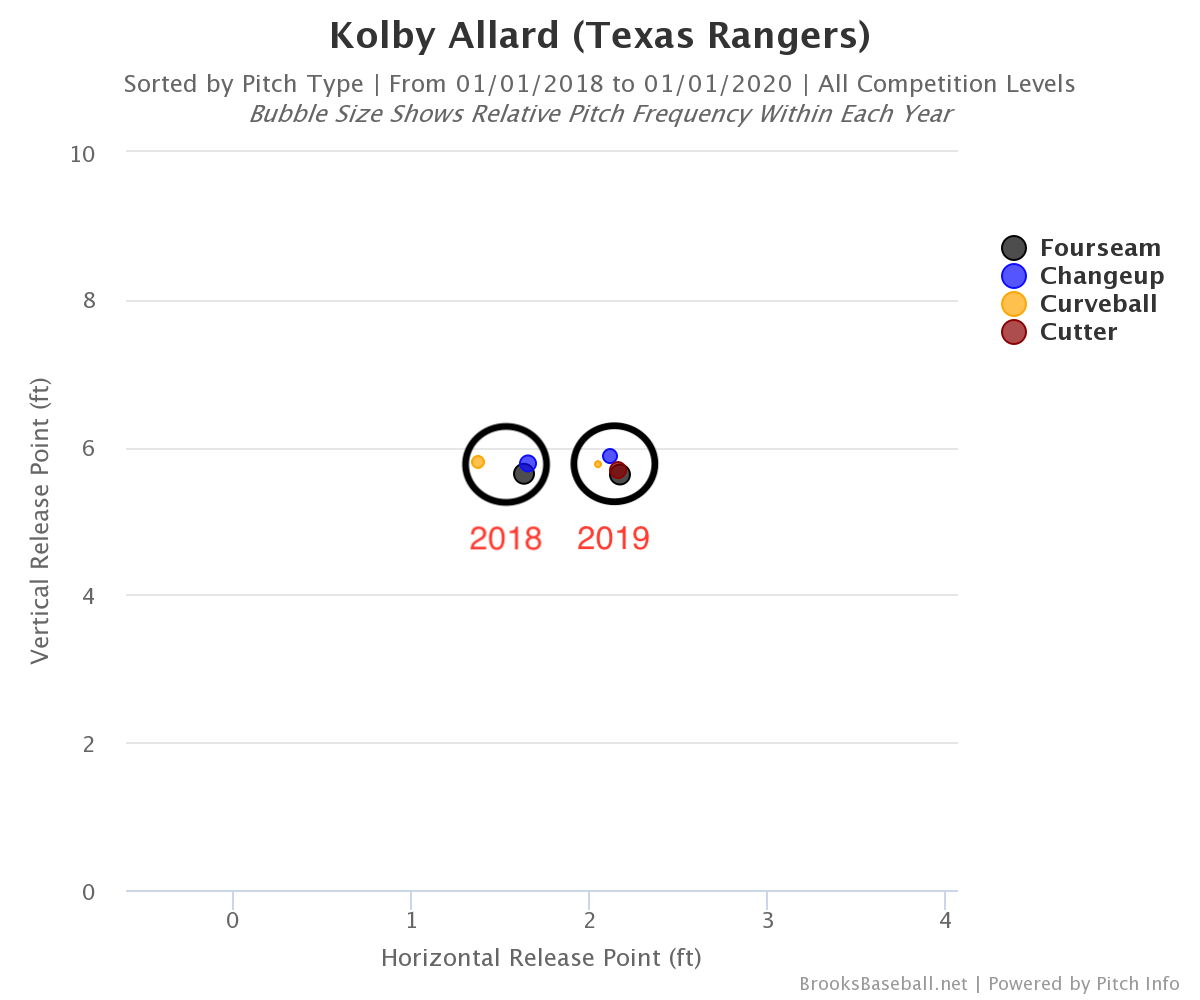 While the fastball has been important to his improvement in 2019, it's not the only pitch that has led to Allard's success. The fastball is better, yes, but it's still not even an average pitch, coming in at -1.6 runs above-average this season. (It's still a huge improvement from 2018's -5.6 runs above-average.) Allard's best pitch this season so far has been his cutter — a pitch he didn't even throw last year — at +2.3 runs above-average. It's his second-most frequented offering, and since August 1, his cutter has been worth the 19th-most weighted runs above-average. That's out of 134 cutters thrown during this timeframe, putting him in the 86th percentile. Among the 53 pitchers with 100+ cutters thrown since August 1, Allard's weighted cutter runs above-average per 100 pitches ranks 15th. The guy has a solid cutter.
Also important to note are Allard's two other pitches, his changeup and his curveball. Allard's change has been nearly as good as his cutter, at +2.0 runs above-average. It also graded out as his best pitch in his prospect report, at a 55 current and future value. The early returns on Allard's changeup this season have been impressive; while throwing it almost exclusively to right-handed hitters, opponent success against the pitch has been limited (.151 wOBA, .338 xwOBA). With regard to Allard's curveball, he has only thrown 31 of them, so there isn't a lot of data to pull from. What's interesting about this pitch is that it has extremely low spin. At just 1,831 rpm, Allard's pitch sits in the 0th percentile in curveball spin. Look at this funky curve:
He has already generated whiffs on 27% of swings against the curveball. We need to see more from this pitch before drawing any firm conclusions, but it is a weird one.
In all, it's only been seven starts for Kolby Allard in Texas. There have been positives and there have been negatives. His solid FIP has been bolstered by his stinginess with the long ball; his xFIP is just about league-average. But for a rebuilding club that is trying to find wins in underrated places, Allard is exactly the type of player to pursue — a high-upside option with the ability to improve himself. He's already made real gains, the gains that have, by WAR, made him the best pitcher traded at the deadline so far.
Devan Fink is a Contributor at FanGraphs. You can follow him on Twitter @DevanFink.