It was rainy, it was short, and yet, it was the first time in 382 games that a Chicago White Sox pitcher had recorded a complete game.
On Saturday, in an effort that required just 78 pitches, Lucas Giolito became the first White Sox pitcher to throw a complete game since Chris Sale on September 16, 2016. He allowed just one run on three hits and struck out four.
The catch? Let Giolito explain it himself. As he told NBC Sports Chicago after the game, "I don't consider it a complete game until I get nine." Indeed, Giolito's effort to snap a long stretch of bullpen usage was only five innings long. The game only lasted an hour and 31 minutes, if you choose to exclude the three-hour delay. A rain-soaked Chicago took care of the rest.
What's lost in this whole story is that Giolito was solid on Saturday yet again. He's had an up-and-down career so far, from being the Nationals' prized pitching prospect to struggling in his first taste of the majors in 2016 to being the centerpiece in the Adam Eaton trade to posting the worst K-BB% among starters last year. But in Saturday's start, never mind its length, Giolito lowered his ERA to 3.35. His 3.00 FIP is sterling. His 1.3 WAR in just 43 innings represents a 1.7-win improvement over his career total entering this season.
In sum, Giolito went from being league-worst to pretty, pretty good. The next step — the excellence — still comes in flashes, as it often has over his young career. Since the start of May, Giolito has posted a 1.85 ERA with 27 strikeouts to just eight walks over 24.1 innings. By WAR, he's been the eighth-best starter this month.
To achieve this success, Giolito has made some fairly significant changes. For one, he's followed the league-wide trend of decreased sinker usage, ditching the pitch altogether. Giolito "never had the best command of [the pitch]," as he told Jonah Birenbaum of theScore. In retrospect, that seems logical, at least to this observer. Giolito threw his sinker about 21% of the time last season, and batters tattooed it, posting a .338 wOBA against the pitch. The sinker actually wasn't Giolito's worst pitch. That "honor" belonged to the four-seam fastball, a pitch he threw 39% of the time, that generated more walks (63) than strikeouts (41), and led to 14 home runs. Coming into this season, he couldn't completely give up on the fastball, and while he hasn't entirely, he's been throwing fastballs at by far the lowest rate of his career. The results have still been mediocre (.335 wOBA), but a 1 mph uptick in velocity has aided him in striking out more batters than he's walked with the pitch.
With his seemingly average fastball, Giolito's success this season has come from the other areas of his repertoire. His changeup has been his second-most frequent offering, and it's been a good one. The pitch has already been worth 6.6 runs above-average this season, making it the sixth-most valuable changeup in baseball.
A changeup that good is never a bad thing to have in one's arsenal. Giolito mainly uses it against one type of hitter: the lefty. This season, exactly two-thirds of Giolito's changeups have come against lefties, probably because of its diving action away from left-handed hitters.
Observe this changeup to Rowdy Tellez on May 12:
And this one to Carlos Gonzalez on May 7:
And this one to Jake Bauers, also on May 7:
If those three GIFs were not enough for you, here's a chart demonstrating Giolito's changeup usage to left-handed hitters this year: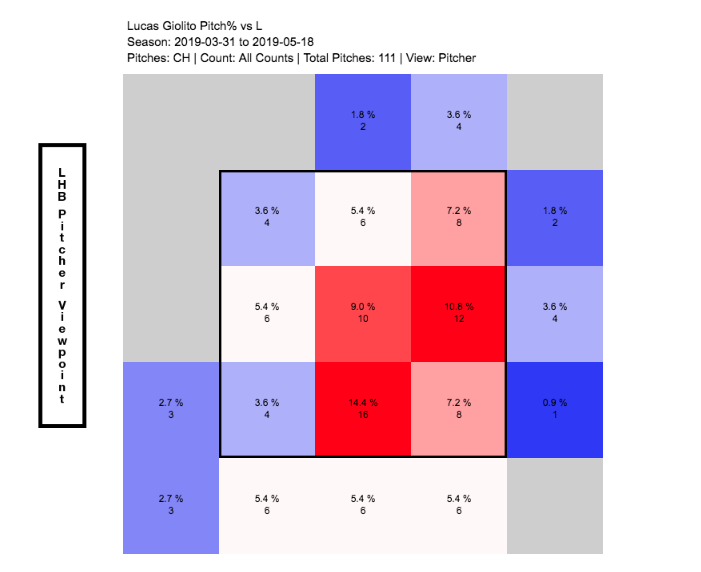 We can truly see the clear focus on the low-and-outside portion of the plate. With this targeted location, in addition to the pitch's movement, left-handed hitters have struggled to do much of anything with the pitch, posting a .181 wOBA (and a .223 xwOBA) against it.
Right-handed hitters, too, have struggled to hit Giolito's changeup, but it's not his out pitch against them. Rather, it's Giolito's slider that gets the bulk of the action. Of the 97 sliders that Giolito has thrown this season, 86 of them have been against righties. Giolito's success with the slider to righties is eerily similar to his success with the changeup to lefties. As a group, right-handed batters have posted a .075 wOBA against the slider this year. Their xwOBA (.159) only suggests a hint of unluckiness.
Giolito's slider has nearly opposite movement to his changeup, accomplishing the same goal. Just like the changeup moves away from lefties, the slider moves away from righties.
Observe this slider to Vladimir Guerrero Jr. on May 12:
And this slider to Christian Vazquez on May 2:
And finally, this slider to Chris Owings on April 17:
Again, Giolito has succeeded with his attack on the low-and-outside portion of the plate. The extent to which he does so is even more prevalent here: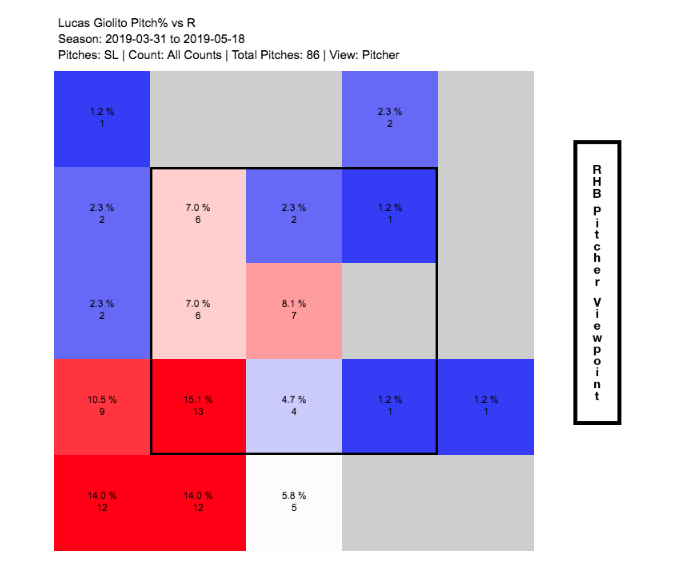 After seeing this, the next question I had was: Is this something new? Is Giolito attacking different portions of the zone than he did in previous years? The short answer is no. A brief look at Giolito's changeup and pitch charts for changeups to lefties and sliders to righties suggests that Giolito isn't doing anything significantly different this year in terms of location.
What is different, though, is the frequency of those pitches. As I noted above, he's thrown the vast majority of his changeups to lefties, and the vast majority of his sliders to righties. This is clearly purposeful, and represents an early change (no pun intended).
Last season, only 57% of Giolito's changeups came to left-handed hitters, compared to the 67% figure he's posted so far this year. Right-handed hitters, meanwhile, teed the pitch up (.344 wOBA), while lefties struggled (.256 wOBA). The inverse happened with the slider, a pitch he still threw mainly to righties (77%) but at a much lower rate than he has done so far this year (89%). And, as you'd probably expect, lefties hit it significantly better (.315 wOBA) than their right-handed counterparts (.209 wOBA).
With this in mind, the thought process must have been pretty simple. Giolito likely looked at his non-fastball pitches and realized these fairly significant splits. Then, he took the strength away from each side of the plate. He paired his fastball with the off-speed pitch that worked, depending on the handedness of the batter.
That appears to be the story behind Lucas Giolito's early breakout. For a guy who has had many ups-and-downs throughout his short career, he's finally found something that works. He rightfully gave up on the sinker, and in its place, he found his out pitches. Those have to be some pretty exciting words for White Sox fans, who have been waiting years for Giolito to accomplish the feats he did on Saturday, even though he didn't quite "get nine."
Devan Fink is a Contributor at FanGraphs. You can follow him on Twitter @DevanFink.