Here's the chart that got me interested in what Marcus Semien is up to:
Marcus Semien's Year of Discipline
| Season(s) | PA | wOBA | BB% | K% |
| --- | --- | --- | --- | --- |
| 2012-2018 | 1,934 | 0.311 | 7.9 | 23.2 |
| 2019 | 198 | 0.335 | 13.1 | 15.2 |
It's the last two columns that should grab your attention. Semien is walking nearly two-thirds more often this year than he's ever walked before, and striking out less, too. Those are good things for hitters to do, and they've resulted in a 24-point increase in Semien's wOBA (.335) compared to what had been his career mark (.311). If that figure holds, it will be the best of Semien's career by 20 points.
Semien has experienced stretches of similar success before. For a brief period at the beginning of the 2017 season, before being put out of commission by a wrist injury, Semien was walking nearly 17% of the time — but also striking out in something like 27% of his plate appearances. He brought that number down beginning in early 2018, to something like its current levels, but saw his walk rate drop back down below 5% as he did so. Not until the early part of this 2019 season have we seen a Semien who is both walking a lot and not striking out that much: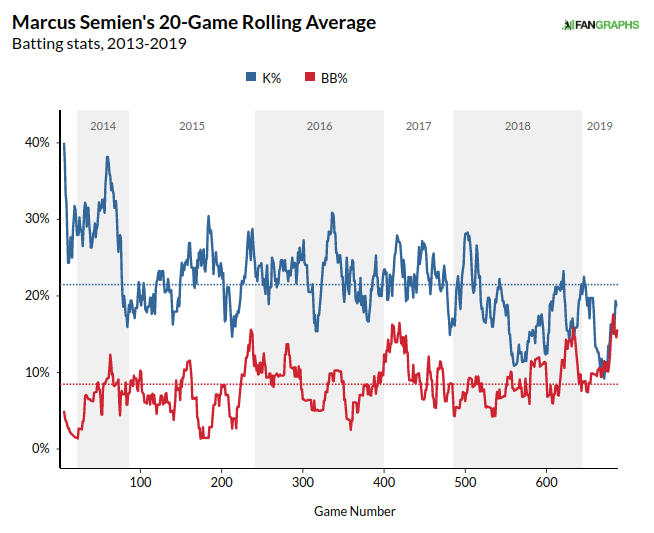 The results have been promising. Without a .335 wOBA, Semien is a guy who's only recently demonstrated that he can be a quality defensive shortstop in the big leagues and has never posted a wRC+ over 98 (2016's age-25 campaign). With a .335 wOBA and that much-improved defense (courtesy of Mr. It's Incredibly Hard), Semien is now something quite different: An above-average hitter, a man with a firm hold on the A's shortstop job and, by WAR, the second-most valuable hitter on an Oakland roster packed with very strong men.
To hear Semien tell it, the difference this year is a level of maturity and experience that comes from seven years in the majors. "When I was the White Sox," he told me this week in the visiting clubhouse in Seattle, "I didn't really go into the video room much. I just wanted to do my work in the cage and then go play. But as you go around the league a bit and see the same guys get you out in the same ways, that makes you want to find out how they're doing it. Now I want all that information. It's about doing your homework and knowing how they're going to come at you."
Last year, for example, Semien identified a hole at the top of his zone that was causing him fits and getting him behind in counts all too often (see the upper-right quadrant of the first chart below). This year, he's missing those pitches far less often than he had been before (second chart), even as he's swinging at them as much or more: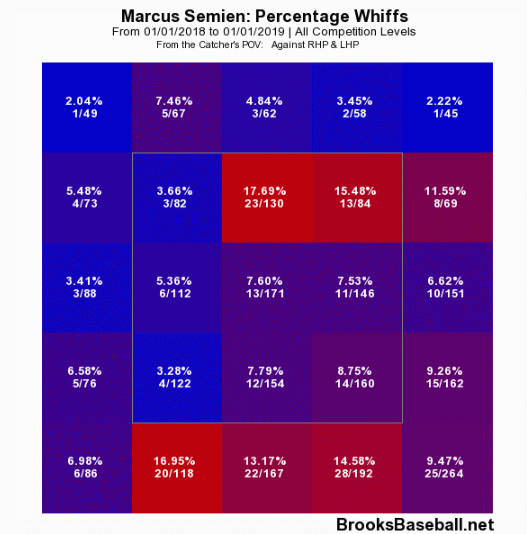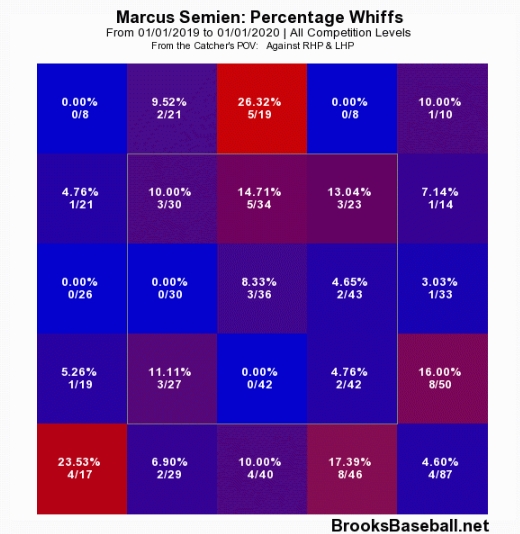 "That was something I wanted to fix this year," he told me. "Look, you see [that pitch up in the zone] more and more and you get comfortable with it — you learn that you can take that pitch and be okay, maybe get another pitch that's better. If you're not hitting it, maybe you shouldn't be swinging at it. There's certain things you learn about pitchers after facing them so many times over the years, and this year I'm better at staying in my approach against them."
His hitting coach, Darren Bush, sees an emerging veteran buying into an approach that he now knows from experience will serve him well against — or at least limit damage taken from — the league's toughest arms.
"Look," Bush said, "Marcus will tell you that he's only just now started looking at video, but he's always been a guy that's big on preparation. It's not that he wasn't preparing before, it's that now he's faced enough of these guys enough times that he knows what he's looking for in the video for each guy. And that's allowed him to work from a position of strength and knowledge this season."
Bush also anticipates Semien's improved control of the zone operating in tandem with a mechanical adjustment targeted to his main weakness as a hitter today: a tendency towards groundballs, especially to the pull side, that puts him among the league leaders in the category. In previous seasons, Semien has struggled to keep his barrel level through the top of the zone and thereby either gotten under on pitches up and away (generating foul-outs and infield flies) or over on pitches down and in (generating a plethora of groundballs to the pull side).
This year, Bush says, Semien has worked to keep his bat path level through the zone regardless of pitch location in order to limit both tendencies, to the benefit of fly balls (to the pull side) and line drives (the opposite way). My sense is that this adjustment is still a bit of a work in progress: Semien's groundball rate is at a career-high 51% and his line-drive rate near career lows, even as he's hitting more pitches than ever the opposite way. If he turns some more of those opposite-field balls in play into line drives, he'll really have something going.
For now, Semien will need to prove he can maintain the changes we've seen in the early part of 2019 for the rest of the season and beyond to show that he's become someone fundamentally different on the field than he was early in his career with the White Sox, and during his first few years with the As. But at this point in a 2019 campaign that has seen him do things he's never done before on a baseball field, and in light of his markedly improved performance at shortstop, I'm confident in saying this: Marcus Semien is getting better at this baseball thing. It's worth keeping an eye on how the rest of the season plays out for him.
Rian Watt is a contributor to FanGraphs based in Seattle. His work has appeared at Vice, Baseball Prospectus, The Athletic, FiveThirtyEight, and some other places too. By day, he works with communities around the world to end homelessness.