When I was a little kid, I used to love reading Guinness World Records books. My childhood bookshelf at my parents' house reflects this admittedly odd curiosity: There are several of the, I don't know, adult(?) versions of the book from the mid-2000s — the ones that are text-heavy and include bummer-ish topics like war and crime. But then there are the "kids" versions, the ones whose pages are filled with large portraits of record-breakers, with little bar graphs in the corner to show what their performance looks like against the competition.
One of those kids' books I had included a page dedicated to "Most MVP Awards" won in baseball. I remember seeing Barry Bonds' big smile, resting vibrant next to one of those graphs that showed just how transcendent he was. He'd won seven by the time this book published; the other names listed had won just three each. I knew Bonds, because I'd watched him often. The other names, I knew only from history books — names like Mantle, DiMaggio and Foxx. Pujols and Rodriguez hadn't yet joined this class of three-time winners, hadn't gotten the privilege of being immortalized as one of those short, stubby bars next to the tall structure looming above Bonds' name on the tiny illustration intended to tell me who was the best ever at playing my favorite sport.
At the time I picked up this particular 2005 edition of my beloved book series, Mike Trout was just 13 years old. On Thursday, at the age of 28, Trout received the honor of joining this very silly-looking bar graph: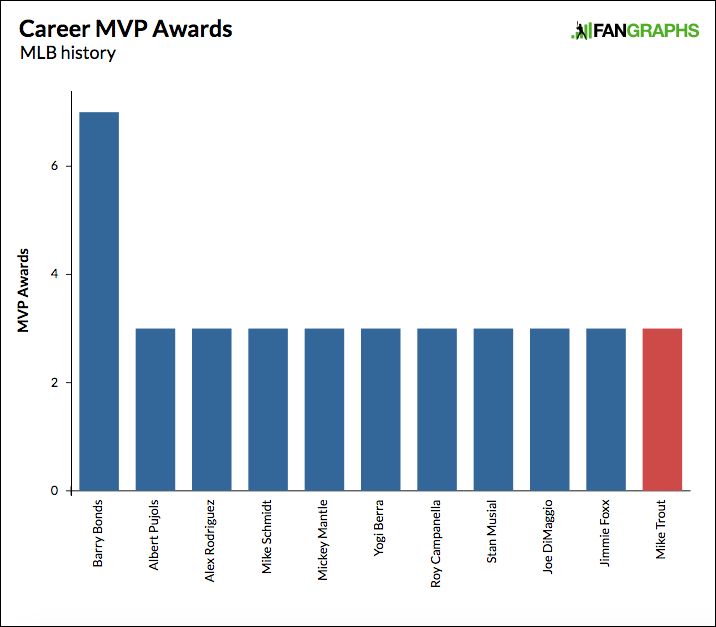 You might be surprised to learn that, at the age of 10, I had no idea how little this graph was telling me about who the best players in baseball history truly were. There is no Babe Ruth, or Willie Mays, or Honus Wagner. There is no mention of Jackie Robinson, perhaps the most important athlete in American history. It's just a tally of trophies — trophies whose recipients were decided by voters who have sometimes based their decisions upon faulty information, understandably unaware of what measures of evaluating performance would become commonplace in future decades, or unwilling to adapt to changing times.
At the same time, however, no one flukes their way into three MVP awards. Hardly anyone would dispute that the names above were all transcendent players in the game's history, and now, Trout's name is among them. The jump from two-time MVP winners is more significant than you might think — a total of 31 players have won the award twice, but Trout became just the 11th to add a third to his tally.
It's as tangible of a leap as we've seen the center fielder take from mere "all-time great" to "inner-circle Hall of Famer," and it's fitting that this is the year he made such a jump. He entered the 2019 season ranked 90th among position players in career wins above replacement. Now, he ranks 47th. At just 27 years old, Trout came into this season having provided more value than 97.7% of all players to ever play major league baseball. Then, he nearly cut the number of players ahead of him in WAR by half, passing legends like Derek Jeter, Reggie Jackson, Willie McCovey and Barry Larkin, and doing so without even playing a full season.
That last part nearly cost Trout this award. A week into September, the final leg of the American League MVP race seemed as though it would be a brisk jog for the best player of his generation. Trout led all other big leaguers in WAR by a full win, while also leading all players in walk rate, isolated power, on-base percentage, and wRC+, and was tied with Pete Alonso for the lead in homers. Trout had been the best player in baseball for much of the decade, but he'd never quite dominated across the board offensively like this, and even as his Los Angeles Angels spiraled toward another season of irrelevancy, there seemed to be virtually no competition for Trout to claim his spot as the most valuable player in his league.
Then, an injury to his foot forced him to sit out almost 10 days before the Angels announced he would undergo season-ending surgery, capping his year at 134 games played and exactly 600 plate appearances. That left only three weeks left for his challengers to overtake him in the MVP race, and unfortunately for Trout, Houston Astros infielder Alex Bregman was more than up for the challenge.
Already one of baseball's best players over the first four months of the season, Bregman was utterly dominant for the last two months, hitting .372/.486/.750 after August 1, and compiling 4.2 WAR in just 51 games. That included a major league-best 208 wRC+ in the 19 games he played after Trout's injury, with seven homers and nearly three times as many walks as strikeouts. He was practically as good as any player could possibly be when chasing down Trout, and in the end, he still came up just short, losing the WAR battle to Trout 8.6-8.5.
That razor-thin margin in value could tell you that this award was a coin flip, and because Bregman played 22 more games than Trout, which amounted to 90 more plate appearances, that could be the difference-maker for an MVP voter. That's without even mentioning the idea of prioritizing the player whose team made the postseason — something you definitely should not do! — or the human impulse to give the award to someone who hasn't won before, instead of handing it to the two-time winner. But to say the award belongs to someone who played the entire season would be to ignore the fact that there was someone else who played just a few weeks short of a full season, and who was better in nearly every measurable category:
Trout vs. Bregman, 2019
| Player | WAR | wRC+ | WPA | HR | BB% | K% | OBP | SLG | BsR | Def |
| --- | --- | --- | --- | --- | --- | --- | --- | --- | --- | --- |
| Mike Trout | 8.6 | 180 | 5.62 | 45 | 18.3 | 20 | .438 | .645 | 7.1 | -0.3 |
| Alex Bregman | 8.5 | 168 | 4.99 | 41 | 17.2 | 12 | .423 | .592 | -2.1 | 4.8 |
Bregman's ability to avoid striking out was genuinely remarkable, and his season as a whole was exceptional. But in the time they had on the field, it's difficult to argue that Trout wasn't the better player, especially if you value underlying batted ball data:
Trout vs. Bregman Statcast, 2019
| Name | xwOBA | xBA | xSLG | Brls/PA% |
| --- | --- | --- | --- | --- |
| Mike Trout | .455 | .311 | .669 | 11 |
| Alex Bregman | .378 | .272 | .471 | 3.8 |
Even if you still believe there was hardly any difference between these two players, and that deciding the AL MVP was truly a toss-up, wasn't Trout deserving of winning one of these coin flips? In 2012, he was nearly three wins better than MVP winner Miguel Cabrera, but lost in large part because Cabrera secured the triple crown. He was 1.6 WAR better than Cabrera in 2013, but again, the Tigers' slugger won the MVP, outhitting Trout by nearly every measure, but falling well short in baserunning and defensive value. Trout again held a small WAR edge in 2015, but had the MVP award slip into the hands of Josh Donaldson.
He has had an excellent case to win the award five times before this season, and had only won twice. In many ways, it was his turn to emerge victorious in one of these coin flip decisions, and that's about what this was — out of 30 ballots, 17 gave first place votes to Trout, and 13 gave first place votes to Bregman. Those that didn't award first place to Bregman voted him second place, and vice versa. Marcus Semien earned third place in AL voting, while D.J. LeMahieu finished fourth and Xander Bogaerts finished fifth.
Trout's MVP ties a bow on one of the best three-year runs of offense we've seen in decades.
Best Three-Year wRC+, 1969-2019
| Name | Start Year | End Year | wRC+ |
| --- | --- | --- | --- |
| Barry Bonds | 2001 | 2003 | 231 |
| Barry Bonds | 2002 | 2004 | 230 |
| Barry Bonds | 2003 | 2005 | 221 |
| Barry Bonds | 2000 | 2002 | 218 |
| Barry Bonds | 2004 | 2006 | 193 |
| Barry Bonds | 1999 | 2001 | 191 |
| Barry Bonds | 1992 | 1994 | 189 |
| Mark McGwire | 1998 | 2000 | 188 |
| Mark McGwire | 1996 | 1998 | 185 |
| Mike Trout | 2017 | 2019 | 184 |
| Jason Giambi | 2000 | 2002 | 184 |
| Barry Bonds | 1991 | 1993 | 182 |
| Dick Allen | 1972 | 1974 | 181 |
| Frank Thomas | 1992 | 1984 | 181 |
| Mike Trout | 2016 | 2018 | 180 |
Mark McGwire spent the final few years of the last century breaking baseball, and Bonds spent the first few years of this century doing the same. How'd they do it? Guess we'll never know. Besides them, if we go back through the last 50 seasons, only Jason Giambi has pieced together a three-year span of hitting as impressive as Trout's. Only six total players have cleared the 180 wRC+ mark. It's an incredible achievement, one that's been slightly overshadowed by a sudden proneness to injury, along with a few offensive breakouts by hitters like Mookie Betts, Aaron Judge, and José Altuve.
If Bregman had won the award, there wouldn't have been any riots in the streets, or thinkpieces about how the voting system is broken. It would have simply been another season in which Trout was thought of, perhaps mistakenly, as only the second-best player in baseball, and there's hardly any shame in that. On the other hand, stretches of brilliance such as this are extremely rare. If Bregman had gotten the extra first place votes he needed, it likely would have made for a bit of head-scratching decades down the line, when people wondered how three years that could very well represent Trout's prime came and went without him winning an MVP. But we don't need to have that conversation. Trout is the best player in the sport, and for the third time in his young life, he's officially been recognized as such.
Part of the reason I enjoyed reading those Guinness World Records books when I was a kid was to keep track of which records got broken year to year. I liked watching how the names on the bar graphs shifted around, or how one of the smaller bars kept getting bigger and bigger, gaining ground on the tallest one. It felt like I was watching history change, right in front of my eyes. Throughout his career, that's what it's felt like to watch Trout. Right now, he's simply another stubby three to Bonds' seven, just like all the others. But he's also just 28, the second-youngest ever to win his third MVP award, behind only Stan Musial. There is so much time to build his tower higher, to overcome even bigger droves of Hall of Famers on various leaderboards. This award is just another trophy to place on that special shelf in his house, next to Rookie of the Year award, his seven silver sluggers, his two All-Star game MVPs, and some pictures of his family and friends. But for some reason, it feels as though it represents much more. Advanced stats have positioned Trout as one of the very best players in baseball history for a while. Now, the hardware count makes that case too.
Tony is a contributor for FanGraphs. He began writing for Red Reporter in 2016, and has also covered prep sports for the Times West Virginian and college sports for Ohio University's The Post. He can be found on Twitter at @_TonyWolfe_.