Designing a pitch can be an arduous but rewarding process for a pitcher. When you find two or more pitches that have the potential to work well together, it may be worthwhile to make some changes if, for example, one isn't yielding positive results. It's not always as simple as it sounds, and sometimes the option of not using the pitch at all ends up being the best choice.
For an older pitcher, this process tends to be harder, though not impossible. They've gone through the majority of their career throwing a pitch with certain mechanics or gripping the ball in a particular way. Changes to either of those can be uncomfortable, which may create a developmental roadblock. However, there may come a point when becoming a more dynamic pitcher is necessary, especially as the aging curve starts its downward trend.
At 31 years of age, the Rangers' Mike Minor put together the best season of his eight-year career. He posted a 3.59 ERA, an almost 3-1 K/BB rate, allowed his lowest ever contact rate in the strike zone, and had career highs in strikeouts (200) as well as innings pitched (208.1).
It might be a stretch to expect Minor to repeat his 4.2 WAR season, but it's not out of the question. He still possesses a decent fastball and has developed a really good changeup. Yet his curveball and slider both took steps back in 2019, so Minor should consider working on at least one of them prior to the 2020 season.
I believe Minor's slider is the pitch that could stand a bit of redesign considering how well it could work off of his changeup. In terms of tunneling and movement, when both are thrown precisely, the slider and changeup have very similar release points and initial trajectories, then split in somewhat opposite directions in the mold of mirrored spin.:
In general, Minor relegates his slider to use against lefties, while his changeup is used much more against righties. However, he splits usage of the slider and changeup pretty evenly to righties, while mostly sneaking the changeup into lefties with two strikes.
From 2017-18, the fastball and slider were Minor's two main pitches. In 2019, he cut back on his slider and fastball, and balanced it out with a higher number of changeups, which was by far his most effective pitch last season. He threw the offspeed pitch more than he ever has in his career and held hitters to a .226 wOBA with a 16% swinging strike rate. Minor throws the pitch a lot harder and with much more spin than the average changeup and produces slightly better than average drop with a sizable amount of ride.
Last season, Minor's slider produced the 16th-highest wOBA in baseball (minimum 500 thrown). It was also the third time in his career that the pitch rated negatively by Pitch Info's Pitch Value ratings. Since 2017, when Minor threw the pitch at a rate of 36%, its value has dropped in conjunction with its usage, which dropped to 19% last season. It's hard to say if this trend is the reason its value degraded, since pitch value can sometimes correlate to the effectiveness of a pitcher's other options.
Let's take a closer look at Minor's slider and see what types of reasonable changes could be made. In creating a new design for the pitch, we will attempt to form an adjustment in the least invasive way possible to afford this combination the best chance for deception.
Minor's 2019 slider data is shown in the chart below:
Mike Minor's 2019 Slider Metrics
| Usage | pVal | Velocity | Spin Rate | Spin Direction | Spin Efficiency | wOBA | SwStr% |
| --- | --- | --- | --- | --- | --- | --- | --- |
| 19.3% | -1.45 | 86.4 | 2736 | 2:00 | 35.7% | .372 | 11.3% |
SOURCE: MLB Advanced Media
Like the changeup, his slider is thrown harder and with more spin than league average. His swinging strike rate in 2019 was one of the better marks for pitchers who threw sliders, but again, his elevated wOBA negated any advantage Minor achieved with whiffs.
Last year, Minor's slider had much less sweep, with league-average depth compared to an average slider. Not including gravity acting on the pitch, you can see that it didn't have a whole lot of movement off the expected trajectory.
That being the case, the best and potentially least-invasive change would be to adjust the slider's spin direction in relation to where it averaged in 2019, right around 2 o'clock. That means the pitch spins away from the pitcher (all readings will be from that perspective) towards the second hour on a clock. Since we will recommend an adjustment to favor more gyro spin than backspin, we will try to shoot for 3 o'clock.
Below is the historical spin axis data for Minor's slider. The closest he's come to our ideal spin direction was this past September when he averaged a 260-degree axis.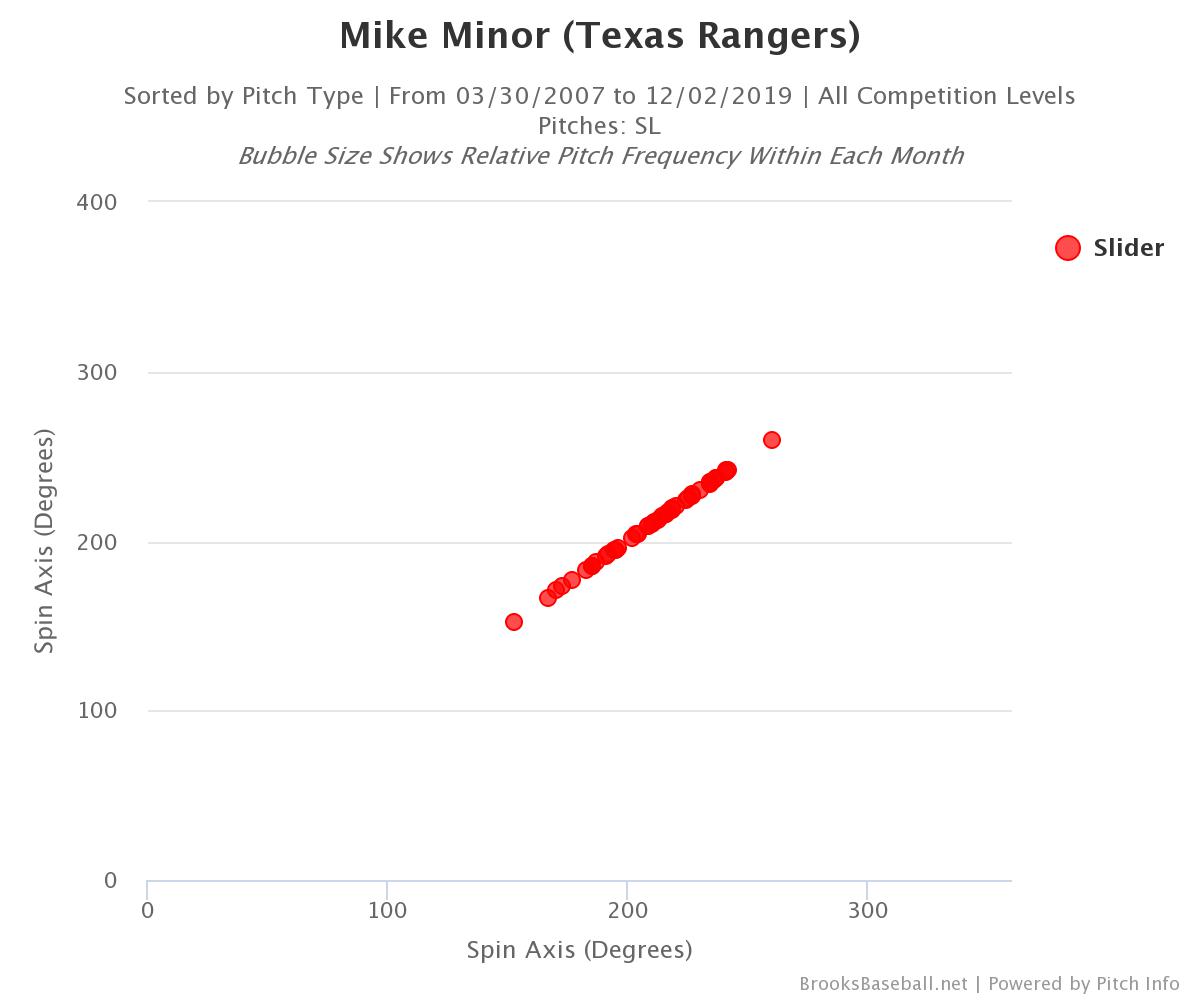 Here's a look at some of Minor's sliders that lack the kind of movement the pitch needs:
Because of the spin direction and gyro degree, he's turned it into more of a cutter or hybrid slider, with more rise than depth and little sweep. This type of shape can lead to hung pitches, which yield lots of damage.
The below examples from last September are closer to the shape and spin direction that Minor should want to achieve with his slider:
The first pitch exemplifies the type of depth Minor should be going for, while the second shows the kind of sweep he should be producing; the last encompasses the combined qualities of the previous two.
Here's a look at both pitches using the Driveline Edge tool, with pitch one being a more "typical" 2019 slider and pitch two the slider we are hoping for in 2020:
Adjusting only the spin direction shows Minor can produce at least an additional inch of sweep and almost four inches of extra depth, while not necessarily having to tweak his velocity, spin rate, or the pitch's spin efficiency.
The practical application of our expectations would likely involve some grip adjustment since there is much more involved with changing overall mechanics (arm slot, release point, etc). Caution needs to be applied to not develop the pitch in such a way that the pitcher loses all confidence in the way he throws it.
Minor's "bad" sliders are thrown with more backspin than the desired sidespin/gyro quality, hence the positive vertical break as seen in the earlier movement chart link. This can occur if a pitcher's fingers get behind the ball during release more than being off to the side; another possible cause would be failing to grip the ball tightly, creating a lack of strong finger pressure to the sides, and/or off the seams: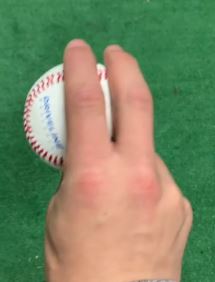 If this is what Minor is doing, he could attempt to grip the ball so it is tighter to his palm and adjust his fingers to create more influence on the side of the ball rather than the back. This can help create more of a gyro-like spin, which helps eliminate any unwanted rise: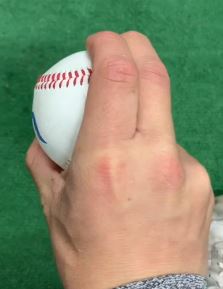 Looking at both of those examples, not only can you see a clear difference in the grip, but you'll notice the seam orientation as well. That positioning sets up the opportunity to pull down, so to speak, on the seams rather than pulling back on them as you would with a cutter or fastball. Additionally, this positioning helps maintain wrist supination on release, which can further the type of spin necessary to create the version of Minor's sliders we saw in the previous GIFs.
In the clip below, notice how Minor's middle finger pulls the ball at the seam on the side. This is the exact motion necessary to create the gyro spin imbalance over backspin:
Minor could make no adjustments and quite possibly be just as productive as he was last season. Is there a glaring need to redesign his slider? Not really. But why not try to gain as great an advantage as possible by adding an additional layer of artifice, especially when we have access to the data that shows what could be?
Since history shows that it's hard for players to improve or maintain their skills as they age (with a few exceptions), it makes sense for players like Minor to explore ways to reinvent themselves. Pitchers have many advanced tools at their disposal that can help them evolve into more dynamic players. Being able to track every aspect of a pitcher's activities affords us the opportunity for that continued growth, especially in Minor's case. Knowing the type of slider he could create, and the way he can work it with his best pitch, might help him replicate or even eclipse his career year with Texas.
Pitching strategist. Driveline Baseball pitch design-certified. Systems Administrator for a high school by day, I also provide ESPN with pitching visuals and am the site manager for SB Nation's Bucs Dugout.