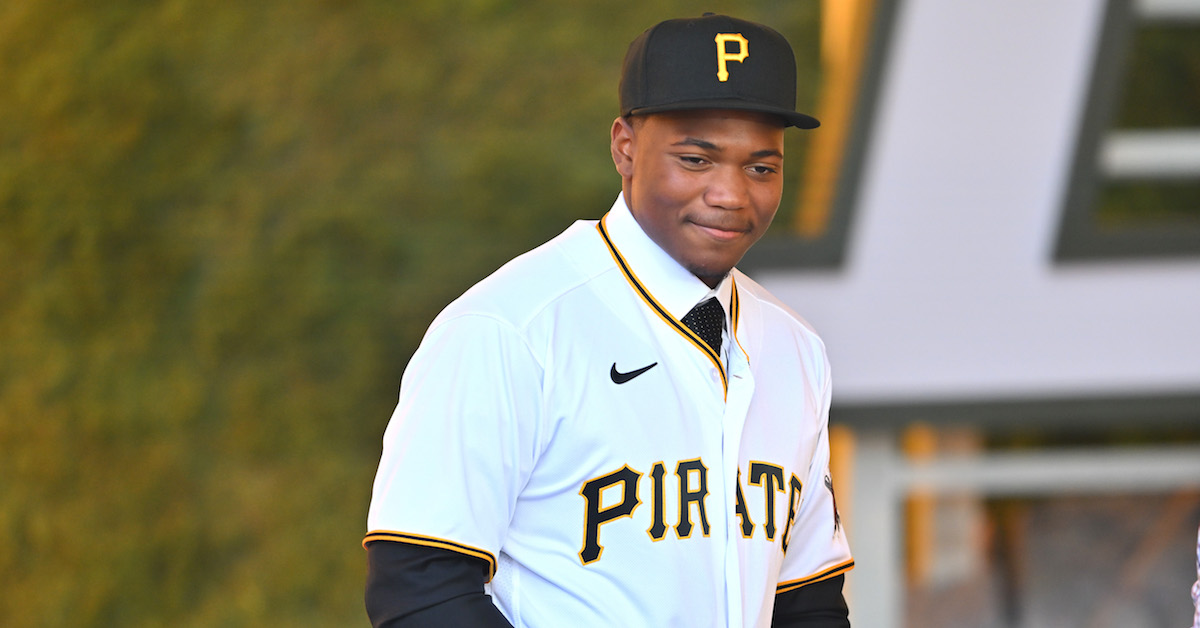 Top Prospects Series
Below is an analysis of the prospects in the farm system of the Pittsburgh Pirates. Scouting reports were compiled with information provided by industry sources as well as our own observations. This is the third year we're delineating between two anticipated relief roles, the abbreviations for which you'll see in the "position" column below: MIRP for multi-inning relief pitchers, and SIRP for single-inning relief pitchers. The ETAs listed generally correspond to the year a player has to be added to the 40-man roster to avoid being made eligible for the Rule 5 draft. Manual adjustments are made where they seem appropriate, but we use that as a rule of thumb.
A quick overview of what FV (Future Value) means can be found here. A much deeper overview can be found here.
All of the ranked prospects below also appear on The Board, a resource the site offers featuring sortable scouting information for every organization. It has more details (and updated TrackMan data from various sources) than this article and integrates every team's list so readers can compare prospects across farm systems. It can be found here.
Reading Options
Position Filter
All
All
C
1B
2B
SS
3B
LF
CF
RF
SP
SIRP
MIRP
55 FV Prospects
50 FV Prospects
45+ FV Prospects
45 FV Prospects
40+ FV Prospects
40 FV Prospects
35+ FV Prospects
Other Prospects of Note
Grouped by type and listed in order of preference within each category.
Very Young Prospects to Monitor
Antwone Kelly, RHP
Axiel Plaz, C
Jesus Castillo, SS
Enmanuel Terrero, OF
Isaias Uribe, LHP
Andres Silvera, RHP
The powerfully built Kelly, 19, is a squat but loose righty who sits 93-95 mph and throws quality strikes with his fastball. He also has a promising sweeper slider, but he lacks typical physical projection for a teenage pitcher. Plaz had a cartoonish line in the DSL (he slugged over .700), but he's very burly and physically mature for a 17-year-old, so we'd like to see him do it stateside. Castillo is a loose rotator without a lot of bat speed, but he seems to find a way to put the bat on the ball and the power might come if he gets stronger. He's 19 and struggled over the winter in Australia. Terrero is a compact outfielder with a well-rounded skill set and strong rookie-level line. Quick backfield looks at him have his tools in more of an extra outfielder bucket for now. Uribe, 20, is a projectable lefty with a 92-93 mph fastball and high-spin breaking ball. His delivery has a relief-only look to it. Silvera, 18, is a physically mature righty who missed a ton of DSL bats even though he only sits 88-90. He pitched for Panama's U18 team in September and showed a good changeup and fair slider as well.
Hard-Throwers
Hunter Stratton, RHP
Cy Nielson, LHP
Alessandro Ercolani, RHP
Eddy Yean, RHP
JP Massey, RHP
Cristofer Melendez, RHP
Oliver Mateo, RHP
Roelmy Garcia, RHP
Luigi Hernandez, RHP
Stratton, 26, sat 94-96 mph in 2022 and has a plus-flashing slider that he rarely throws for strikes. He could get a cup of coffee in 2023. A 2022 eighth rounder, Nielsen's velocity has been up and down depending on when he's been seen, peaking at 94 in 2022 but at 96 in years prior. His breaking ball is his best pitch and he could be a lefty relief piece. Ercolani, an 18-year-old righty from San Marino, had a velo spike during the winter and has been up to 97 mph in the bullpen recently. His breaking ball has inconsistent length and he has a relief-only mechanical look, but he's throwing quite hard. Yean, 21, was once a 40+ FV prospect in Washington's system. He has basically been the same guy since he entered pro ball, sitting 94-95 with ineffectual shape and a pretty good slider. He moved into a minor league relief role in 2022. Massey, going on 23, is a very loose, projectable college prospect from Minnesota. He showed a velo spike (92-96) at the onset of the 2022 college season before his arm strength and command regressed. He has an interesting long-term body projection and breaking ball combination. Melendez (sitting 97) and Mateo (sitting 95) are upper-level relievers with poor control. Garcia is only 19 but is already sitting 96. He walked more than a batter per inning in 2022. Hernandez, also 19, sat 93-96 in 2022 and has a good-looking two-planed slider, but a relief-only delivery and a mature build.
Not Quite Enough Hit Tool
Matt Gorski, OF
Maikol Escotto, 2B
Juan Jerez, 3B
Carter Bins, C
Mason Martin, 1B
Jackson Glenn, 2B
Gorski had a nutty statline at Greensboro and indeed has plus raw power, but it's tough to project a real role for a 25-year-old who struck out as much as he did at High- and Double-A. Escotto, 20, was a 40+ FV prospect after his huge DSL season and later became part of the Jameson Taillon trade, but he struggled very badly in 2022 and needed to be demoted back to Low-A. His swing may look different in 2023 and prompt a re-evaluation. Jerez has above-average power and a 70 arm. Bins is athletic for a catcher and has a good arm, but his receiving and contact skills are both 30s. Martin has plus-plus raw power and a 30-grade hit tool, not enough for first base but maybe enough for consideration overseas. We considered Glenn a high priority senior sign in the 2021 draft, but he needed to hit all the way up the minor league ladder and didn't do that in 2022.
Injured Arms
Blake Cederlind, RHP
Brennan Malone, RHP
Cederlind, 27, spent 2022 recovering from Tommy John, and he had renewed soreness during his rehab, which is part of why he missed the whole year. When healthy, he was a hard-throwing 40 FV reliever. Malone, a former first round high schooler who was part of the Starling Marte trade with Arizona, has barely pitched since he was acquired, and dealt with shoulder injuries in 2022.
Once-Loved Outfielders
Ryan Vilade, LF
Hudson Head, CF
Lolo Sanchez, CF
Matt Fraizer, CF
Connor Scott, RF
Sergio Campana, CF
Sammy Siani, LF
Vilade spent some time near the top of the Rockies list due to his feel for contact. Drafted as a shortstop, he fell down the defensive spectrum pretty quickly but without finding a way to lift the ball and hit for power in games. A fresh start with a new org (he was a waiver claim this offseason) might help him find a swing that produces more power. Head, who was part of the Joe Musgrove trade, has K'd at a 33% clip in A-ball and might also be in the midst of a swing change that gets rid of his arm bar. Sanchez runs pretty well. He has above-average bat-to-ball skills and very little power. He's now 23 but could still be a fifth outfielder. Last year, Fraizer's 2021 performance at Greensboro (which included 20 homers) convinced us that he had a chance to be a big deal, but his plate discipline was a big problem against Double-A pitching. Scott, Siani, and Campana all have big physical tools and have all struggled badly from a bat-to-ball standpoint. Campana, soon to be 21, is the youngest of this group.
System Overview
Pittsburgh graduated two top-50 prospects in 2022 (Oneil Cruz and Roansy Contreras) and still has a top-five system, or close to it, because of the three potential stars atop the group and the many upper-level, core role-playing hitters who should arrive in the big leagues soon. Aside from the persistent Bryan Reynolds trade rumors, the general industry sentiment is that the team is shifting from prospect collection mode and into a phase where those players start to arrive. The depth-focused style of their rebuild — in which the Pirates often got many mid-tier prospects back in trade rather than just one key piece — has had some profound positive impacts on this system (it's arguably why they have Cruz, Endy Rodriguez, Contreras, and four of their 40+ FV prospects or better on this year's list) even as many of the pro department's targets have started to fizzle out at the upper levels. The club's hit rate on these trades per prospect isn't great, but the hit rate per trade has been better than that because of their risk-mitigating approach.
This also may have been part of why the Pirates lost so many players (11!) in the minor league phase of the 2022 Rule 5 Draft. They had a ton of depth and a need to fill their Triple-A roster with external veterans in case of injury, and it's likely that they mis-evaluated some of their own players who they should have protected, players like Trey McGough, Cristian Charle, Joelvis Del Rosario, Austin Roberts, Wilkin Ramos, Jared Oliva, and Peter Solomon, all of whom have either been on past prospect lists or were flagged for interesting performance or characteristics during this list cycle. It's not a great look to lose half a minor league roster's worth of players in the Rule 5, but that whole group might produce one or two big league role players, which is a small price to pay if they're byprospects of a bigger group from which the Pirates can pick and choose before exposing the rest to that arcane process.
The depth-drive approach has extended to the amateur side of things, where the Pirates tend to spread out their bonus pool to at least a couple of over-slot prospects every year. Obviously the 2021 draft was the big one, and seven players from that class are currently on the list. As the Pirates improve and fall into the middle of the draft order, opportunities to do this might dwindle since they can't create a big pool space surplus as easily, but their steady stream of competitive balance picks should give them at least some opportunity to explore creativity in the draft room just about every year.