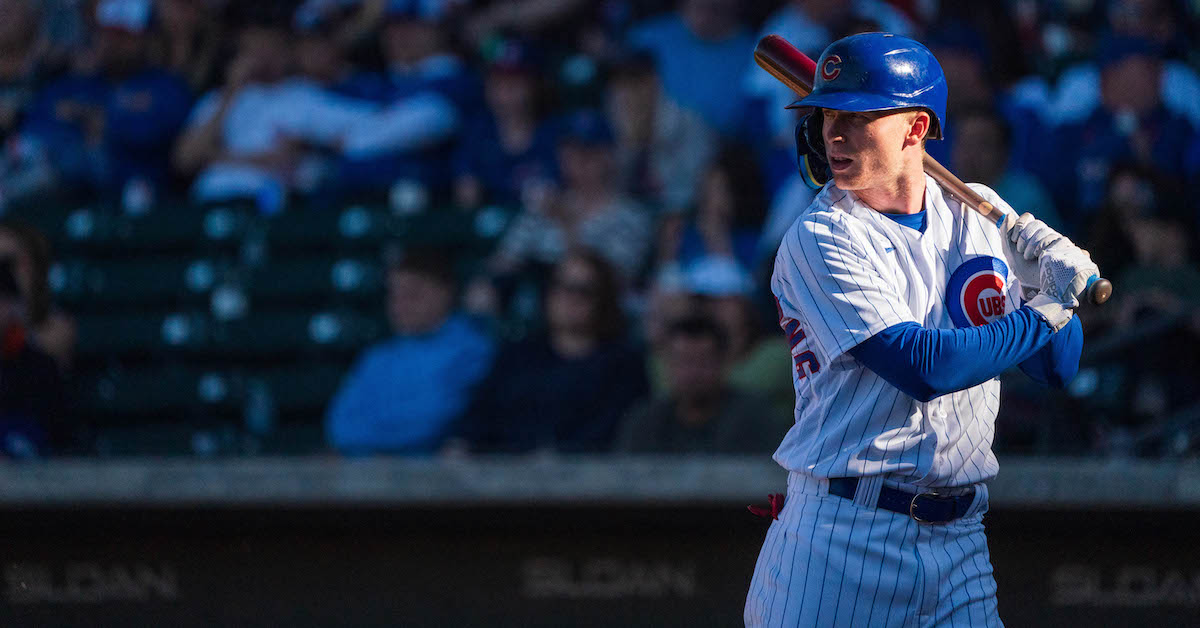 Top Prospects Series
Below is an evaluation of the prospects in the Chicago Cubs farm system who readers should consider "imminent big leaguers," players who might reasonably be expected to play in the majors at some point this year. This includes all prospects on the 40-man roster as well as those who have already established themselves in the upper levels of the minors but aren't yet rostered. We tend to be more inclusive with pitchers and players at premium positions since their timelines are usually the ones accelerated by injuries and scarcity. Any Top 100 prospects, regardless of their ETA, are also included on this list. Reports, tool grades, and scouting information for all of the prospects below can also be found on The Board.
This is not a top-to-bottom evaluation of the Cubs farm system. We like to include what's happening in minor league and extended spring training in our reports as much as possible, since scouting high concentrations of players in Arizona and Florida allows us to incorporate real-time, first-person information into the org lists. However, this approach has led to some situations where outdated analysis (or no analysis at all) was all that existed for players who had already debuted in the majors. Skimming the imminent big leaguers off the top of a farm system will allow this time-sensitive information to make its way onto the site more quickly, better preparing readers for the upcoming season, helping fantasy players as they draft, and building site literature on relevant prospects to facilitate transaction analysis in the event that trades or injuries foist these players into major league roles. There will still be a Cubs prospect list that includes Alexis Hernandez, Cade Horton, and all of the other prospects in the system who appear to be at least another season away. As such, today's list includes no ordinal rankings. Readers are instead encouraged to focus on the players' Future Value (FV) grades.
Let's revisit what FV means before we offer some specific thoughts on this org. Future Value (FV) is a subjective valuation metric derived from the traditional 20-80 scouting scale (where 50 is average and each integer of 10 away from 50 represents one standard deviation) that uses WAR production to set the scale. For instance, an average regular (meaning the 15th-best guy at a given position, give or take) generally produces about 2 WAR annually, so a 50 FV prospect projects as an everyday player who will generate about that much annual WAR during his pre-free agency big league seasons.
Why not just use projected WAR as the valuation metric, then? For one, it creates a false sense of precision. This isn't a model. While a lot of data goes into our decision-making process, a lot of subjectivity does too, in the form of our own visual evaluations, as well as other information related to the players' careers and baseball backgrounds. A player can have a strong evaluation (emphasis on the "e") but might be a great distance from the big leagues, or could be injury prone, or a superlative athlete, and context like that might cause one to augment the player's valuation (no "e"). Using something more subjective like Future Value allows us to dial up and down how we're interpreting that context.
There are also many valuable part-time players who can only generate so much WAR due to their lack of playing time. As such, FV grades below 50 tend to describe a role more than they do a particular WAR output; you can glean the projected roles from the players' reports. In short, anyone who is a 40+ FV player or above projects as an integral big league role player or better.
The Cubs are past the point of rebuilding and are now actively trying to improve and become playoff contenders. While they have a handful of intriguing position players poised for entry into the majors, including a couple of Top-100 outfielders, perhaps the most noteworthy contingent of their system is the gaggle of starting pitchers currently on the cusp of big league readiness. It seems the org is determined to execute what it couldn't during the Bryant/Baez/Schwarber days: develop enough arms to create sustainable pitching depth around a core of hitters. Note however that most of the group of hitters in this near-ready group has a volatile hit tool.
There is likely to be attrition among this young group of arms, but the Cubs have enough depth to overcome a few moves to the bullpen or injury-riddled busts. If most of the current starting prospects do pan out as starters, this depth could open the door for potential trades aimed at buttressing their roster as they head into the back half of the season. With Hayden Wesneski already having settled into the rotation and Ben Brown, Javier Assad, Caleb Killian and Jordan Wicks all waiting in the wings, the Cubs could conceivably make a hopefully healthy Kyle Hendricks available ahead of the deadline and be wide open to either a prospect or a big leaguer-for-big leaguer swap that's based on fit.
Lastly, two Top 100 tweaks occur here. First, we've slid Pete Crow-Armstrong down an FV grade compared to the offseason Top 100 because of the way his walk rates have progressed as he's faced more advanced arms. There's more on that in his blurb. He and Red Sox outfielder Ceddanne Rafaela are too similar to one another from a tools and warts standpoint to be two full FV tiers apart. PCA hits left-handed and has more present power — enough that there should be a little bit of separation, but not a ton.
Brown, meanwhile, moves into the Top 100. While, like Andrew Abbott, his stuff is the sort that would be aided by the way the tacked ball is enhancing movement in the Southern League, he still has three impact pitches and late-bloomer characteristics that indicate his command might still improve. He was an offseason Pick to Click who has clicked, and he moves toward the back of the 100 next to the host of MLB-ready power arms with long-term relief risk. The Updated Top 100 list is here.
Cubs Imminent Big Leaguers and Top 100 Prospects