The Houston Astros' plan against Max Scherzer in Tuesday's Game 1 of the World Series was as obvious as it was predictable: Work deep into the count against Washington's ace, see as many pitches as you can, and get him into high-stress situations early and often enough to tire him out before he can pitch deep into the game. In that respect, the plan worked. Scherzer threw 112 pitches in five innings, and Nationals manager Davey Martinez was forced to pull him from the game with four innings standing between his team and a series-opening victory. On the other hand, Scherzer only allowed two runs in those five innings, and the Nationals won the game, 5-4.
While Houston saw a lot of pitches, that didn't translate into positive results in deep counts. The Astros got to nine 3-2 counts against Scherzer, and they went 0-for-6 with three walks in those plate appearances. Waiting Scherzer out didn't favor the Astros as much as they hoped it would. And against tonight's Nationals starter, the results could be even worse.
The game plan Houston executed against Scherzer on Tuesday was unsurprising because of how comfortable its lineup is in deep counts. The team had 913 PAs get to 3-2 counts during the regular season, which placed them at only 12th-most in baseball. When they got there, however, they thrived.
Astros Offense In 3-2 Counts
| Category | Value | Rank |
| --- | --- | --- |
| wRC+ | 158 | 3rd |
| BB% | 34.4% | 2nd |
| K% | 24.9% | 3rd |
| ISO | 0.181 | 7th |
This information won't bowl anyone over. The Astros have a historically great offense, so it stands to reason that that would hold up under most conditions. But while their middle-of-the-pack ranking when it comes to reaching full counts in the first place might not suggest that reaching these counts is an ultimate goal of the team, their approach in other areas says otherwise. Houston's hitters are very patient, with their swing rate of 44.8% ranking second-lowest in MLB, ahead of only the Angels. They don't chase a lot, posting the sixth-lowest O-Swing% in baseball, but they also take a lot of strikes, posting the third-lowest Z-Swing%.
Part of what makes this offense so effective is that hitters are meticulous in etching out a plan for what pitches they are willing to swing at, and they are comfortable passing on strikes early in the count if they aren't what they go to the plate looking for. Sometimes that pitch they are looking for comes early in the count, sometimes it's offered later. Regardless of when it's thrown, however, the Astros rarely miss, with their 8.6% swinging strike rate standing as the lowest mark in baseball this season. Getting to a 3-2 count isn't the ultimate goal — that would be getting on base, or smacking a cool dinger — but unless a pitcher or batter makes a mistake early in the count, it's the natural endpoint this lineup's approach leads to.
That's the battle Scherzer found himself fighting on Tuesday. His stuff was roughly in line with previous postseason outings — he averaged 94.7 mph with his four-seamer in Game 1, compared with 94.9 mph in his previous start and 94.7 mph in Game 4 of the NLDS — but he threw just 44.1% of his pitches inside the strike zone, his lowest percentage in any start since March 30, 2018. On pitches outside the zone, the Astros chased 27.4% of them — a high mark for that lineup, but a mark that Scherzer surpassed in all but six of his starts in the regular season. That wasn't enough chases to make up for how often he was missing the plate, and the result was a ton of deep counts.
Scherzer threw 27 pitches after getting to 2-2, 3-1, or 3-2 on Tuesday, which set a new season-high for him. That's a good way to get a pitcher out of the game early, but it should also be a good way to generate offense. The more pitches a hitter sees in an at-bat, the thinking goes, the better chance he has to lock in on something. But that didn't happen for Astros hitters on Tuesday. In plate appearances that reached either a 2-2, 3-1, or 3-2 count against Scherzer, Houston produced a wOBA of just .159. That's the sixth-best performance Scherzer has had in that situation in games he's started this year, with two of the other five also coming during this postseason.
Part of what allowed Scherzer to remain effective even in the fifth, sixth, or eighth pitch of the same at-bat is the fact that he maintained such a healthy mix of his pitches. Here are the 27 pitches he threw in the aforementioned counts, according to Baseball Savant.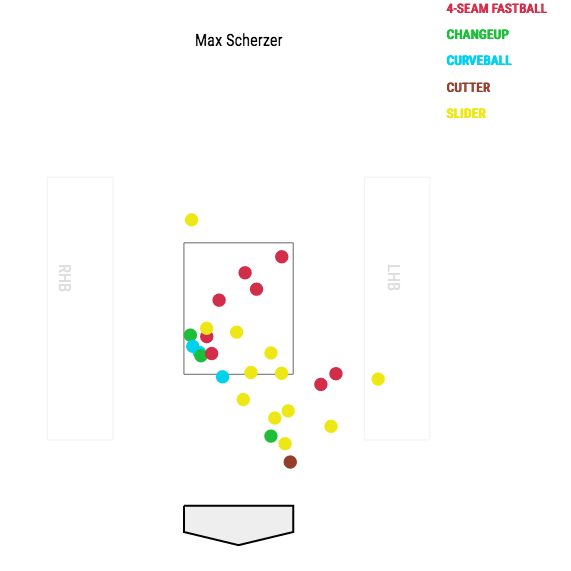 I count 12 sliders, eight four-seamers, three curveballs, three changeups, and a cutter. For most hitters, I would think one of the luxuries of getting into a deep count is knowing that a pitcher is going to only throw what he's most confident in, which means you ought to be able to narrow it down to one of two pitches you can expect to see, or maybe even just one. With Scherzer, however, he's confident in just about everything he throws on any given day. If we narrow it down to just the 10 pitches he threw in full counts — do-or-die situations that weed out the possible waste pitches on 2-2 or comeback pitches on 3-1 — the plan of attack remains just as diverse.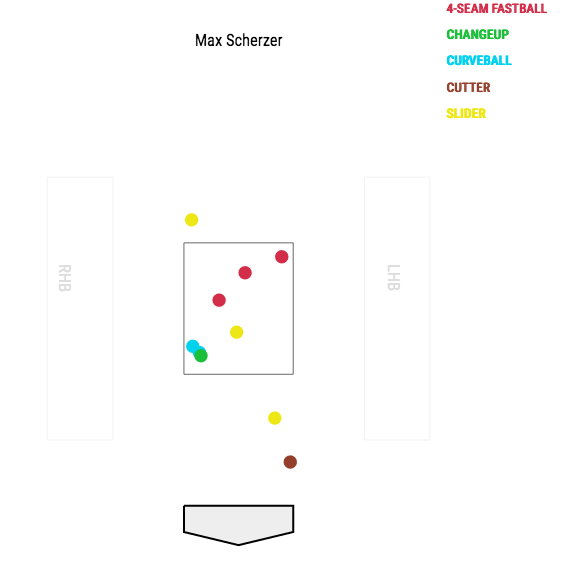 Scherzer's success when pitching into deep counts on Tuesday was impressive, but it's also nothing new for him. This season, 180 pitchers in baseball threw at least 50 pitches in 3-2 situations. In terms of wOBA allowed, Scherzer ranked 20th. If we expand the data to include 2-2 and 3-1 counts — I add these because it guarantees that a batter has seen at least five pitches, which would be an above-average length in an at-bat — Scherzer remains 28th out of 213 pitchers. Hitters put together a wOBA of just .267 against him in those situations, as opposed to a .285 wOBA in at-bats that finish in three pitches or fewer. This data is a bit skewed — if a batter is swinging at something very early in the count, there's a good chance it's a pitch they like — but Scherzer's ability to dominate deep into at-bats is part of what makes him special, and part of the reason the Astros' game plan didn't yield better results on Tuesday.
And it's even less likely to work in Game 2. Remember that list of the best-performing pitchers in 3-2 counts I mentioned earlier? No. 1 on that list is none other than Stephen Strasburg, the Nationals' starter for Wednesday night's tilt. Strasburg allowed a .250 wOBA when pitching in 3-2 counts this season, a figure that practically lapped the field. Among those who threw at least 50 such pitches this season, the next-best performer was Tampa Bay's Ryan Yarbrough, who held opponents to a .273 wOBA. The gap between Strasburg and second place is bigger than the gap between second place and 17th place.
I should acknowledge that when combing through data this specific, the sample size isn't going to be significant. Strasburg's thrown 183 pitches in 3-2 counts this season, which basically provides us with a two-game sample size from which to work. There are elite pitchers who fill out the top 10 in 3-2 performers, like Lance Lynn and Walker Buehler, but there are also some not-so-elite types, like Jaime Barria and Jordan Zimmermann. Still, it's certainly not a bad thing to excel at. Like Scherzer, Strasburg keeps all of his offerings in the mix when he gets to 3-2, throwing 36.6% curveballs, 28.4% four-seamers, and 19.4% changeups. Getting to a full count against Strasburg is like getting a chance to be alone with the attractive person your friends encouraged you to talk to at the party. It seemed like it would be a good situation to be in, but once you're actually there, you're like, "oh crap, now what?"
Astros hitters will be chasing that alone time in Game 2, emboldened by the early exit they forced upon Scherzer on Tuesday, and in spite of the lack of success that accompanied it. It will always be the Astros' plan, because gosh, it worked pretty well in the regular season, didn't it? The Nationals' greatest weapon is their starting rotation, and if you can limit the number of innings your opponents' greatest weapon is on the field, that seems like something you should be pursuing. After all, Daniel Hudson and Sean Doolittle can't be trusted to get eight outs in every game of this series, can they?
Still, Tuesday's game was proof that Washington can endure a bunch of prolonged at-bats by Houston hitters and still come out on top. The Astros had Gerrit Cole pitching at home, ran the Nationals' ace after five innings, and still lost. Their plan should still be to make Strasburg throw as much as possible and get him out of the game quickly. But by itself, that won't be enough.
Tony is a contributor for FanGraphs. He began writing for Red Reporter in 2016, and has also covered prep sports for the Times West Virginian and college sports for Ohio University's The Post. He can be found on Twitter at @_TonyWolfe_.