Scott Kingery has had an eventful career.
A second round pick out of the University of Arizona back in 2015, Kingery breezed through Philadelphia's minor league system. In 2017, he hit .304/.359/.530 with 26 home runs across 603 plate appearances split between Double-A and Triple-A. The next spring, Eric Longenhagen ranked Kingery as the team's second-best prospect, calling him "a potential star."
Kingery made national headlines that March when he signed a six-year, $24 million deal, becoming just the second drafted player to sign a multi-year contract before playing in a big league game. Soon after, Sheryl Ring analyzed each side's motivation for making the move.
"The Phillies and Kingery both walk away with what they needed," Ring wrote. "For the Phillies, their best chance to win now and, for Kingery, life-changing money. Deals don't get any better than that."
In his first taste of the big leagues, Kingery struggled. He played in 147 games, primarily at shortstop (887 innings), though he also saw action at six different positions and even pitched once. But his bat never came around. He slashed just .226/.267/.338 with eight homers and a 62 wRC+. Among batters with at least 400 plate appearances, Kingery was the fifth-worst hitter in baseball. Solid defense (3.4 runs above average) and baserunning (3.4) kept him on the roster, but Kingery was basically a replacement-level performer.
This season, Phillies fans are seeing a rejuvenated Kingery, and not a moment too soon. With Andrew McCutchen on the shelf with a torn ACL, Odubel Herrera on administrative leave after being charged with domestic violence, and Adam Haseley on the injured list after straining his groin, the Phillies' outfield depth is perilously thin. A trade for Jay Bruce provided reinforcement, but Philadelphia needed someone else to step up, too.
Enter Kingery. In 115 plate appearances, he's hit .324/.365/.630 with seven home runs and a 157 wRC+, making more starts in center field (13) than at any other position. His 1.2 WAR is sixth on the team, which is impressive for someone who has only played 35 games. Notably, Kingery's .411 wOBA this season nearly matches the best wOBA (.416) he posted over any 15-game stretch last year: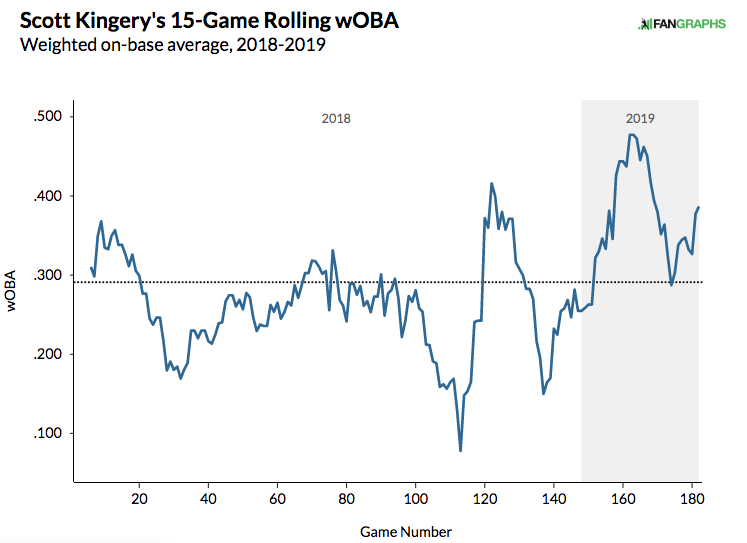 Kingery's improvements are noticeable across the board. For one, he has decreased his soft-contact rate by 10.5 percentage points and increased his hard-contact rate by 19.7 percentage points, both of which are the biggest improvements in baseball. His average exit velocity has also increased by 4.3 mph, moving from the league's 21st percentile to the 69th:
Decreasing Soft Contact Rates
| Player | 2018 Soft% | 2019 Soft% | Change | 2018 wRC+ | 2019 wRC+ | Change |
| --- | --- | --- | --- | --- | --- | --- |
| Scott Kingery | 23.0% | 12.5% | -10.5% | 62 | 157 | 95 |
| Josh Bell | 19.2% | 10.3% | -8.9% | 112 | 167 | 55 |
| Ketel Marte | 20.9% | 12.4% | -8.5% | 104 | 120 | 16 |
| Ian Desmond | 21.5% | 13.5% | -8.0% | 81 | 95 | 14 |
| Kyle Schwarber | 16.8% | 9.4% | -7.4% | 115 | 104 | -11 |
Hitters with 100+ PA in 2019 and 400+ PA from 2018-19
How important is decreasing one's soft-hit rate? To answer this question, I took a look at hitters from 2014 to 2018 who improved their year-over-year soft-hit rate by at least two percentage points (n = 40). Among this group, the average hitter improved his wRC+ by 4.1 points, though there was only a very moderate linear correlation (r = 0.263) between the extent to which a hitter decreased his soft contact and improved his wRC+:
Increasing Hard Contact Rates
Hitters with 100+ PA in 2019 and 400+ PA from 2018-19
And how important is increasing one's hard-hit rate? I again ran a quick analysis between year-over-year hard-hit rate improvement compared to year-over-year wRC+ for hitters between 2014 and 2018. Limiting my dataset to only hitters who saw a five percentage point improvement in hard-hit rate (n = 39), I found that the average hitter saw an 11.7 point increase in their wRC+. Granted, there was still quite a bit of variability, but there is a moderate linear correlation (r = .338) between hard-hit rate and increase in wRC+ for the higher end of the data.
Hitting the ball harder more often explains some of Kingery's hot start. In addition to these batted ball improvements, it appears that his plate discipline is moderately better. His strikeout-to-walk numbers remain troubling, but he's nonetheless done a much better job with pitch selection.
Kingery has increased his Z-Swing% by 10.3 percentage points, while dropping his O-Swing% by 6.2 percentage points. These changes rank second-best and 11th-best in the majors, respectively. Consequently, he's found himself in fewer unfavorable counts. Last season, he fell behind in the count in 47.5% of his plate appearances. This year, just 42 of his 115 plate appearances have ended that way (36.5%). He's still not quite at the league-average (32.3%), but he's improved significantly.
As with all potential breakouts, it's important to be cautious. Kingery may still have star potential, and these changes are encouraging, but he's still been aided by quite a bit of good fortune. His .384 BABIP is the 11th-highest in baseball. Even with his blazing speed (95th percentile, per Statcast), that will surely fall in the coming months. Similarly, he almost certainly won't sustain his 24.1% HR/FB ratio.
Taking everything together, the jury is still out on Kingery. For this to truly qualify as a breakout, we will need to see him hit well over a larger sample of plate appearances. In the mean time, he's doing a lot of the right things at the plate. He's working the count better. He's hitting the ball hard far more often. If you're a Phillies fan, you have to be at least a little bit encouraged.
In a year, Kingery has gone from a potential star to a trailblazer to a bust to a potential star all over again. He's started well in 2019, and the changes in his game are very promising. If this is the new normal, it would be welcome news to everyone in Philadelphia.
Devan Fink is a Contributor at FanGraphs. You can follow him on Twitter @DevanFink.