With two outs in the bottom of the eighth inning, the Nationals up by just a single run, and George Springer on second base, Dave Martinez strolled to the mound to summon a pitching change. In the bullpen getting warm was left-hander Sean Doolittle, one of the two relievers Washington has been able to regularly trust this October.
Doolittle has been a National for two-and-a-half seasons now, and though he could become a free agent at season's end, he has a team option that is almost assuredly to be picked up. He represents just one of Mike Rizzo's numerous midseason reliever pickups. In 2015, it was Jonathan Papelbon. In 2016, Mark Melancon. In 2017, Doolittle and Ryan Madson. And in 2019, it was a triad of Hunter Strickland, Roenis Elías, and Daniel Hudson. Rizzo has tried and tried again to build a bullpen; his success, at best, has been mixed. With Doolittle though, he struck gold.
The year he was acquired, Doolittle was lights-out down the stretch, pitching to a 2.40 ERA with Washington, though that was likely aided by an uncharacteristically low 5.1% home run per fly ball rate. Still, in the NLDS that year, Doolittle faced nine hitters, struck out four of them, and did not allow a run, shutting the door on the Cubs in both Game 2 and Game 4.
Last year, Doolittle had the statistically best season of his career. He pitched to a 1.60 ERA, supported by career-bests in strikeout rate (37%) and walk rate (4%). He was the ninth-best reliever in the game by WAR, but it was overshadowed more by the Nationals' poor season — they went 82-80 — and their lack of a postseason appearance.
Even despite all of these successes over the past two seasons, we're looking at Doolittle now, in a year full of ups and downs. As Grant Paulsen of The Athletic put it on September 4:
The right knee tendinitis that sent him to the IL was part of the problem. So were the mechanical deficiencies he focused on during a weekend rehab stint in Class A that ended when he returned to the Nationals Park mound on Sunday for mop-up duty in the ninth against the Marlins. But the biggest reason for Doolittle's second-half collapse — opponents have hit 43 points higher (.313) off him since the All-Star break — was usage.
Doolittle averaged just 1.7 days of rest between appearances this season, a figure that actually is not a career-low, but likely was aided by spending time on the Injured List in late August, giving him a full 14 days between appearances. What was a career-high, however, was his appearances pitching on zero days of rest, something he did 17 times. Martinez really had no other viable options this season, and that took a toll on Doolittle.
As the season wore on, the results did indeed get worse, only improving post-IL late in the year: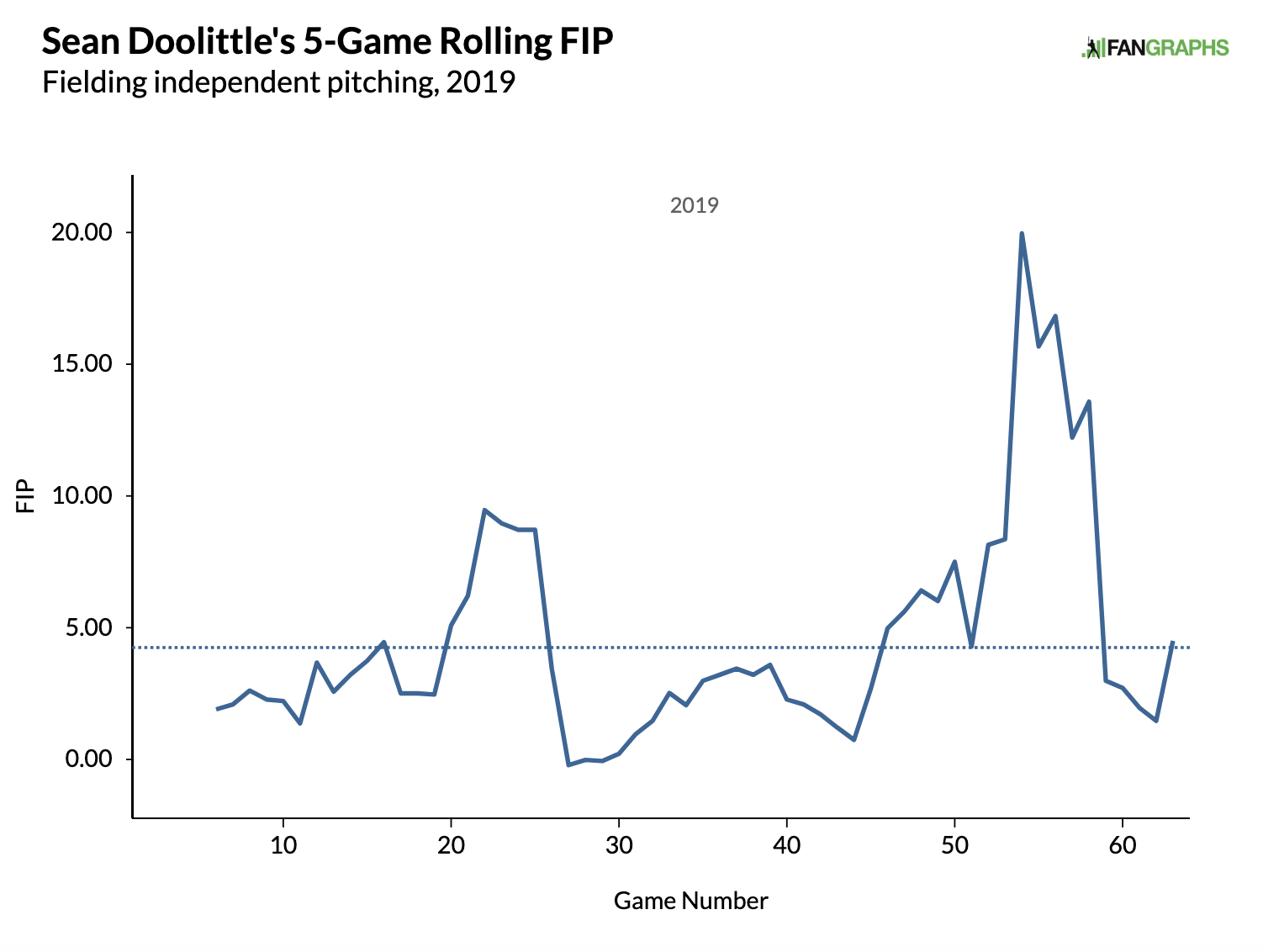 Yes, that y-axis is correct. Doolittle's five-game rolling FIP was 19.96 at one point this season, though it recovered once he returned from injury, as did his fastball velocity. As you can see in the following chart, I've plotted the 10-pitch rolling average fastball velocity for Doolittle this season, including fastballs he has thrown so far in the playoffs. The dip is pretty evident: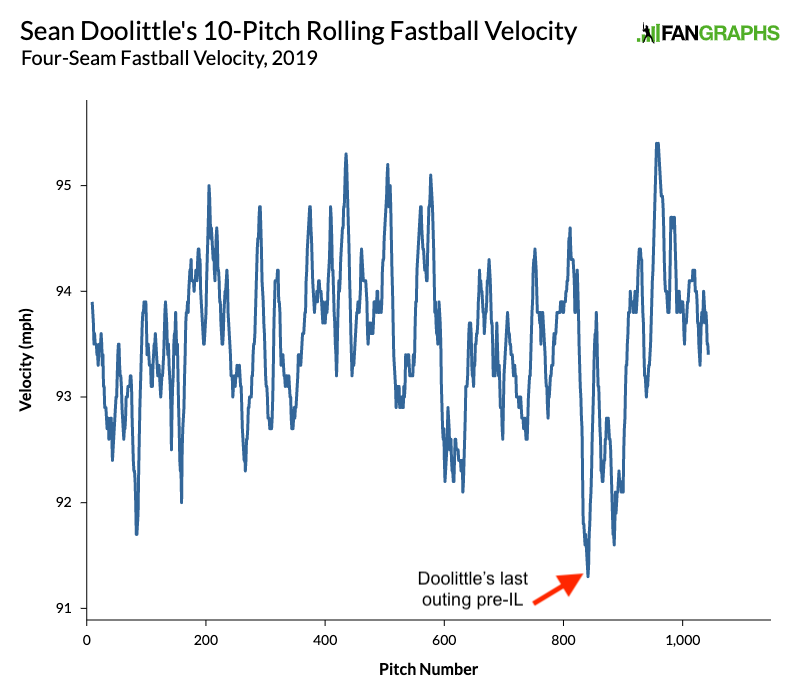 For a hurler who virtually uses just one pitch (he threw the four-seamer nearly 90% of the time), Doolittle's August velocity plunge would be alarming even without analyzing the results. Unfortunately for him, however, the results were exactly what we could have expected: hitters posted a .400/.432/.943 line in 37 plate appearances against Doolittle in August.
As a result of his poor performance and IL stint coinciding with a pennant race, Doolittle was effectively removed from the closer's role by the end of the season. That job instead belonged to Hudson from mid-September on. It wasn't a surprise, then, that Hudson was the pitcher to get the ninth inning in the Wild Card Game against Milwaukee, or that Hudson got the ninth in all three wins versus the Dodgers, or that Hudson got the ninth in Game 2 and Game 4 of the NLCS. The average leverage index of Hudson's six pre-World Series appearances was 2.01. For Doolittle, his six pre-World Series appearances had an average leverage index of 0.78.
It wasn't as if the Nationals were out of options on Tuesday, but it was pretty close. Max Scherzer gave them five gritty innings, Patrick Corbin labored through a clean sixth, Tanner Rainey adventured through the seventh before Hudson mopped up the mess. Now, in the eighth, Hudson was up to 21 pitches, with the tying run still sitting in scoring position, and Michael Brantley getting ready to step into the box. Martinez needed a lefty, and Doolittle was ready. Four pitches later, Brantley was retired on a line drive to left.
In all, Doolittle threw just 13 pitches on Tuesday. The ninth inning was the cleanest by any Nationals pitcher. A strikeout of Alex Bregman and back-to-back flyouts by Yuli Gurriel and Carlos Correa shut the door on Houston. Those 13 pitches were the 13 most important pitches of the game. Doolittle registered a .305 WPA last night, the highest of any Washington pitcher. He also registered .103 cWPA last night, and he now ranks third among all players this postseason in the stat.
Whether or not they emerge victorious, the 2019 Nationals will always be defined by their turnaround. I think I've heard the fact that the Nationals were 19-31 on May 24 more than I've heard that Gleyber Torres is only 22, or that Juan Soto can't yet legally drink in the United States. The Nationals' entire season has been one big turnaround, so there's a certain poetic justice that can be ascribed here. The man on the mound, shutting the door on Washington's first ever World Series victory, went through his own personal turnaround. If there was ever a time for Sean Doolittle to return to his dominant ways of 2017, 2018, or even early-2019, it is now. And if his Game 1 performance has anything to say, that appears to be the case.
Devan Fink is a Contributor at FanGraphs. You can follow him on Twitter @DevanFink.