Last year, I started a new tradition here at FanGraphs: the Ken Phelps All-Star Team, a 21st century revival of my favorite part of Bill James' Baseball Abstracts. Ken Phelps was a talented hitter who nevertheless toiled for years in the minors, not exhausting his rookie eligibility until age 28. As Jeff Bower characterized it for Baseball Prospectus, the Phelps All-Star team represented "an assemblage of players with skills that made them useful, but who were generally not given a fair opportunity to prove their worth in the majors or had been given unwarranted labels they couldn't shake." Basically, the idea behind our exercise was to identify minor leaguers who, like Phelps himself, were not considered notable prospects (though some may technically still have prospect eligibility) and had earned a Quad-A label, and yet might be competent (or better) big leaguers if given the opportunity.
Last year's team proved quite successful by the modest standards set for Quad-A players. Our team was projected to go 57-105, which was just one win worse than the actual record of the 2018 Royals and was ten wins better than the 2018 Orioles, who (unlike the Phelpses) had the benefit of a half-season of Manny Machado. And several players I identified also established themselves as legitimate major leaguers, led by Richard Rodriguez, who posted a 63 ERA- and 64 FIP- across 69.1 innings, striking out a third of all the hitters he faced. Deck McGuire received an extended look (38 innings) in the major leagues, and despite his relatively poor results, showed flashes with a 94-mph fastball and an above-average sinker and change-up. Ryan Carpenter showed his plus command and minuscule walk rate could translate to the big leagues across five starts with Detroit, though he was hurt by a home run problem. Mitch Walding, Brandon Snyder, Jabari Blash, and Scott Copeland all saw major league time in 2018, with Walding making his major league debut. All in all, this might not sound like much, but remember that we're talking about free talent – these are guys who, in essence, aren't supposed to be doing much at all.
So with that, we bid adieu to the 2018 team and turn to the 2019 team, which we'll unveil over the next few days. First, let's review the criteria for selection. Remember, these players are not supposed to be prospects, so this isn't like Carson's Fringe Five series. The Quad-A label earned by these players may very well be accurate, and we're not expecting this fictional team to go and win 100 games. Instead, we're looking for free talent – guys who, for whatever reason, have mastered the highest levels of the minors but are organizational depth at best, or forgotten entirely at worst, and yet have skills that might (might!) make them useful on a big-league team.
And because scouting and analytics are better than ever before, the idea behind this team has to change a bit. Major-league equivalencies have become mainstream, which means that we have to do more than simply project big-league performance. For that reason, we're going to tweak James' original criteria slightly. To qualify for our team, a player cannot have had more than 550 plate appearances or 50 innings pitched in the major leagues, which we'll use as proxies for a season's worth of MLB time. He also cannot have appeared on any of FanGraphs' organizational top prospect lists or the Fringe Five in the past two years (2017-18), and must be 25 or older. Oh, and just to make things fun, we won't re-use anyone from the 2018 team.
Today we begin our look at the 2019 Ken Phelps All-Star Team by examining at the outfield. The balance of the position players (Part 2), as well as the pitching staff (Part 3), will follow later.
Here's a blast from the past! Once upon a time, Castillo, now 31, was the Red Sox's hot new offseason addition, a player considered dynamic enough that Boston paid $72 million to play him in the team's outfield. It didn't work out – Castillo was handed a big league job in 2015 and fell flat, posting just 0.1 fWAR and a 73 wRC+ across 80 games. The Red Sox removed him from their 40-man roster in 2016, and since then he's labored in Boston's minor league system, with his most notable accomplishment being the ignominy of landing on a list of baseball's worst contracts. He has seen all of eight plate appearances, all of which came in 2016.
Whether it was the decreased pressure, simple player development, easier competition, or Castillo adjusting to his new environs, he's quietly broken out for Pawtucket over the last couple of years, following a .378 wOBA and 138 wRC+ in 2017 with a .348 wOBA and 120 wRC+ in 2018. His line drive rate and the percentage of balls he sent to the opposite field both spiked in 2018, as Castillo became more of an all-fields hitter.
Now Castillo still has his warts, as every player on this list does. His power never really developed or been consistent – he followed fifteen homers and a .193 ISO in 2017 with five and a .097 in 2018. Even his improved plate discipline was still subpar, with just a 5.7% walk rate. His in field fly ball rate spiked in 2018 and, despite still having above-average speed, his base-running deteriorated, and he was relegated to a corner spot in the outfield.
Still, Steamer suggests that at least some of Castillo's gains were legitimate, projecting a 90 WRC+, and despite the move to the corner, his defense remains above-average. Further, his coaches at Triple-A are convinced he could hold his own in the major leagues, a combination of his improved performance and commitment to conditioning.
"He's a big leaguer," said [Pawtucket Manager Kevin] Boles. "He's a big leaguer on a Triple A field. You coach at third. The third baseman says, 'How is this guy still here?' Everybody knows it. Everybody knows he's major league-quality."
Castillo may be a forgotten man in Boston — the outfield spots in Fenway are spoken for — and his salary will likely strike most clubs as pretty rich considering what he is at present, but the tools that made him enticing in 2014 seem still to be there, and perhaps improved. We'll start him in our outfield.
Sturgeon, 27, has the distinction of having played in three hundred games for Boston's Double-A affiliate across four seasons before finally being called up to Triple-A for good late in 2018. He raked at Double-A in 2018 to the tune of a .443 wOBA and 178 wRC+, which was most likely the result of having been at the level for the aforementioned 300 games, but also showed some legitimate growth that he carried to Triple-A. After seldom walking in the low minors – across two levels in 2015 and 2016, Sturgeon never eclipsed a 6% walk rate – the outfielder improved both his strikeout and walk rates in 2017 and 2018, posting an 8.6% BB% and 14.3% K% at Double-A in 2018 before keeping most of the gains in his walk rate in Pawtucket.
What makes Sturgeon interesting for our purposes, though, isn't his hitting. It's his above-average defense, which he manages despite not having plus speed.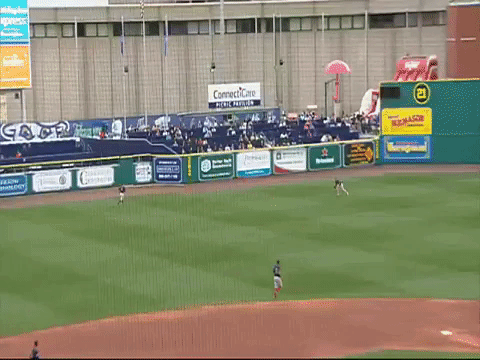 The Red Sox have given Sturgeon a shot in spring training before, largely to see if he can be a fourth outfielder. The sum of Sturgeon's parts isn't a star, and probably isn't even a big league regular. But there might be a poor man's David DeJesus here, and that's enough to be interesting. We'll take him on our team.
Hernandez, a 31-year-old Cuban émigré, is probably the player on this list most likely to make a major league impact in 2019. When the Nationals signed Hernandez in 2016, they considered him to be a "high-floor, low-ceiling type who . . . could serve as a left-handed hitter off the bench or a defensive replacement late." MLBTradeRumors cited Baseball America's Ben Badler in calling Hernendez a "small and not overly toolsy player who profiles as a corner outfielder," which MLBTR's Jeff Todd called "a rather unexciting profile." And even with the likely departure of Bryce Harper this offseason, he is well behind rookie sensation Juan Soto, top prospect Victor Robles, and established major leaguers Adam Eaton and Michael Taylor on the Nationals depth chart; there's been understandably little talk of him entering Washington's 2019 outfield mix, even in spite of Eaton's lengthy injury history. He's seen just one plate appearance in major league spring training.
Still, Hernandez's performance thus far suggests he might have upside beyond what was originally thought. For one thing, he draws walks. His 9.9% walk rate at Triple-A in 2018 was his lowest thus far in the minor leagues, and he posted an 11% walk rate across two levels this year. He's shown an above-average contact tool, and has yet to post a BABIP less than .320. And perhaps most interestingly, Hernandez is showing some burgeoning pop, with 18 homers and a .171 ISO across two levels in 2018. Here he is showing some impressive opposite-field power early last year: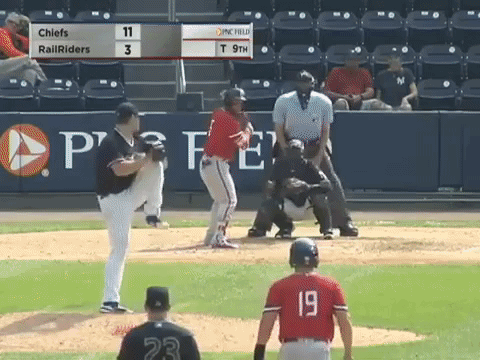 Patience, contact, a bit of pop, and passable defense are an intriguing mix, and on a team with less outfield depth, he might be considered for a starting spot. In any event, he fits nicely in our lineup.
Once upon a time, Almonte, now 29, was a toolsy fringe prospect in the Yankees' system with an 80-grade name. But despite flashing power and speed in the minors, he cratered in a 34-game cameo with the big club in 2013 (56 wRC+) despite a reasonably good strikeout rate (16.8%). He returned to the minors, where he continued to hit in the Yankees and Braves' systems, before mashing in the Mexican League in 2016 (123 wRC+ and .207 ISO), and turning into a bona fide middle-of-the-order monster in 2017 (.355/.421/.536 triple-slash, 148 wRC+, .425 wOBA). Intriguingly, Almonte proved his 2017 metamorphosis wasn't a fluke when he took his talents to the NPB's Chunichi Dragons in 2018, hitting .321/.375/.486 with a lot of nights like this one: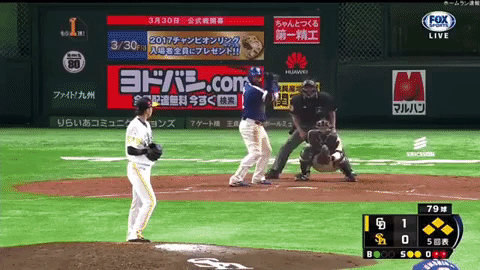 Almonte finished sixth in the league in batting, second in doubles, fifteenth in OPS, fifteenth in on-base percentage, ninth in hits, tenth in total bases, and fifteenth in homers (all among 65 qualifiers), an impressive showing for the former prospect.
Now, just because Almonte can hit in the Mexican League and in Japan doesn't mean he can hit in the majors. But Almonte has hit everywhere he's been except the bigs, and he's now shown the ability to hit for power and average at Triple-A, in the Mexican League, and in Japan, all of which serves our purposes well. Plus, Almonte has begun to show steady improvements in his plate discipline; in his 2018 season, he was eighteenth in the league in walks, only one of which was intentional. Given his ability to play all three outfield positions capably, he'll do fine as a fourth outfielder, and, given a big league opportunity, there's a chance he could outproduce Melky Cabrera in 2019.
Parts 2 and 3 to follow.
Sheryl Ring is a litigation attorney and General Counsel at Open Communities, a non-profit legal aid agency in the Chicago suburbs. You can reach her on twitter at @Ring_Sheryl. The opinions expressed here are solely the author's. This post is intended for informational purposes only and is not intended as legal advice.