Here, in Part 2 of our series, we will crown the infielders for the 2019 Ken Phelps All-Star Team, a team of guys who, for whatever reason, have mastered the highest levels of the minors but are organizational depth at best, or forgotten entirely at worst, and yet have skills that might (might!) make them useful on a big-league team. Part 1, featuring the members of our outfield, can be found here. The pitchers will follow later.
For the second year in a row, our third baseman will be someone from the Philadelphia Phillies' minor league system. Tomscha was a fiftieth-round pick (seriously!), declined to sign, and was drafted twice more before finally turning pro after being taken in the 17th round. In Dan Szymborski's latest ZiPS projections for the Phils, Tomscha's top comp was the immortal Brennan King.
Tomscha is already 27, but he's done nothing but hit pretty much everywhere he's gone. His wRC+ numbers between 2014 and 2018 at every level where he's spent more than 100 plate appearances go like this: 126, 127, 131, 152, 123, 125. (His foray into Triple-A was less encouraging, good for a 60 wRC+ in 93 plate appearances.)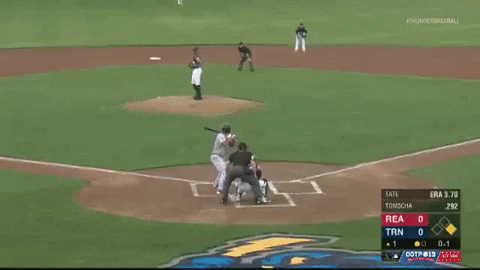 Now, to be fair, Tomscha has only ever shown power like that at Double-A Reading, a level somewhat legendary for inflating power numbers and turning players like Dylan Cozens and Darin Ruf into reincarnations of Babe Ruth. That said, Tomscha has been a good hitter even when he's not hitting for power, even in the low minors, and has long shown off defensive skills as well.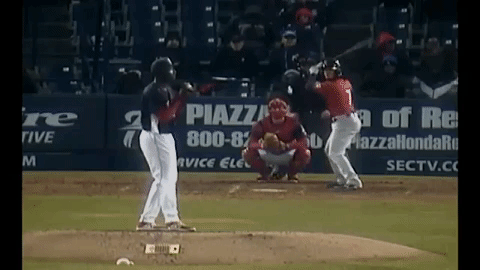 And he's a pretty good contact hitter too, with the 17.2% strikeout rate he posted in a small sample at Triple-A this year being the worst of his career.
So what is the package? A big, strong right-handed contact hitter, who doesn't strike out much and might have some power potential. That'll work for us at third base.
Back in the day, Alcantara was a hot commodity as a prospect who flashed power and speed in the Cubs' minor league system. It didn't work out, though – in 459 major league plate appearances, the switch-hitter hit 11 homers and stole 14 bases, but struck out at a rate that would make Mark Reynolds blush, on his way to a .189/.235/.315 triple slash and 49 wRC+. A 1.9% walk rate and 35.2% strikeout rate with the Reds in 2017 – good for a 5 wRC+ (!!) – sealed his fate, and he hasn't played in affiliated baseball since.
But something happened in 2018 when Alcantara spent three stints in the Mexican League: he started drawing walks. A lot of walks, especially by Alcantara's standards. Despite being four years younger than the average player at his level – after all, Alcantara is still just 26 – he walked at a 9.5% rate or better at three different Mexican League stops. To put that in perspective, Alcantara's 38 walks in 397 plate appearances was more than he'd had at any level since he was a 21-year-old at Double-A in 2013. The result was a .285/.353/.527 line with 18 homers and 15 steals, showing the tantalizing power-speed combination is still in there. But what's also in there is this defense at shortstop.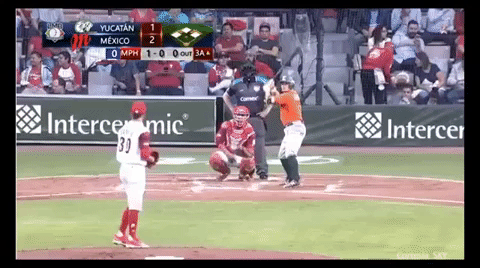 Now, it's entirely possible that Alcantara's newfound plate discipline is a mirage, or that it won't translate back to affiliated baseball. That said, the package is intriguing enough, and Alcantara is still young enough, that he may just be a late bloomer. Major league baseball might have given up on him, but we won't.
Unlike Alcantara, here's a name you might never have heard before. Mayfield, 28, is no one's idea of a real prospect – he wasn't even drafted. But during his time in the Astros' farm system, he seems to have developed one tool that's hard to fake: power.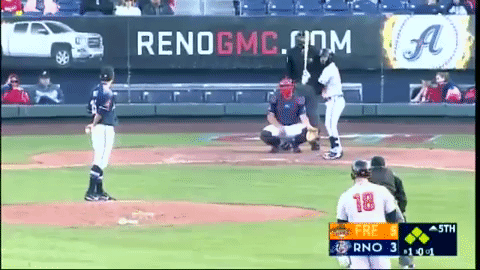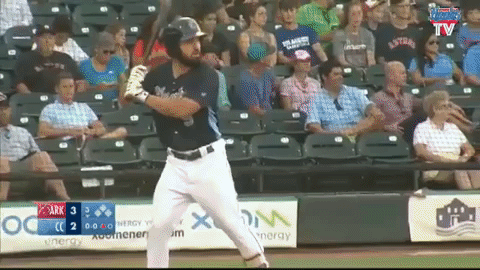 The breakout came in 2016 at Double-A, when Mayfield obliterated opposing pitchers to the tune of a 132 wRC+ and a .288 ISO. Despite faltering in his first taste of Triple-A later that year, Mayfield rebounded and in 2018 proved he was in Fresno to stay, with a .270/.324/.457 triple slash, .341 wOBA, and .187 ISO, his second consecutive year at the level with an ISO above .185 and a wOBA above .340. And even more intriguingly, Mayfield can play defense. Here he is flashing the leather at third base: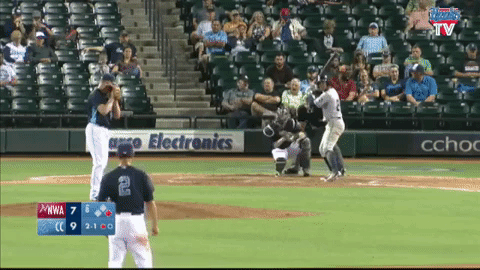 And here he is at second base – adding a pretty awesome flip to shortstop: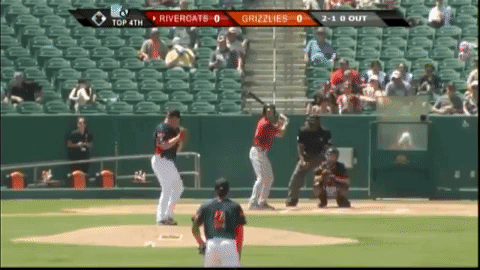 Now, Mayfield isn't without his warts – no one on this list is, after all. His plate discipline is lackluster, to put it mildly; he's never posted a double-digit walk rate, and even in his second-best season, 2016, he struggled to reach a .300 OBP. Still, there have been signs of growth there as well. His BABIP in 2016 was unsustainably low (.226 at both Double- and Triple-A); he's run BABIPs consistently above .300 both before and since. Mayfield may never walk more than 6% of the time in the big leagues, and he'll probably strike out a ton. Still, the power and defense are real, and his profile is similar to another 5-foot-11, 190 pound infielder: Brandon Inge. Mayfield doesn't have Inge's upside, of course (when Inge was Mayfield's age, he already had four big league seasons under his belt). But a poor man's Brandon Inge still has some value, and given a full season's worth of plate appearances, Mayfield might surprise.
Quick: who led the International League in home runs in 2018? If you guessed top Tigers prospect Christin Stewart, you'd only be half right, as Stewart shared the honor with Philadelphia Phillies minor leaguer Joey Meneses, 26. Another player who was never drafted, Meneses slashed an impressive .311/.360/.510 in 2018, good for a 143 wRC+ and .381 wOBA. Now, it would be easy to conclude that Meneses is a product of where Phillies' minor leagues affiliates play – after all, Darin Ruf and Dylan Cozens both posted inflated numbers as a result of the hitter-friendly parks in the Phils' system. But Meneses might be different. For one thing, while 2018 was his first year in the Phillies' organization, he's hit everywhere he's gone. In 2016, while playing for the Carolina Mudcats, the Braves' Hi-A affiliate, he hit .342/.401/.490 – offense which amounted to a 146 wRC+ and .401 wOBA. He struggled in his first taste of Double-A, but returned to his mashing ways in his second go-around in 2017, with a 124 wRC+ and a career-high walk rate (9.5%).
Now, given Meneses' gaudy stats, the obvious question is why he isn't a prospect, even at 26. The answer is that while he has always hit the ball hard, 2018 was the first time he'd shown consistent power. But there's reason to hope he wasn't just a Phillies' minor league mirage. Here he is, hitting a long home run away from Lehigh Valley.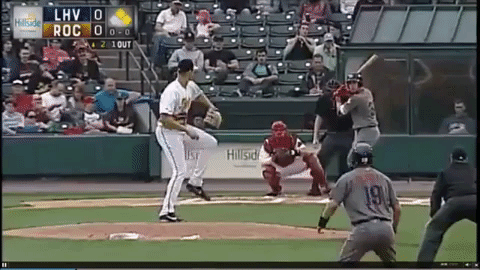 Do you notice the uppercut? Meneses is a swing-changer. Until 2018, the big right-handed first baseman had hit the ball primarily on the ground, with ground ball rates above 50% at every stop but one since 2014. But in 2018, he flipped the script, dropping his ground ball rate to 44.7%, a career low, and upping his flyball rate to 32.9%, his highest rate since rookie ball. That wasn't Meneses' only change; after being an all-fields hitter in 2016 and 2017, hitting at least 40% of his balls in play to right field, he started pulling the ball in 2018, hitting fewer balls to right field and more fly balls to left. The result was a career-high HR/FB%, and the second-highest pull rate of his minor-league career.
Of course, even launch-anglified Joey Meneses wasn't going to displace burgeoning star Rhys Hoskins in Philadelphia, and so the Phillies released him at the end of the season after he received an offer to play in Japan for the Orix Buffaloes. Still, it looks like Meneses made some legitimate changes to his offensive game – changes that, while not likely to make him a star, certainly make him more interesting.
Joseph, 29, was immortalized as the Guy Who Took Over First Base from Chris Davis (TM) last year in Baltimore, a job that lasted all of 19 plate appearances. In reality, however, Joseph probably has something to offer a team that's willing to look past the obvious flaws. Joseph has the ability to stand at every defensive position on the dirt except shortstop. And Joseph has plate discipline, contact ability, and a bit of pop, which has helped him rack up more than a thousand minor league hits. In a sense, that's damning with faint praise; Joseph has been in the minors for more than a decade, but has a grand total of 26 major league plate appearances to his name.
In 2018 for Double-A Bowie, Joseph walked more (9.9%) than he struck out (8.2%) with a .185 ISO and 143 wRC+, his second consecutive year at Double-A with a wRC+ of 120 or higher on the back of that skillset. Oh well, you might say, he was a 29-year-old at Double-A; he's supposed to do that. And that's certainly true, but he has also shown the same ability at Triple-A – in 2016 for Norfolk, Joseph hit .305/.362/.435 with an 8.3% BB% and 10.2% K%, good for a 129 wRC+.
So what is Corban Joseph? The profile is a bit similar to John Jaso, minus the catching ability, of course. Still, though, Joseph might be better than some of the utility infielders entering 2019 with guaranteed jobs. And there's an argument to be made Joseph is better than David Fletcher, who will, barring other moves, open 2019 with a starting job in the Angels' infield. Joseph is probably good enough for a big league job somewhere; he's just never gotten the opportunity.
Here's a guy who, given the state of catching in the major leagues, could probably have a major league job somewhere on opening day, even though he probably won't. Taylor is 28 and a career member of the Oakland Athletics' minor league system, where he has been since 2011. He's also no one's idea of a prospect, accruing just six major league plate appearances, all in 2018. Why? For one thing, he doesn't hit for power; this was his last of just three home runs he hit in the A's system in 2018, after he hit 5 in 2017, and 5 in 2016.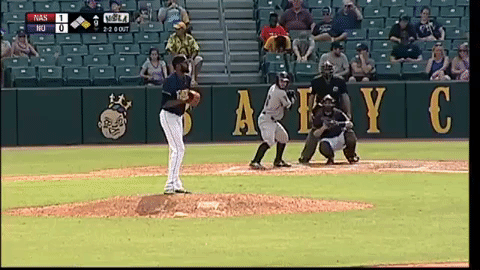 He doesn't really hit for average, either; despite a .341 BABIP in 2018, he hit just .248 in 2018. And he doesn't really control the running game, throwing out just 12 of 73 attempted baserunners in 2018.
So why is Taylor here? Because he has plate discipline. Indeed, quite good plate discipline. In 2018, he walked in 14% of his plate appearances at AAA. In 2017, he walked in better than 12% of his plate appearances. In fact, Taylor hasn't had a walk rate below 10% since a 2014 half-season at Double-A, when he posted a 9.7% walk rate. And owing to all the walks, Taylor has posted a wRC+ above 90 at every stop but one since 2014.
Steamer doesn't think much of Taylor, projecting just a 69 wRC+ for 2019 at the big league level. But Jonathan Lucroy just posted a 70 wRC+ for the Athletics, and at least Taylor might still have some upside.
Once upon a time, Neftali Soto was a big-time Reds prospect who, despite underwhelming numbers, possessed exciting tools. The good news is that Soto, now 29, mashed .310/.364/.644 in 2018 with 41 homers in just 459 plate appearances, fulfilling his longstanding prospect status. The bad news is that he posted those video game numbers in Japan, and went totally ignored stateside.
That's a shame, because Soto's transformation from failed prospect to power hitter began in 2017, when he (all together now) started hitting more fly balls. An increased fly ball rate – he went from just 16% in the White Sox organization in 2015 to 34.9% for the Nationals' Triple-A affiliate in 2018 – led to a power surge, and across two levels of the Nats' system he destroyed minor league pitching to the tune of a .311/.364/.528 triple-slash, and an ISO above .200 at both levels. Soto's new look can be captured in this game for Syracuse, when he homered three times, one to each part of the outfield.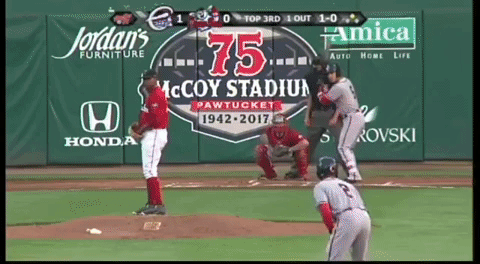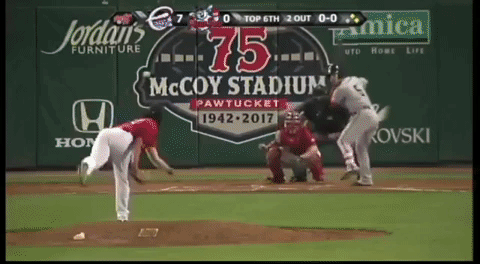 Despite his newfound power and contact abilities, the book on Soto remains below average plate discipline; his 29-to-100 strikeout to walk ratio last year in the NPB demonstrates that nicely. Still, bats with this kind of power have some value and could merit a major league opportunity. After all, it's a safe bet Soto would outhit Chris Davis, and wouldn't a rebuilding team like the Rangers be better off seeing what he could do with 550 at-bats than giving them to Ronald Guzman?
Next time, we'll look at the Phelpses' pitching staff.
Sheryl Ring is a litigation attorney and General Counsel at Open Communities, a non-profit legal aid agency in the Chicago suburbs. You can reach her on twitter at @Ring_Sheryl. The opinions expressed here are solely the author's. This post is intended for informational purposes only and is not intended as legal advice.