When it was completed, the Tyler White deal didn't rock many (if any) boats. It was a minor move: The Dodgers acquired White from the Astros in exchange for Andre Scrubb, a 2019 Rule 5 eligible right-handed pitcher who had most recently been throwing in Double-A.
White has been scuffling of late, but a quick look at his offensive performance from the previous two seasons makes clear why the Dodgers find the first baseman intriguing. White's bat has been significantly above league-average at times, even if his defensive profile limits his overall value:
Tyler White's Career Numbers
| Year | Age | PA | AVG | OBP | SLG | wOBA | wRC+ | WAR |
| --- | --- | --- | --- | --- | --- | --- | --- | --- |
| 2016 | 25 | 276 | .217 | .286 | .378 | .287 | 81 | -0.2 |
| 2017 | 26 | 67 | .279 | .328 | .525 | .356 | 127 | 0.2 |
| 2018 | 27 | 237 | .276 | .354 | .533 | .377 | 144 | 1.5 |
| 2019 | 28 | 267 | .218 | .318 | .319 | .284 | 78 | -0.4 |
White had a cold start to his career, but in 2018, he was quite the impact player. In August, right as the Astros were in the thick of the pennant race, he posted a 197 wRC+ across 91 plate appearances. White's August was the 31st-best month by any individual player in the sport (min. 50 PA). That might not sound all that impressive on the surface, but there were 1,720 individual player months with at least 50 PA last season, putting White's August in the 98th percentile. It was a great month.
As Patrick Brennan at Beyond the Box Score noted, White's combination of power, contact, and on-base skills made his breakout all the more exciting.
"The main key to White's success has been finding his pitch," Brennan wrote at the time. "He's swinging less and whiffing at a lower-rate than he ever has. He's finding the pitches that he can drive, while also finding the ones he can't. His swinging-strike rate, out-of-zone-swing-rate, and swing-rate are all noticeably down."
Last season, White laid off out-of-zone offspeed pitches before attacking the fastball, a pitch he had a great deal of success against. White's wOBA against the four-seam fastball was in the 84th percentile of all hitters; his xwOBA against the pitch was in the 66th percentile. But while his performance against the fastball was a strength in 2018, it's been his area of weakness in 2019:
White vs. the Four-Seamer
| Year | Usage | BA | xBA | SLG | xSLG | wOBA | xwOBA | EV (mph) | LA (deg) | Whiff% |
| --- | --- | --- | --- | --- | --- | --- | --- | --- | --- | --- |
| 2018 | 32.0% | .250 | .250 | .650 | .546 | .407 | .374 | 92.1 | 33 | 15.2% |
| 2019 | 35.6% | .194 | .163 | .299 | .294 | .310 | .299 | 85.9 | 28 | 23.6% |
SOURCE: Baseball Savant
"Weakness" might be understating it. His wOBA against four-seamers has fallen into the 21st percentile; his xwOBA has fallen to the 12th percentile. In less than a single calendar year, White has gone from being one of the league's better fastball hitters to one of its worst. And, as you might expect, struggling against the fastball does not usually yield overall success. There is a pretty strong correlation (r=.71) between a hitter's wOBA versus the four-seam fastball and his overall wOBA: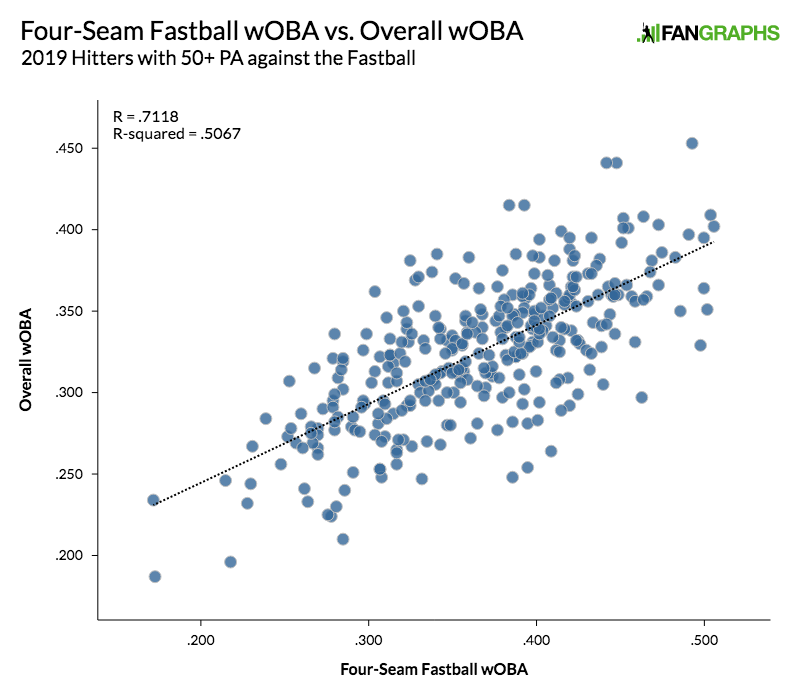 White has a fastball problem, and it's a big part of why he's struggled this year. It is not as if he's not making good contact. In fact, White's wOBA on contact versus the fastball is still quite high, at .399. The issue lies in him being able to make that contact. When White swings at a fastball, he whiffs nearly a quarter of the time. That's not even one of the worst rates in baseball; it only ranks as 94th-highest out of the 263 hitters who have seen at least 150 four-seam fastballs this year. It is, however, a 8.4-point jump over his 2018 rate. As of this writing, White has swung at 23 more fastballs in 2019 than he did in all of 2018. He has 18 more whiffs. Let's see them all: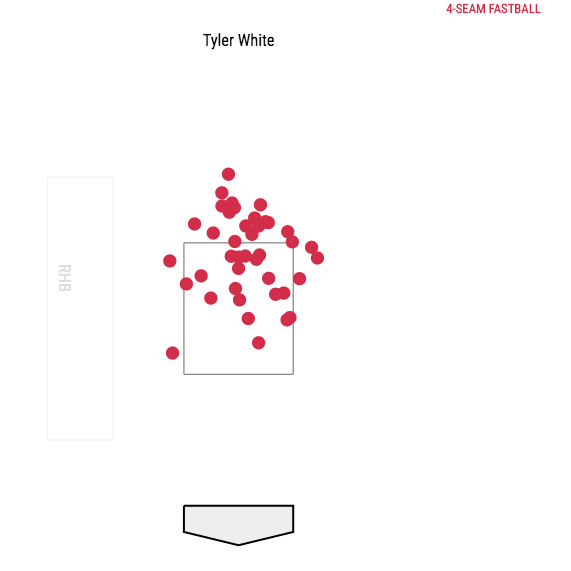 Clearly, White is enticed by the high fastball. Pitchers know this. Among all the four-seam fastballs he has seen this season, 62% have been pitched above the middle portion of the strike zone (both balls and strikes), representing a near-seven-point jump from 2018. Pitchers are throwing White more pitches where he's susceptible to swinging and missing.
The question is, can this be remedied? I'm sure the Dodgers would argue it can be. Consider this: Exactly 200 hitters have seen at least 150 four-seam fastballs in both 2018 and 2019. I looked at the change in four-seam whiff rate for each player. The Dodgers roster two of the top 11 most-improved hitters. Cody Bellinger has cut his year-over-year fastball whiff rate by 8.7 points; Chris Taylor has cut his by 6.9 points. Here are the 2018 four-seam whiff charts for Bellinger (left) and Taylor (right):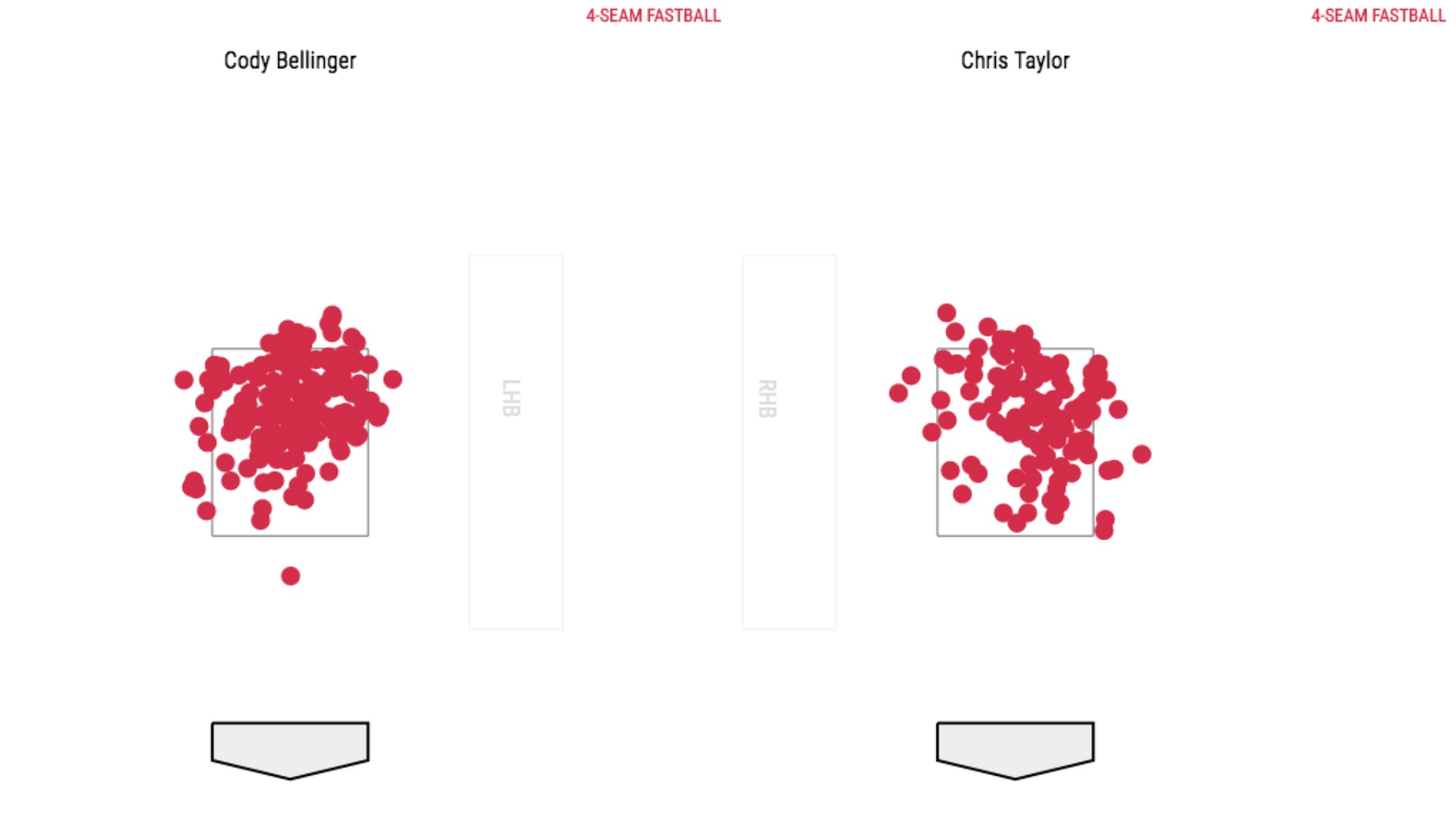 Both of them dealt with similar issues to White's, as the high fastball was clearly the area of concern. Bellinger got nothing but air on 41% of swings at high fastballs last year, Taylor 31%. For each hitter, the Dodgers took a different approach to solving the issue. Bellinger was rather simple; he started making more contact on high fastballs, seeing his whiff rate fall by four points. For Taylor, his whiff rate on high fastballs has actually increased to 36%. The difference, then, lies in the sheer number of swings he has taken. Taylor's swing rate on the high fastball has decreased by six points.
Thus, the Dodgers may approach Tyler White's fastball issue in one of two ways. They may alter his swing to increase his contact rate on high fastballs, or they may teach him to lay off the high fastball more often, particularly those that are out of the zone.
I'm inclined to think that they'll choose option number two. Why? Think about it this way. For Bellinger last season, 73% of his high fastball whiffs came on pitches inside the zone. For White this season, 71% of his high fastball whiffs have come on pitches outside the zone. There's the difference, and, with it, there's the potential solution. In order for the Dodgers to fix Tyler White's fastball problem, they don't need to reinvent his swing. They just need to (re)teach him how to lay off the fastballs that are too high. Perhaps then he'll be back on his path to productivity.
Devan Fink is a Contributor at FanGraphs. You can follow him on Twitter @DevanFink.