Note: This is the last TMA of the week, as I'll be out of town until Monday.
And the fans in New York already hate Soriano.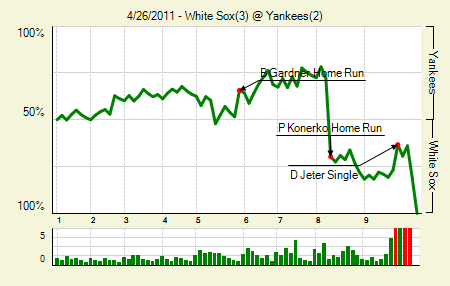 Moving the Needle: Paul Konerko turns a deficit into a lead, +.420 WPA. The whole plan of having a closer in the setup role hasn't worked out too well for the Yankees so far. Rafael Soriano had another rough outing, this time blowing a 2-1 lead in the eighth on the Konerko homer, a no-doubter out to left. Soriano has made 11 appearances for the Yankees, but has only a single 1-2-3 inning. The Yankees did make some noise in the ninth, but Brent Lillibridge made a pair of stellar catches to save the game. If he misses either the Yankees at least tie it.
Notables
Brett Gardner: 1 for 3, 1 HR. In a game full of offensive utility, a homer from Gardner, his second in four days, is going to make the notables.
Gavin Floyd: 8 IP, 4 H, 2 R, 2 ER, 1 BB, 10 K, 2 HR. Just domination, through and through. The Sox pitching has apparently spread the team's offensive utility to the Yankees.
Also in this issue: Angels 8, A's 3 | Diamondbacks 7, Phillies 5 | Orioles 4, Red Sox 1 | Rockies 4, Cubs 3 | Indians 9, Royals 4 | Marlins 4, Dodgers 2 | Mariners 7, Tigers 3 | Astros 6, Cardinals 5 | Brewers 3, Reds 2 | Blue Jays 10, Rangers 3 | Mets 6, Nationals 4 | Giants 3, Pirates 2 | Braves 8, Padres 2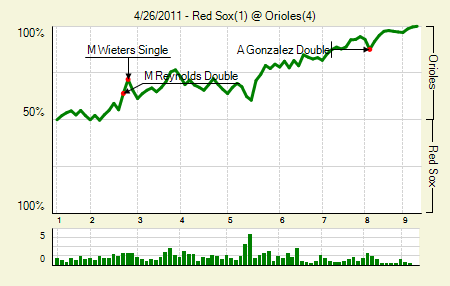 Moving the Needle: Adrian Gonzalez ends the potential rally, -.105 WPA. So many times we see the game's first run spark a big WPA turn. I was surprised it didn't in this one, since the Matt Wieters single not only plated a run, but also put runners on second and third. It was also a bizarre play, a bouncer that kicked off the bag right before Gonzalez could field it. But no, there were no positive swings of 10% or more. Instead, the green line slowly crept toward an Orioles victory. The biggest turn it took came in the top of the fifth, when the Red Sox loaded the bases with two outs. Gonzalez ended the threat with a ground out, leaving the score at 2-1.
Notables
Zach Britton: 6 IP, 5 H, 1 R, 1 ER, 2 BB, 2 K, 0 HR, 13 GB. Those ground balls proved useful in dispatching the Sox. I think it's safe to say that he sticks around when Brian Matusz returns.
Luke Scott: 2 for 3, 1 2B, 1 BB. That's two multi-hit games in his last two. Before that he had no multi-hit games, so this is a nice pick-up after a slow start for Scott.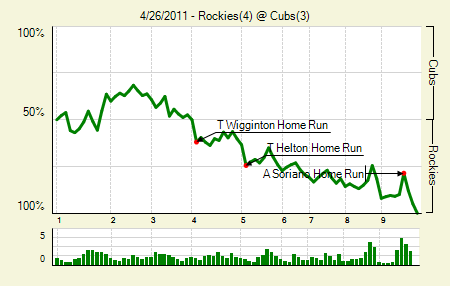 Moving the Needle: Ty Wigginton hits one a long way, +.119 WPA. This game was full of solo homers, but none moved the WPA line as far as Ty Wigginton's fourth-inning blast. There really is nothing quite like the sight of a no-doubter exiting Wigley Field at night. The ball is set against this pitch black background as it floats along its arc. The home run gave the Rockies a 3-2 lead, and was the first in a string of three straight runs scored via the solo homer.
Notables
Todd Helton: 2 for 5, 2 HR. He opened the scoring with a solo shot, and then added the final one. He's off to quite a productive start, 20 for 63 with eight extra base hits.
Jonathan Herrera: 2 for 5. Dude has really grabbed the open spot at second. He'll crash any time now, but if he can keep up even a portion of his current pace he'll be a good fit there for the Rockies.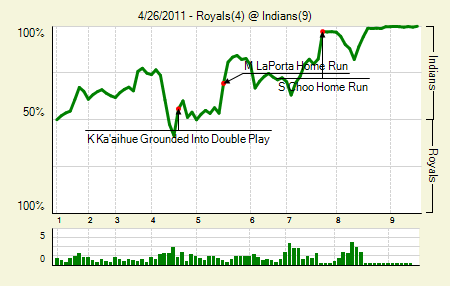 Moving the Needle: Matt LaPorta hammers the Indians to a lead, +159 WPA. The Indians jumped out to an early lead, but the Royals battled back with a single followed by two doubles in the fourth, evening the score at two. In the fifth, Luke Hochevar lost it a little bit. He served up a fat pitch to LaPorta, who did with it what any responsible first baseman would do. The ball went a long way, landing on the promenade in left. The Indians followed with another homer, and then yet another in the seventh.
Notables
Shin-Soo Choo: 2 for 4, 1 HR. His three run blast in the seventh really opened up the game.
Jack Hannahan: 3 for 4, 2 HR. Unsurprisingly, this was the first multi-homer game of his big league career. He did hit two homers in AAA, on June 22, 2007. It's actually his third multi-homer game. I'll stop it with trying to find out these stats, as I've flubbed this twice so far this season.
Grady Sizemore: 3 for 4, 2 2B, 1 HR, 1 HBP. He's 13 for 32 on the season with six doubles and three homers.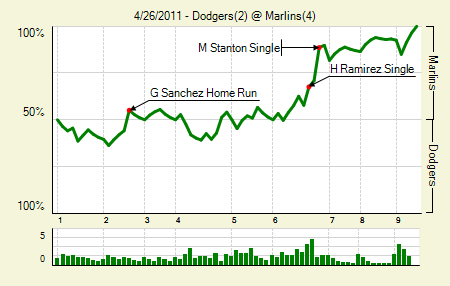 Moving the Needle: Mike Stanton strikes with a two-RBI single, +.178 WPA. The game was tied at two in the bottom of the sixth, but Clayton Kershaw had loaded the bases with just one out. He had looked fairly strong to that point, making a few mistakes but still getting through the Marlins order with only light damage. On a 2-2 pitch he threw a fastball at the knees, and Stanton went down to get it, bringing home two and giving the Marlins a 4-2 lead that would hold up the rest of the way.
Notables
Gaby Sanchez: 1 for 2, 1 HR, 2 BB. His solo homer tied the score at one in the second.
James Loney: 4 for 4, 4 1B. 18 of his 20 hits this season have been singles.
Chris Volstad: 7 IP, 7 H, 2 R, 2 ER, 1 BB, 5 K, 0 HR. He hadn't completed even six innings in his first three starts.
Moving the Needle: Brandon Inge doubles home two to tie the game, +.239 WPA. First off, if you haven't seen the bizarre home run in this one, watch it. Once you're done laughing…this game swung twice in the fourth. The first came when Justin Smoak launched a low pitch over the bullpen in left, giving the Mariners a 3-1 lead. The home run raised their win expectancy by 22%. Inge's two-run double swung it a bit more. Surprisingly, the go-ahead single, which came an inning later, moved the needle just 9.5%.
On a seid note: It's a good thing that Eric Seidman doesn't write this feature, or else you'd be in for a season full of "Smoaked one" puns.
Notables
Miguel Olivo: 2 for 4, 1 2B, 1 HR. His was the Ryan Raburn-assisted shot.
Jack Wilson: 2 for 4, 1 2B. He won't make it in here often, so might as well fit him in when there's a chance. This was only his second extra base hit of the season.
Moving the Needle: Daniel Descalo doubles home the tying run in the eighth, +.264 WPA. It always saddens me a bit when the walk-off hit doesn't get the big WPA swing. But when it comes with the bases loaded and one out, well, the win expectancy is already creeping towards that 100% mark. In any case, with a runner on second and the Card down one in the eighth, Descalo slapped one into the left field corner, which allowed the tying run to score. The ball almost sat atop one of the pads out there, which makes me wonder how they'd score that. Dead ball? Or is Matt Holliday Carlos Lee expected to just pluck it off the top of the pad and play it live?
Just so he gets his proper due, Descalo went 3 for 3 in the game with another double and a triple.
Notables
Hunter Pence: 3 for 5, 1 HR. There have been positive signs that he put last year behind him. Unfortunately, it still appears that his rookie year, in which he produced a .384 wOBA, is something of a fluke. He hasn't come close since. Still, a wOBA in the .360 range would do just fine.
Brett Wallace: 3 for 4, 3 1B. He's off to a decent start, but with a .424 BABIP and .120 ISO something's going to have to change or else he's going to crash.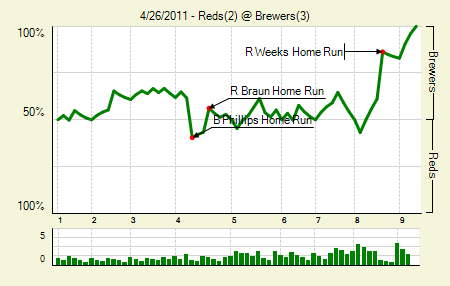 Moving the Needle: Rickie Weeks gives the Brewers the lead with a solo homer in the eighth, +.252 WPA. Every run in this game scored via the home run. Weeks capped the string with a liner that didn't look like it had a chance to leave the park. But it just cleared the wall in left-center, giving the Brewers a 3-2 lead late in the game. Weeks also tripled in the game.
Notables
Ryan Braun: 1 for 4, 1 HR. Just documenting all the homers in this one.
Prince Fielder: 1 for 4, 1 HR. It's an odd numbered year, which means power for Prince! (OK, not really, but it's a neat trend.)
Brandon Phillips: 1 for 4, 1 HR. The only multi-run homer of the game. The only other hit the Reds mustered on the night was a Mike Leake single.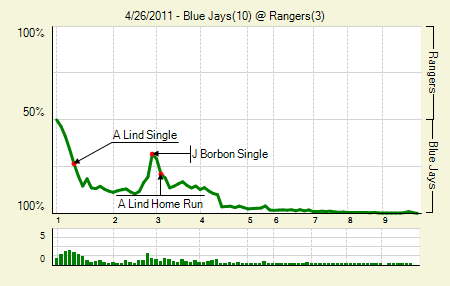 Moving the Needle: Julio Borbon … brings the Rangers to within two, +.122 WPA. The lesson: slaughter another team and the WPA won't move that much. Interestingly, the biggest negative WPA swing in this one also involve a scoring play. In any case, the Blue Jays hit Matt Harrison hard in the first, putting up a five spot before the Rangers even came to bat. they battled back for a few, the biggest blow coming when Borbon singled home two runners, but that was all they'd get. It was pure dominance by the Jays offense all evening.
Notables
Adam Lind: 3 for 5, 2 HR. Boy did he need that. He hit more homers in this game than he had in his 21 previous games combined. His OBP? Still under .300.
Jose Bautista: 1 for 3, 1 2B, 2 BB. He now has 10 more walks (23) on the season than singles.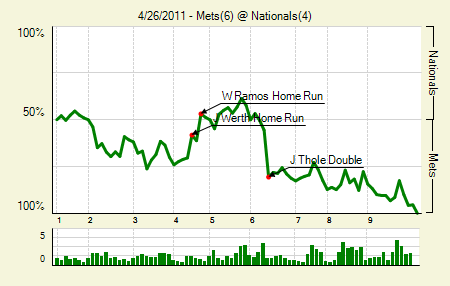 Moving the Needle: Josh Thole breaks the tie with a double, +.250 WPA. If you just looked at the play log here and sorted by WPA, you'd think the Nats won this game. But no, the Mets did take it, thanks in large part to a sixth-inning double by Thole. The Mets got a bit lucky, as Mike Morse tried to catch it instead of cutting it off before it got to the wall, allowing the runner from first to score, giving the Mets a two-run lead.
Notables
Wilson Ramos: 3 for 4, 2 HR. He and Jayson Werth powered the offense, but it just wasn't enough without help from the other six guys.
Ike Davis: 3 for 4, 1 2B. He's hitting like a first baseman this year (.338/.421/.600), but how will he adjust when fewer and fewer of his balls in play drop for hits?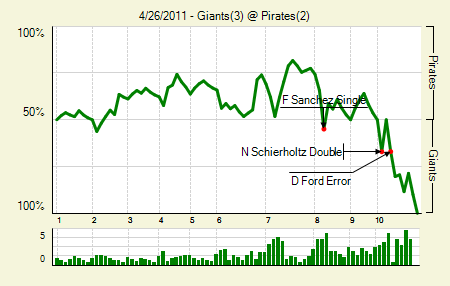 Moving the Needle: Freddy Sanchez sets up the tying run, +.206 WPA. The Giants went and scored the tying run on a sac fly, which is never good for the positive WPA. It's almost as if wasting an out is at least somewhat bad. Anyway, Sanchez's single put runners on first and third with no outs, which gave the Giants two chances to score without getting a hit. They succeeded in their second attempt, which bought them enough time to win the game in extras. Sanchez had the winning RBI there, but it was on a ground out.
Notables
Charlie Morton : 6 IP, 4 H, 1 R, 1 ER, 3 BB, 6 K, 0 HR, 11 GB. His starts lately have been a small sampling of what Brandon Webb did back in the day.
Pablo Sandoval and Aaron Rowand: 2 for 4, 1 2B. Rowand has cooled a bit after a hot start, but he's still light years ahead of last season. Sandoval just keeps cookin', and now has a .408 wOBA.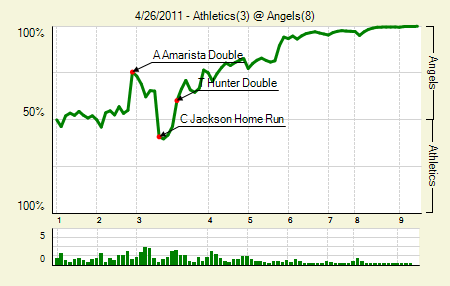 Moving the Needle: Conor Jackson homers the A's to an early lead, +.244 WPA. The scoring opened early in this one, and for a while it appeared as though we'd have a back-and-forth affair. But the A's struck their final blow in the top of the third, when Tyler Chatwood delivered Jackson an inside fastball, and Jackson turned on it. That put the A's up 3-2, though they'd lose the lead in the bottom half of the inning and then continue falling further behind.
Notables
Brandon McCarthy: 5.1 IP, 14 H, 7 R, 7 ER, 1 BB, 3 K, 0 HR, 11 GB. Well, he wasn't going to kill all of his starts. At least he still got a bunch of ground balls.
Howie Kendrick: 3 for 4, 2 2B. His hot start has him leading all MLB second basemen in WAR. He's second among them in wOBA.
Torii Hunter: 3 for 5, 1 2B. He'll need a few more games like this to pull himself out an early season slump.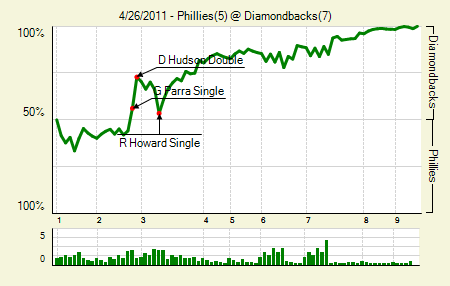 Moving the Needle: Daniel Hudson helps his own cause with a two-RBI double, +.167 WPA. With runners on second and third with two outs in a tie game, Hudson had a chance to give himself the lead in the second. Roy Oswalt dealt him a pitch on the outer half, and Hudson drove it to the opposite field, all the way over Ben Francisco 's head for a double. Hudson gave himself some needed cushion there, as he was good, not great, on the mound, allowing three runs in 10 hits in six innings.
Notables
Ryan Roberts: 2 for 4, 1 HR. You won't find him on the default leader boards, since he's currently just shy of qualifying. But he's at 1.1 WAR already and is eighth in the league in wOBA.
Ryan Howard: 3 for 4, 1 2B, 1 BB. He, Placido Polanco, and Shane Victorino are currently powering a struggling offense.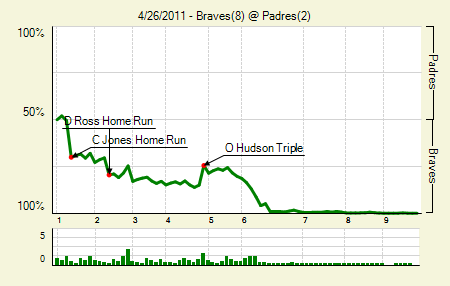 Moving the Needle: Chipper Jones gets the scoring started early, +.196 WPA. See what happens when you bat Jason Heyward higher in the order? He took a one-out walk in the first, which Jones followed with a homer over the wall in right-center, giving the Braves a lead that they'd build on throughout this one.
Notables
Jair Jurrjens: 9 IP, 9 H, 2 R, 2 ER, 2 BB, 4 K, 0 HR, 18 GB. After a rough 2010 and after starting 2011 on the DL, it appears Jurrjens is back in a groove. He actually allowed more runs in this game than he had in his previous two starts combined.
David Ross: 2 for 4, 2 HR. He must love it in Atlanta, because he could be starting somewhere.