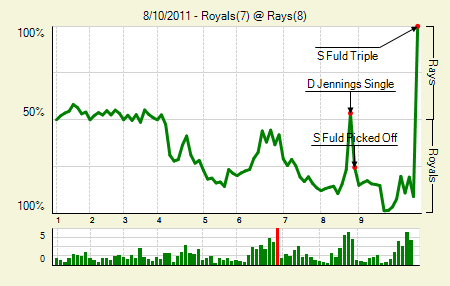 Moving the Needle: Sam Fuld triples and then scores the walk-off run on an error, +.910 WPA. This really should have been divided, with some positive going to Fuld and some negative going to Johnny Giavotella. The Rays trailed 7-3 in the bottom of the ninth, but they got to work right away, riding two singles and a double to a run. A ground out and a single brought home two more, bringing them to within one. Fuld then came up with two outs and crushed one to the wall in right-center. That brought the runner around to tie the game, but more importantly it drew a throw as Fuld slid into third. Giavotella's throw, however, got away from Mike Moustakas, and Fuld was able to dash home to score the winning run.
Notables
Melky Cabrera: 2 for 3, 1 2B, 1 HR. He drove in five runs. This furthers his incredible bounce back year.
Matt Joyce: 3 for 5, 1 HR. He scored twice, including once in the ninth.
---
Also in this issue: Orioles 6, White Sox 4 | Diamondbacks 6, Astros 3 | Indians 10, Tigers 3 | Cubs 4, Nationals 2 | Twins 5, Red Sox 2 | Reds 3, Rockies 2 | Yankees 9, Angels 3 | Braves 6, Marlins 2 | Phillies 9, Dodgers 8 | Mariners 4, Rangers 3 | Padres 9, Mets 5 | Blue Jays 8, A's 4 | Brewers 5, Cardinals 1 | Pirates 9, Giants 2
Moving the Needle: Nolan Reimold's two-run shot in the 10th ends the game, +.365 WPA. It felt like one of those games where the Orioles couldn't catch a break. They went up 4-0 in the fifth, but then let the White Sox right back into it. They picked up one in the sixth and two in the seventh, which eventually pushed the game to extra innings. Reimold wasted no time when he came up in the 10th, though, homering on the first pitch and ending the game right there.
Notables
Juan Pierre: 2 for 5, 1 2B. He drove in a pair. Ever since I ripped him he's hit .321/.364/.390 in 175 PA.
J.J. Hardy: 4 for 5, 1 HR. His .245 ISO leads all MLB shortstops. Only Tulowtizki is within 45 points of him.
---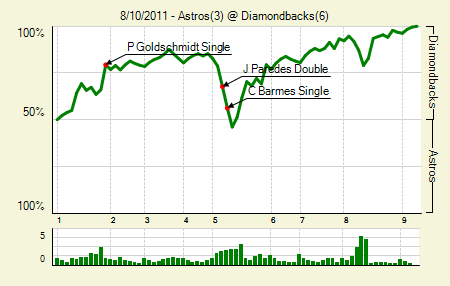 Moving the Needle: Paul Goldschmidt comes through with a bases loaded single, +.133 WPA. The Diamondbacks had no plans to let the Brand New Astros make noise in this one. They started the game with a Willie Bloomquist homer, and then threatened for more when they loaded the bases for Goldschmidt. He didn't do too much, just grounded one through the infield, which allowed two runs to score.
Notables
Justin Upton: 2 for 4, 1 2B. After going 5 for 32 from July 31st to August 8th, Upton has gone 6 for 9 with two doubles and a homer in his last two games.
Josh Collmenter: 7 IP, 4 H, 2 R, 1 BB, 5 K. He has only one game this season where he's walked more than two hitters. He has more games where he's walked zero than games where he's walked one.
---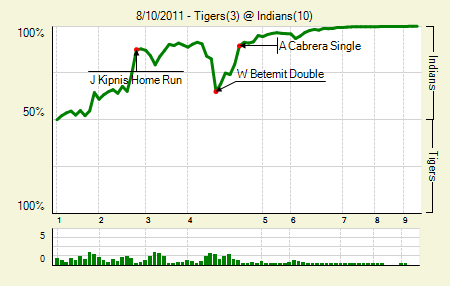 Moving the Needle: Wilson Betemit doubles to bring the Tigers closer, +.175 WPA. The Indians created an early cushion, and ended up needing it. In the fourth, down 4-0, the Tigers put together a two-out rally. A Ryan Raburn triple drove in the first run, and then after a walk Betemit doubled home the two remaining base runners. That made it 4-3, but they couldn't bring home another one. The Indians responded by putting a four-spot on the board in their half of the fourth.
Notables
Ubaldo Jimenez: 8 IP, 6 H, 3 R, 1 BB, 6 K. The one walk and three of the six hits came in that troublesome fourth.
Jason Kipnis: 5 for 5, 1 2B, 1 HR. Have yourself a day, Mr. Kipnis. That's four runs scored and three driven in, making him 18 for 61 on the season (.295/.358/.656).
---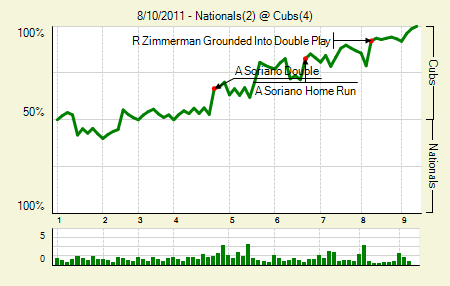 Moving the Needle: Alfonso Soriano doubles to give the Cubs a lead, +.138 WPA. Tied at one in the fourth, Soriano came up with a man on first and two outs. He sent one the opposite way, which allowed Geovany Soto to score all the way from first. Soriano would follow that up later with a solo homer, which gave the Cubs some cushion.
Notables
Reed Johnson: 4 for 4, 1 HR. It was just a solo shot, but in a low scoring game it counts all the same.
Jayson Werth: 2 for 4, 1 HR.
---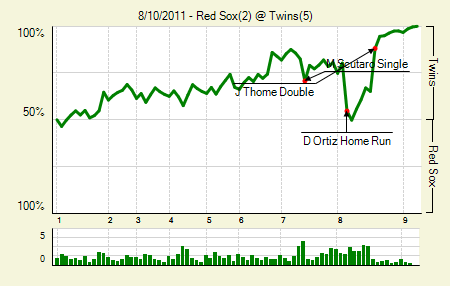 Moving the Needle: David Ortiz homers to tie the game in the eighth, +.256 WPA. If you're going to beat the Red Sox, chances are you'll need to score more than two runs. The Twins found that out the hard way last night, as they saw their 2-1 lead come undone with one swing of Ortiz's bat. They got the message, though, and put together a three-run eighth, taking the lead on a Jim Thome double.
Notables
Joe Mauer: 1 for 2, 2 BB. He scored twice, including the go-ahead run in the eighth.
Nick Blackburn: 6.2 IP, 6 H, 1 R, 2 BB, 4 K. That's about as well as you can ask Blackburn to pitch against the Red Sox.
---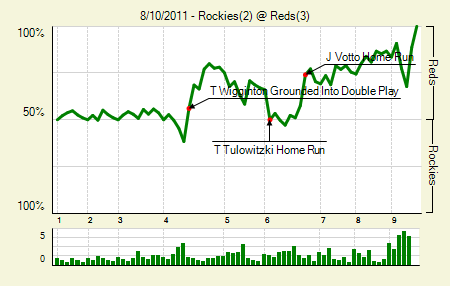 Moving the Needle: Eric Young Jr. gets cut down at the plate in the ninth, =.209 WPA. After falling behind early the Rockies came back to tie the game in the sixth, only to see the Reds re-take the lead later that inning. In the ninth they had another chance, getting a one-out double and a stolen base to set up the tying run. But Dexter Fowler chopped one right back to the pitcher, and they had Young in a rundown. Fowler did make it to second, though, but the Rox couldn't bring him around.
Notables
---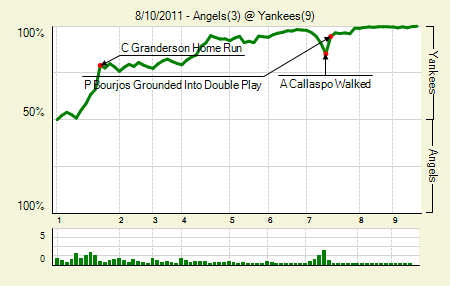 Moving the Needle: Curtis Granderson welcomes the rook to the bigs with a three-run shot, +.127 WPA. Just imagine you're a rookie who hasn't thrown even an inning in AAA. You're making your major league debut as a visiting player at Yankee Stadium. And then, you walk the first two batters you face. Next up, a pair of guys who rank Nos. 2 and 3 on the AL home run list. As if on script, Granderson clubbed a pitch out to the Yankees bullpen in right-center, giving them an early 3-0 lead. Garrett Richards settled down somewhat after that, retiring nine of the next 10 men he faced. But then he got into more trouble in the fourth before surrendering another homer to Granderson in the fifth. That's a new career high, 31, for Granderson.
Notables
Robinson Cano: 3 for 4, 1 2B, 1 3B, 1 HR. He drove in two and scored another two, and was just a single short of the cycle. I don't think anyone's complaining about that.
Nick Swisher: 2 for 4, 1 2B. He also scored two. Even after his terrible start, he leads the Yankees in OBP.
---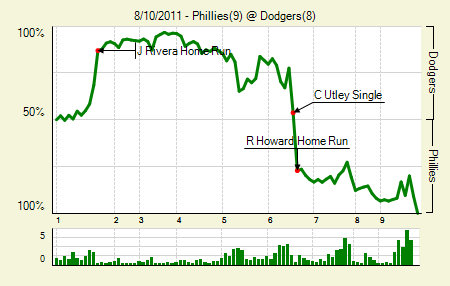 Moving the Needle: Ryan Howard breaks the tie in the sixth with a two-run shot, +.309 WPA. Vance Worley finally showed signs of vulnerability yesterday, as he allowed six runs in the first three innings. It took the Phillies a while to get back into it, but with two outs in the sixth they tied it up. that brought Howard to the plate, with a man on. He came through socking a homer and putting the Phillies up by two. The Dodgers again scored a run in the ninth off Ryan Madson, but it wasn't enough to cover the deficit.
Notables
Juan Rivera: 3 for 4, 1 HR, 1 BB. He drove in four runs. The move to the NL has really rejuvenated him.
Hunter Pence: 1 for 4, 1 HR, 1 BB. He drove in a big two runs.
---
Moving the Needle: Eric Hinske's two-run double puts the Braves up big, +.112 WPA. It was not a typical start for Anibal Sanchez. He allowed two in the first and then three in the second, the last two of which came off Hinske's bat. The first was a bit more embarrassing, of course, since it involved the pitcher singling in a run. The Braves eventually took a 6-0 lead before allowing a few mercy runs in the eighth.
Notables
Dan Uggla: 3 for 5. He drove in two with his first-inning single, which extended his hit streak to 31.
Tim Hudson: 7.1 IP, 6 H, 2 R, 1 BB, 7 K. That's his sixth start with seven or more strikeouts. Last year he did it just four times.
---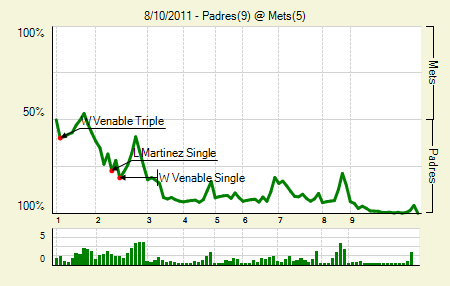 Moving the Needle: Will Venable triples to start the game, +.097 WPA. Normally the first run would take the high WPA mark in this, but it came on a sac fly immediately following Venable's triple, so it actually counted for negative WPA. The lesson, as always: outs are bad. The Padres went on to score two more in the second, including a Venable RBI single, and then another pair in the third.
Notables
Josh Thole: 4 for 5, 1 2B. Without looking at his game logs, I'm going out on a limb to say that's his best game of the season.
Will Venable: 4 for 5, 2 2B, 1 3B. The double mention comes because he was the only real offensive standout for the Padres, despite them scoring nine runs.
---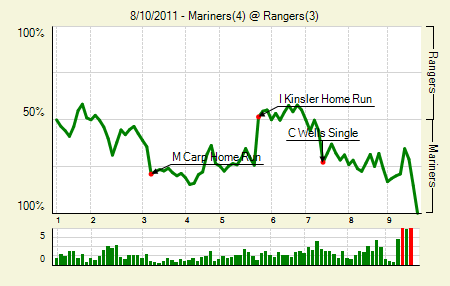 Moving the Needle: Ian Kinsler homers to tie the game, +.258 WPA. For the second game the Mariners took a lead, and for the second game the Rangers came back. It took them until the fifth, but Kinsler's two-run shot tied things up. The Mariners, however, battled back in the seventh, turning a leadoff single into the go-ahead run.
Notables
Mike Carp: 2 for 4, 1 HR, 1 BB. He drove in two and then scored twice.
Casper Wells: 2 for 3, 2 BB. He drove in the go-ahead run in the seventh.
---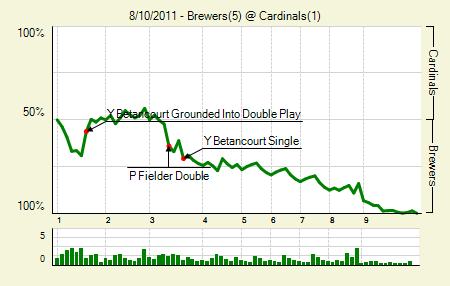 Moving the Needle: Yuniesky Betancourt grounds into an inning-ending double play in the first, -.129 WPA. Poor Yuni. The Brewers appeared on the verge of a big first inning, getting a run and then re-loading the bases. But Betancourt hit into an around the horn double play to end the inning, and then the Cardinals came back with a run in the bottom half. But that didn't stop the Crew, as they scored three in the third and then marched on to another pivotal victory. Milwaukee is now five games up in the Central.
Notables
Randy Wolf: 8 IP, 5 H, 1 R, 0 BB, 1 K. That one run was the Pujols sac fly in the first.
Prince Fielder: 1 for 2, 1 2B, 1 BB. He drove in two, including a first-inning sac fly.
---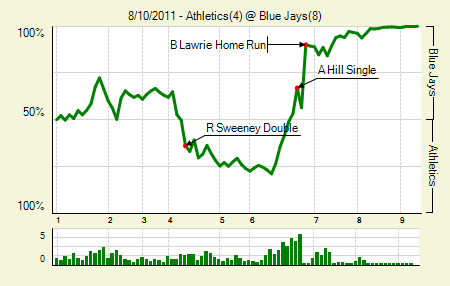 Moving the Needle: Brett Lawrie's grand slam turns around the game for the Jays, +.336 WPA. Down 3-2 in the sixth, Lowrie came up with the bases loaded. On a 2-0 pitch he popped one over the wall in left to put the Blue Jays up. It was his first career granny on only his second career homer. Apparently the pitcher who allowed it, Craig Breslow, didn't like the way Lawrie celebrated it. I dunno. The replay didn't show anything really egregious, except maybe an exaggerated trot.
Notables
Adam Lind: 2 for 5, 1 2B. I felt like I haven't written his name in this space for a while. That's for good reason, I suppose, as he's hit .204/.253/.293 since June 19th.
David DeJesus and Josh Willingham: both 2 for 5, 1 HR. Who are two players that we thought Oakland would deal at the deadline?
---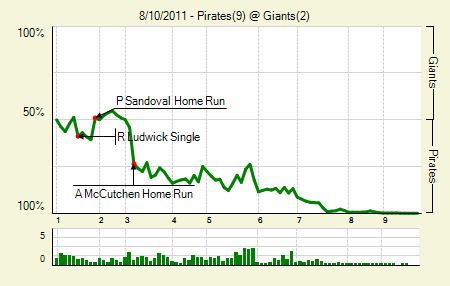 Moving the Needle: Andrew McCutchen's two-run homer breaks the tie, +.193 WPA. Yesterday McCutchen came to the plate five times, but recorded only one official at-bat. That was his third-inning homer that broke a 1-1 tie and gave the Pirates a 3-1 lead. He walked in his other four plate appearances, making for quite a productive day despite recording just one hit.
Notables
Jeff Karstens: 6 IP, 8 H, 2 R, 0 BB, 9 K. That's a career high in strikeouts for him, though he has a few 10+ strikeout games in the minors.
Ryan Ludwick: 3 for 4, 1 2B, 1 BB. He scored twice and drove in one.
---