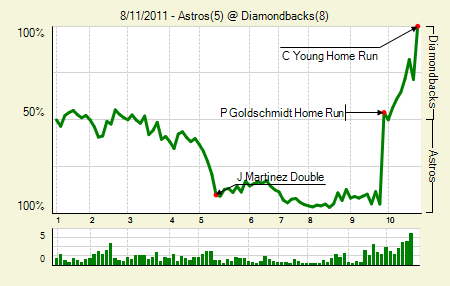 Moving the Needle: Paul Goldschmidt's two-run homer ties the game in the ninth, +.489 WPA. It was the kind of hit that WPA graphs were made for: bottom nine, two out, runner on first, down two, pinch hitter for the pitcher at the plate. Goldschmidt looked at the first four pitches of his AB, working the count to 2-2. He then fouled off a couple before belting a game-tying home run. In the bottom of the 10th Chris Young won the game with a homer of his own.
Notables
Jason Bourgeois: 3 for 5, 1 3B. He scored twice. He had been 0 for the series.
Ryan Roberts: 2 for 5, 1 2B. He has career highs in just about every counting stat, except singles and triples. He's two shy on singles, one on triples.
---
Also in this issue: White Sox 6, Orioles 3 | Tigers 4, Indians 3 | Cubs 4, Nationals 3 | Yankees 6, Angels 5 | Reds 2, Rockies 1 | Rays 4, Royals 1 | Padres 3, Mets 2 | A's 10, Blue Jays 3 | Cardinals 5, Brewers 2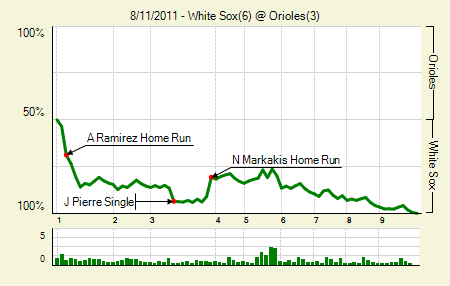 Moving the Needle: Alexei Ramirez gets the Sox started in the first with a two-run shot, +.153 WPA. The White Sox wasted no time in jumping out to a lead against the Orioles. Juan Pierre led off the game with a single, and then Ramirez put them on the board with his 12th homer of the year. The White Sox then got three straight doubles, which drove home another pair. By the time the Orioles finally got on the board the Sox had already scored six.
Notables
Paul Konerko: 2 for 4, 2 2B, 1 BB. Despite the doubles, he didn't drive in any runs, though he did score in the first.
Mark Buehrle: 8 IP, 6 H, 3 R, 0 BB, 6 K. That's just Buehrle, Buehrling it up.
---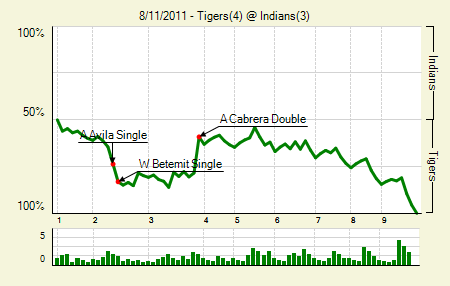 Moving the Needle: Asdrubal Cabrera gets the Indians to within one with a two-run double, +.193 WPA. When Austin Jackson sacrificed home the Tigers' fourth run in the second inning, the game seemed well at hand. Justin Verlander had already thrown a perfect first, and it's not often that he gives up four runs. But in the second he allowed a solo homer, and then in the third he ran into a little jam, which ended with Cabrera's double to right. That made the score 4-3, though that was all the Indians would get.
Notables
Justin Verlander: 7 IP, 3 H, 3 R, 3 BB, 10 K. The 3s are kinda meh, but it's always notable when a guy strikes out 10 in seven innings.
---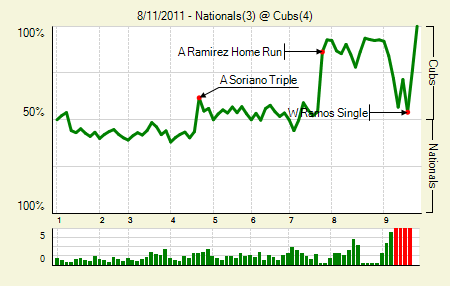 Moving the Needle: Aramis Ramirez homers to break the 1-1 tie, +.320 WPA. The seventh didn't look too optimistic for the Cubs. Jordan Zimmermann struck out the first two batters he faced, which brought Reed Johnson to the plate. He continued his fine season with a ground ball single, and then Ramirez followed that up with a two-run shot. Carlos Pena hit another one behind him, giving the Cubs a 4-1 lead.
Notables
Ryan Dempster: 7 IP, 3 H, 1 R, 2 BB, 6 K. All he allowed was a solo homer, which is always acceptable amid an otherwise excellent start.
Alfonso Soriano: 1 for 4, 1 3B. He drove in the first run. That was his first triple since August 23rd of last year.
---
Moving the Needle: Robinson Cano breaks open the game with a grand slam, +.340 WPA. Scott Downs did the job. He struck out Curtis Granderson and then got Mark Teixeira to bounce into an easy 4-3 force. But Maicer Izturis misplayed the grounder, allowing Teixeira to reach. The miscue loaded the bases for Cano, who ripped into an 0-1 pitch, lining it out of the park. The homer changed the game, giving the Yankees a 6-2 lead and enough cushion to overcome another bout of What's Wrong With Mariano Week.
Notables
Alberto Callaspo: 2 for 5, 1 2B, 1 HR. His two-run gave the Angels a short-lived lead in the fifth.
Derek Jeter: 3 for 3, 1 BB. He's hitting .312/.374/.440 in 140 PA since coming off the DL.
---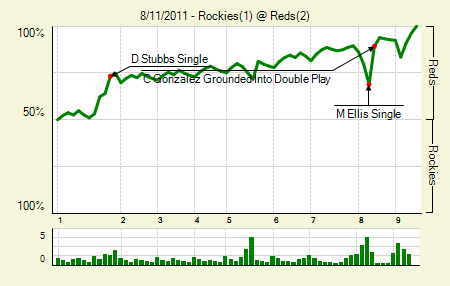 Moving the Needle: Carlos Gonzalez grounds into a double play with two on in the eighth, -.203 WPA. The 2-0 lead the Reds took in the first held up until the ninth, and even then the Rockies couldn't come all the way back. In the eighth they had their shot though, when they put the first two men on base. But then Gonzalez grounded into a 6-4-3 double play that ended the big threat. The Reds stranded the runner at third.
Notables
Jay Bruce: 2 for 4, 1 2B. he drove in one and scored one.
Johnny Cueto: 7 IP, 3 H, 0 R, 2 BB, 9 K. ERA estimators agree: he's not a whole ton better than last year. Results, however, tell a slightly different story.
---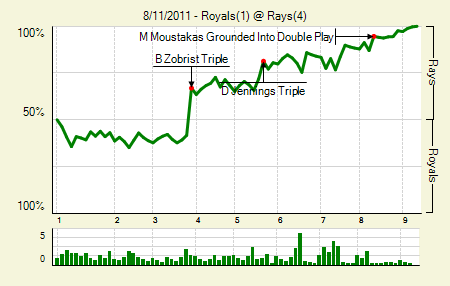 Moving the Needle: Ben Zobrist triples in a pair, +.253 WPA. The Royals took a 1-0 lead in the first in their attempt to avoid the four-game sweep, but the Rays came back a few innings later. It started with a two out walk and then a single. Zobrist then came through with a triple to bring them both home and put the Rays ahead.
Notables
Jeff Niemann: 6.1 IP, 9 H, 1 R, 2 BB, 2 K. How do you know it just wasn't the Royals' series: 11 base runners led to only one run, which was scored on a ground out.
Desmond Jennings: 1 for 4, 1 3B.
---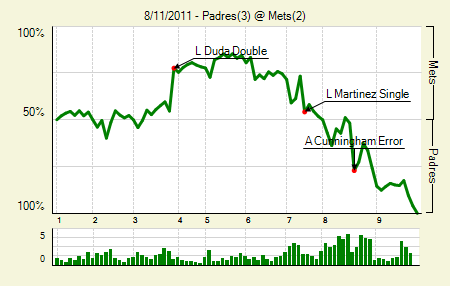 Moving the Needle: Ruben Tejada's error costs the Mets, -.254 WPA. The Padres had a little something going in the eighth, with runners on first an second with one out. A strike out dampened things a bit, but a double steal made it a bit more interesting. That brought Cunningham to the plate, who chopped one to Tejada at short. He booted it, though, allowing the go-ahead, and eventual winning, run to score.
Notables
Jonathon Niese: 7.2 IP, 7 H, 3 R, 2 BB, 7 K. That's a fine performance by him, game-changing error or not.
Cameron Maybin: 2 for 4, 1 HR, 1 BB. He's one shy of the career-high eight homers he hit last year, though he does have almost 100 more PA at this point.
---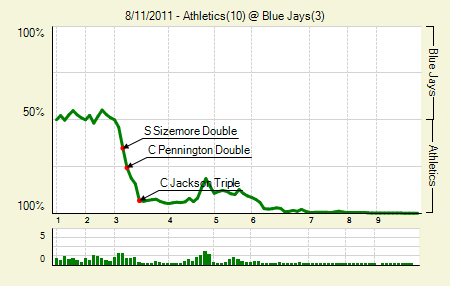 Moving the Needle: Scott Sizemore sets 'em up in the third, +.112 WPA. Strange things are afoot with WPA when there are no outs in the inning. One might expect that Cliff Pennington's two-run double would be the high WPA mark, but apparently it was not. Instead it was the Sizemore double that immediately preceded it. That put runners on second and third, and the A's took complete advantage. Six straight men reached that inning, leading to a six-run inning that buried the Jays.
Notables
Guillermo Moscoso: 6 IP, 3 H, 2 R, 2 BB, 6 K. He's no great shakes, but he's been as good as anyone could have expected.
Hideki Matsui: 4 for 6. They were all singles, but a four-hit day is a four-hit day. He's hitting .432/.481/.663 in 108 PA since the All-Star break.
---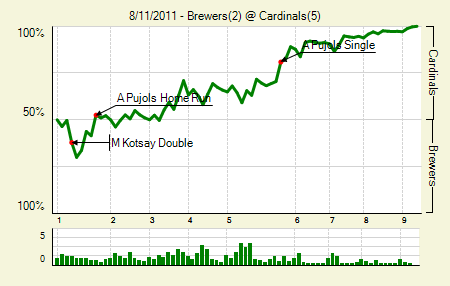 Moving the Needle: Mark Kotsay doubles home the first run in the first, +.119 WPA. It looked like a pitchers' duel on paper, with Chris Carpenter going against Yovani Gallardo. But they each allowed two in the first. Carpenter was up first, allowing a leadoff single and then an RBI double to Kotsay. An RBI single followed that up, but the Cardinals struck with a pair of solo homers in the bottom half. They took the lead on a Lance Berkman single in the third and never looked back.
Notables
Chris Carpenter: 8 IP, 10 H, 2 R, 3 BB, 4 K. That's pretty sad that the Brewers had 13 base runners on Carpenter and scored just twice, and got none after the first.
Albert Pujols: 4 for 4, 1 HR. He drove in two and scored twice, and brought his OBP up to .348. That's just odd to type.
---