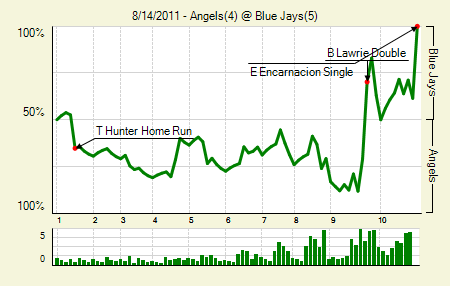 Moving the Needle: Brett Lawrie ties the game with a double in the ninth, +.414 WPA. Lawrie might have gone nuts after his first career grand slam, but in terms of winning games this one was just as big. With one out in the ninth he doubled home the tying run, sending the game to extra innings. The Blue Jays won the game when Edwin Encarnacion singled with two on and two outs.
Notables
Jose Bautista: 3 for 4, 1 HR, 1 BB. With both of the players trailing him in the AL HR race not playing (thanks to rain) Bautista extended his lead.
Peter Bourjos: 2 for 4, 1 2B, 1 3B. If the kid could take a walk he'd be a superb leadoff hitter (which is where he hit yesterday).
---
Also in this issue: Orioles 8, Tigers 5 | Diamondbacks 5, Mets 3 | White Sox 6, Royals 2 | Cubs 6, Braves 5 | Rangers 7, A's 6 | Padres 7, Reds 3 | Mariners 5, Red Sox 3 | Giants 5, Marlins 2 | Dodgers 7, Astros 0 | Brewers 2, Pirates 1 | Cardinals 6, Rockies 2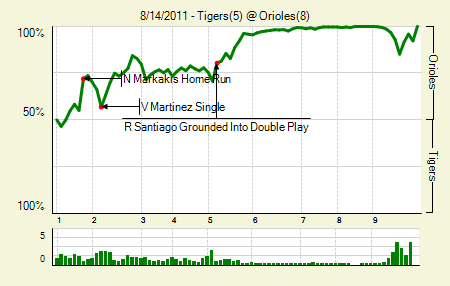 Moving the Needle: Nick Markakis's two-run shot gives the Orioles an early lead, +.169 WPA. The Orioles took advantage of a leadoff single in the first when Markakis put a charge into a sinker and hit it right on top of the 373 sign in right, giving the Orioles an early 2-0 advantage. They'd really open up the game in the fifth, when they scored three, and the sixth, when they added two insurance runs.
Notables
Nolan Reimold: 3 for 4, 2 2B, 1 BB. He scored three runs. It's odd to see his name in the leadoff spot, because he is no prototypical leadoff guy. But hey, the Orioles have room to do whatever they want the rest of the season.
Jo-Jo Reyes: 6 IP, 4 H, 1 R, 2 BB, 4 K. Those were his first strikeouts as an Oriole, in his third appearance.
---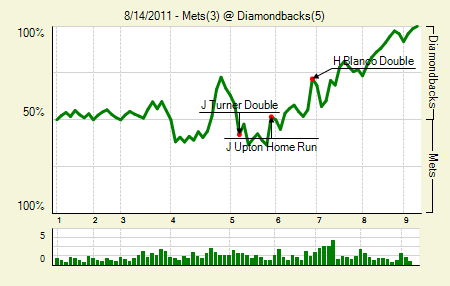 Moving the Needle: Henry Blanco's double breaks the 3-3 tie in the sixth, +.165 WPA. After trading leads in the fourth and fifth, the Mets and Diamondbacks entered the sixth tied at three. Paul Goldschmidt then doubled with two outs, which Blanco followed up with an RBI double that put Arizona ahead. Blanco would also walk with the bases loaded in the eighth to give the DBacks some more cushion.
Notables
Justin Upton: 2 for 4, 1 2B, 1 HR. He's 13 for 24 with three doubles and three homers in his six-game hit streak.
Lucas Duda: 2 for 3, 1 HR, 1 BB. Those were his first hits in the Arizona series, after going 7 for 16 against the Padres.
---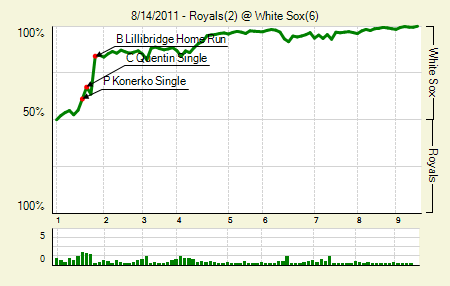 Moving the Needle: Brent Lillibridge breaks the game open in the first, +.203 WPA. The White Sox got an early 1-0 lead when a hit by pitch and a pair of singles brought around a run. Lillibridge then came up with two outs and socked a homer, making the score 4-0. That was enough to essentially bury the Royals, though they did tack on a pair in the fourth.
Notables
John Danks: 6 IP, 4 H, 2 R, 4 BB, 6 K. While that's pretty good, I'm more mesmerized by how he managed to walk four guys in the game.
Paul Konerko: 3 for 3, 2 BB. On base five times and the only time he scored was on Lillibridge's homer.
---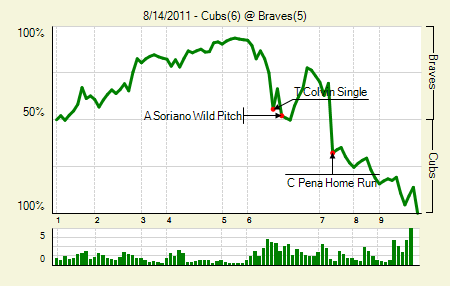 Moving the Needle: Carlos Pena's two-run shot gives the Cubs the lead, +.373 WPA. The Braves had a 4-0 lead, but lost it all in the sixth when the Cubs put together a rally. They took it back in the sixth, thanks to an error, but lost it in the ninth when Eric O'Flaherty surrendered a two-run shot to Pena. It was the only extra base hit in the entire game.
Notables
Michael Bourn: 3 for 4, 1 BB. On base four times, but just one run scored. That's what happens when your 3-4-5 guys go 0 for 11.
Dan Uggla: 0 for 3. He had a sac fly, but no hit. Streak snapped.
---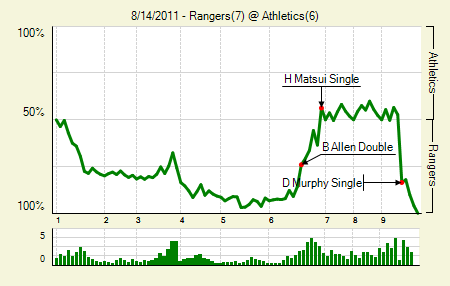 Moving the Needle: David Murphy singles home the go ahead run in the ninth, +.363 WPA. The Rangers took a 6-0 lead by the fifth, but the A's put together a big sixth to tie the score. After scoring 12 combined in the first six innings both teams went scoreless for the next two. The Rangers came up big in the ninth, when a walk, stolen base, and then Murphy's single gave them a lead.
Notables
Brandon Allen: 3 for 4, 1 2B. He scored twice and drove in a run.
Michael Young: 0 for 2, 3 BB. He drove in and scored a run, despite the lack of a hit.
---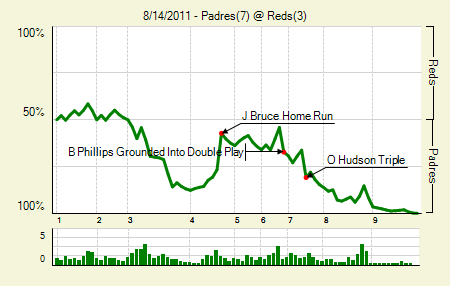 Moving the Needle: Jay Bruce homers to bring the Reds close, +.195 WPA. Dontrelle Willis had looked good for a while, but in the third inning yesterday he completely came apart. A pair of wild pitches, a pair of walks, and a whole lot of singles led to a Padres four-run outburst, chasing Willis from the game. The Reds did get back into it in the fourth, when Bruce's three-run shot brought them to within one. But that's all they'd get.
Notables
Orlando Hudson: 2 for 5, 1 3B.
Wade LeBlanc: 6 IP, 2 H, 3 R, 4 BB, 6 K. Two of those walks came back to haunt him, but otherwise he was surprisingly effective.
---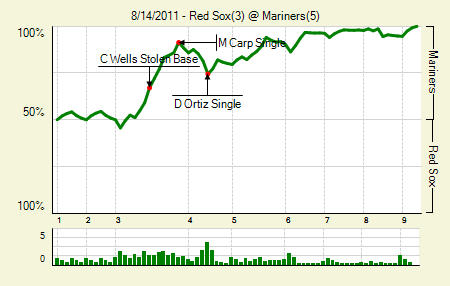 Moving the Needle: Casper Wells's stolen base sets up a multi-run third, +.079 WPA. It's not the biggest WPA swing of the day, not by a long shot. But it certainly is the oddest. Wells led off the third with a walk, and then took third when Jarrod Saltalamacchia missed on the caught stealing attempt. The bad throw allowed an infield single to score him and set up a few more in the inning. They got three there and then added in the fifth and sixth to complete the series win. Wells also homered in the game.
Notables
Charlie Furbush: 7 IP, 4 H, 1 R, 2 BB, 6 K. Even if his career blows up, he can still tell his grandkids that he held the best offense in the league at bay.
Dustin Ackley: 1 for 3, 1 BB. There was a lack of dramatics in this one, as evidenced by the WPA meter. Ackley just continued his solid hitting.
---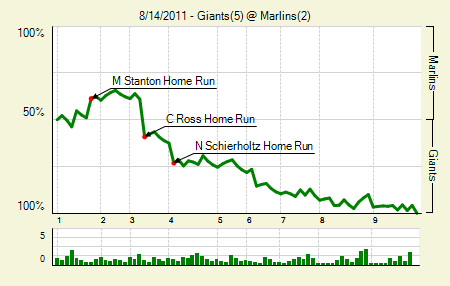 Moving the Needle: Cody Ross puts the Giants a head with a two-run shot, +.202 WPA. In the first Ryan Vogelsong allowed a homer to Mike Stanton, which is completely understandable. Dude crushes baseballs. He made up for it in the third, though, when he drew a one-out walk. Ross followed with a homer to give the Giants a lead that they would not surrender.
Notables
Ryan Vogelsong: 7.2 IP, 4 H, 2 R, 2 BB, 8 K. Again, allowing a solo homer to Stanton is forgivable. The rest of the game was a gem.
Brandon Belt: 2 for 4, 2 HR. He's homered in his first game back after his last two promotions. I think he wants to stick around, you guys.
---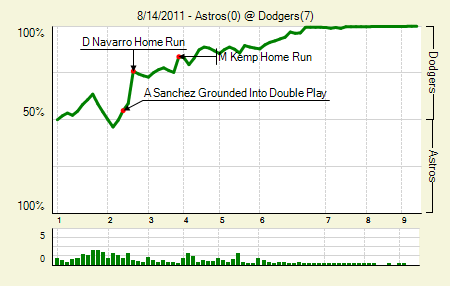 Moving the Needle: Dioner Navarro homers in the second, +.173 WPA. It has not been a good couple of games for rookie Jordan Lyles. Last time out he allowed seven runs in five innings against Arizona. This time it was seven runs in 5.1 innings against LA. Making matters worse is the homer he surrendered to Navarro, a man who has just 39 in over 2,000 career PA. The shot gave the Dodgers a 2-0 lead in the second, which they'd extend throughout the game.
Notables
Hiroki Kuroda: 7 IP, 5 H, 0 R, 1 BB, 6 K. It's nice that he's happy, but he could really be helping a contender right now.
Matt Kemp: 2 for 4, 1 HR. That was homer No. 28, which matches his career high from last year. He has 168 fewer PA so far this year.
---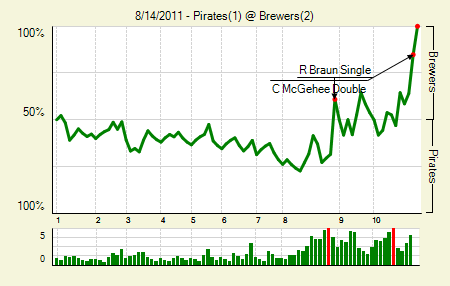 Moving the Needle: Ryan Braun ties the game in the eighth, +.294 WPA. The Pirates had led 1-0 since the first, but in the eighth the Brewers finally battled back. The closer, Jack Hanrahan, was in the game, but he could not tame Braun. His RBI single brought home Jerry Hairston, tying the game at one. A sac fly ended the game two innings later.
Notables
Charlie Morton: 7.1 IP, 4 H, 1 R, 2 BB, 5 K. It was a masterful effort through seven, but his bullpen just couldn't bail him out.
Shaun Marcum: 7.2 IP, 5 H, 1 R, 2 BB, 5 K. He basically matched Morton run-for-run, out-for-out. Just, you know, not right after one another.
---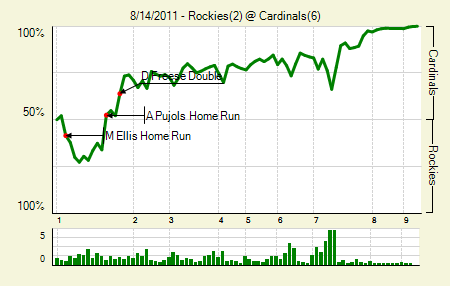 Moving the Needle: Albert Pujols homers to tie things up in the first, +.185 WPA. Edwin Jackson ran into early trouble, allowing a homer, double, and single with one out in the first. The Cardinals evened the score in the bottom half, and then some. Pujols's one-out homer tied the game, and then a pair of doubles brought homer another two later in the inning.
Notables
David Freese: 2 for 3, 1 2B, 1 BB. That was his first extra base hit in August.
Yadier Molina: 3 for 3, 1 2B, 1 BB. That was the first walk he's drawn since July 9th.
---