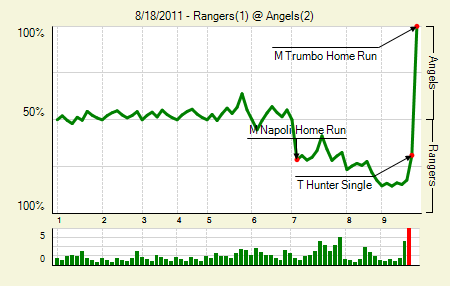 Moving the Needle: Mark Trumbo delivers a win with a walk-off homer, +.690 WPA. The Angels were three outs from getting swept at home by the Rangers, which would have effectively ended their chances at contention. But Torii Hunter led off the ninth with a single, and then Trumbo blasted a walk-off homer. The Angels are still 11 behind Boston in the loss column for the AL Wild Card, and they're six behind Texas in the West. Somehow, seven and 12 seems a degree worse, even though it's just a one-game difference.
Notables
Jered Weaver: 7 IP, 6 H, 1 R, 1 BB, 5 K. His only blemish was a high changeup that Mike Napoli blasted a good 450 feet.
Colby Lewis: 7 IP, 4 H, 0 R, 2 BB, 7 K. That's just what the Rangers needed to complete the sweep. Unfortunately, the revamped bullpen can't be perfect every game.
---
Also in this issue: Braves 1, Giants 0 | Indians 4, White Sox 2 | Dodgers 5, Brewers 1 | Red Sox 4, Royals 3 | Nationals 3, Reds 1 | Yankees 8, Twins 4 | Phillies 4, Diamondbacks 1 | Blue Jays 7, A's 0 | Padres 3, Marlins 1
Moving the Needle: Nick Swisher extends the Yankees lead with a two-run shot, +.133 WPA. The Yankees abused Brian Duensing last night, three times taking him deep to left field. Mark Teixeira did it in the third, turning a 2-1 deficit into a 3-2 lead. Two innings later Swisher extended that lead by smashing a two-run homer of his own, to a spot near Teixeira's, but a little closer to the wall. Andruw Jones followed that up with an absolute bomb to the third deck, which, according to Hit Tracker, went 423 feet. It felt a lot longer than that.
Notables
Curtis Granderson: 3 for 5, 1 3B. His wOBA is .412, which is eighth in the league. Pretty nuts to think about it in those terms. Counting-wise he's 40.7 runs above average, which is 6th best in the majors (3rd in AL).
Eduardo Nunez: 2 for 5, 1 2B. He'll be down some playing time once Alex Rodriguez returns to the field early next week, but he's done an admirable job as a fill-in.
---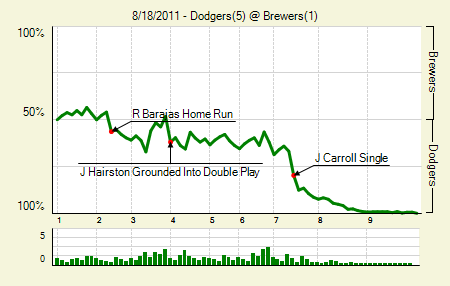 Moving the Needle: Jerry Hairston blows the squeeze play, -.138 WPA. In the third, with the Brewers railing just 1-0, Jerry Hairston came up with runners on first and third with one out. With the count 2-1, the Brewers apparently put on the squeeze sign, but Hairston missed it. Josh Wilson bolted for home, but instead of getting left out to dry he got a surprise when Hariston hacked at one. He shot it to third, which started an around the horn double play that ended the inning.
Notables
Clayton Kershaw: 8 IP, 5 H, 0 R, 0 BB, 6 K. That's his third start with no walks this season, and his 11th with zero or one walk. Last year he had three starts with no walks, but just seven with zero or one.
Rod Barajas: 2 for 4, 1 2B, 1 HR. He had been 0 for 13 in his last five games (four starts).
---
Moving the Needle: Matt LaPorta puts the Indians ahead with a two-run homer, +.231 WPA. The Indians answered a solo homer with a two-run shot a half inning later, giving them a 2-1 lead in the fourth. The White Sox did tie it up in the bottom half, but the Indians re-took the lead in the sixth.
Notables
Kosuke Fukudome: 3 for 4, 1 3B. His triple drove in the tie-breaking run in the sixth.
---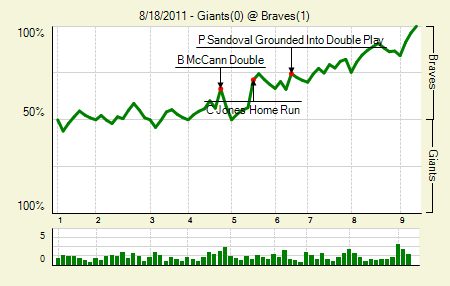 Moving the Needle: Chipper Jones provides the only run of the game with a solo homer, +.149 WPA. The Braves threaened with runners on second and third with one out in the fourth, but couldn't cross any runs. Jones didn't get a chance that inning, but he did hit a solo homer to lead off the next inning, giving the Braves a 1-0 lead that would stick.
Notables
Tim Lincecum: 7 IP, 5 H, 1 R, 2 BB, 7 K. He's allowed zero or one run in seven of his last eight starts — and in the odd one he allowed two runs.
Mike Minor: 6 IP, 4 H, 0 R, 1 BB, 9 K. That ties his season high in strikeouts, though the other nine-strikeout performance came at AAA. He struck out 12 in a start last year, also in six innings.
---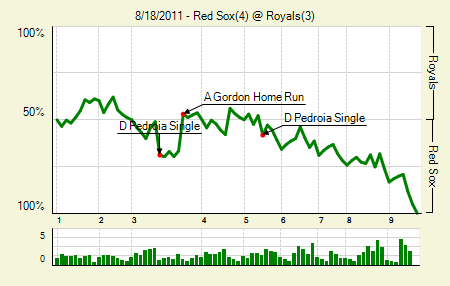 Moving the Needle: Alex Gordon's two-run homer ties the game, +.197 WPA. The Royals struck first, but the Red Sox came back to take a 3-1 lead in the top of the third. In the bottom half the Royals got a one-out base hit, and then Gordon hit his 16th homer of the year to tie it. The Sox then took the lead for keeps in the fifth.
Notables
Dustin Pedroia: 3 for 4, 1 2B. He drove in three runs on to different hits, both of which broke ties.
Josh Beckett: 7 IP, 7 H, 3 R, 0 BB, 4 K. That'll raise the ol' ERA a bit, but for Beckett it was another fine performance.
---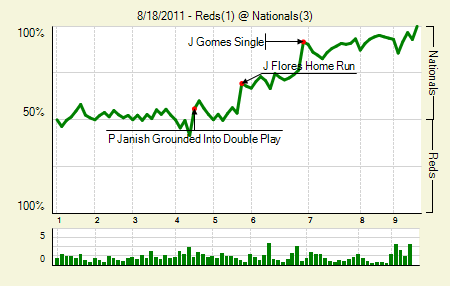 Moving the Needle: Jesus Flores homers to put the Nats on the board, +.159 WPA. For four and a half innings the game remained scoreless, but in the fifth Flores came through with his first homer of the season — and his first since May 8th, 2009. They'd add another pair in the sixth on their way to another win over Cincinnati.
Notables
Jordan Zimmermann: 5.2 IP, 6 H, 0 R, 2 BB, 1 K. It wasn't the prettiest win, but Zim got the job done against an offense that has really struggled.
---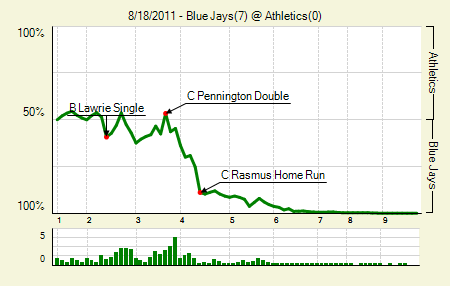 Moving the Needle: Colby Rasmus homers to extend the Jays lead, +.137 WPA. Ahead 1-0 in the fourth, Jose Bautista led off with a double. Two batters later Edwin Encarnacion singled him home, and then the next batter, Rasmus, struck a two-run shot to put the Jays ahead 4-0. It provided Ricky Romero with all the support he'd need, though, really, they'd provided that by the second inning.
Notables
Ricky Romero: 9 IP, 3 H, 0 R, 2 BB, 6 K. That's his second shutout this year, third of his career. In his last five starts he's gone 40.1 IP, 14 H, 4 R, 11 BB, 30 K.
Brett Lawrie: 2 for 3, 1 2B, 1 BB. Living the dream right now. It's pretty amazing what some of the mid-season call-ups, such as Lawrie and Dustin Ackley, have been able to do this season.
---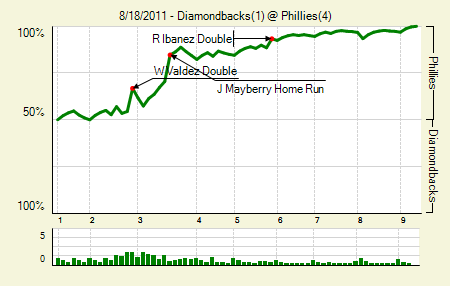 Moving the Needle: John Mayberry homers to extend Philly's lead, +.142 WPA. On Wednesday Mayberry picked up three singles in four at-bats, scoring twice and driving in a run. Yesterday he picked up only one hit, but it was a big fly that put the Phillies up 3-0 in the in the third. A rain delay chased the starters, but the Phillies bullpen had everything under control.
Notables
Raul Ibanez: 2 for 4, 2 2B. He drove in an insurance run later in the game.
Phillies pitching staff: 9 IP, 3 H, 1 R, 1 BB, 10 K. Starter Vance Worley lasted only three innings due to rain, but David Herndon matched him with three innings of one-hit ball. Michael Stutes, Antonio Bastardo, and Ryan Madson each pitched an inning, the last two completing perfect frames.
---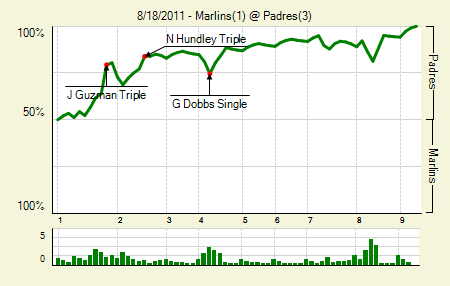 Moving the Needle: Jesus Guzman triples home a pair, +.155 WPA. With one out in the first, Guzman came to the plate with runners on first and third, which turned into second and third when Cameron Maybin swiped a bag. He then came through with a triple to right, which obviously brought around both base runners. That gave the Padres the early lead they needed. It might be only 151 PA, but his .414 wOBA leads all rookies this year. (I'm pretty sure Allen Craig isn't actually a rookie, even though he appears on our rookie leader boards; that doesn't take into consideration service time, I think, which accounts for the miscategorization.)
Notables
Tim Stauffer: 7 IP, 5 H, 1 R, 1 BB, 5 K. That's a nice bounceback after allowing nine runs in three innings last time out.