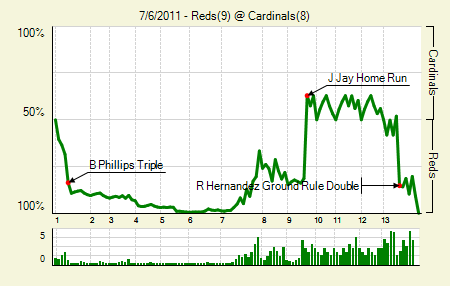 Moving the Needle: Jon Jay homers to tie the score at eight, +.443 WPA. This is easily the best WPA graph of the night, and it certainly indicates an enjoyable watch for those who enjoy slugfests. The Reds jumped out to a 5-0 lead in the first before they recorded an out, which is why the chart dipped so precipitously. They then made it 8-0 in the fifth. In the sixth and seventh the Cardinals mounted their comeback, getting two in the sixth and then a huge five-run seventh. The tying run came in the bottom of the ninth, a leadoff shot by Jay. That sent the game deep into extra innings, and it ended only when the Ramon Hernandez doubled home a run in the 13th.
Notables
Jay Bruce: 2 for 5, 1 HR, 1 2B, 1 BB. His homer in the first made it 5-0. It was his first hit since Saturday.
Daniel Descalso: 4 for 6, 1 2B. He was an unexpected contributor in this one, driving in two and scoring a pair himself.
---
Also in this issue: Tigers 5, Angels 4 | Braves 9, Rockies 1 | Red Sox 6, Blue Jays 3 | Marlins 7, Phillies 6 | Royals 4, White Sox 1 | Mets 5, Dodgers 3 | Indians 5, Yankees 3 | Brewers 3, Diamondbacks 1 | Rays 12, Twins 5 | Nationals 5, Cubs 4 | A's 2, Mariners 0 | Astros 8, Pirates 2 | Rangers 13, Orioles 5 | Giants 6, Padres 5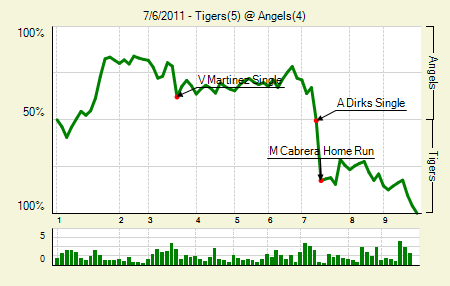 Moving the Needle: Miguel Cabrera's two-run shot breaks the tie and caps a seventh-inning comeback, +.321 WPA. The Tigers fell behind 3-0 in the first, but worked their way back with a pair in the third. In the seventh they got to the Angels bullpen, tying the game on a walk, sacrifice, and single, and then taking a two-run lead when Cabrera mashed one out to the bullpen in left.
Notables
Mark Trumbo: 1 for 4, 1 HR. His solo shot brought the Angels to within one in the bottom of the seventh, but it was the last run they'd get.
Austin Jackson: 0 for 1, 4 BB. He scored twice.
---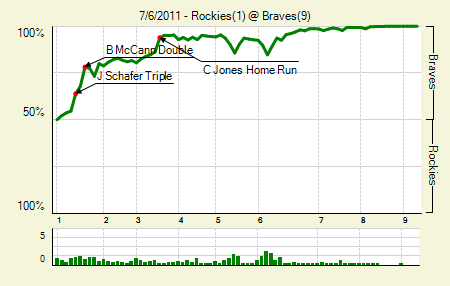 Moving the Needle: Brian McCann extends the lead with an RBI double, +.103 WPA. The Braves started the bottom of the first with three straight hits — a triple, single, and double — to take a 2-0 lead before they made an out. McCann's double was deep enough into the gap that it allowed Alex Gonzalez to score from first. The Braves would get another in the first when Eric Hinske drove in McCann, and then jumped out to a bigger lead when Chipper Jones struck a two-run homer in the third.
Notables
Jair Jurrjens: 6 IP, 5 H, 1 R, 2 BB, 2 K. He leads the league with a 1.87 ERA in 110.2 IP.
Jordan Schafer: 3 for 5, 1 3B. That gives him a multi-hit game in three of his last six, but it is his first extra base hit in his last eight starts.
Dan Uggla: 2 for 3, 1 HR, 1 BB. He has gone 4 for 8 with a double, two homers, and four walks in the Colorado series.
---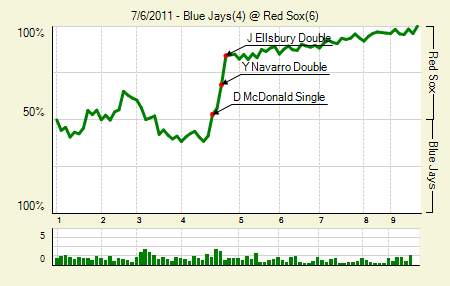 Moving the Needle: Jacoby Ellsbury's two-run double puts the Sox up by three, +.155 WPA. Ricky Romero has been having a fine 2011 season, except when he pitches against the Red Sox. Last time out he allowed five runs in 4.1 innings, and last night was a tad worse. He allowed a run in each of the first two innings, both on solo shots, before falling apart in the fourth. He actually got the first two batters in the inning, but then went double-single-single-double-double to lose the lead and fall far into deficit. Ellsbury, who homered earlier in the game, capped the rally with a double high off the wall in center, bringing home two runners and putting the Sox up 6-3.
Notables
Kevin Youkilis: 3 for 4, 2 2B, 1 HR. He and Ellsbury had nearly identical days. His power is a bit down this year, which might make his .392 wOBA a bit stealth, though that makes it no less stellar.
Yunel Escobar: 4 for 5, 1 2B. He scored twice and drove in a run. His .360 wOBA ranks third among AL shortstops. No. 4 is at .333.
---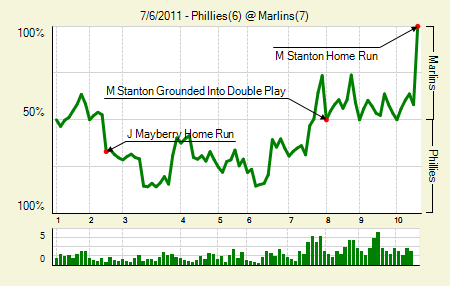 Moving the Needle: Mike Stanton walks off in the 10th with a solo shot, +.419 WPA. The Marlins were constantly playing catch-up last night. They were down 4-0 after the Phillies hit in the third, and even after they picked up three in the bottom half the Phillies struck again to make it 5-3, and then two innings later to take a three-run lead. In the sixth and the seventh the Marlins came back, though, taking the game into extra innings. In the 10th Stanton got a hanger from Danys Baez, and he hit a pea over the big wall in left to end the game. It's hard to overstate the raw power Stanton has displayed during his brief time in the bigs. His .359 ISO ranks 10th among all major leaguers in the last two seasons, and he's just 21 years old.
Notables
John Mayberry: 2 for 4, 2 HR. Not bad for a fill-in.
Hanley Ramriez: 3 for 5. They might have been all singles, but he drove in a pair, including the tying run in the seventh.
---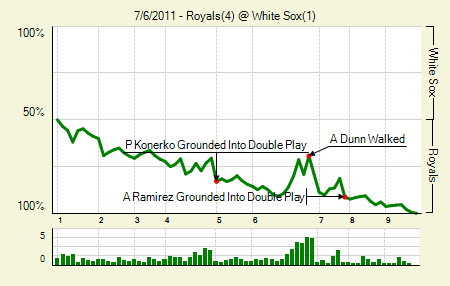 Moving the Needle: Paul Konerko grounds into a double play as the tying run, -.124 WPA. This one is surprising, if only because it came so early in the game. The Royals scored a run in each of the first two innings, putting the Sox in an early hole. In the fourth they put two men on with one out, with their best hitter, Konerko, at the plate. But he grounded one to third, starting the ol' 5-4-3 double play. They'd go down 4-0 before finally scoring a run in what appeared to be a rally in the sixth. But after loading the bases with none out they only managed that one run.
Notables
Eric Hosmer: 2 for 4, 1 HR. That's his eighth homer, and his third in four games. His season so far is right in line with reasonable expectations for a 21-year-old first baseman.
Bruce Chen: 6 IP, 4 H, 1 R, 3 BB, 4 K. They even left him in to finish the bases loaded situation in the sixth, and yup, he got out of it.
Juan Pierre: 2 for 4. Since I trashed him he's gone 13 for 41 with two doubles, a triple, and five walks.
---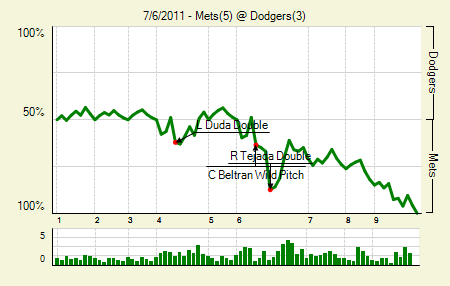 Moving the Needle: Ruben Tejada's two-run double opens up a good lead for the Mets, +.206 WPA. With the game tied at one heading into the sixth, the Mets took control. Carlos Beltran came around to score on a wild pitch after a leadoff double, and then with the bases empty and two outs the Mets got a little rally going. Two singled preceded Tejada's double into the right-center field gap. That put the Mets up 4-1, which allowed them to stave off the Dodgers' advances in the bottom half.
Notables
Carlos Beltran: 2 for 5, 2 2B. With his numbers somewhat resembling his peak years, he could fetch the Mets quite a bounty should they opt to trade him at the deadline.
Lucas Duda: 2 for 4, 1 2B. He got the mini rally started in the sixth with a single, and he drove in a run with a double.
---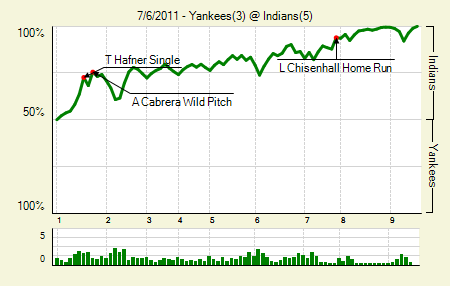 Moving the Needle: Travis Hafner baffles the shift, +.089 WPA. Phil Hughes did not have a fun first inning back after a long stint on the disabled list. He walked the first man he faced, and then allowed singles to the next two. The second came to Hafner, and he hit it right where the shortstop normally would have played. But with a runner on second Alex Rodriguez had to play close to the bag at third, while Derek Jeter (who got a hit and is three away from 3,000) stood behind second. That allowed the first run to score. The second scored when Carlos Santana struck out on a curveball in the dirt, which got away from Russell Martin. he fired down to third, but it bounded into left field. Hughes wasn't smooth the rest of the way, as he allowed a base runner in each of his five innings. But that was the end of the damage he allowed.
Notables
Lonnie Chisenhall: 1 for 4, 1 HR. That's his first big league bomb, and it came off a lefty, no less. Then again, that lefty was Boone Logan, so there's that.
Justin Masterson: 8 IP, 3 H, 0 R, 2 BB, 6 K. He looked pretty untouchable most of the time. Of course, the Yankees only scored after he left the game.
---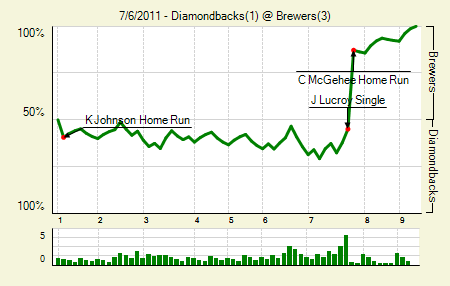 Moving the Needle: Casey McGehee's homer turns the deficit into a lead, +.422 WPA. In the top of the first Kelly Johnson whaled a homer to dead center, and that single run held up through the first six and a half innings. But in the seventh the Brewers came through. They got a pair of one-out singles before McGehee hit one over the wall in right-center. That put the Brewers up 3-1 with just six outs left to record. They got them in order, the last four, and five of the last six, on swinging strikeouts.
Notables
Yovani Gallardo: 7 IP, 4 H, 1 R, 1 BB, 6 K. This season is starting to look a lot like 2009, just with a few more ground balls. That's not a great thing, but it certainly is good.
Josh Collmenter: 6 IP, 3 H, 0 R, 1 BB, 3 K. And so we see the importance of going deep into games. As soon as he exited the Brewers took the lead.
---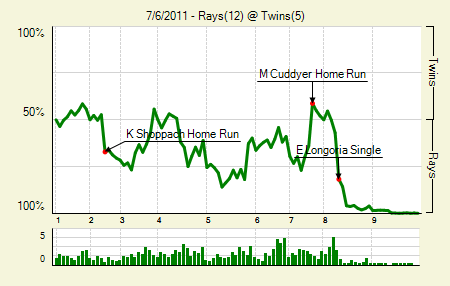 Moving the Needle: Evan Longoria puts the Rays back ahead, +.248 WPA. The Rays were up as big as 5-2 earlier in the game, but the Twins put together a mid-innings come back, capped by a Michael Cuddyer solo homer to tie it in the seventh. But in the eighth the Rays took everything back. With two on and one out Longoria pulled a grounder into left field to break the tie, but that was only the start. After a bunt scored another run, Sean Rodriguez homered to put the Rays up big. Longoria added a homer in the ninth for good measure. And to torture Twins fans — at least the ones who were still watching.
Notables
Casey Kotchman: 3 for 4, 1 2B, 1 BB. At some point that .374 BABIP will come crashing down, but until then the Rays are getting some serious production out of Kotchman. A guy who didn't make the team out of spring training, Kotchman has produced 2.1 WAR to date.
Kelly Shoppach: 1 for 2, 1 HR, 1 BB. Nearly a quarter of his hits this season are home runs (5 of 21).
---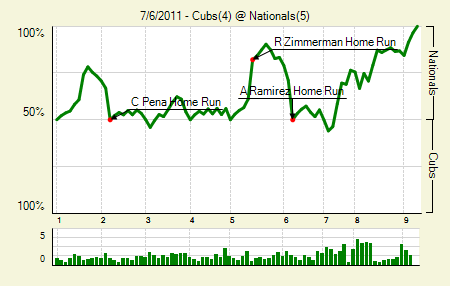 Moving the Needle: Ryan Zimmerman and Aramis Ramirez both hit two-run homers, +.210 WPA each. Actually, the top four WPA plays in this game were all two-run homers, two for each of the teams. That's why I'm going to break convention and say that Wilson Ramos's suicide squeeze to break the tie was the biggest play. After all, they were all even at that point, not only in the runs they scored, but how they scored those runs. The seventh inning was the difference. Michael Morse led off with a double and advanced to third on a fly ball. Then came the play with Ramos. It was a perfect squeeze bunt; Morse scored before the pitcher even fielded the ball. In a game of homers, small ball was the decider.
Notables
Ryan Zimmerman: 3 for 4, 2 2B, 1 HR, 1 BB. In his last three starts he's 6 for 10 with two doubles, a homer, and four walks.
Carlos Pena, Aramis Ramirez, and Danny Espinosa: all 1 for 4, 1 HR. Those are the other two-run homer guys. Espinosa added a walk to his ledger.
---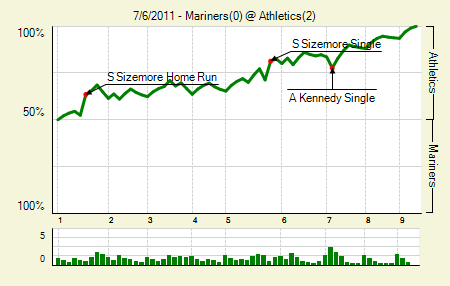 Moving the Needle: Scott Sizemore starts it off with a solo homer, +.111 WPA. In fact, Sizemore drove in both runs. In the bottom of the first he pulled a solo homer to left-center to give the A's an early lead. Then in the fifth he singled home the game's second run. That was all the scoring either team would do, which can be expected of an A's-Mariners tilt.
Notables
Guillermo Moscoso: 7 IP, 2 H, 0 R, 1 BB, 5 K. Twice in his last three starts he's gone seven innings and allowed zero runs.
Jason Vargas: 8 IP, 5 H, 2 R, 1 BB, 6 K. Under normal circumstances this would be a fine start. Under circumstances that have the worst offense in the league behind him it's still fine, but just not good enough.
---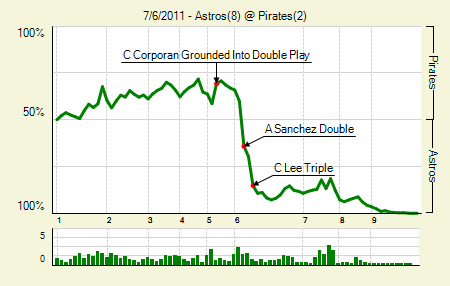 Moving the Needle: Angels Sanchez doubles home the tying run, +.242 WPA. The Astros looked like they were heading quietly towards a third straight loss to the Pirates, putting just four men on base through the first five innings. But in the sixth they broke out, taking advantage of an error to start the inning. It was immediately after the error that Sanchez doubled home the Astros first run. Another error put him on third, though he likely would have scored on Hunter Pence's follow-up single anyway. A triple and a double made it 4-1 Astros, and a single to top it off added a fifth run. A ninth-inning rally extended the lead even further.
Notables
Bud Norris: 7 IP, 7 H, 2 R, 2 BB, 3 K. He's had some strange performances this year, but it's hard to argue with his effectiveness to date. His peripherals, after all, are right in line with his ERA.
Jeff Keppinger: 2 for 4, 1 2B. He drove in a pair.
---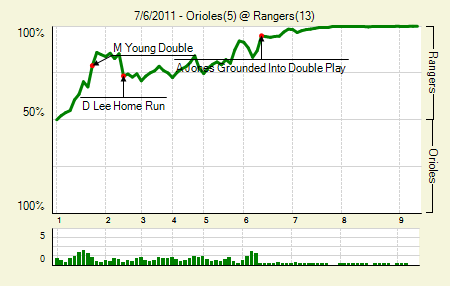 Moving the Needle: Derrek Lee homers to bring the Orioles to within two, +.119 WPA. We officially have a winner for most baffling big WPA swing. The Rangers picked up four in the bottom of the first. Normally that first one would be a decent swing, but it came on a sac fly. Alright, whatever. But then Michael Young doubled home a run. That's gotta count for something right? Sure, and it came in just below Lee's homer — which came in the top of the second. The Rangers got both of those runs back in the fifth. The sum of the positive WPA from those two consecutive RBI base hits? That's right: .119.
Notables
Elvis Andrus: 3 for 4, 2 2B, 1 BB. He scored three of the four times he was on base. That's six walks in his last seven games, though he's still well behind last year's 9.5% walk rate.
Adrian Beltre: 2 for 3, 2 2B. He also had a sac fly, giving him two driven in to go with two scored in the game.
Michael Young: 3 for 4, 1 2B. He drove in three. He's a little over halfway to earning his $16 million salary this year ($8.7 million in WAR dollars).
---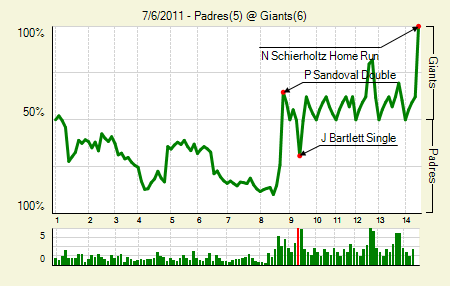 Moving the Needle: Pablo Sandoval ties the game with a two-run double, +.389 WPA. This graph is only slightly less interesting than the one above it. As in the above game, the visiting team took a first-inning lead and held onto it into the late innings. But in the bottom of the eighth Sandoval got a hold of a low and inside pitch. He appeared to think he got all of it, but it hit the warning track. That brought home both base runners, tying the score at five. That extended the game quite a while, all the way to the 14th, when the Giants won on a walk-off homer.
Notables
Nate Schierholtz: 3 for 6, 2 HR. They were both solo blasts, but in a game like this they were both huge. His was the walk-off. It seems as though he'd hit more than four homers before yesterday.
Andres Torres: 3 for 6, 2 2B. He scored twice, the second time on Sandoval's double.
Dustin Moseley: 7.1 IP, 5 H, 4 R, 1 BB, 9 K. Normally a pitcher who gives up four, or even three, runs wouldn't be in here, but 9Ks is huge for Moseley. That's easily the highest mark of his career.