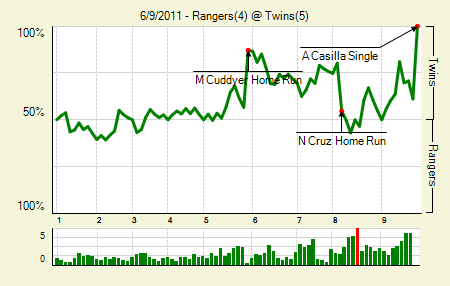 Moving the Needle: Alexi Casilla walks off with a single, +.389 WPA. Trading homers back and forth worked for the Twins and Rangers, at least through eight innings. Josh Hamilton and Delmon Young got the ball rolling, homering in the first and then the second. Michael Cuddyer, however, struck gold when his three-run shot put the Twins up 4-1. A half inning later, the Rangers manufactured a pair, and then in the eighth tied it on, yes, a Nelson Cruz homer. Luke Hughes set up the walk-off in the ninth with a leadoff double, and with two outs Casilla drove him in with what would have been a double to the left field corner.
Notables
Delmon Young: 3 for 4, 1 HR. That's his first homer since May 22nd. Even more troubling, he has only two doubles in the interim.
Nick Blackburn: 7.1 IP, 10 H, 4 R, 1 BB, 6 K. No, it wasn't a great start, even though only two of the runs were earned (still don't like the earned run rule). But it seems that every time I look at his pitching line he has five or six Ks in six or seven innings. Yet his strikeout rate is only barely above his career average. Confirmation bias ahoy.
---
Also in this issue: White Sox 9, A's 4 | Rockies 9, Dodgers 7 | Tigers 4, Mariners 1 | Braves 3, Marlins 2 | Royals 3, Blue Jays 2 | Cardinals 9, Astros 2 | Twins 5, Rangers 4 | Mets 4, Brewers 1 | Red Sox 8, Yankees 3 | Cubs 4, Phillies 3 | Diamondbacks 2, Pirates 0 | Padres 7, Nationals 3 | Reds 3, Giants 0
---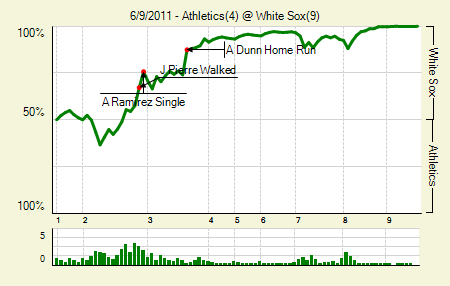 Moving the Needle: Adam Dunn opens up a big lead for Chicago with a homer, +.134 WPA. The Sox didn't particularly crush the ball off of Trevor Cahill. They picked up three in the second, but that was all singles, walks, and sac flies. The Sox got another single in the second, and then they finally hit him hard. Dunn got a fastball tailing away, and he took it the opposite way for his sixth homer of the year, making the game 5-1. Cahill remained in the game, probably on account of most of the damage being singles. He gave up three straight after the Dunn homer and then walked in a run. Only then did new manager Bob Melvin come out of the dugout to fetch him.
Notables
Paul Konerko: 2 for 5, 1 HR. He's hit in 10 straight and is 17 for 37 with six doubles and five homers.
Hideki Matsui: 2 for 4, 1 HR. He has gotten off to an even slower start than last year, and found himself on the bench for much of the past few weeks. Last night was his first extra base hit since May 17th and his first homer since May 2nd.
---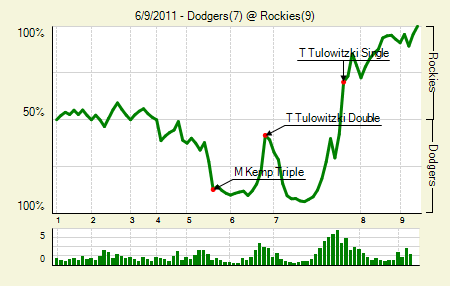 Moving the Needle: Troy Tulowitzki's bases loaded single ties the game at seven, +.278 WPA. The Dodgers jumped out to a 4-0 lead by the fifth, but the Rockies made it close by putting up three in the sixth. The Dodgers, however, answered with three of their own in the seventh. As they did in the sixth, the Rockies loaded the bases in the seventh. Also as in the sixth, Troy Tulowitzki came up with the bases loaded. Even further, he again drove in two runs, but this time it tied the score at seven. It was a pretty ugly inning overall for the Dodgers, as they went through four pitchers, two of whom walked in a run.
Notables
Carlos Gonzalez: 3 for 5, 1 2B. It's not surprising that he's below last year's production levels, but it is surprising that he's at a mere 99 wRC+.
Matt Kemp: 3 for 5, 1 2B, 1 3B, 1 HR. I don't think anyone cares that he was a single short of the cycle. Also, the cycle is pretty dumb.
---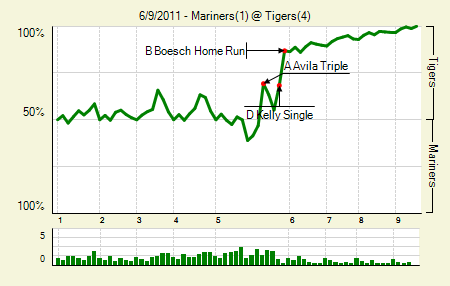 Moving the Needle: Alex Avila triples to tie the score in a big fifth, +.224 WPA. A catcher hitting a triple is rare enough. A catcher hitting his second triple of the day, in the fifth inning? Almost unheard of. That's the kind of season Avila is having. His first triple didn't result in anything, but his second one drove in the tying run, somewhat absolving Justin Verlander for his run-allowing wild pitch a half inning earlier. The Tigers made two outs before they could drive in Avila, but Don Kelly did that with a single, and then Brennan Boesch homered to cap the rally.
Notables
Justin Verlander: 8 IP, 5 H, 1 R, 1 BB, 10 K. His only mistake was the wild pitch, which hurt a bit more, because he retired the hitter he was facing. His counterpart, Doug Fister, also threw eight innings, but his was in a bit less impressive fashion, on account of the fifth inning.
Brennan Boesch: 2 for 3, 1 2B, 1 HR, 1 BB. He's hacking a bit less this year, which has helped produce some excellent results so far.
---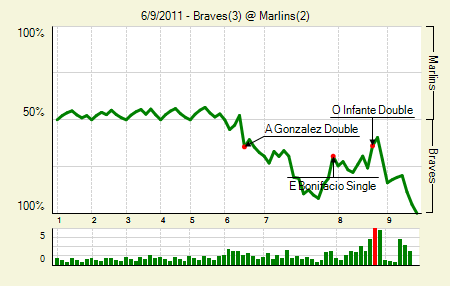 Moving the Needle: Alex Gonzalez breaks the scoreless tie in the sixth, +.168 WPA. Just when Chris Volstad appeared to be rolling, he gave in a bit. With a runner on second and two outs he allowed the double to Gonzalez, ending the shutout. Things got a bit worse in the seventh, and might have been worse still had the Braves not botched a hit-and-run. In any case, Volstad let a run score on a wild pitch, and then let the opposing pitcher drive in another. He still ended with a decent, but not great, line.
Notables
Jair Jurrjens: 7 IP, 6 H, 2 R, 0 BB, 2 K, 1 HR. He only faltered temporarily, after the Braves had taken the lead in the seventh. But a homer to Mike Stanton is always forgivable. The other run? Eh. Maybe he was rattled a bit. After all, the homer, as with most of Stanton's, was pretty impressive.
---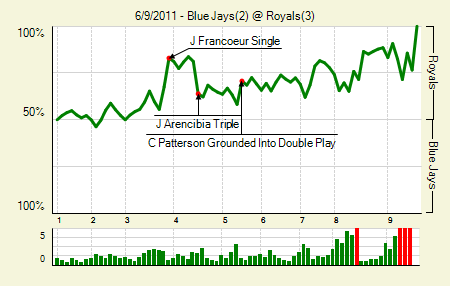 Moving the Needle: Corey Patterson leaves the bases loaded to end the game, -.234 WPA. After the Royals took a 3-0 lead in the third, the Blue Jays finally got to work. They had gone nine up, nine down (with a single and double play), but they immediately came back to score a pair in the fourth on a J.P. Arencibia triple — which was the game's highest positive WPA swing. They proceeded to put men on base in every subsequent inning. They failed in the eighth with runners on second and third with two out, and then in the ninth, facing Joakim Soria, they again threatened. Two singles and a walk loaded the bases with two outs for Corey Patterson. But he could only fly out to the infield, ending the game and finally giving the Royals a W.
Notables
Eric Hosmer: 2 for 4. They were both singles, but he did drive home the game's first run.
Wilson Betemit: 1 for 4, 1 2B. Sorry, dude. You just lost your job.
---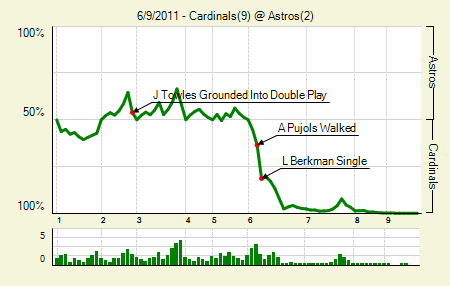 Moving the Needle: Lance Berkman puts the Cards on top in the sixth, +.179 WPA. After trading runs in the first, the Cards and Astros went silent through the next four. Then the Cards turned it up to 11 — or five, the number of runs they scored in the sixth. Berkman kicked off the rally with an RBI single to give the Cards a lead. A grounder scored another run, and then a bases loaded walk — seems to be a theme of the evening — and a double rounded out the frame. There were random runs after that, but the Cards essentially took the game in the sixth. Berkman himself added a homer in the ninth.
Notables
Ryan Theriot: 2 for 5, 1 2B, 1 HR. At a 104 wRC+, he's definitely hitting the upper end of projections.
Albert Pujols: 1 for 4, 1 2B, 1 BB. Just because he's continuing his road back with authority. He scored twice.
---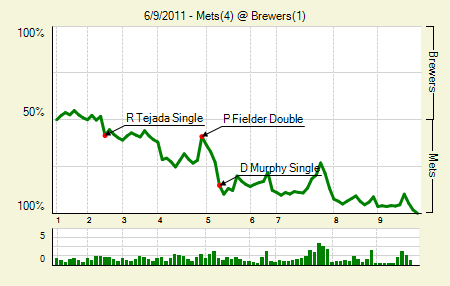 Moving the Needle: Prince Fielder's double gets the Brewers on the board, +.126 WPA. It was the Brewers' only run, but it also moved the WPA line the furthest. Already down 2-0, Prince Fielder slammed one off the base of the wall in right-center to score Ryan Braun from first. But that was it for them. Daniel Murpy had the second highest WPA play, just 2 points lower than Fielder's. His single, which came as part of a four-single barrage, put the Mets up 3-1.
Notables
Angel Pagan: 2 for 4, 1 3B, 1 BB. His overall numbers look bad, but since coming back from the DL he's 18 for 52 with two doubles and a triple. (.346/.375/.423).
Jonathon Niese: 7.2 IP, 3 H, 1 R, 4 BB, 8 K. That matches his career high in strikeouts, and the first time he's done it in 2011. He struck out eight three times in 2010.
---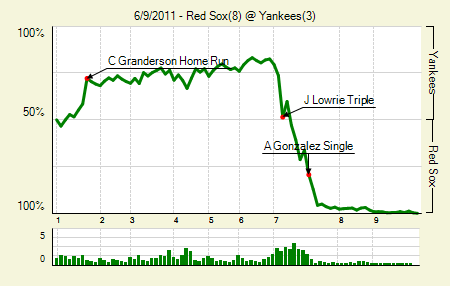 Moving the Needle: Jed Lowrie's triple gets the Sox on the board in the seventh, +.223 WPA. Through six innings CC Sabathia had cruised, allowing just two hits. He had also retired eight straight after plunking David Ortiz. The game was delayed three and a half hours, so maybe he was just tired. Whatever the reason, the wheels came off in the seventh. Ortiz started the rally with a single, and then Lowrie's triple gave the Sox their first run. By the end they had put up a seven spot, which was enough to complete their second straight three-game sweep of the Yankees.
Notables
Josh Beckett: 7 IP, 4 H, 2 R, 2 BB, 6 K. His game started off with a hit by pitch and Curtis Granderson homer, but he gave up nothing after that — though he did hit three Yankees.
Adrian Gonzalez: 2 for 5, 1 2B. I'd say he was a part of the seventh-inning rally, but then again, so was everyone.
---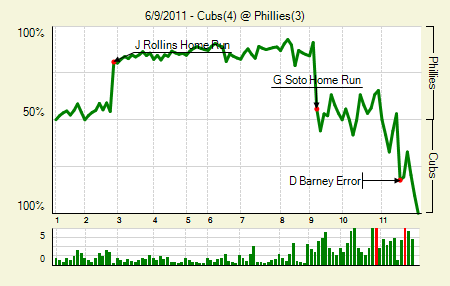 Moving the Needle: Geovany Soto ties the game with a solo shot in the ninth, +.356 WPA. A rain delay soured what appeared to be a good start for Kyle Kendrick, but the Phillies' bullpen took the reins. They had a 3-2 lead heading into the ninth, handing the ball to closer Ryan Madson. After recording one out he gave up a blast to Soto, tying the game. Tyler Colvin appeared to hit the go-ahead homer one batter later, but it was ruled a ground rule double on review. The Phillies went down 1-2-3 in the ninth, but loaded the bases in the 10th. It was to no avail. In the 11th Darwin Barney hit what appeared to be an inning-ending grounder, but Placido Polanco made a short throw and Ryan Howard couldn't come up with it. Colvin scored, and Carlos Marmol finished off the Phillies in the bottom half.
Notables
Jimmy Rollins: 1 for 6, 1 HR. The homer was big, though, a three-run shot that accounted for all of the Phillies runs.
Carlos Pena: 2 for 5, 1 2B. He drove in the Cubs second run.
---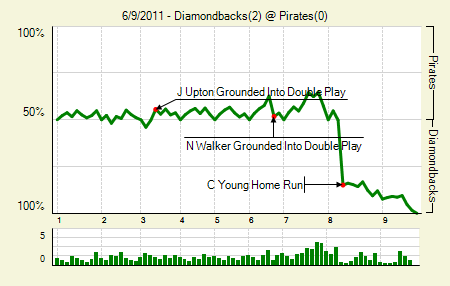 Moving the Needle: Chris Young's two-run homer provides the only runs of the game, +.347 WPA. The starters in this one had varying degrees of success and longevity, but they both exited without allowing a run. But once Arizona got into the Pirates bullpen they managed to take the lead. Young hit a no-doubt shot over the wall in left, staking his team to a 2-0 lead that they would hold onto with relative ease.
Notables
Jeff Karstens: 7 IP, 4 H, 0 R, 1 BB, 2 K. It wasn't pretty, but he held it together. Three batters after he exited, though, the DBacks struck.
Justin Upton: 2 for 4, 1 2B. Of course, nothing came of those hits, but it was still a good performance. Miguel Montero had the same line.
Josh Collmenter: 5 IP, 4 H, 0 R, 2 BB, 4 K. Good on him for the scoreless appearance, but using over 100 pitches in five innings is hardly admirable.
---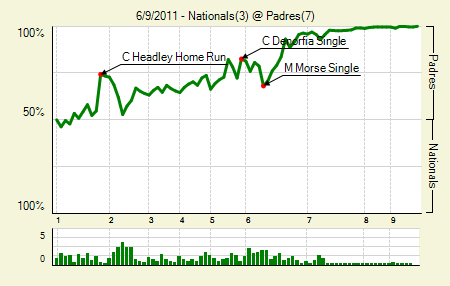 Moving the Needle: Chase Headly puts the Padres out front early with a two-run shot, +.196 WPA. Things might have been worse had Chris Denorfia not been caught stealing after his leadoff single. Jason Bartlett backed him up with another single, though, and then Headley hit one a long way to left-center to put the Pads on the board. San Diego really struck big in the sixth, though, when they added another three runs.
Notables
Anthony Rizzo: 1 for 2, 1 3B, 2 BB. There's nothing quite like a hyped prospect delivering in his debut.
Ryan Ludwick: 2 for 3, 1 2B, 1 BB. He's had a quietly solid season (115 wRC+) and could make some decent trade fodder at the deadline.
---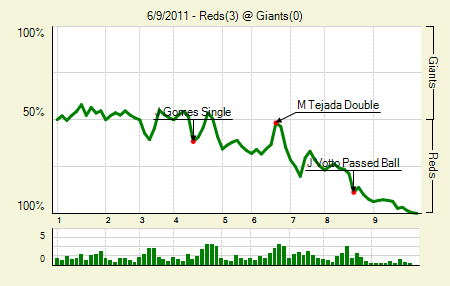 Moving the Needle: Jonny Gomes drives in the first run with a single, +.132 WPA. Pitchers ruled this one, and while the Reds did pick up three runs, they weren't exactly lighting up the box score. Gomes's fourth-inning single brought home the game's first run, which would hold up until the eighth. The Reds loaded the bases then, but scored only when Eli Whiteside missed a ball that he probably should have caught. The Reds added a tack-on run in the ninth.
Notables
Madison Bumgarner: 7 IP, 8 H, 1 R, 0 BB, 7 K. He handled the game well, stranding runners thanks to his strikeout stuff. But with no offense there was no hope.
Johnny Cueto: 7 IP, 4 H, 0 R, 2 BB, 8 K. It was far and away Cueto's best start of the year — his first scoreless since his first start on May 8th, and his season high in strikeouts. He hadn't struck out more than five in a game to this point.
Miguel Tejada: 2 for 4, 2 2B. Hey, look at that. He's trying to avoid getting released!