Dude, seriously?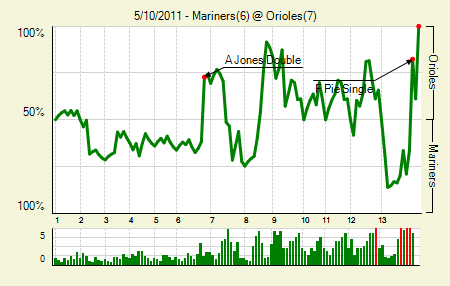 Moving the Needle: Felix Pie ties the game in the 13th, +.489 WPA. After three scoreless extra frames, the Mariners finally came through with a run, capitalizing on a double that led off the 13th. They had a chance for more, too, but they couldn't scratch across that one insurance run. Too bad, say the Orioles. They started off the inning strong as well, putting runners on first and second with one out. Pie came through with a single up the middle, and then, after Jake Fox got cut down at the plate trying to score the winning run, Matt Wieters came through with the game winner.
Fun: Both teams had potential go-ahead (or winning) runs cut down at the plate. The Orioles looked silly trying to score in the ninth, while the Miguel Olivo just wasn't fast enough to score in the 12th.
Notables
Adam Jones: 3 for 6, 2 2B. He had only three doubles on the season heading into the game.
J.J. Hardy: 4 for 5, 1 HR, 1 BB. That's a nice welcome back from the DL. His first homer of the year, yes. Further he had more hits in this game than he did in in his first six games of the season cobined.
Also in this issue: Angels 6, White Sox 2 | Nationals 7, Braves 6 | Cardinals 6, Cubs 4 | Indians 5, Rays 4 | Mets 4, Rockies 3 | Tigers 10, Twins 2 | Marlins 2, Phillies 1 | Rangers 7, A's 2 | Brewers 8, Padres 6 | Blue Jays 7, Red Sox 6 | Dodgers 10, Pirates 3 | Giants 1, Diamondbacks 0 | Yankees 3, Royals 1 | Reds 7, Astros 3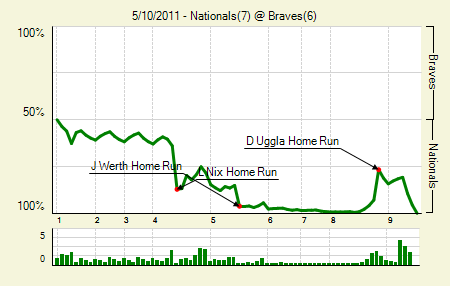 Moving the Needle: Laynce Nix blows the game open with a three-run shot, +.232 WPA. Things didn't look all that bad through the first three for Tim Hudson and the Braves. An error to open the game led to a run, but Hudson ended up sitting down 10 in a row. But with none on and two outs in the fourth the Nats got something going. A single and an error set them up with runners on second and third, and Nix came through with a long home run to right, giving the Nats a 4-0 lead, which they'd add to the next inning. The Braves made a big comeback attempt, but it fell just short. Damn those rally-killing home runs.
Notables
Jason Marquis: 7.1 IP, 7 H, 3 R, 3 ER, 2 BB, 3 K, 1 HR, 13 GB. Before the eighth he allowed just a solo homer to Martin Prado. The bullpen did not help him out, but it was still a quality performance.
Dan Uggla: 1 for 4, 1 HR. His three-run blast in the eighth brought the Braves to within one. They couldn't find that last run.
Jayson Werth: 1 for 4, 1 HR. His three-run shot proved much-needed. That's his first home run since April 26th (which, if you read yesterday's TMA, you'd know is a common date for some reason) and his first exra base hit since April 28th.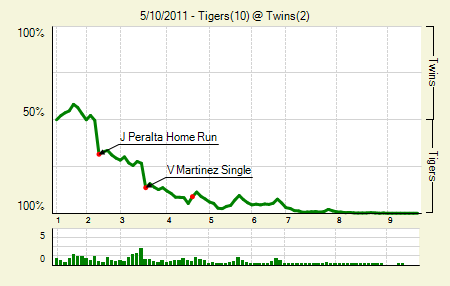 Moving the Needle: Jhonny Peralta puts the Tigers on top with a two-run homer, +.182 WPA. The follow-up to the no-hitter is always a disappointment, unless you're Johnny Vander Meer. Francisco Liriano did retire the first four batters he faced, but a walk and then Peralta's blast put the Tigers up. Liriano would run into more trouble in the third and wouldn't come out for the fourth. The Twins say he was sick and could not continue. Rain shortened his start on Saturday, so Brian Duensing took over, sitting down during a rain delay and coming back out to complete two innings. He, like all Twins pitchers not named Matt Capps, surrendered at least two runs in this one.
Notables
Austin Jackson: 2 for 5, 1 2B, 1 BB. He's 10 for his last 24 with three doubles, a homer, and one walk. It wasn't likely that he'd continue his struggles all season.
Victor Martinez: 3 for 4, 2 2B, 1 BB. That's his second game in a row with two doubles and a walk. He has hit in every game since returning from the DL, going 12 for 26 with five doubles, a homer, and four walks.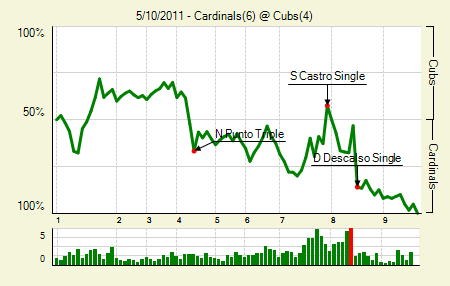 Moving the Needle: Daniel Descalso breaks the tie with a bases-loaded single in the eighth, +.328 WPA. The Cards and Cubs played a little back-and-forth in the first seven innings, exchanging leads three times and eventually settling on a 4-4 tie heading into the eighth. That's when the Cards got things moving. A single, walk, sac fly (from 1st and 2nd to 2nd and 3rd) and an intentional walk loaded the bases. Descalso faced Kerry Wood with two outs, and hit as basic a single as they get: a solid rap that dunked in front of the right fielder. Two scored, which would prove to be the difference.
Notables
Albert Pujols: 4 for 5, 1 2B. I want to say he's heating up, but not quite yet. That's two doubles in his last two games, but they were only his second and third of the season.
Darwin Barney: 3 for 4, 1 HBP. On a night when the Cubs managed zero extra base hits, this is the standout performance.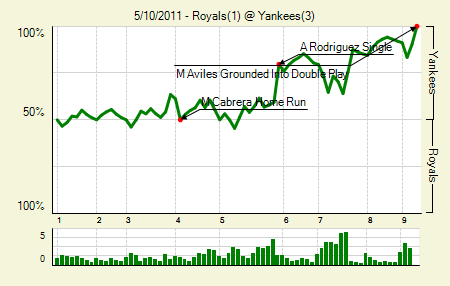 Moving the Needle: Alex Rodriguez comes through with a bases loaded single, +.203 WPA. A-Rod has owned Kyle Davies in his career, going 5 for 10 with a homer, his 500th, and a double. Of course, if you read The Book you know those numbers are fairly meaningless. It did appear as though A-Rod got a couple of home run pitches in the at-bat, but with two strikes he just slapped one up the middle, plating a pair and giving the Yankees a 3-1 lead, ending the scoring for both teams.
Notables
Derek Jeter: 2 for 4. He continues to be back. Which will be nice, until he's toast again.
Brett Gardner: 1 for 2, 1 3B, 1 BB. He's 9 for 23 in May with that triple and seven walks.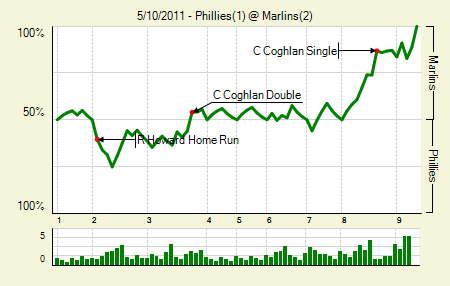 Moving the Needle: Chris Coghlan singles home the go-ahead run in the eighth, +.129 WPA. Again, this seems like it should have been a much bigger swing, given its lateness. But with a runner on third and one out, I guess the odds already favored the Marlins. In any case, they caught every break in the eighth. It started with a Jimmy Rollins error, and continued with a wild pitch. A grounder put the runner on third, and Coghlan came through with the single to put the Marlins up. Early in the game it didn't appear they'd be in this position, but Johnson fought off some early troubles, settled down, and gave his team seven solid.
Notables
Josh Johnson: 7 IP, 6 H, 1 R, 1 ER, 3 BB, 7 K, 1 HR, 12 GB. Allowed a solo homer and then loaded the bases with none out in the second. He escaped, then escaped a bases loaded jam in the third.
Roy Halladay: 8 IP, 5 H, 2 R, 1 ER, 2 BB, 9 K. He pitched better than Johnson, sure. But the Marlins took advantage when presented with opportunity. The Phillies just didn't capitalize. Whatever that means.
Raul Ibanez: 2 for 4, 1 2B. Remember his cold streak? He's now 12 for his last 30 with four doubles and two homers.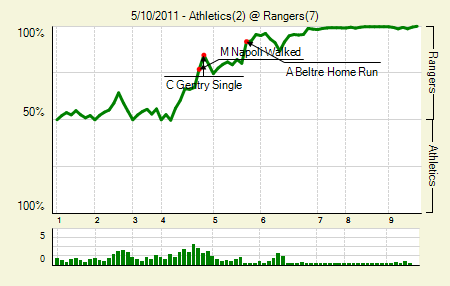 Moving the Needle: Adrian Beltre opens up a four-run lead with a homer, +.116 WPA. The Rangers already led 2-0 heading into the fifth, and they got three more in the inning. Adrian Beltre came through with a two-out, two-run homer that doubled the lead. They'd get one more , and then tack on the next inning. It's been a rough few games for Texas; they needed a good old fashioned slobberknocker.
Notables
Michael Young: 3 for 4, 1 2B, 1 3B, 1 BB. He had a strong April, but has been even better in May (.429 wOBA).
Colby Lewis: 7.1 IP, 5 H, 1 R, 1 ER, 1 BB, 0 K, 1 HR. The whole no strikeouts thing really threw me, especially since he struck out 10 on five occasions last season. A quick run through his game logs reveals no games started with zero strikeouts. Huh.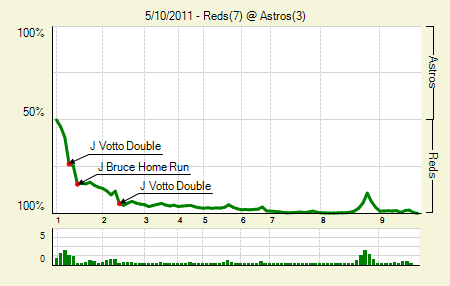 Moving the Needle: Joey Votto doubles down the line, +.142 WPA. The Reds wasted no time in this one. They opened the game with a pair of walks, which brought Votto to the plate. Not one to easily let off a pitcher, he lined one down the right field line. Drew Stubbs could have walked home from second, and Edgar Renteria advanced to third. It set up a four-run inning. Votto would double again in the second, adding another two runs to the Reds total.
Notables
Jay Bruce: 1 for 4, 1 HR, 1 BB. His homer blew the game open in the first.
Homer Bailey: 7 IP, 5 H, 0 R, 0 BB, 5 K. Helping cure what ailed the Reds rotation.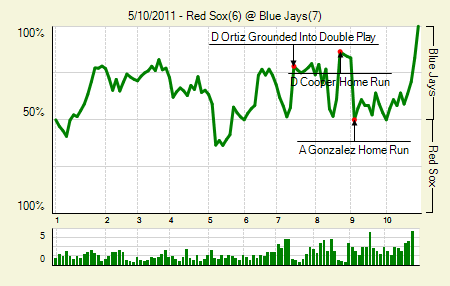 Moving the Needle: Adrian Gonzalez leads off the ninth with a game-tying homer, +.331 WPA. First, the Sox had to tie up the game in the eighth. Then, after the Jays took the lead again, they had to tie it in the ninth. Gonzalez took care of that with his second homer of the game. That extended the game for one extra frame, though Rajai Davis made sure it would last only that long. He singled and then stole second and third, setting up the game-ending sac fly.
Notables
David Ortiz: 3 for 5, 1 2B, 1 HR. First game of the season in which Ortiz had multiple extra base hits.
Jose Bautista: 1 for 4, 1 HR, 1 BB. The Jose Bautista Checklist is complete for another game.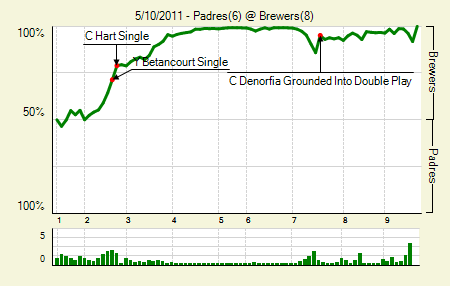 Moving the Needle: Corey Hart singles home the game's first run, +.075 WPA. Yes, I'm serious. That was the biggest play of the game, per WPA. There wasn't even a negative play that came reasonably close, which will happen when you're up 8-0 with one out in the fourth. The Brewers put on a show, and while they did let the Padres breath a little bit later, they absolutely dominated this game.
Notables
Jonathan Lucroy: 3 for 4, 1 2B. Just one of three extra base hits for the Brewers, all doubles.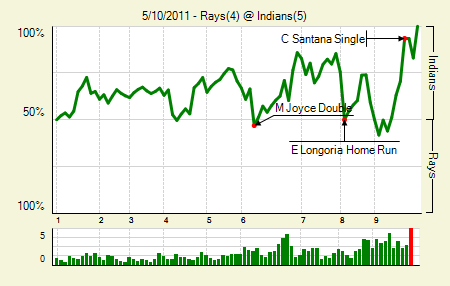 Moving the Needle: Evan Longoria homers to tie the game in the eighth, +.257 WPA. After falling behind 4-2 the Rays had to play catch-up in the later innings. They got one back in the seventh, and then Evan Longoria hit one a long wayleading off the eighth, up over the big wall in left-center. That tied the game, but it only set up disappointment. Kyle Farnsworth came into a bases loaded, no outs situation in the bottom of the ninth. He retired the first hitter and then went up 0-2. He then threw four straight balls, bouncing the final one. Hopefully there was shrimp in the postgame spread.
Notables
Michael Brantley: 2 for 4, 1 HR, 1 BB. He drew the walk-off walk. I never really noticed how solid a start he's had (.294 BA, .375 OBP).
Matt Joyce: 2 for 4, 1 2B, 1 HR. That homer was a doozy.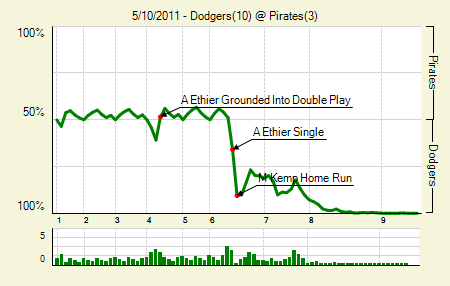 Moving the Needle: Matt Kemp hits a three-run homer, +.246 WPA. Ted Lilly and Kevin Correia traded zeroes through the first five innings of this game, but in the sixth they both got hit around a bit. One batter after the Dodgers scored their first run, Kemp came through with an authoritative homer to center field, making the score 4-0. The Pirates would halve that score in the bottom of the inning, but the Dodgers jumped all over the Pirates bullpen in the eighth to essentially end this one.
Notables
Andrew McCutchen: 3 fo 4, 2 HR. His last multi-homer game was April 28th of last year.
Jamey Carroll and Aaron Miles: 6 for 9, 1 BB. Carroll and Miles atop the order? Sure!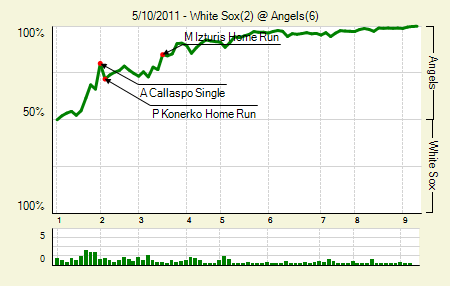 Moving the Needle: Alberto Callaspo helps open up a first-inning lead, +.138 WPA. There were runners on second and third with two outs, so there wasn't much of a chance that the Sox could cut down the second runner when Callaspo singled to left. Maybe he thought they'd go for it, because he tried to take second, only to have the throw beat him by plenty. A run-down ensued, and the Sox were out of the inning having allowed three runs. It would get worse soon enough.
Notables
Joel Pineiro: 7.2 IP, 8 H, 2 R, 2 ER, 1 BB, 5 K, 1 HR, 12 GB. I imagine he'd be one of the better signings in recent memory if it weren't for the injuries. Even with the injuries he has been well worth the Angels' while.
Howie Kendrick: 2 for 4, 2 2B. He's helping in the outfield while Vernon Wells is on the shelf. But seriously, the dude's talents are really shining through this season.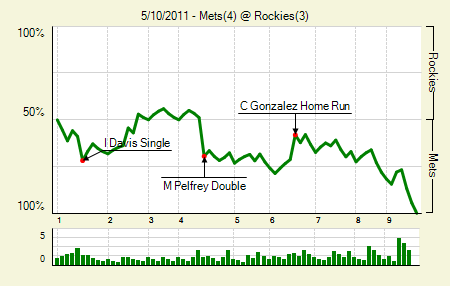 Moving the Needle: Mike Pelfrey doubles home a pair, +.207 WPA. The joy of seeing a pitcher with the high WPA mark is just slightly more enjoyable than seeing a +.400 swing. Just slightly. Pelfrey really got a hold of this Jason Hammel pitch, sending it into the right-center field gap. The hit scored the runners from first and second, giving the Mets a 4-2 lead. Despite some late-inning threats, they'd hold onto it.
Notables
Jose Reyes: 1 for 4, 1 2B. Really, Pelfrey was the star on offense. Reyes added the only other extra base hit of the game.
Troy Tulowitzki and Carlos Gonzalez: each 1 for 4, 1 HR. Unfortunately, the first two spots in the order got on base just once, and that was a pinch-hit walk later in the game.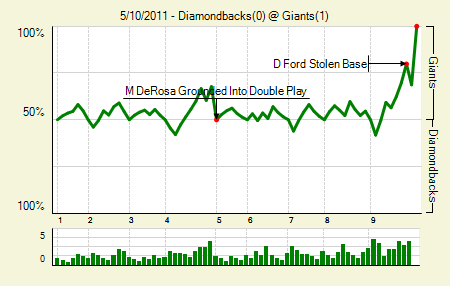 Moving the Needle: Cody Ross walks off with the game's only RBI, +.313 WPA. It was a mostly scoreless affair out in San Francisco last night, and the scoreboard still showed zeroes as the Giants came up in the bottom of the ninth. Buster Posey walked to get things started, and then his pinch runner, Darren Ford, swiped second base. That set things up for Ross, who pulled one down the third base line to score Ford easily. Other than that, it was all about the guys on the mound.
Notables
Tim Lincecum: 8 IP, 4 H, 0 R, 2 BB, 9 K. Only his pitch count, 113, prevented him from pitching the ninth. That's no runs in 15 innings during his last two starts, including 21 strikeouts.
Ian Kennedy: 8 IP, 4 H, 0 R, 3 BB, 8 K. He wasn't every bit as good as Lincecum, but he was damn close. He now has a 2.99 FIP on the season.