Should of thrown to first.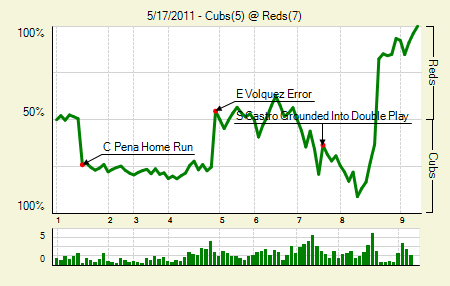 Moving the Needle: The Cubs beat themselves, -.759 WPA. I really have no better way to describe what happened last night than that. The Reds did put themselves in favorable positions, but the Cubs made it all too easy for them to cash in. We start in the first, when Carlos Pena, about whose schneid we talked earlier this week, hit a three-run homer. That would be great if he didn't give all the runs back in the fourth. Edinson Volquez hit one that Pena probably should have fielded, but it bounced past him. Darwin Barney backed him up, but instead of throwing home to try and nab Scott Rolen, he threw to Matt Garza, who threw home. Only it was way off the mark, into the camera well, bringing home the trail runner and putting Volquez on third. Tie game.
The Cubs put up a pair later in the game, but then cost themselves again in the eighth. A pair of hits put runners on first and second with none out, and the Reds had Ryan Hanigan sacrifice them. Kerry Wood fielded it and tried to get the runner going to third, but threw it away. Not only that, but he threw it all the way into the left field corner, which allowed both runners to score easily and Hanigan to take third. The miscue set up Chris Heisey's go-ahead sac fly.
Notables
Scott Rolen: 2 for 3, 1 2B, 1 BB. His double to lead off the eighth got the ball rolling.
Edinson Volquez: 6 IP, 3 H, 3 R, 3 ER, 1 BB, 9 K, 1 HR. No, it's not standout, but those nine strikeouts are a season high. So there's that, at least.
Also in this issue: White Sox 4, Rangers 3 | Diamondbacks 6, Padres 1 | Indians 7, Royals 3 | Braves 3, Astros 1 | A's 14, Angels 0 | Yankees 6, Rays 2 | Twins 2, Mariners 1 | Rockies 5, Giants 3 | Dodgers 3, Brewers 0 | Cardinals 2, Phillies 1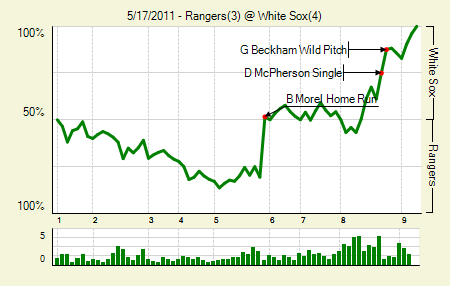 Moving the Needle: Brent Morel digs the White Sox out of an early hole, +.322 WPA. By the end of four the Rangers had a 3-0 lead, which is trouble these days on the South Side. The White Sox have scored only 3.81 runs per game, and so there will be plenty of games where they don't score three. But they put two on via walks in the fifth, and then Matt Harrison laid one right down the middle for Morel, who sent it out to left-center. The tie lasted until the bottom of the eighth, when the Sox scored the go-ahead run on a wild pitch.
Notables
Dallas McPherson: 1 for 1. Hey, he's back! His hit put Gordon Beckham on third, which came directly before the decisive wild pitch. That was his first major league PA since 2008.
Endy Chavez: 2 for 4, 1 2B, 1 BB. That was the only multi-hit game for either side. If nothing else, Chavez is proving how quirky managers can be with the leadoff spot. It just strikes me as odd that the leadoff hitter — the guy you need to get on base for the big hitters — is a guy who signed a minor league deal, who hasn't played since 2009, and, really, isn't all that good at the plate.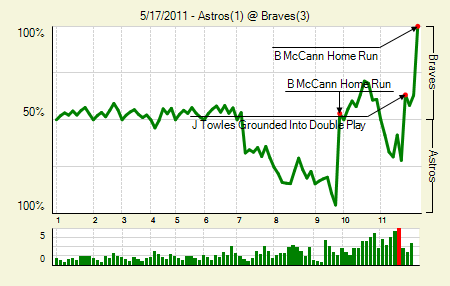 Moving the Needle: Brian McCann puts on a show, +.489 WPA, then +.369 WPA. Bottom of the ninth. Two outs. No one on, down one. Down to your last strike. Whaddya do? If you're McCann, you blast one out to left-center and tie the game. When the Astros got around to McCann again the score was still knotted at one. This time he had a man on first, but he decided to showboat and clobber a pitch out to right. That had to hurt bad for the Astros; they had the bases loaded with one out in the top of the inning, only to see J.R. Towles ground into a twin killing.
Notables
Derek Lowe: 7 IP, 5 H, 1 R, 1 ER, 0 BB, 4 K, 1 HR, 11 GB. Thankfully for him, the bullpen held on and preserved this outstanding performance.
Wandy Rodriguez: 8 IP, 5 H, 0 R, 0 ER, 2 BB, 6 K. They were just a strike away from winning this one. It's a shame for Rodriguez, who was also 1 for 3 at the dish.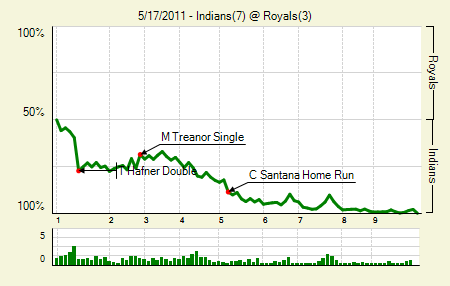 Moving the Needle: Travis Hafner gives the Royals nightmares with a three-run double in the first, +.178 WPA. It's tough to think of a worse scenario than getting blown out one day and then giving up runs in the first inning the next day. That's what happened with the Indians and Royals. A double, sacrifice, walk, and HBP loaded them up for Travis Hafner, who doubled into the right field corner to clear the bases. That couldn't have felt good for the Royals. That raises Hafner's line to .345/.409/.549. It's not quite old school Pronk, but at 34, and after his spate of injuries, I'll take this facsimile.
Notables
Carlos Santana: 2 for 3, 1 HR, 1 BB. Things are really starting to come together for him. Once that average gets up to even the .260 range his numbers overall should look a ton better — and they already look pretty good (.351 wOBA).
Eric Hosmer: 2 for 4, 1 3B. That's his sixth extra base hit in 43 major league PA. He had eight XBH in his 118 minor league PA this season.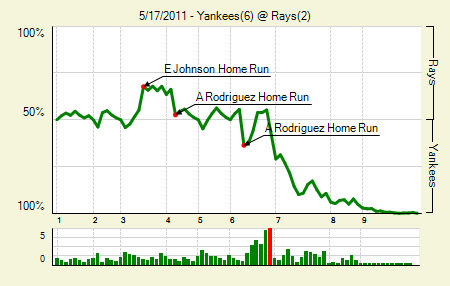 Moving the Needle: Alex Rodriguez puts the team on his back, +.192 WPA and +.137 WPA. It's a day of dual-homer performances. Sure, McCann's were a bit more dramatic, but A-Rod's came when his team needed him. He'd been on some kinda schneid, but last night he started to pull himself out of it. First came a game-tying homer in the fourth, a pull shot that got out easily. His second one, the higher WPA shot, put the Yanks up 2-1. It was a bit more impressive, going out to dead center. I haven't checked the Hit Tracker, but I think the first might have gone further. But the second was in A-Rod's beast zone — that is, if he's hitting them out to center and right, it's a good sign of things to come. Then again, things couldn't have gotten worse. The Yanks tacked on some runs later and won their first game in the past week.
Notables
Jorge Posada: 2 for 3, 1 2B. He feeds on controversy, apparently.
David Robertson: 1.1 IP, 0 H, 0 R, 2 BB, 3 K. He came into a bases loaded, one out situation in the sixth and struck out both B.J. Upton and Casey Kotchman to keep the Yanks on top. I won't always get a middle reliever in these spots, but I just wanted to highlight that Robertson has done this quite a few times for the Yanks this year.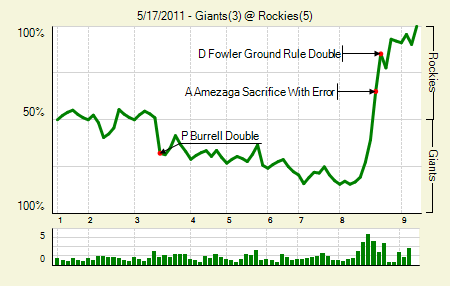 Moving the Needle: The Giants can't get out of their own way as Alfredo Amezaga's sacrifice turns into a run. It appeared that the Giants were in solid position to win this one. The Rockies did put runners on first and second with none out in the eighth, but things still seemed under relative control. That is until Jonathan Sanchez threw Amezaga's sacrifice bunt into right field, allowing one run to score and putting runners on second and third with none out. That was it for Sanchez. His relief, Javier Lopez, wasted no time in allowing a game-tying double to Dexter Fowler — lucky, too, because it was a ground-ruler. Amezaga might have scored otherwise (or if he had taken second on the throwing error). Later that inning Carlos Gonzalez put the Rockies up with a two-run single.
Notables
Ubaldo Jimenez: 7 IP, 8 H, 3 R, 3 ER, 1 BB, 7 K. It wasn't great, but he's kinda getting there. Then again, it seemed as though he was getting there with his start against San Fran earlier this month, and he ended up tossing a stinker against the Mets his next time out.
Chris Iannetta: 2 for 3, 1 2B. It's really a shame that I have to set the minimum PA to 110 to see that Iannetta is (or was as of yesterday) tied with Russell Martin atop the catcher WAR leader board. He owns the top wOBA spot by himself.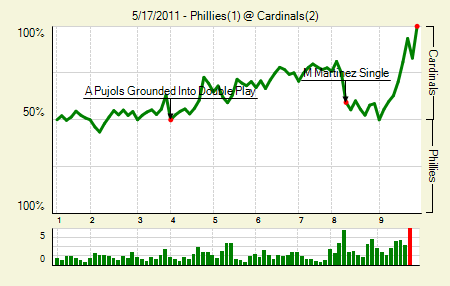 Moving the Needle: Lance Berkman breaks the tie in the ninth, +.170 WPA. Walk-off situations can be quirky. Take this one for instance. Berkman came to the plate with the bases loaded and one out in the ninth of a tie game. He hit one deep to center, well over Shane Victorino's head (edit: it was Michael Martinez) — because Martinez was playing shallow, because if he had been playing deeper and caught that ball the runner on third would have tagged and scored. I'm fairly certain Martinez catches that if playing normal depth. But with him playing shallow, it sailed over his head and rolled to the wall. Of course, Berkman only gets a single because the game ended the second that winning run scored.
Notables
Jaime Garcia: 8 IP, 5 H, 1 R, 0 ER, 1 BB, 5 K. I'm disappointed I missed this Garcia start. He is easily one of the most fun pitchers to watch.
Albert Pujols: 3 for 5, 1 2B. He keeps having games like this, but he's been following them with relatively unproductive games. He hasn't homered since April 23.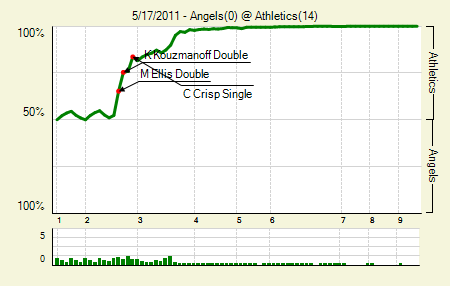 Moving the Needle: Mark Ellis gets things started with a two-out RBI single, +.130. Tyler Chatwood retired the A's in order in the first, and then got the first two in the second. That would conclude the easy part of his evening. After a two-out walk he gave up the double to Ellis, and then another double to Kevin Kouzmanoff, and then a single to Crisp, making it 3-0. In the third he loaded the bases and faced Ellis again, who singled home a pair. And then Kouzmanoff reached on an error, which brought home another run. The A's then surged for another six runs in the sixth.
Notables
Gio Gonzalez: 7 IP, 1 H, 0 R, 1 BB, 7 K. In his previous start he was getting knocked around by the Rangers. But then came the rains, which led to a postponement. Clean slate. Gio made the most of his mulligan.
Coco Crisp: 3 for 4, 1 2B. He's off to a slow start, though the term start is becoming less and less accurate.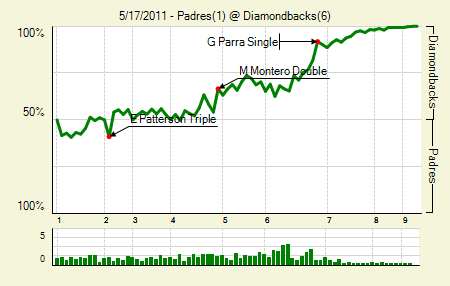 Moving the Needle: Miguel Montero doubles into the gap, +.124 WPA. Montero came to the plate in the fourth with the game tied at one and smacked a pretty, pretty double into the left-center field gap, easily bringing around the runner and put the Diamondbacks up 2-1. They got another big hit in the sixth when Gerardo Parra singled with the bases loaded, making it a 4-1 game.
Notables
Daniel Hudson: 7 IP, 8 H, 1 R, 1 ER, 2 BB, 6 K, 0 HR. Ten base runners in 7 IP is a bit rough, but Hudson took care of it. He has pitched at least into the seventh in each of his last four starts.
Justin Upton: 2 for 4, 1 2B. You'd like to see his OBP a bit higher, but he's still walking around 10% of the time and he has a .228 ISO. One hot streak could do the trick.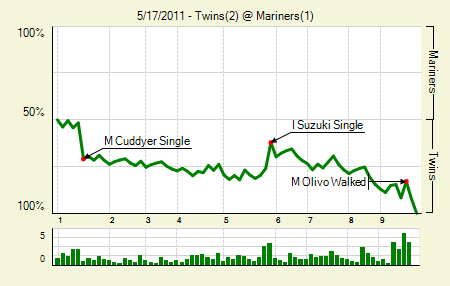 Moving the Needle: Michael Cuddyer stakes the Twins to an early lead, +.192 WPA. Felix looked a little shaky early, falling behind each of the first four batters he faced, walking two of them. The fifth batter, Cuddyer, lined the first pitch into center, bringing home both of the walked runners and giving the Twins an early lead. As expected from a Mariners/Twins game, there wasn't much scoring the rest of the game.
Notables
Felix Hernandez: 8 IP, 3 H, 2 R, 2 ER, 3 BB, 9 K, 10 GB. He settled down after those two first-inning walks, but his offense couldn't do anything to back him up.
Francisco Liriano: 7 IP, 3 H, 1 R, 1 ER, 1 BB, 9 K. He didn't get too many ground balls, but those 9 strikeouts are awfully encouraging. He hadn't struck out more than five in a start previously this season.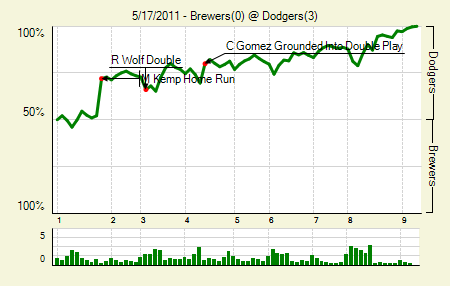 Moving the Needle: Matt Kemp gets things started early with a two-run homer, +.198 WPA. With a runner on first and two outs in the first, Kemp worked a 3-1 count. Vin Scully noted that "with his power, swinging if he likes it." Apparently he liked it a lot, shooting it over the right field wall for a two-run shot. The Dodgers made that one count, holding down the Brewers offense the entire way. Kemp also made two nice grabs in the outfield, crashing into the wall both times.
Notables
Hiroki Kuroda: 7.2 IP, 6 H, 0 R, 2 BB, 7 K. In his last two starts he has gone 14.2 IP, 9 H, 0 R, 5 BB, 15 K. Getting him on a one-year deal for $12 million was one of the best bargains this winter.
Juan Uribe: 2 for 3, 1 BB. It's a nice day for an abysmal start to his Dodgers tenure.