Sorry for the lack of graphs. The site apparently thinks it is yesterday morning. This post should update soon after things get sorted out.
Youk's idea of a celebration: tackling the dude to the ground and rolling around in the grass with him. Awk-ward.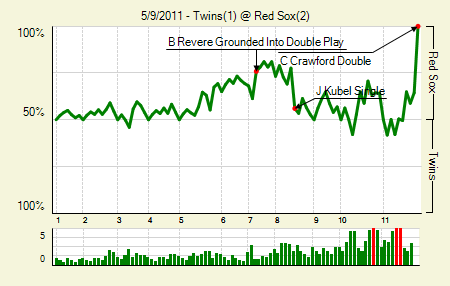 Moving the Needle: Carl Crawford doubles home the winning run from first, +.356 WPA. It almost didn't get this far. It took a balk and some help from the luck dragons to push across the tying run in the top of the eighth. Scoreless they remained until the bottom of the 11th, when Jed Lowrie drew a one-out walk. Jose Iglesias stepped in as the pinch runner, and when Carl Crawford flied one towards the Monster, Iglesias was off. (He was running with the pitch, but had to pause momentarily at second to make sure the ball would indeed hit the wall.) Ben Revere's poor throw didn't help, and Iglesias scored with relative ease, giving the Sox the game and a 3-1 series victory, after dropping the first game.
Notables
Josh Beckett: 7 IP, 6 H, 0 R, 1 BB, 5 K, 9 GB. Not his strongest start of the year, but it was, on a normal night, good enough to win in regulation. He has given up just 10 runs in 45.1 IP this season.
Also in this issue: Pirates 4, Dodgers 1 | Tigers 10, Blue Jays 5 | Phillies 6, Marlins 4 | Reds 6, Astros 1 | A's 7, Rangers 2 | Brewers 4, Padres 3 | Rockies 2, Mets 1 | White Sox 8, Angels 0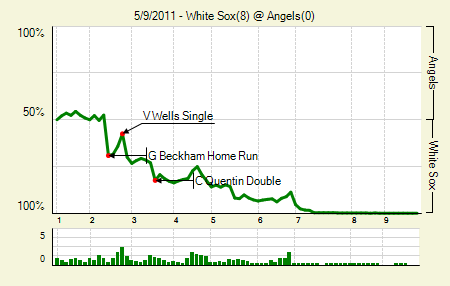 Moving the Needle: Gordon Beckham hits a two-run shot in the second, +.217 WPA. The White Sox really pulled away in the middle innings, but early on they set a base. Beckham got things started in the second with a liner to left that cleared the fence, putting the Sox up 2-0. Five innings and two home runs later, the Sox were up 8-0, and this one was pretty much in the books.
Notables
Edwin Jackson: 7 IP, 5 H, 0 R, 1 BB, 5 K, 8 GB. That's two straight solid starts in a row after getting knocked around in his previous two.
Carlos Quentin: 3 for 4, 2 2B, 1 HR. He had been 1 for his previous 14 and 5 for his previous 33. He had just one extra base hit in those 33 AB (well, and in the 14 AB, too).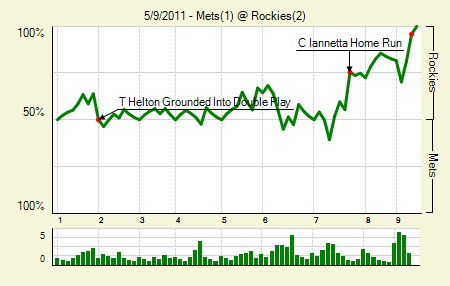 Moving the Needle: Chris Iannetta goes deep to put the Rockies ahead, +.200 WPA. In the fifth Iannetta doubled to lead off the inning, though he was nearly a casualty at second base. Three batters later, and with two out, Dexter Fowler knocked him home, putting the Rockies up 1-0. In the seventh, Iannetta did it himself. He hit an absolute pea that barely cleared the wall in left, putting the Rockies up 2-1, a lead they'd hold the rest of the game. I've watched the replay three or four times now, and it still looks like the ball is going to hit the wall.
Fun: Iannetta had the game's only two extra base hits.
Notables
Jhoulys Chacin: 6 IP, 2 H, 1 R, 0 ER, 6 BB, 5 K, 10 GB. One of those six walks was Carlos Beltran, who scored on an error in the sixth. No matter the Ks, no matter the GBs, six walks is too much. Even if you allow no hits.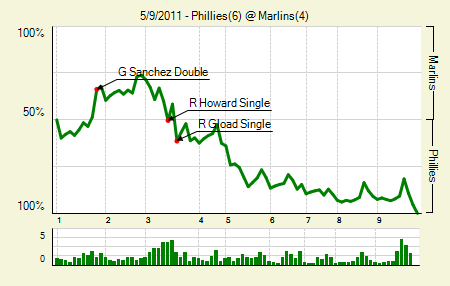 Moving the Needle: Ross Gload (somehow) singles with the bases loaded, +.197 WPA. It was some bad luck for Javier Vazquez. Sure, loading the bases was his fault. But the fate? OK, well, that was a lot his fault, too. Gload just kind of slapped at an outside pitch and the ball right to where Hanley Ramirez might have been standing, had there not been a lefty up. One run scored easily, and an airmailed throw sent Placido Polanco plate-bound. They might have had him, too, if Vazquez got the first part of the old catch-and-tag. The sloppiness put the Phillies up 4-3. They'd hold the lead the rest of the way.
Notables
Jimmy Rollins: 2 for 5, 1 HR. He's 14 for 45 with a double, two homers, and nine walks since April 26th.
Gaby Sanchez: 3 for 4, 1 2B, 1 HR. His his hot start really quiet any more?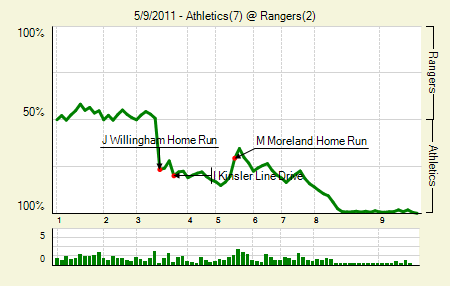 Moving the Needle: Josh Willingham appeals his suspension, hits three-run homer, +.274 WPA. He'll have to serve his time eventually, but Willingham's decision to appeal his one-game suspension paid off for the A's. In the third he hit a no-doubt bomb over the left field wall in Arlington, staking the A's to a 3-0 lead. He' also strike a deflating blow in the eighth, when he hit a bases-loaded single that extended the A's lead to 5-1.
Notables
Trevor Cahill: 7 IP, 5 H, 1 R, 1 ER, 1 BB, 7 K, 13 GB. He's determined to join the Josh Johnson Club of pitchers who appear in this space four out of five starts.
Kurt Suzuki: 1 for 4, 1 2B. The A's only other extra base hit of the evening. It hasn't been a great start for Suzuki, but he at least has eight extra base hits to go along with his 19 singles.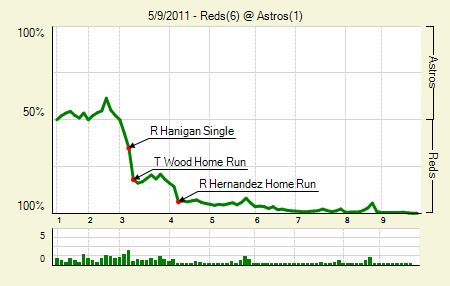 Moving the Needle: Travis Wood his a three-run shot, +.169 WPA. One week we're saying hey, Aneury Rodriguez, nice starting debut. The next week we're saying dude, a homer to the pitcher? It wasn't even a cheapie, either. Wood demolished the ball over the Crawford Boxes, putting his team up 3-0. Hernandez stuck around to give up another homer, putting his team behind 5-0 in the fourth. So it goes, Aneury. For his part, Wood allowed no runs on six hits and one walk through 6.2 innings, striking out six.
Notables
Hunter Pence: 2 for 4, 1 3B, 1 HR. That's a 13-game hit streak for Pence, though only his third and fourth extra base hits during it.
Ramon Hernandez: 1 for 5, 1 HR. His two-run shot made it 5-0. The Reds catchers both played (Hernandez played first), and had quite a game. Hanigan had three singles in four tries.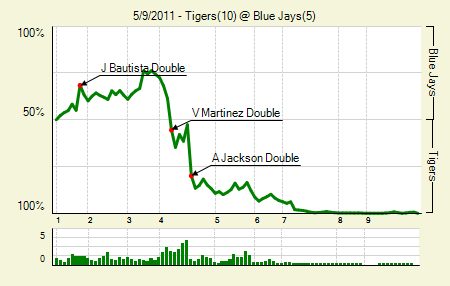 Moving the Needle: Austin Jackson clears the bases with a double, +.273 WPA. Brandon Morrow retired the first five in this game, and got nine of the first 11. But then a dropped third strike in the fourth turned into a big rally for the Tigers. After walking Alex Avila to load the bases with just one out, and with the Tigers having already put across a pair in the inning, John Farrell pulled Morrow in favor of Shawn Camp. He got the second out by striking out Ryan Raburn, which, to be fair, isn't so uncommon an occurrence. Even more common is striking out Jackson, but Camp couldn't pull off that end of the trick. Jackson popped one over Corey Patterson's head in center, plating all three runners and putting the Tigers up 5-2.
Notables
Victor Martinez: 3 for 4, 2 2B, 1 HR, 1 BB. That, my friends, is a ballgame.
Jose Bautista: 2 for 4, 1 2B, 1 BB? The Bautista checklist: extra base hit and a walk.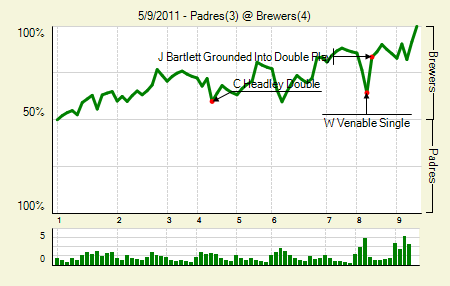 Moving the Needle: Jason Bartlett grounds in a run with a double play, =.191 WPA. Yep. Not only is the WPA swing negative, but it involves a run-scoring play. With runners on first and third with none out, Jason Bartlett grounded one hard towards the middle. But Yuniesky Betancourt, defensive wizard, fielded the ball and flipped it to second from his glove (seriously, watch it). That started the 6-4-3 double play, which meant bases empty with two outs and the Padres still down a run. Yep. It's pretty easy to say why that play, in the eighth inning, would be so counterproductive.
Notables
Zack Greinke: 6 IP, 5 H, 2 R, 2 ER, 0 BB, 9 K. Something tells me that the Greinke era in Milwaukee will go just fine, at least on Greinke's end.
Rickie Weeks: 2 for 4, 1 HR. That's his first home run since April 26th.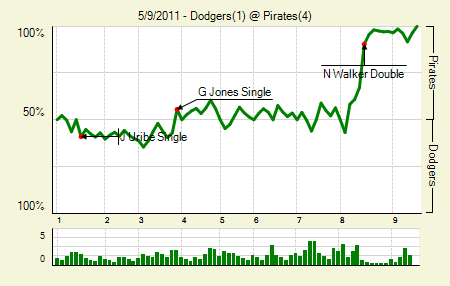 Moving the Needle: Neil Walker doubles around the go-ahead run in the eighth, +.233 WPA. Chad Billingsley had pitched a good game, allowing just one run through his first seven innings. He came out to start the eighth, but walked Garrett Jones to lead off the frame. Walker followed by pulling one on the ground down the first base line and into right. Xavier Paul, pinch running, came all the way around from first to score, putting the Pirates ahead. Two more doubles followed, giving the Pirates the 4-1 lead they'd hold the rest of the way.
Notables
Mike DiMuro: Blew a call in the top of the eighth that led to two outs. Jose Tabata made like he caught a Juan Uribe fly ball, but replay shows he trapped it. They then got Matt Kemp retreating to first. It's a good thing then, I guess, that DiMuro deleted his twitter account after calling balls and strikes in the Yanks-Rangers game on Sunday.
Ryan Doumit: 3 for 4, 1 2B. Snapped his home run streak at two games, but this did just fine.