Cardinals over Dodgers, 2 games to 1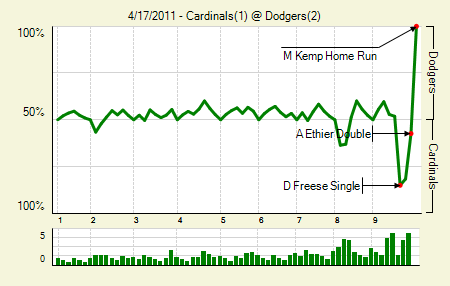 Moving the Needle: Matt Kemp ends the game with one swing, +.574 WPA. A pitchers' duel this was, with the score remaining tied at zero through eight. The Cardinals then broke through with a two-out run in the ninth, which left if up to the Dodgers' offense, which had scored four runs in the previous 26 innings, to rally back. And rally they did, without even recording an out. Andre Ethier doubled to lead off the inning, and then Kemp upper-cutted one into the black, giving his team its lone victory of the series.
Notable Pitching
Kyle Lohse: 7.1 IP, 6 H, 2 R, 2 ER, 1 BB, 6 K, 0 HR. Dare I say that the Cardinals need Lohse to pitch like this all season if they're going to win the Central?
Kyle McClellan: 7 IP, 6 H, 1 R, 1 ER, 0 BB, 2 K, 0 HR. I thought they'd go out and sign a vet like Kevin Millwood with Wainwright out. But McClellan has done everything they could have asked so far.
Chris Carpenter: 7 IP, 5 H, 0 R, 0 BB, 6 K. Adam who?
Chad Billingsley: 8 IP, 2 H, 0 R, 2 BB, 11 K. Brilliant games by both Carpenter and Billingsley. Neither was in line for the win. Which again shows the uselessness of…ah, you get the point by now.
Cardinals 11, Dodgers 2
Cardinals 9, Dodgers 2
Dodgers 2, Cardinals 1
Also in this issue: Red Sox over Blue Jays | Angels over White Sox | Indians over Orioles | Royals over Mariners | Yankees over Rangers | A's over Tiers | Rays over Twins | Giants over Diamondbacks | Braves over Mets | Pirates over Reds | Rockies over Cubs | Padres over Astros | Nationals over Brewers | Phillies and Marlins split two
Red Sox over Blue Jays, 2 games to 1
Moving the Needle: Jacoby Ellsbury hits one a long way to right and gives the Sox an early lead, +.208 WPA. One thing the Red Sox did in this series, which they had trouble doing before, was score runs. They got started early in this one, tying the game at one on a Jarrod Saltalamacchia single. Ellsbury followed that up with a long homer to right, giving the Sox a read they would not relinquish.
Notable Pitching
Josh Beckett: 7 IP, 3 H, 1 R, 1 ER, 2 BB, 9 K, 0 HR. Another strong start in Beckett's bounceback effort. He won't have people sold until he does this quite a few more times, but he really has looked something like his old self in his last two starts.
Blue Jays 7, Red Sox 6
Red Sox 4, Blue Jays 1
Red Sox 8, Blue Jays 1
Angels over White Sox, 3 games to 0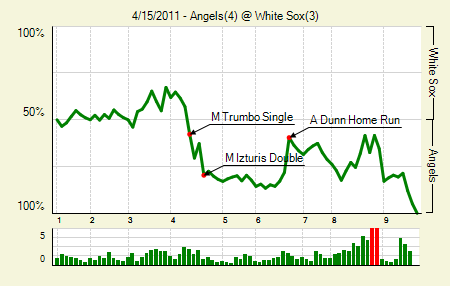 Moving the Needle: Adam Dunn homers, but the Sox still lose, +.186 WPA. The Angels took all three games in Chicago this weekend, but the White Sox were the perpetrators of the two biggest WPA swings. The first came from Dunn, who took a Jered Weaver off-speed pitch way deep into right. Yet the Sox were still down a run, and they wouldn't make it up.
On Sunday the White Sox had a chance, with the tying runs on second and third with one out, and then bases loaded with two outs. But the Sox couldn't come up with that game-tying hit, and the game ended when Juan Pierre's fly out knocked the last 18.2% off the Sox's chances.
Notable PItching
Tyler Chatwood: 7 IP, 5 H, 1 R, 1 ER, 2 BB, 3 K, 1 HR. The peripherals didn't appear outstanding, nor did Chatwood burn worms with the grounders. But a seven-inning, one-run performance is almost always notable, especially from a rookie.
Dan Haren: 6.1 IP, 7 H, 2 R, 2 ER, 0 BB, 6 K, 0 HR. You'd like to see more than 19 outs from your starter, but Haren still did a fine job against the Sox, even if the bullpen nearly blew it.
Angels 4, White Sox 3
Angels 7, White Sox 2
Angels 4, White Sox 2
Indians over Orioles, 3 games to 0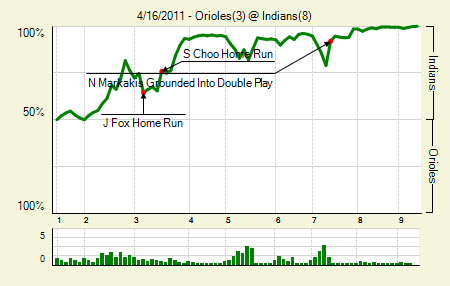 Moving the Needle: Nick Markakis kills the Orioles rallies with a pair of double plays, -.252. Trying something new with this one, just because the situation fits. The graph above is from Saturday's game, when Markakis's ground ball double play killed the Orioles chances in the seventh. They had runners on first and second with none out, having just scored their third run of the game. The grounder knocked 13% off their chances to win.
Then, on Sunday, Markakis also had the low WPA of the game, and it also came on a ground ball double play. The Orioles were down 3-1 at the time, and had runners on first and second with one out. Markakis's double play ended the inning and dinged their chances by 12.2%. The Orioles would score another run, but the Indians hung on for the sweep.
Notable Pitching
Justin Masterson: 7 IP, 4 H, 1 R, 1 ER, 1 BB, 3 K, 0 HR, 15 GB. At his best Masterson might strike out a few more, but it really doesn't get much better than that.
Fausto Carmona: 7 IP, 5 H, 2 R 1 ER, 1 BB, 5 K, 0 HR, 13 GB. It must get frustrating, having to face two extreme ground ballers in one series.
Indians 8, Orioles 2
Indians 8, Orioles 3
Indians 4, Orioles 0
Royals over Mariners, 2 games to 1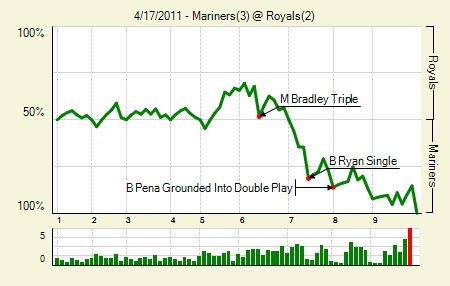 Moving the Needle: Brendan Ryan gives the Mariners their first lead since the first inning of Friday's game, +.168 WPA. It had been something of a scoring drought for the Mariners. Down 6-1 on Friday, they scored four in the final two innings in a futile comeback attempt. But then they didn't score at all on Saturday. On Sunday that drought extended for 5.2 innings, broken only when Milton Bradley tripled home the tying run. An inning later the M's turned a pair of singles, a sacrifice, and Ryan's single into a lead they'd hold.
Notable Pitching
Luke Hochevar: 7 IP, 1 H, 1 R, 1 ER, 2 BB, 4 K, 0 HR, 13 GB. Lots of ground balling going on this weekend. The bullpen did a nice job of nearly blowing a very good outing by Hochevar.
Royals 6, Mariners 5
Royals 7, Mariners 0
http://www.fangraphs.com/liveboxscore.aspx?date=2011-04-17&team=Royals&dh=0&season=2011Mariners 3, Royals 2
Yankees over Rangers, 2 games to 1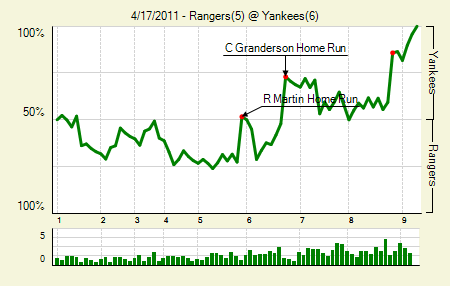 Moving the Needle: Eric Chavez drives home the game-winner, +.265 WPA. The Yanks and the Rangers kept volleying on Sunday Night Baseball, trading runs and leads until the dust settled. The definitive RBI came off the bat of Chavez, who wouldn't have even been starting had Alex Rodriguez not been out with a minor injury. Chavez made the most of his opportunity, working the count 3-2 and then lining one right back up the box, scoring Mark Teixeira from second and putting the win in the hands of Mariano Rivera– a plan that doesn't fail too often.
Notable Pitching
Matt Harrison: 8 IP, 7 H, 2 R, 1 ER, 3 BB, 3 K, 1 HR, 13 GB. Those ground balls came in handy, as they led to six double plays. That helped take the sting off the seven hits and three walks.
Freddy Garcia: 6 IP, 2 H, 0 R, 1 BB, 1 K. Is that a bit of homerism putting him here? Sure. But the Yanks skipped him as long as they could, and he still came through big for them. Fastest pitch of the day from him: 87.5 mph.
Rangers 5, Yankees 3
Yankees 5, Rangers 2
Yankees 6, Rangers 6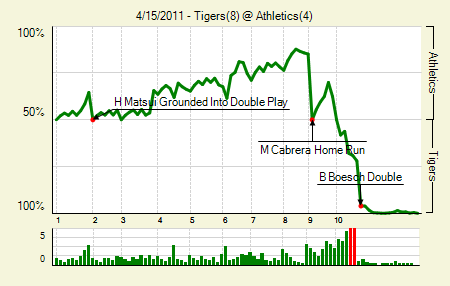 Moving the Needle: Miguel Cabrera makes it a new game with a solo homer in the ninth, +.352 WPA. If you just glanced at the final score, you might not get how crazy this game got. It was, however, a well-pitched affair at the start. That is until Cabrera took Brian Fuentes deep to lead of the ninth, tying the score and, truly, making it a whole new ballgame. The Tigers then exploded for seven runs in the 10th, which the A's answered with three of their own. The rest of the series would be all A's, but this was definitely the highlight.
Notable Pitching
Brandon McCarthy: 6.2 IP, 6 H, 0 R, 1 BB, 7 K. He has now thrown 22 innings, which is as many as he threw in 2008 and 2010 combined. Also, coincidentally, infinitely more than he threw in 2010.
Trevor Cahill: 8 IP, 4 H, 1 R, 1 ER, 0 BB, 9 K, 1 HR, 10 GB. "It's still early," I keep telling myself, in an attempt to not get too excited about Cahill. Still, when he's on the mound, I'm watching.
Tigers 8, A's 4
A's 6, Tigers 2
A's 5, Tigers 1
Rays over Twins, 2 games to 1Ben Zobrist ties the game in the bottom of the ninth, +.445 WPA. This homer really was a thing of beauty. It was an inside pitch, and Zobrist kept his hands in. I mean, really kept his hands in, as though they were attached to his torso. The ball went way out to right, pegging Joe Nathan with the blown save.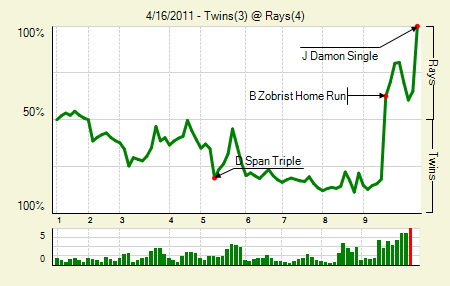 Moving the Needle:
Honorable mention here goes to Johnny Damon , who moved the WPA needle 56.2% with big hits in both Friday's and Saturday's game, including the walk-off on Saturday.
Notable Pitching
Wade Davis: 7 IP, 4 H, 1 R, 1 ER, 2 BB, 1 K. How he did this with only eight ground balls I just don't get. But a damn fine effort, despite few swings and misses.
Scott Baker: 7 IP, 4 H, 1 R, 1 ER, 1 BB, 6 K, 0 HR. With Matt Capps and Nathan behind him, this type of performance should always be a win for the Twins.
Brian Duensing : 7 IP, 7 H, 2 R, 2 ER, 2 BB, 5 K, 0 HR. He got it done without inducing a ton of ground balls.
Rays 5, Twins 2
Rays 4, Twins 3
Twins 4, Rays 2
Giants over Diamondbacks, 2 games to 1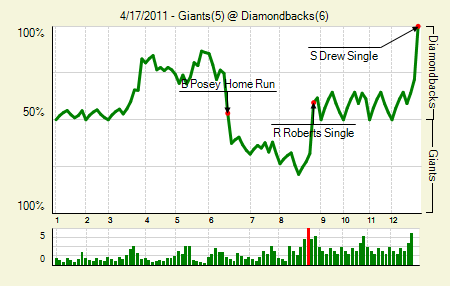 Moving the Needle: Stephen Drew ends it in the 12th, +.285 WPA. I loved this series, because each game had a .200+ WPA swing, and each game had a progressively bigger shift. The biggest, then, came on Sunday, when Drew singled home Justin Upton, giving the Diamondbacks their only win of the series. The Giants, though, were satisfied controlling both of the first two games and taking the series.
Notable Pitching
Guillermo Mota: 4.1 IP, 3 H, 1 R, 1 ER, 0 BB, 4 K. Gotta give him credit for coming in for an injured Barry Zito and keeping the game in control.
Giants 5, Diamondbacks 2
Giants 5, Diamondbacks 3
Diamondbacks 6, Giants 5
Pirates over Reds, 2 games to 1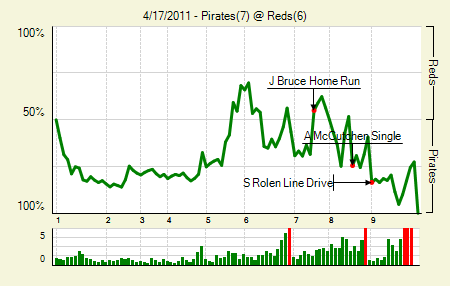 Moving the Needle: Drew Stubbs misses his opportunity, -.275 WPA. The Reds had two golden opportunities to at least tie this game, both off Pirates closer Joel Hanrahan. The first game in the eighth, when Scott Rolen came up runners on first and second with one out, down by one. It appeared as though he'd tie the game, but Ronny Cedeno dived and snagged the liner, flipping to Neil Walker for the easy twin killing. Then, in the ninth, Stubbs came up with the bases loaded, but he could only manage a fly ball to right-center. That was the ballgame.
Honorable mention goes to Andrew McCutchen, whose RBI single in the eighth gave the Pirates the lead.
Notable Pitching
Charlie Morton: 9 IP, 5 H, 1 R, 1 ER, 2 BB, 3 K, 1 HR, 18 GB. And the homer came in the ninth, when the Pirates already had the game well at hand. I don't know how Morton's doing it, but boy is he doing it.
Pirates 6, Reds 1
Reds 11, Pirates 2
Pirates 7, Reds 6
Braves over Mets, 2 games to 1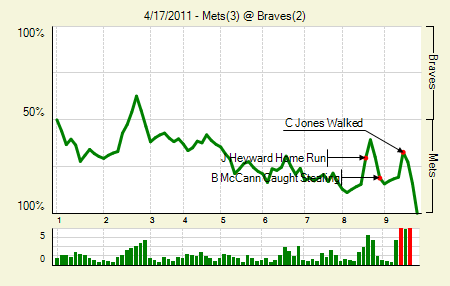 Moving the Needle: Jason Heyward brings the Braves closer, but not close enough, +.140 WPA. Braves and Mets fans might not agree, but WPA found this series not all that interesting. The first two games basically involved the Braves jumping out to leads and holding them. In the finale the Mets took the early lead and held on. Jason Heyward led off the eighth with a homer, which improved his team's chances of winning by 14%. Unfortunately, the rest of his team killed the remaining 29.5% chance pretty quickly.
Notable Pitching
Jair Jurrjens: 7 IP, 2 H, 0 R, 1 BB, 4 K. A nice performance for his first start of the season. He was at 100 pitches after 7, but I imagine he would have gone further if he had some more work under his belt.
Braves 4, Mets 2
Braves 4, Mets 0
Mets 3, Braves 2
Rockies over Cubs, 2 games to 1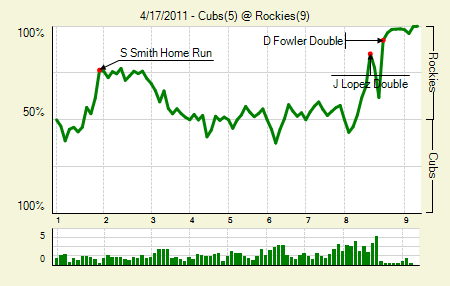 Moving the Needle: Dexter Fowler comes through with two outs in the eighth to tie the game, +.306 WPA. The Rockies jumped out to an early lead in their rubber match with the Cubs, but it didn't take long for Chicago to make up the deficit. They traded runs once more, but from the fifth through the top of the eighth neither scored a run. It looked as though the Rockies' ninth inning rally would go for naught, as a second and third, no outs situation had turned into second and third with two outs, thanks to a pair of strikeouts. But Fowler came through with a double that plated both runs. The Rockies would tack on two more for good measure.
Notable Pitching
Jhoulys Chacin: 9 IP 6 H, 0 R, 2 BB, 7 K, 15 GB. He's been a key for the Rockies this year, and will continue to be going forward. He has a 66% ground ball rate through three starts.
Rockies 5, Cubs 0
Cubs 8, Rockies 3
Rockies 9, Cubs 5
Padres over Astros, 2 games to 1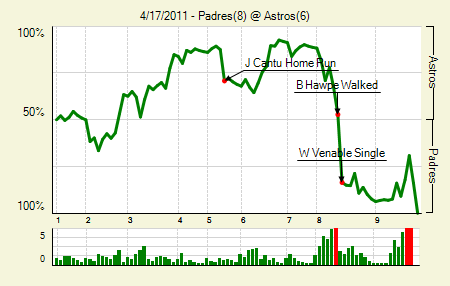 Moving the Needle: Will Venable gives the Padres the lead for good, +.363 WPA. Nothing will move a WPA graph like a walk-off. The next best thing, though, is when the home team is trailing and then gets a go-ahead hit in the late innings. The Padres experienced the latter yesterday. They had the bases loaded with one out and Venable at the plate. He lined one into shallow right-center, bringing home Cameron Maybin and Jason Bartlett, and giving the Padres a 7-6 lead. They would tack on another and let that shutdown bullpen take over.
Notable Pitching
Aaron Harang: 6 IP, 3 H, 1 R, 1 ER, 1 BB, 8 K, 0 HR. He's lasted only six innings in each of this three starts, but he's also put the Padres in a position to win every time. If he has recovered something of his previous form, this could turn into one of the best signings this offseason.
Padres 4, Astros 2
Astros 5, Padres 3
Padres 8, Astros 6
Nationals over Brewers, 3 games to 0
Moving the Needle: Danny Espinosa puts his team on top with a three-run shot, +.344 WPA. The Brewers jumped out ahead in the early game on Sunday, taking a 2-0 lead on a Yovani Gallardo RBI single. He headed to the fifth with a 2-1 lead, but that's when things fell apart. Danny Espinosa followed two singles with a three-run homer, giving the Nats a 4-2 lead. It wasn't even that bad a pitch, a 3-2 fastball inside and at the knees. But Espinosa got it, and that really turned this game.
Notable Pitching
Jason Marquis: 7 IP, 9 H, 2 R, 2 ER, 1 BB, 4 K, 0 HR, 16 GB. If you allow a lot of hits, getting ground balls will help you get out of trouble. The Brewers hit into only two double plays, but the lack of extra base power — they hit none in the game — helped the Nats with the W.
Livan Hernandez: 7 IP, 6 H, 1 R, 1 ER, 0 BB, 3 K, 0 HR. How he continues to do it, I have no idea.
Marco Estrada: 6 IP, 5 H, 1 R, 1 ER, 1 BB, 7 K, 1 HR. The homers have always been an issue, as have the walks. Reduce the latter, though, and the former becomes less of a problem. At least, it did for Estrada this weekend.
Nationals 4, Brewers 3
Nationals 8, Brewers 4
Nationals 5, Brewers 1
Marlins and Phillies split a pair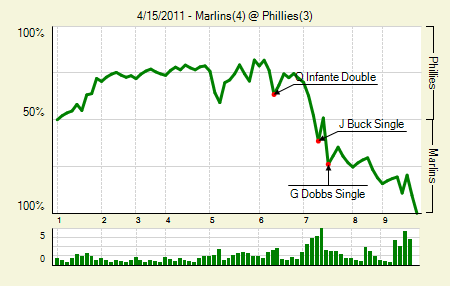 Moving the Needle: Greg Dobbs puts the Marlins ahead with a bases-loaded single, +.248 WPA. After six innings of work Roy Oswalt handed the ball to the bullpen with a one-run lead, which didn't last an inning. The Marlins loaded the bases off J.C. Romero and Danys Baez, which set up Dobbs's go-ahead single. The Marlins bullpen then hung on to win it.
Notable Pitching
Cole Hamels: 7 IP, 7 H, 2 R, 2 ER, 2 BB, 7 K, 0 HR. The ERA is still ugly, but the peripherals indicate that Hamels has done quite well, which will happen when you have one terrible start among just three.