In a way, it's a surprise Howie Kendrick is still playing in the majors. Last year, at 35 years old, he ruptured his Achilles tendon in a May 19 game against the Dodgers, ending his season after just 40 games. It was the second straight season in which Kendrick failed to play 100 games and the third straight year in which he came up short of 2 WAR. The Washington Nationals, meanwhile, had a fairly deep group of position players and had their eyes set on yet another postseason appearance. It would have made sense for both parties to agree to part ways. I'm not sure either foresaw a bounce-back season like the one Kendrick has put together in 2019.
Kendrick is hitting .343/.393/.577 with 16 homers in 113 games, good for a wRC+ of 146. His 2.8 WAR is the highest total he's posted in any season since leaving the Angels after 2014. Nearly every other category is either a career-best or very close to it.
Howie Kendrick 2019 vs. career
| Statistic | 2019 Value | Career Average |
| --- | --- | --- |
| AVG | .343 | .294 |
| OBP | .393 | .337 |
| SLG | .577 | .430 |
| HR | 16 | 8.3 |
| ISO | .234 | .137 |
| BB% | 7.2% | 5.4% |
| K% | 13.3% | 17.2% |
| wRC+ | 146 | 109 |
That's only the beginning of the story of how good Kendrick has been. Statcast places him in the 94th percentile in baseball in exit velocity, the 100th percentile in xBA, and the 98th percentile in hard hit percentage, xwOBA, and xSLG. He is the only player in the majors with at least 50 batted ball events who ranks in the top 10 in xBA, xSLG, xwOBA, and hard hit percentage. By those metrics, Kendrick has actually underperformed his expected outcomes this season, with his .604 xSLG soundly outpacing his .577 SLG and his .422 xwOBA well in front of his actual wOBA of .406.
Seeing that Kendrick has one of the most lethal power strokes in baseball in 2019 might surprise you, as it certainly surprised me. There's a good reason for that, too. Over the first 11 seasons of his career, Kendrick had slugged over .450 just once. He reached .475 and .474 in 2017 and 2018, respectively, but again, those were seasons in which he played in just a combined 131 games. Since Statcast began collecting data in 2015, Kendrick's best pre-2019 xSLG was .476 and his second-best rate was .434. He wasn't a slap hitter, but he also definitely was not rubbing elbows with Nelson Cruz and Mike Trout at the top of hard contact leaderboards.
What did Kendrick improve upon to get here? Well, pretty much everything. His chase rate is back down to below his career average, his contact rates are way up, and he's hitting the ball hard and in the air more than ever before.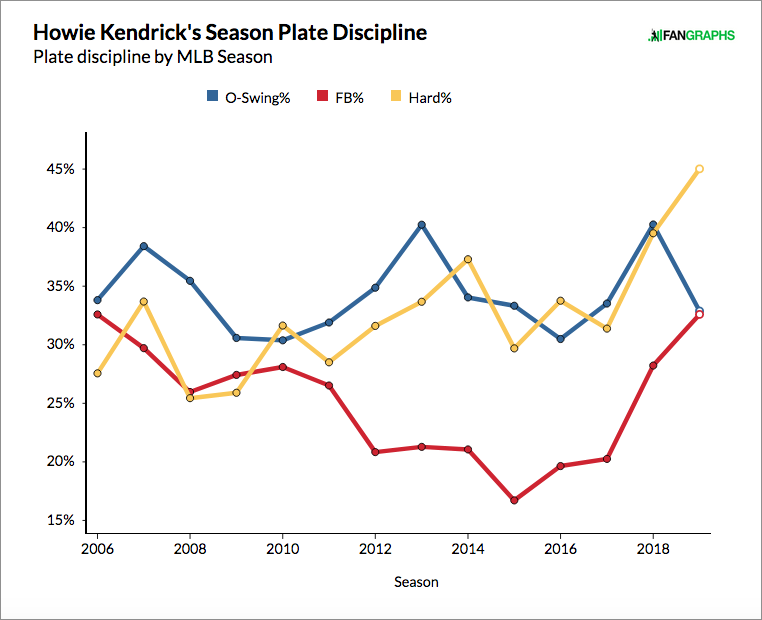 He's a completely different hitter, but the most fascinating thing about Kendrick this season might be the way he's been used. Despite hitting this well pretty much all season, the Nationals have started him just 65 times. That might make you think you're reading an article about a player who has been in a platoon situation all year long and is bolstering his numbers by exclusively hitting against opposite-handed pitching, but that's not the case. Kendrick has had more than 100 more plate appearances against righties this season than he has against lefties, and he has enjoyed plenty of success against both. Kendrick's lack of playing time has nothing to do with placing him in the optimal situations to succeed. The real reason Kendrick doesn't play every day is, well, dang it, he's old.
"I know I'm not an everyday guy anymore," Kendrick told Mark Zuckerman of MASN Sports on Sunday. "I'm not going to complain one bit about the way I've been used … When I play, I play. When I don't, I'm ready to play and go in the game. And I've kind of streamlined that process a little more. I've figured out, being in the National League, how to prepare myself and be ready."
In the story, Zuckerman says the Achilles injury — along with two hamstring strains he's suffered just this season on top of what has been a very long and demanding major league career — has made it much more difficult for Kendrick to stay in game shape on an everyday basis. Though the numbers might not reflect it, his body is simply worn out, especially in his legs. And throughout the season, he and the Nationals have been tasked with figuring out what the right amount of time is to keep him on the field.
The plan they've executed this season has worked splendidly. Kendrick is on pace to start just a few more games in September than he did in April, and more importantly, he is still packing the same punch with his bat. During a run of three starts in four days earlier this week, Kendrick went 8-for-12 with two homers, a triple, and a walk against the Braves and Cardinals. Harrison Bader, in particular, would probably love to not have to see Kendrick again for a long time.
Kendrick hasn't shown his age in games he's started, hitting .324/.370/.523, good for an .894 OPS. He reaches a different level, however, when entering a game as a substitute. In 65 plate appearances in games he entered late, Kendrick is hitting .429/.492/.821 with five homers, seven walks, and seven strikeouts, giving him an otherworldly 1.314 OPS.
All told, Kendrick has made himself into an outstanding weapon for a Nationals team that has a great chance to play at least one playoff game and hopes to be in more. They are currently one game ahead of the Milwaukee Brewers, who occupy the second wild card spot, and two games ahead of the Chicago Cubs, who are the first team on the outside looking in. Washington is in that position thanks to a once-again-stellar rotation, but they'll still need to score plenty of runs to keep up with any team they encounter the rest of the way, and aside from Anthony Rendon and Juan Soto, no one on the team has been better at creating runs than Kendrick. Because he still has some positional versatility, spending significant time at first, second, and third base this season, Kendrick could be an incredibly important piece of the puzzle if the Nationals are going to make a run.
Beyond that, however, Kendrick is a good reminder of what even a seemingly over-the-hill veteran bat can offer a big league team. At the bottom of Zuckerman's story on him, Kendrick himself says that he doubts any team would have taken a shot on him over the winter if he were a free agent. Because he was on a two-year contract with Washington, however, he had an avenue to continue making his mark on the game. He's a 36-year-old utility infielder whose legs aren't as strong as he'd like them to be, and yet he's used what he still has left in him to suddenly become one of baseball's best hitters. And he isn't finished yet.
Tony is a contributor for FanGraphs. He began writing for Red Reporter in 2016, and has also covered prep sports for the Times West Virginian and college sports for Ohio University's The Post. He can be found on Twitter at @_TonyWolfe_.