Phillies third baseman Maikel Franco has been with the Phillies since signing as an international free agent in 2010, and since he made his major league debut in 2014, the Phillies haven't had a winning season. Before this season, he had only 59 career plate appearances batting eighth in the order. During the Phillies' rebuild, Franco was a middle-of-the-order bat, despite never truly evolving into one. Of his career 2,115 plate appearances, over half of them (1,068) came in either the No. 3 or No. 4 hole.
On Thursday, Franco batted eighth, not because of any personal struggles on his part, but because of the Phillies' depth up and down their lineup. In the sixth inning, in a 3-2 count (and on the seventh pitch of the at-bat), Franco turned on a Shane Carle fastball and drove a three-run home run into the left field seats. With one swing of the bat, the Phillies' 3-1 lead became 6-1, with this at-bat serving as the icing on the cake in the Phillies' eventual 10-4 win.
"Our eight-hole guy hit a three-run homer," Phillies outfielder Andrew McCutchen told MLB.com. "It just shows you how deep the lineup is. Franco, he's not an eight-hole hitter. Not the typical one. It just shows you what we can do, one through eight. Yeah, we can do it on a daily basis. It's not going to be one or two guys that's picking the team up, we're going to picking each other up because we have that type of lineup to do it."
Why did this one at-bat in this one Opening Day game pique my interest? It's because this at-bat might foreshadow one of the key themes of the 2019 Phillies season: depth.
Adding Bryce Harper, McCutchen, J.T. Realmuto, and Jean Segura in one offseason certainly increased the Phillies' offensive capabilities, no doubt. But what adding those players also does is make the other players in the lineup better. Players like Franco, Cesar Hernandez, Odubel Herrera and Rhys Hoskins may also benefit from seeing more fastballs in the zone.
Need more proof? Consider the seventh inning. The Braves intentionally walked Harper to load the bases for Hoskins. On a 1-0 pitch, he got a fastball and hit the first grand slam of his career.
And, sure, it's been one game, and that's the smallest of sample sizes. But, on Thursday, nine of the Phillies' 10 runs were driven in by players who were also on the team in 2018.
This won't always be the case. Harper will carry his share of the load, as will McCutchen (who, I should mention, led off the game with a homer), Realmuto and Segura. But, is it not just a little bit symbolic that the Phillies' first game officially out of the rebuild was buttressed by players who carried over from it?
In 2018, the Phillies scored 10-plus runs on nine separate occasions. This figure tied for 20th in the major leagues. (For what it's worth, the Red Sox led all 30 teams in this category, with 20 such games.) During their seven-straight losing seasons from 2012 to 2018, the Phillies scored 10-plus runs a total of 47 times, averaging about 6.7 offensive outbursts per season. With one today, it seems entirely possible that the Phillies will outpace that 6.7 mark, and perhaps reach double digit 10-plus runs scored games for the first time since 2011, which was incidentally the last time they made the postseason.
Phillies' 10+ Run Games, 2000-2018
| Year | 10+ Run Games |
| --- | --- |
| 2018 | 9 |
| 2017 | 9 |
| 2016 | 6 |
| 2015 | 6 |
| 2014 | 6 |
| 2013 | 5 |
| 2012 | 6 |
| 2011 | 12 |
| 2010 | 18 |
| 2009 | 18 |
| 2008 | 10 |
| 2007 | 17 |
| 2006 | 18 |
| 2005 | 21 |
| 2004 | 15 |
| 2003 | 18 |
| 2002 | 6 |
| 2001 | 13 |
| 2000 | 9 |
SOURCE: Baseball-Reference's Play Index
(The highlighted years represent the Phillies' postseason runs.)
Of course, while looking at the number of 10-plus run games gives us some indication of a team's offensive prowess, these are still relatively random events. Sure, better offensive teams will naturally have more 10-run games, but a better way to evaluate offense is through runs per game, which is not a metric that has been favorable to the Phillies over the past few years.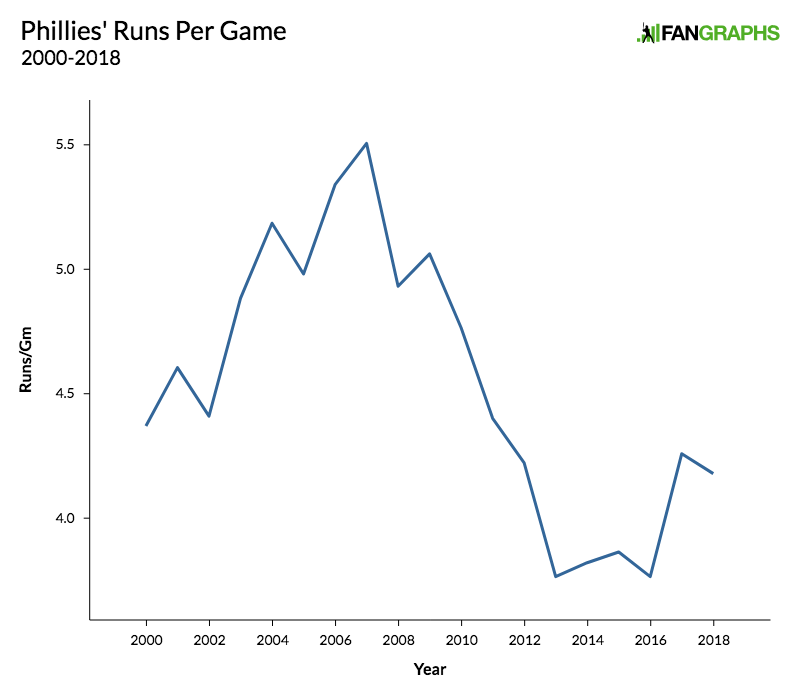 We'll see how the Phillies do as an offensive unit as the season drags on. Our Depth Charts projections like them to improve upon their 2018 runs per game figure of 4.18, jumping to a 4.62 mark. That would result in 748 runs scored this season, a 71-run improvement over their 2018 runs scored total of 677.
There might, however, be room for growth in these projections. As you likely know, projections tend to be a conservative estimate of a player or team's future performance. It's hard to project future improvement because, after all, we have no idea which players will improve (though the stats allow us to make informed guesses), and even among those who do, we don't know by how much. That's why I think it's relevant to point to the Phillies' projection for third base. In our positional power rankings, they were ranked 28th at the position, their lowest ranking across the board.
So, could Franco be in store for a breakout this year? It's entirely possible. He has consistently posted a low strikeout-rate throughout his entire career. His 13.3 K% in 2018 ranked as the 24th-lowest in baseball among the 214 hitters with at least 400 plate appearances. Of those 23 with lower strikeout rates, just four of them, Justin Turner (.205), Didi Gregorius (.226), Alex Bregman (.246), and Jose Ramirez (.282) posted a higher isolated power than Franco's .196. That's not bad company, to say the least. Clearly, the potential for a rare contact-power profile is there, and batting lower in the order may help Franco reach it.
Yes, for the Phillies' 2019 offense, it's been just one game with 31 at-bats. It would be flat out malpractice to draw any conclusions from what we see on Opening Day. This is just one measure of offensive performance, and offensive performance is just one aspect of the game. With that said, I wouldn't be surprised if we saw the rebuild's holdovers benefit from a rejuvenated, star-studded lineup. And that would make the Phillies' offense pretty scary.
Devan Fink is a Contributor at FanGraphs. You can follow him on Twitter @DevanFink.